The pilot came over the loud speaker and announced our initial descent into Juneau, Alaska. In that moment, I peeled my eyes away from the movie I was watching, opened the window blind and found myself in momentary shock.
Just outside the window was some of the most amazing mountain scenery we have ever flown over and we had a front row seat. People aren't kidding when they talk about Juneau's beauty and it took us all of 2 seconds to realize we had made the right choice to spend some time in Juneau.
After spending 5 days in Juneau, we can easily say we'd move there in a heartbeat. The atmosphere, people and incredible scenery that surrounds the city are honestly rivaled by very few other places we have visited in our 16 years of travel.
What we can't quite figure out is why people blow through Juneau in a hurry to get on their cruise ships. Some of the most incredible things you can do in Alaska are accessible by spending a few days in Juneau. Commonly mistaken as 'just a cruise port', we're on a mission to show people that Juneau is so much more than that.
Take off a few extra days from work on either side of that cruise and get into the real Alaska. You won't regret it.
---
19 Incredible Photos of Juneau, Alaska
Hiking the trails on Mount Roberts will give you views of the city you won't find elsewhere. Sure, you can take the tram up and get a great view, but the view on the trail comes with lush forests and unique angles.
With over 250 miles of trails around Juneau you have the chance to truly submerge in nature and enjoy all the diversity that Alaska offers within its rainforests. There are very few places in the world where you can view snow capped mountains while hiking in temperate rainforest.
Alaska in general is a place that rewards exploration. The tourist path is well beaten but if you take some time to step away from it, you'll discover such a quiet and natural place. You'll actually have a chance to be away from the crowds.
The only road in Juneau stretches 42 miles and while this might seem like it's not worth seeing, it's the exact opposite. This small stretch of road is packed with staggering mountain landscapes, coastal pullovers and interesting stops along the way. Not to mention the collection of trailheads, you could spend several days out the road.
I'm going to go out on a limb here and proclaim Juneau as the Bald Eagle capital of the USA. While your chances of seeing them are good on a cruise through the Inside Passage (we saw loads on our UnCruise) the density of them in Juneau is rivaled by none. They love the city and it is not uncommon to see dozens of them sitting on the light posts near the downtown area.
We initially pulled off in Auke Bay to photograph a group of Eagles that were fishing in the bay, however we found the area very picturesque and charming. It is possible to rent kayaks here or take fishing charters and enjoy the laid back waters away from the downtown. Another way to enjoy Auke Bay is by stepping into the Devil's Hideaway for a local beer and some killer fish tacos.
Further out the road is the spectacular Eagle Beach. This area changes as the tide moves leaving ever changing reflections and patterns of water in the tidal zone. This is not a view you'll get if you never leave the port area in downtown.
Most visitors to Juneau that are intent on seeing the Mendenhall Glacier head for the Visitors Center. Only 20% of those people venture beyond the crowds in search of a more intimate nature experience. Take it from us, don't skimp out when it comes to seeing this glacier. Take the time to get up close and personal to it, the power and beauty of the ice shouldn't be missed.
If you're looking to get even closer to the Mendenhall Glacier, don't miss out on a visit to the ice caves. They are not easy to reach and a visit requires a long hike or long paddle across the lake but the effort is insanely rewarding. Don't wait though, the caves are melting rapidly and will be gone once the glacier recedes out of the lake and becomes land locked.
Check this out ===> How to visit the Mendenhall Ice Caves before they melt
When you make the time to visit the ice caves you not only get treated to a surreal blue wonder but have a chance to actually set foot on the Mendenhall Glacier. You'll land on the beach and hike to the caves through glacier debris before strapping on some crampons and heading onto the top of the glacier itself.
Have you ever been this close to a glacier? Walking on the Mendenhall Glacier was a great opportunity to see how the glacier shapes, moves and flows with the surrounding elements. Let me tell you, that blue water is not enhanced, it's reflecting the bright blue ice that is exposed below.
Even if your intentions are not to visit the glacier, the West Glacier Trail hike is stunning. You can do a roundtrip trail hike to a lookout that will award you a suburb overview of Mendenhall Glacier and the lake below. It was our favorite hike in Juneau.
Something Juneau does well is offer high reward for your effort. If you a hike a trail, you'll get a great view. We're raving the West Glacier Trail because it rewards you like crazy during the entire hike.
The moss. Oh, the moss. It is thick, vibrant, brilliant, wonderful and you won't get a chance to experience that if you spend only a few hours in Juneau. If you leave the trail in any of the forests that surround Juneau, you'll be treated by a pillow soft experience and the fresh smell of nature.
Some of the best views you can have in Alaska come from above. We hopped in a plane for a flight over the Juneau Ice Field and were humbled by the ice mass that occupies the land outside of the city. Even with the overcast sky, the crevices on the glacier popped bright blue colors that were visible from the plane windows.
The glaciers in and around Juneau are a force and getting the chance to see them from above gives you a perspective on how the whole area was shaped by them. They don't move and shape with the land, they create the shapes of the land they surround.
Alaska is ripe with the history of the people that pioneered the land against incredible odds and succeeded. Taking the time to visit places like the Taku Glacier Lodge to learn the history, hear the stories and physically feel the true heart of Alaska should not be missed. Plus, the salmon is cooked to perfection.
Downtown Juneau is absolutely gorgeous on a sunny Spring day when the flowers are blooming. The colors accent the still snow capped mountains.
Cruise stops are rushed. You're only given a few hours at port and it's easy to feel overwhelmed by the choices on offer, especially when you can only do one thing. In Juneau, you need time to wander, explore and experience it for the epic destination that it is. Don't sell yourself short, make time to see more of the real Alaska.
Did you like this post? Pin it!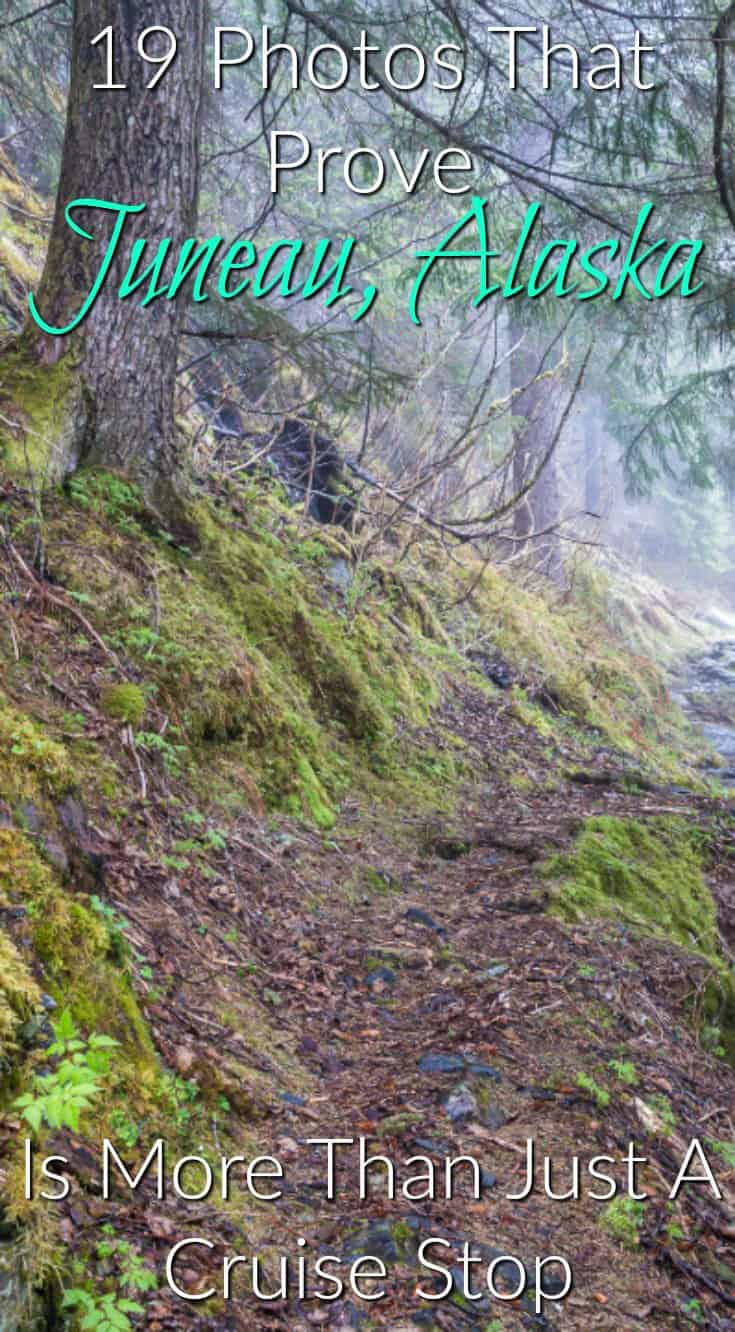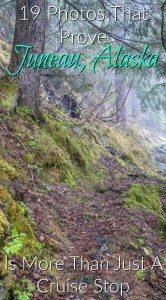 ---
Looking for more information about Alaska? Check out these travel blog post.
Is Spring the Best Time to Cruise Alaska? | Denali State Park Heli-Hiking Adventure in Remote Alaska More Than Northern Lights – Things to do in Fairbanks, Alaska | 11 Reasons to Take an Alaska Inside Passage Cruise with UnCruise | Ultimate Guide of Things to Do in Juneau, Alaska | The Ultimate Alaska Packing List | Visit the Mendenhall Ice Caves Before They Melt – Juneau, Alaska | Alaska Travel Guide | Alaska National Parks – The Fabulous 8
---
Resources for Planning Your Trip to Alaska
Recommended Guide Books For Alaska: Lonely Planet Alaska (Travel Guide)
If you are road tripping in Alaska or renting a car you must have: The Mile Post
The Best Alaska Maps: Alaska (National Geographic Adventure Map)
Plan your Alaska car rental adventure with Priceline. We got a killer deal on our rental through them.
Search for Flights: Priceline or Skyscanner offers great deals to Alaska.
Find Accommodation in Alaska: Read reviews and check prices for hotels in Alaska at TripAdvisor.Com
Travel Insurance: We use Allianz for travel insurance and have since our first trip to Mexico in 2003. They've been there for us on our adventures – and many friends and readers – multiple times over! If you want to book with Allianz Travel Insurance, simply use this link to get their travel insurance!
Disclosure: This post contains affiliate links. When you click on the link and make a purchase, we receive a small commission at no extra cost to you. Thank you!
Our visit to Juneau, Alaska was in partnership with Travel Juneau. As always, all opinions are 100% mine. This post contains affiliate links which means if you click on one and make a sale, we receive a small commission at no extra cost to you. Thank you!