If you find yourself visiting Fairbanks, Alaska and are looking for something quiet and relaxing, than a visit to the Chena Hot Springs may just be what you're looking for to add variety to your Alaska vacation.
Set in the back of the quiet and vast Chena River State Recreation Area and only a 60 minute drive from downtown Fairbanks, is the unincorporated property of Chena Hot Springs Resort. Travelers come from all around the world to experience a relaxing dip in their natural hot springs and to view the Northern Lights.
Of course, it doesn't stop at Northern Lights viewing, the Chena Hot Springs Resort offers an abundance of hiking through the Chena River Recreation Area, snowshoeing, ATV riding, dog sledding, horseback riding, mountain biking and let's not forget relaxing in its natural hot springs. The many options on offer cater to the needs of just about any traveler and is the perfect weekend getaway if you're looking for something different in North Alaska.
Knowing all of this, we decided to check out the Chena River Recreational Area and spend a weekend away at the Chena Hot Springs Resort while we were based in Fairbanks during our Spring road trip through Alaska.
Leaving Fairbanks after breakfast, we started our drive into the recreational area intent on spending our morning hiking the Angel Rocks Trail, a 3.5 mile loop trail with outstanding valley views and rock formations, before venturing to the end of the road for a 2 night stay at the Chena Hot Springs Resort.
Read reviews, check prices and plan your weekend weekend away at the Chena Hot Springs Resort
Where to Stay – Chena Hot Springs Resort
After our hike we headed up the road another 10 miles to find that it ends abruptly at the Chena Hot Springs Resort. It's the end of the road here and the only option for accommodation, other than camping, unless you plan to return to Fairbanks.
The Chena Hot Springs Resort is a privately owned 440 acre resort that operates year round. It offers a newly built lodge with comfortable and modern rooms, cabins for rent, yurts and camping spaces to travelers that wish to visit. It also offers a cafe/coffee shop and restaurant with bar as dining options.
The history if the resort is fascinating, highlighting that gold miners first discovered the hot springs in 1905 and by 1912 Chena Hot Springs became the poplar place for the residents of Fairbanks to soak and enjoy its natural benefits.
The resort features just over 80 rooms and family suites in its Moose Lodge, as well as Alaska cabins and camping accommodations for those visiting in the summer months. The hot springs are at the center of a 40-square-mile geothermal area that produces a steady stream of 165 degree water at all times of the year. Yes, even in those Alaskan cold months.
Resort developer Bernie Karl designed the Chena Hot Springs resort around a 100% sustainable business method. Much of the food served at the resort is grown in the greenhouse on site and much of the rest is locally sourced from Interior Alaska. It does not get more natural than that. The greenhouse, like the springs, and the resort are also heated 100% with geothermal energy. You can take daily tours to learn all about how the resort uses the natural geothermal activity to operate a sustainable property.
There are several options for rooms at Chena Hot Springs Resort in the Moose Lodge, Fox Rooms, Bear Family Suites and Yurts.
Plan a trip to the Chena Hot Springs Resort, read reviews and check prices.
Soaking in the Chena Hot Springs
Naturally, the main draw to Chena Hot Springs is to soak in its pools. The resort offers full facilities for you to enjoy the natural pools. Upon entering, you will be greeted at the main desk of the hot springs recreation area where you pay or show your credit from the hotel to enjoy the hot springs recreation area.
Chena Hot Springs Pricing
$13 ……..Seniors, (ages 60+)
$15………Adults (ages 18-59)
$12 ……..Children (ages 6-17 years)
Free……..Children 5 years and under with paying adult
$5 ………Towel Service for day guest
Towels are available for hotel guests without charge.
Each pass includes the hot springs lake (adults 18+ only), indoor heated pool, both outdoor and indoor hot tubs, plus use of the locker area and shower facilities.
Your pass acts as a full day pass and the hot springs recreation area is open from 7 A.M to midnight. Here you will have to leave your shoes in the main entryway before entering the changing rooms and recreation area. There are men's and woman's changing rooms that have lockers where you can pay to lock up your items. So bring some change otherwise the lockers will not lock up. You can shower before and after in one of the many shower stalls that have shampoo and conditioner available.
You have the option of utilizing the indoor pool and hot tubs, but the main draw is the outdoor thermal pools. Rules and regulations are posted everywhere before entering the hot springs and it's a good idea to look that over before you enter them. It is recommended to not spend more than 15 minutes in the hot springs at any one time.
Drinking in the Hot Springs is not permitted and you should not enter the Hot Springs if you have even had one drink. We inadvertently tested this out on our visit after enjoying a drink with dinner at the restaurant. Following dinner we decided to go for a soak and it was crazy how just one beer affected our body while soaking in the hot springs. This is not something to joke around with so heed the warning.
The hot springs are large and there is plenty of room to enjoy your experience in peace and quiet. There is a large ramp that allows you to enter the water slowly, this is nice because there are no steps and it allows you to take your time and adapt to the hot water. Once in you can make your way around the 100×80 natural hot spring, relaxing along the rocky side or enjoying the waterfall and misters.
While sitting in the hot springs you can enjoy the wide-open view of the Alaskan sky. This is also great for Northern Light viewing in the winter. Imagine the northern lights dancing above you ask you enjoy a soak in the hot springs.
Angel Rocks Loop Trail
If you're into hiking but not into crowds, then you cannot go wrong in the Chena River Recreation Area. The trails are abundant, beautiful, secluded and there are very few travelers here. While you can have a choice of many great trails, we were recommended to hike the Angel Rocks trail for the variety of landscapes and great overviews from the top of the trail.
Heading around 49 miles up the road towards the Chena Hot Springs Resort from Fairbanks, you'll find the parking lot to the Angel Rocks trailhead. It is clearly marked with a state parks sign and a paved parking area with bathrooms and picnic tables. The start of the trail is marked with a map, signs and advice for hiking the trail safely.
The trail is varied, which we enjoyed, following the river through a wooded area before opening to a field and then climbing sharply up 900ft to a group of granite outcrops. Reaching the rocks, be sure to scramble up to the top and take in the views, because they are unobstructed and stunning of the surrounding area.
Once you're at the top, you can continue along the loop, turn back the way you came, or make your way to the lip of the ridge and try to glimpse the Alaska Range. This trail is 1,750 ft. in elevation at its highest point and the hike takes two or three hours. Be sure to work in time to take pictures, enjoy the scenery and pack a lunch.
Traditional Alaskan dog sledding
Chena Hot Springs is more than a great place to soak and view the Northern lights. We enjoyed experiencing a traditional dog sledding adventure while staying at the resort. Dog sledding is an Alaskan tradition and this is something you must experience when visiting Alaska, even in the spring and summer.
Our dog sledding adventure started with an introduction into the life of the dogs and how dog sledding is more than just a sport, it's a way of life in Alaska. These dogs love to run and once they saw the harness they were barking and jumping as if yelling 'pick me'. One by one the head musher picked out what dogs needed training for the day and the handlers placed the dogs in the order they would pull for the team.
Hooking up the team is an exciting event because these dogs love to pull. We actually had to sit in the cart and hold down the brake to stop the team from taking off to soon. The cart acts the same as a sled and this allows the team to train year around. With the dogs harnessed up it was time to unleash the dogs and let them run. With a loud yell of 'hike' we were flying through the woods as these amazing athletes pulled our cart along the trail.
It is truly magic watching the dog's pull the cart as the head musher called out commands. With the command 'gee' we turned to the right. The command 'haw' we turned to the left. The dogs loved it as we made our way around the property. With the yell 'whoa' we stopped and our adventure was ended. This traditional Alaskan dog sledding experience at Chena Hot Springs last around 2-3 hours, depending on how much of a dog lover you are. You will be able to pet, feed and interact with these dogs. The dog kennel is open throughout the day so you can visit the dogs any time during your stay at the resort.
Alaskan ATV Adventure
There is no better way to explore the Chena Hot Springs 440 acre resort than on a 4 wheel ATV. These are the best ATV trails near Fairbanks Alaska. We started at the activity center and headed out past the reindeer as we made our way down the rocky trail. The trails were great and provided a ton of excitement around every turn. There were large rivers where we had to pass one by one hoping not to get stuck, straightaways where we could let it loose and fly, roundabouts where we could do donuts and large hills that made our stomachs tickle as we flew over them.
An ATV adventure at Chena Hot Springs Resort lasts around 2 hours depending on your experience and the time of the year. When there is snow you can hit the trails on a snowmobile. We had our own ATV's since Lina and I have been around ATV's since we were little. This allowed us to have our own fun and go as fast or slow as we wanted. You can ride double if you would like or you can ride with the guide. Everyone must have a guide on this adventure since there is hundreds of trails running throughout the property.
Year Round Aurora Ice Bar
Fairbanks, Alaska is filled with many cool places where you can chill out and have a drink. However, if you're looking for something truly unique you shouldn't miss the Aurora Ice Bar & Museum. Belly up to the bar, carved from a single piece of ice, while sitting on a caribou fur covered ice stool and enjoying the signature Appletini. This bar is 100% made of ice and so are the martini glasses that the drinks are served in.
For many, this place is about experiencing the only year round ice bar in Alaska, but it's more than just an Ice Bar. It is a full on ice museum filled with large carvings that will have you standing in awe. Your tour starts by entering the main area where you will get a large parka to keep you warm. Once your small group is ready, you will enter the ice palace. Your first stop is where world champion ice carvers, Steve and Heather Brice, go to work making the most amazing ice sculptures you will ever see.
Just outside the main workshop area is where all the magic is; life-sized jousters on horseback, giant chess pieces, large orbs lit up in many colors, a two-story observation tower with a spiral staircase, to name a few.
Entrance to the Ice Museum costs $15 per person and tours are given at set times only. If you wish to try a signature Appletini, served in a hand carved ice glass, the price is an additional $15 per drink.
Northern Lights Viewing in Alaska
Chena Hot Springs is located in a remote area making it one of the best places to view the Northern Lights in Alaska. There is no light pollution that will restrict your viewing and due to its geologic location, your chances of seeing the Northern Lights is high. Chena Hot Springs offers great facilities that are located on a mountain top for viewing. This not only provides unobstructed views but a warm place to hang out since the Northern Lights tend to show during the coldest time of year in Alaska.
Why do people visit the Chena Hot Springs?
In the wintertime, people visit Chena Hot Springs Resort to view and photograph the Northern Lights, soak in the hot springs, snowshoe, dogsled, cross-country ski, snowmobile and view the reindeer. In the summertime, people visit the Chena Hot Springs to go hiking, biking, dog pulling, ATVing, drink at the Aurora Ice Bar, take scenic flights above the Alaskan bush, soak in the hot springs and to experience Alaska's great outdoors.
How to Get There
The Chena Hot Springs are located at the end of the Chena Hot Springs Road around 56 miles east of Fairbanks, Alaska. The road offers excellent wildlife watching with chances to view wild moose, bear and much more. The road is paved and well-maintained. It passes through low, rolling hills with ponds and rivers running next to the road. There are many pullouts and viewpoints along this drive.
We used the Milepost to find the best pullouts along our drive for great photo opportunities. Many places are marked with signs, paved pullout areas, restrooms that are monitored daily and area maps.
The Chena River State Recreation Area is a 397 square mile preserve that includes the Chena River Valley and nearby alpine areas. This recreation offers public-use cabins and camping and is a premier place for adventure travelers that like canoeing, hiking, mountain biking and fishing.
Once you leave the outskirts of Fairbanks you will find little to no residents, gas stations or restaurants, so be sure to stock up on supplies before heading to this area. Your only dining options are at the end of the road when you reach Chena Hot Springs Resort.
Don't have your own wheels? Check out these fantastic tour options offered from Fairbanks.
Best Time to Visit
The best time to visit Chena Hot Springs depends on what you want to do. We visited in mid-May and found this to be a fabulous time for a visit. There were fewer people, warm days and everything was getting really green. However, you won't see any Norther Lights at this time, the midnight sun is already in full swing so expect daylight until 1am every day.
You would hate to book your trip with hopes to view the Northern Lights only to find out it is the wrong time of year. Below we have listed out the best time to visit the Chena Hot Springs based on what activity you would like to do.
Make sure you pack the right clothing and gear: Ultimate Alaska Packing List
The best time to visit for Northern Light viewing: November To April
The best time to visit for soaking in the hot springs: Year round
The best time to visit for dog sledding: November To May they run sleds, snow permitting. At the End of May – October they run carts.
The best time to visit for Hiking: May to October
The best time to visit for Snowshoeing: December to April
The best time to visit for Biking: Year round, on fat tires you can bike from December to April and normal biking from May- November (weather permitting)
The best time to visit for ATVing: End of May – November (Weather permitting)
The best time to visit for the Aurora Ice Bar: Year round
If there are any other activities you are looking to do at Chena Hot Springs Resort during your visit, be sure to contact Chena Hot Springs Resort directly. Some of the activities they offer are very dependent on the weather and season, sometimes this means things can run late or early as Alaska weather is at times unpredictable.
Our Weekend at Chena Hot Springs
Taking some time to spend 2 full days and 2 nights exploring the Chena River Recreation Area and Chena Hot Springs was a fantastic way to spend a weekend during our stay in Fairbanks, Alaska. The drive out was beautiful and we thoroughly enjoyed the option to hike enroute.
We found the new Moose Lodge very comfortable and never had a bad meal in the restaurant. Soaking in the hot springs after a long day of adventure followed by spending our evenings at the bar with an Alaskan White beer in hand are memories that stick with us from our trip to Alaska.
Looking for more things to do in the area? Can't Miss Things to do in Fairbanks, Alaska
Did you like this post? Share it!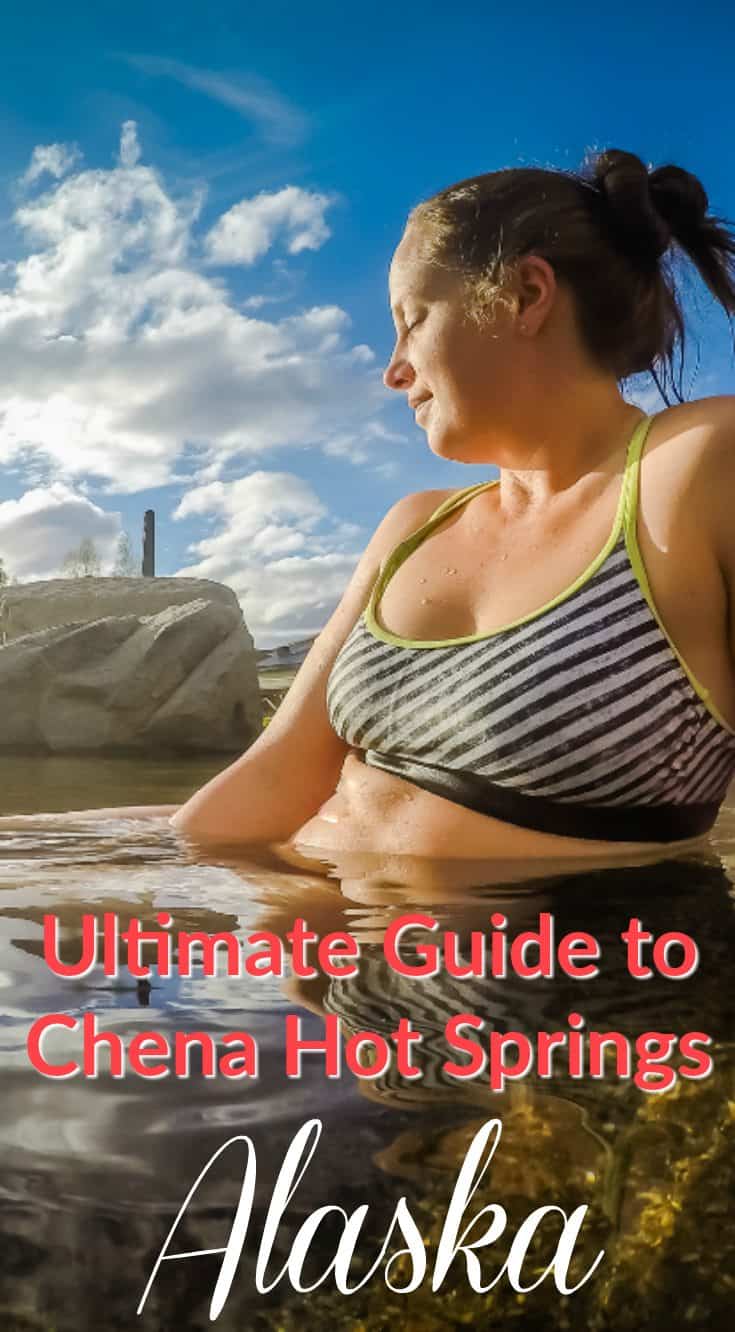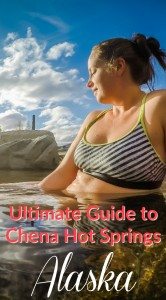 ---
Resources for Planning Your Trip to Alaska
Recommended Guide Books For Alaska: Lonely Planet Alaska (Travel Guide)
If you are road tripping in Alaska or renting a car you must have: The Mile Post
The Best Alaska Maps: Alaska (National Geographic Adventure Map)
Plan your Alaska car rental adventure with Priceline. We got a killer deal on our rental through them.
Search for Flights: Priceline or Skyscanner offers great deals to Alaska.
Find Accommodation in Alaska: Read reviews and check prices for hotels in Alaska at TripAdvisor.Com
Travel Insurance: We use for Allianz for travel insurance and have since our first trip to Mexico in 2003. They've been there for us on our adventures – and many friends and readers – multiple times over! If you want to book with Allianz Travel Insurance, simply use this link to get their travel insurance!
Disclosure: Special thanks to Chena Hot Springs Resort and Explore Fairbanks for hosting our weekend at the Chena Hot Springs. All opinions are 100% mine, as always. This post also contains affiliate links. When you click on the link and make a purchase, we receive a small commission at no extra cost to you. Thank you!