Juneau, Alaska may be a capital city but it is a city that is immersed in spectacular scenery and nature. If you're an outdoor lover, there is no shortage of things to do in Juneau.
Arriving in Juneau was one of the most spectacular arrival flights we have ever experienced.
The loudspeaker interrupted the silence as the captain signaled the flight attendants to prepare for landing. As quickly as the sound started, it disappeared followed by the jarring sound of the fastened seatbelt sign being illuminated above the seats.
Almost as an instinct, my eyes left the screen in front of me and focused outside the window.
I knew arriving in Juneau, Alaska would be pretty cool but I was not prepared for a crystal clear day and mountains for as far as the eye could see. I don't know what it is about mountains but they call me.
Is Juneau, Alaska Worth Visiting?
Have you ever arrived somewhere and it just felt right? This is how the attractions in Juneau were for me. The smallest of the 3 major cities in Alaska, Juneau holds on to the title of the capital city but the real wonders lie in the setting of the city.
It's unfortunate that many only visit Juneau on a day trip from their cruise ship because it's a truly spectacular city. Not just the actual city itself, with its close-knit community feel, but the surroundings of the city too. The nature, the wildlife, the only-in-Alaska experiences.
If you visit Alaska and skip over Juneau, you're truly doing yourself a disservice.
Related Article: 19 Photos That Prove Juneau is More Than Just a Cruise Stop
Highlights of Juneau, Alaska Map
HOW TO USE THIS MAP: Above you'll find a map of our highlights in Juneau, Alaska. Click on the top left of the map to find separate layers marking the route and points of interest. You can hide and show different layers, or click icons on the map to see the names of places we mention in this travel guide. "Star" the map to save it to your own Google Maps, or open the map in a new window for a larger version.
5 Days of Adventure in Juneau
Glacier cut mountains line the water, jutting out of sea level and leaving behind the inconvenience of dealing with altitude adjustment. This sets the stage for Juneau as an active, outdoors kind of place with all the amenities of taking a trip to the city.
By day you're having adventures on glaciers, hiking in forests, climbing mountains, whale watching, kayaking, flightseeing and by night enjoying the proudly owned local restaurants serving classic Alaskan fare washed down with craft brew from the Alaskan Brewing Company.
Our time in Juneau culminated in 5 action-packed days of adventure, exploring and eating our way right into the fan club of the city.
Shocked to learn that most people only spend the one day they have on a cruise ship in Juneau, we've made it our mission to convince you that you should fly in early for your cruise and take a look around. You won't regret it.
That being said, this is our definitive guide to things to do in Juneau, Alaska including everything we did on our visit and so much more.
Don't leave home without: Lonely Planet Alaska (Travel Guide)
---
20 UNREAL Things to Do in Juneau, Alaska
---
Juneau is a destination where the day trip is king. With so many options in very close proximity to each other, your options are virtually endless and completely dependent on your personal preference and travel style.
There is no shortage of things to do in Juneau and we found the adventure options to be not only addicting but the kind of things that reach experience of a lifetime status.
We were simply blown away by the presence of rustic nature and landscapes and the fact that you get to literally make that your playground during a visit to Alaska makes it a unique getaway.
You can get remote in minutes and there are not many places left in the world to do that. The attractions in Juneau deliver.
1. Hike Mount Roberts
The majority of people that visit Juneau take the Mount Roberts Tram from the harbor to reach the top of this beautiful mountain. While that works for some, we highly recommend hiking to the top if you are able and have the time.
The hike is stunning with lush, green rainforest and easy to navigate trails. Most of the hike slowly inclines to the top, so expect a little bit of a leg burner but it will be well worth it while the sounds of Alaska's forests surround you.
It's 3 miles to the top if you walk to the trailhead from downtown Juneau and depending on how many times you stop for photos, it will take you around 2-3 hours.
Once at the top, you will be at the tram station and have the option to enjoy a cold beverage and take the tram down or do as we did, and hike the 3 miles back down. This is one of the best things to do in Juneau on a sunny afternoon.
HOT TIP: If you hike to the top and spend a minimum of $10 in the bar or gift shop, your tram ride down to town is free.
2. Go Ziplining on Douglas Island
This is a fun way to spend part of your day away from the crowds. Located just over the bridge of Juneau City is Douglas Island.
Most of the island is inaccessible by vehicles but one road will take you to the middle of the island where you can ski in the winter and zip line in the summer with Alaska Zipline Adventures.
Featuring 7 lines, 10 platforms, and a suspension bridge strung between giant Alaska pine trees, you'll find yourself totally immersed in nature for the duration of the activity.
Safety is the rule here and the staff is attentive in making sure you are kitted out correctly before starting the tour.
3. Take A Road Trip
A fun fact about Juneau, Alaska is that it only has one 42-mile stretch of road that you can drive on; each of the ends stops abruptly and is marked with big yellow signs saying 'END'.
We were surprised to learn that you cannot drive to Juneau and it is a city that can only be accessed by air or sea. However, don't let this discourage you from grabbing your own wheels during your stay.
The stretch of road from Thane to Echo Cove is likely the most picturesque 42 miles you'll ever experience on a road trip.
Be sure to check out places like Auke Bay, Eagle Beach, Shrine of St Therese, Mendenhall Glacier Visitors Center, the Arboretum, and any of the great hiking trails along the way. This was one of our favorite things to do in Juneau.
Need to book a car for your road trip adventure? We use Discover Car Hire for comparing car prices to find the best deal. They search both local & international rental companies.
4. Visit the Mendenhall Ice Caves
One of the most wondrous things to do in Juneau is to find your way to the Mendenhall Ice Caves. These caves are formed of glacial ice due to the rapid recession of the Mendenhall Glacier.
They are otherworldly and one of the coolest natural wonders we have ever seen. However, don't waste any time, if you want to see the caves you need to go now.
The caves change rapidly by the day and parts of them have already collapsed and disappeared. Once the Mendenhall glacier recedes out of Lake Mendenhall, the ice caves will no longer exist.
You have a couple of options for visiting the caves- which we outline in detail in Visit the Mendenhall Ice Caves Before They Melt – but we highly recommend taking a canoe and glacier hiking day trip.
The trip we did with Alaska & Beyond lasted all day and included a 1-hour canoe across Lake Mendenhall with an up-close look at the face of the glacier.
Experience a beach landing to the west of the glacier, a hike to the ice caves, a hike onto the top of the glacier, glacier exploration, and a return canoe trip across the lake.
Read our first-hand account of visiting the Mendenhall Ice Caves Before They Melt.
Explore the 3,000-year-old Mendenhall Glacier on this 5.5-hour adventure tour from Alaska's capital city, Juneau. Paddle out on the iceberg-covered Mendenhall Lake for about an hour until you reach Mendenhall Glacier.
Then, spend about an hour to an hour and a half on the glacier. Afterward, paddle back to your starting point, and warm up with a hot beverage once you reach the shore.
5. Hike the West Glacier Trail
If you want to get into the thick of Southeast Alaska's temperate rainforests, then this trail is for you. I have never seen such a dense amount of forest moss in my life, it was incredible.
This hike follows the forest up the west side of the Mendenhall Glacier and, if you're up for it, will end at a spectacular overlook of the glacier and lake below.
Not everyone will be fit enough to reach the viewpoint, it does require good fitness and the ability to walk up steep areas with uneven ground. However, if this doesn't suit you don't let that deter you.
The first part of the hike is relatively easy and still allows you to immerse yourself in the forest.
We went out with the guides at Adventure Flow and not only did we get a great hike but we learned so much about the forest along the way.
The unique ecosystem of the rainforest is a passion for the guides and they overflow with excitement in showing you the many layers of the forest.
If you love nature, this is one of the best things in Juneau to get away from the crowds and check out the rainforest.
6. Take a Wings Air Flight to Taku Glacier Lodge
This is one of the most incredible tours we have ever taken. I know those are big words but it was one of a kind.
The floatplanes leave from downtown Juneau harbor, right where the cruise ships dock and you take off from the water and fly between the towering mountains away from Juneau.
The flights take you over the Juneau Ice Field, the source of every glacier in the area and it is downright amazing.
Alaska has this uncanny ability to make you feel really darn small in the World and when we flew over the ice field, I couldn't help but reflect on how shocking nature can be.
If that wasn't enough, the tour lands on the water outside of the historic Taku Glacier Lodge which has a prime view of the Taku Glacier opposite of the property.
We enjoyed a Salmon Bake for lunch and had ample time to explore the grounds, photograph the glacier, and relax.
Returning from the lodge to downtown Juneau is just as good as the flight out. This is an incredible day trip; don't miss it.
7. Helicopter Flight with Dog Sledding on Glacier
We were actually supposed to do this but unfortunately, our trip was canceled due to weather. Insert sad face here.
This adventure involves a helicopter ride onto the Mendenhall Glacier and a chance to learn how to run sled dogs. It's classic Alaska and probably something you shouldn't miss if the weather cooperates.
8. Bear Viewing on Admiralty Island
Taking a floatplane from downtown Juneau, this 30-minute trip will land you in what the Tlingit people called the 'fortress of bears'. The Pack Creek Sanctuary is the best place to view Brown Bears in Southeast Alaska.
If you want to see bears here, plan your trip between June and September. Book a bear-viewing trip to Admiralty Island
9. Whale Watching at Tracy's Arm Fjord
Taking an all-day cruise from Juneau not only gives you a prime opportunity to see whales but also a chance to get up close to more glaciers.
Spend a day cruising the Tracy Arm Fjord, dodging icebergs, laughing at seals, and observing whales. Book a whale-watching trip here.
10. East Glacier Loop
This 3.5-mile loop trail will give you glimpses of the East side of Mendenhall Glacier. While the Mendenhall Glacier visitors center sees thousands of cruise ship visitors a day, they rarely venture beyond the close by trails.
This means the forests and mountains beyond are virtually empty and a haven for hiking.
Juneau, Alaska boasts over 250 miles of hiking trails and many of them can be accessed right from the downtown area. It would be a shame to visit Juneau and not enjoy at least one of the trails.
Hiking Safety in Bear Country: Juneau and the surrounding area has a large population of Black Bears and it is not uncommon to see one while hiking. Hike in a group and stay together on the trail. Make plenty of noise to alert the bears that you are in the area, surprising a bear is the worst possible situation you could put yourself in. If you come across a bear, gather together and act big. Do not run, do not move toward the bear. If the bear displays threatening behavior back away slowly but only a few steps at a time. Do not leave food out and as a precaution, carry a can of bear spray with you.
Tips for the trail: Set off in the morning to ensure you have plenty of time to hike the trail, let someone know where you are going, and be sure to make plenty of noise on the trail. Bring adequate amounts of water and healthy snacks with you on every hike. Lastly, don't forget a flashlight or head torch in case you get lost on the trail after nightfall.
11. Nugget Falls near Mendenhall Glacier
This attraction in Juneau is one of the most popular hikes due to its accessibility and views of not only a towering waterfall but the Mendenhall Glacier.
The accessibility to Nugget Falls is very easy, so it won't be the most secluded place you visit in Juneau but will prove worth the effort nonetheless.
12. Visit Glacier Bay National Park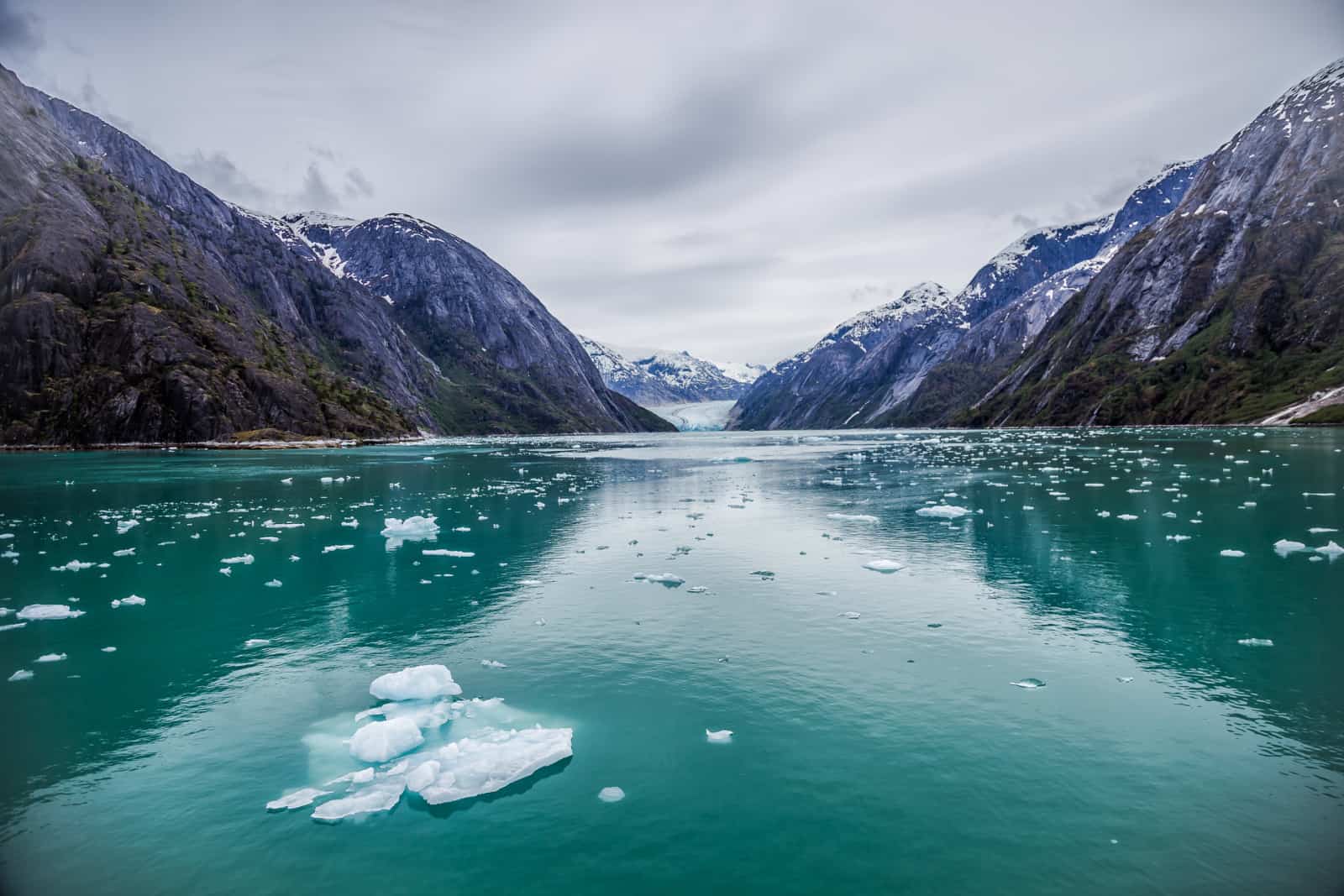 A visit to Juneau puts you in close proximity to one of the most beautiful and remote national parks in the USA, Glacier Bay National Park. So if you have the time to visit, you certainly should. It's not only one of the best things to do in Juneau, it's one of the best things to do in Alaska.
You can go about this in two ways, either book a day trip that will give you a very basic overview including the visitor's center and a cruise into the bay itself, or plan to stay a few nights within the park.
Honestly, there is no right way to do it. That said, you have the option to either camp or stay in a lodge within the park. So staying a night or two is definitely an option.
If you're short on time, you can book a tour that departs out of Juneau, like this one, and spend the day in one of the most spectacular places in the world.
13. Glacier Gardens Rainforest Adventure
Remember how I mentioned those only-in-Alaska experiences? Well, a rainforest among glaciers is one of them!
Glacier Gardens is an Alaska rainforest on Douglas Island. You can take a cart ride to the top, where you'll have some of the most epic views. Plus you can learn all about the flora and fauna on the way up.
And when you arrive, you're surrounded by lush green plants, that make it feel as if you've been transported to another world.
14. Last Chance Mining Museum
Mining has obviously played a very important role in shaping Alaska and the Last Chance Mining Museum in downtown Juneau is a great place to learn more about the industry's impact on the small city.
The museum was actually built over an old gold mine! Note that it does operate seasonally so it's best to check the hours just before visiting.
15. Alaska History Museums
Beyond the Last Chance Mining Museum, there are two other museums you can visit in Juneau – the Alaska State Museum and the Douglas City Museum.
The Alaska State Museum, as you might presume, features exhibits all about Alaska and the history of the state, from fine art to forestry traditions.
The Douglas City Museum is much smaller and, again, focuses on the history of the area. It's pretty compact so it's a great place to stop if you're looking to kill just an hour or two.
---
For the Foodie's – Best Restaurants in Juneau
---
You have your pick for some great dining experiences in Juneau. These are the places we enjoyed during our stay and suffice it to say, we didn't have a bad meal or drink.
Beer from the Alaska Brewery can be ordered in every establishment, so don't be shy, order a glass of Alaskan White and enjoy some seafood.
16. Zerelda's Bistro
From the outside, you wouldn't expect much from this place but the minute you walk through the doors you'll find creative dishes and a cozy atmosphere. Tip: Order one of their salads
17. Alaska Fish & Chips Company
Obligatory for a trip to Alaska, the Alaska Fish & Chips Company is located right on the wharf with outside seating and fantastic fish & chips. We recommend Halibut.
18. Tracy's Crab Shack
If it is King Crab you seek, look no further than Tracy's Crab Shack. The place is an icon with friendly staff an Oceanside atmosphere and damn good crab legs. Tip: Order just one leg to start… they're huge.
19. McGivney's
McGivney's is a sports bar located in the Four Points Sheraton Lobby. The atmosphere is friendly with a wide selection of Alaskan brews and popular food options.
20. Devil's Hideaway
If you want to hang with the locals, the Devil's Hideaway is the place for you. Officially a bar that serves food instead of the other way around, this low-lit bar overlooking Auke Bay has some incredible fish tacos and loaded tots.
21. The Hangar on the Wharf
The hang-out place of downtown Juneau is The Hangar on the Wharf. I'd equate this place to a Perkins when it comes to the atmosphere but with much better food and amazing views of the waterfront.
22. The Rookery
The Rookery is a trendy little café located smack in downtown Juneau, the short menu changes daily, and reservations are highly recommended for dinner as it the place packs up fast.
23. Red Dog Saloon
If you like strange, cool, and different experiences then head to the Red Dog Saloon on your visit to Juneau and order yourself a Duck Fart.
With a floor of sawdust and an old west meets Northern Exposure feel, you're in for a treat.
Things you can find on the walls include Wyatt Earp's gun, a walrus oosik, trophy wildlife mounts, and paper currency signed by the many miners that have frequented the saloon from around the world since it opened.
---
Juneau, Alaska Travel Tips
---
Best Places to Stay in Juneau, Alaska
You definitely have a few options for places to stay in Juneau during your visit and you can't really pick a bad location.
We ended up in a place off the busy cruise ship area, in the backstreets of the downtown, and loved it. After a day of adventuring and enjoying the city, it was our little haven for relaxation away from the crowds.
Silverbow Inn: We based ourselves at the Silverbow Inn and loved it. This Inn is very cozy with newly remodeled rooms and one of those beds that you just sink into at the end of the day. The lobby features a fireplace, couches, books, games, 24-hour coffee, tea, hot cocoa, and rotating snacks. They even put out a candy bar every evening. All the information you could want is provided at the front counter. There's even a hot tub on the roof to warm up in on those chilly days. We loved our stay here and would gladly return.
Four Points by Sheraton: If you like the chain experience or have points to spend, the Four Points by Sheraton Juneau is located just opposite the port in a great downtown location. You can expect typical Sheraton quality in the rooms, a concierge to arrange your day trips and the lively McGivney's restaurant in the lobby.
---
Our Final Thoughts on What To Do in Juneau, Alaska
---
We absolutely loved our visit to Juneau, Alaska, and could honestly see ourselves moving there and living. Everywhere you look is a dramatic mountain landscape and the city itself has more of a small town, close-knit feel.
The local people have friendly pride about their city that makes you feel welcome and the adventure is enough to keep things fun for a lifetime.
There is no shortage of things to do in Juneau. We'll be back, there is no doubt in our minds.
---
You might also like:
Did you like this story? Share it!