Known for being one of the most expensive countries in the world, Norway is also one of the most beautiful holiday destinations.
There is a large number of amazing cities, towns, and villages inside its borders and Bergen is one of them.
Surrounded by spectacular fjords and imposing hills, Norway's former capital is waiting for travelers, with excellent history and art museums, inviting cafes and restaurants, mesmerizing views, and a bustling nightlife.
Since it is a small city, spending three days in Bergen allows you to see its main attractions without having to run from one place to another.
Just relax, enjoy the vacation, and indulge in the Norwegian beauty and mouth-watering cuisine.
Here are the best things to do in Bergen during your three-day escape.
Don't leave home without: Lonely Planet Norway (Travel Guide)
---
12 Things to Do in Bergen, Norway
---
1. Explore Bergen by Foot: The Charming Old Quarter
One of the first things to do in Bergen is visiting its old quarter. Wander around the delightful wooden alleys of Bryggen and enjoy the relaxed atmosphere.
Admire the old, quirky buildings, and browse the interesting shops and boutiques.
Explore the neighborhood freely, without using a map and let its hidden gems surprise you.
If time permits you, you will want to come back to this lovely place that instantly connects you to the city's fascinating past.
The best way to explore the old quarter is with this 2.5 hour guided walking tour.
Explore charming wooden streets and historic sights like St. Mary's Church; Vågen harbor; and the Bryggen quarter, now a UNESCO World Heritage Site.
Your guide will be sure to give you a taste of contemporary life as well.
2. Enjoy Cafe-Hopping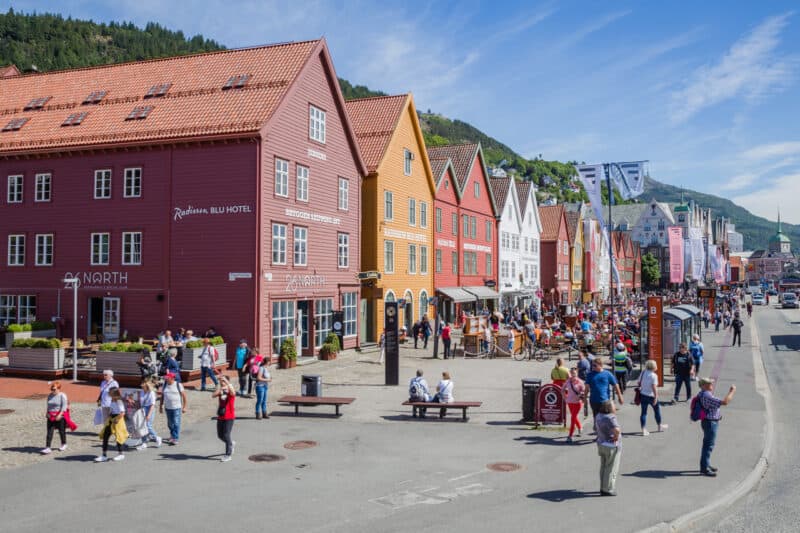 While strolling the lovely streets of Bryggen, you will notice the inviting cafes and restaurants.
Since you are on vacation, relaxing is one of your main purposes, so take a coffee break from time to time.
If you feel the desire to enter Starbucks and order a complicated drink, ignore it and look for an independent café.
There are many options and the charming Kaffemisjonen is just one of them.
With a simple, Nordic design, a cozy atmosphere, and one of the best lattes in Bergen, Kaffemisjonen will instantly satisfy your caffeine need.
Stopping here will give you the chance to enjoy a break from sightseeing and spend time with the locals.
Book a local guide to experience local food and local stories on this great walking tour.
You'll visit two tourist attractions and the three other stops are local, hidden gems.
The whole tour is in the old part of town and the length and the pace makes it an easy walk.
You'll get insight into local life, history, and of course our traditional food culture.
3. Get in Touch with Art at the KODE
Whether you are an art enthusiast or you just want to catch a glimpse of Bergen's artistic spirit, visiting KODE will complete your first day of sightseeing.
Hosting the biggest art and design collection in Scandinavia, the museum offers you the chance to explore four buildings filled with artistic treasures.
Take your time and enjoy inspiring modern art and contemporary exhibitions.
Admire Edvard Munch's works, and praise the famous Singer art as well as the national silver collections.
4. Visit One of Norway's Iconic Monuments of the Renaissance: The Rosenkrantz Tower
After a first day filled with wandering around and exploring art, you should dedicate the second to studying Bergen's history.
One of the best things to do in Bergen is visiting the famous Rosenkrantz Tower.
Built to demonstrate the power over the Hanseatic merchants and to defend the city, the famous Rosenkrantz Tower is one of the most important monuments in the Norwegian Renaissance era.
In addition to its historical importance, the landmark offers you a unique chance to admire spectacular views.
So, climb the stairs until you reach its roof and delight in the picturesque views.
5. Catch a Glimpse of Bergen's Dark Past: The Leprosy Museum
Many consider The Leprosy Museum a dark place and for good reasons. However, it should definitely be on your list of things to do in Bergen.
Check out the history of patient rights and learn about Norway's contribution to leprosy research.
In addition, admire the collection of the History of Medicine. To have a memorable visit, consider taking a guided tour.
6. Check Out One of the Oldest Fortress in Norway: The Bergenhus Fortress
Located in the central area of the city, the Bergenhus Fortress is one of the oldest and best-preserved fortresses in Norway.
Wander around the several floors of this former Royal residence of the kings of Norway, admire the displays, and learn about the Norwegian military history.
This museum is not only very interesting but also free of charge.
7. Visit the Highest of Bergen's Famous 'Seven Mountains': Mount Ulriken
Located a few kilometers far from Bergen, the Ulriken cable car takes you to the top of the highest of its Famous 'Seven Mountains'.
The ride is exciting and the views from the top are spectacular.
If you want to take memorable photos, you should go early in the day, to catch a perfect light.
Tickets include a transfer from Bergen's city center. But if you don't want to pay for a cable car ride, you can also hike up the mountain.
Just keep in mind that it might take a long time so can be very tiring.
The Vidden Trail is one of Bergen's most rewarding day hikes, a mountaintop trail that runs from peak to peak, between Mt Ulriken and Mt Floyen.
On this tour, ride the cable car to the top of Mt Ulriken and set out on a guided half-day hike along the famous trail.
Along the way, admire spectacular views over the mountains and fjords around Bergen, and stop to enjoy a picnic lunch (bring your own) on the mountaintop.
8. Enjoy an Exciting Funicular Ride to the Top of Mount Floibanen
Whether you want to ride the 26-degree Floibanen funicular, or you prefer walking up the paved path, climbing the mesmerizing Mount Floibanen will enhance your holiday in Bergen.
The funicular departs every 15 minutes and promises an exciting ride. However, climbing by foot is free of charge.
The choice depends on your budget and the time you have left.
Don't forget to bring: Lonely Planet Norway (Travel Guide)
9. Eat Your Way Around Bergen
Known for their fresh local ingredients, the Norwegian dishes will make your taste buds go wild.
You just have to avoid the tourist traps and eat in good local places.
Located near the beautiful Bryggen, Bergen's fish market is a great starting point for your culinary experience.
Wander around the stalls and grab a bite to eat. However, the market does not sell only fish and keep in mind that it is a tourist attraction, so the products are not the cheapest.
Bastant Stolegaten is another place where you can get closer to Norwegian cuisine.
The cold climate makes soups a popular dish among the locals. So, eating in a soup bar is a fantastic idea.
Though Norway is not famous for its vegetarian dishes, if you don't eat meat, you will love this place.
There are also delicious alternatives for those who aren't big soup or veggie fans.
If you want to eat in a high-end restaurant, To Kokker is waiting for you with perfectly cooked traditional dishes.
Located in an old house, in Bryggen, this restaurant makes you feel like you are traveling back in time.
Wondering what to order? Well, its rich menu can make deciding difficult. But everybody seems to love and recommend the delicious mussel soup and the oven-baked cod.
In addition to the outstanding dishes, the service is flawless and the staff is very friendly, creating a warm atmosphere.
Keep in mind that this is not a budget-friendly restaurant but the authentic taste of the food makes both locals and travelers happily pay a bit more than other places in town.
---
Best Day Trips from Bergen
Bergen is a great city where you can relax, enjoy plenty of sightseeing, as well as spend time in the middle of nature.
However, if you plan to have a longer vacation, besides making a list of the best things to do in Bergen, you should also consider adding a few great day trips available from the city.
10. Explore the Mesmerizing Fjords of Norway
The charming city of Bergen is situated between Sognefjorden and Hardangerfjorden. So, if time permits, don't miss the chance to explore these natural wonders.
Whether you choose to join a tour or you prefer renting a car, you will enjoy a half-day trip filled with memorable scenic experiences.
Discover Norway's incredible natural beauty on this 6-hour excursion from Bergen. Join your guide in a comfortable Mercedes minivan and visit stunning fjords, waterfalls, villages, and more.
As you travel, your guide will introduce you to Norwegian music and share information about local history and culture. Don't miss the chance to cross a fjord by ferry before your tour concludes.
11. Spend a Relaxing Day in the Middle of Nature: Hiking at Balestrand
Known for its spectacular vegetation and colorful wooden houses, the most beautiful of the Sognefjord's villages are waiting for all hiking enthusiasts.
Prepare for a relaxing day in a fairy-tale location, far from the busy streets of the city. Walk within the village of Balestrand and adventure into hiking the trails of its surrounding hills.
12. Have Fun in a Winter Wonderland: A Day in Voss
If you visit Bergen in winter, you must save a day for going to the largest ski destination in western Norway.
Known as an important center for extreme sports, Voss is a winter wonderland for adventurous travelers and adrenaline junkies.
---
Where to Stay in Bergen
Since it's a great tourist destination, Bergen offers a good selection of accommodation, covering all budgets. If you plan a lavish vacation, staying in a high-end hotel like Radisson Blu Royal will definitely enhance your trip.
With comfortable rooms, a lovely bar, and a deluxe restaurant, Radisson Blu will satisfy your deepest desires.
To relax, take advantage of the amazing Health Club where you can find saunas and all kinds of machines that will help you unwind.
Travelers who want to live like a real Bergenser should search for a local guesthouse. Centrally located and fairly priced, Marken Guesthouse is a good choice. With a simple Scandinavian design, the rooms are very comfortable indeed.
More on Norway:
Did you like this story? Share it!