Tibet is a place of mystery and wonder, it is one of the last places in the world where you can witness timeless religion, people and landscapes. With that combination, there is no shortage of things to do in Tibet.
The capital city of Lhasa holds some incredible monasteries, including the famed Potala Palace, along with a culture that looks like nowhere else in the world. That said, the wonders of Tibet go far beyond Lhasa.
If you're adventurous enough to venture out of the city, there are some incredible opportunities to see dramatic landscapes, rural areas, off the beaten path religious sites and the mighty Mount Everest.
No matter how you choose to spend your time in Tibet, you'll surely have a wonderful time.
Don't leave home without: Lonely Planet Tibet (Travel Guide).
---
16 Unforgettable Things to Do in Tibet
---
Most trips to Tibet start in the capital city of Lhasa, home to some of the World's most incredible monasteries.
It goes without saying that you should give yourself time to explore Lhasa and take in all that it has to offer. Plus, staying in Lhasa helps you acclimatize to the elevation, despite that Lhasa is already quite high at 3600m, it is one of the lower elevated locations on most visits to Tibet.
Lhasa has several monasteries that are easy to locate and visit during your time in the city. Bear in mind that you cannot just book a ticket to Lhasa, Tibet and start sightseeing.
Due to strict regulations, these monasteries can only be visited with a tour group. We spent our time in Tibet with Tibet Vista and got a beautifully up-close look at the best sights in Lhasa.
---
Things to do in Lhasa, Tibet
---
1. Visit the Potala Palace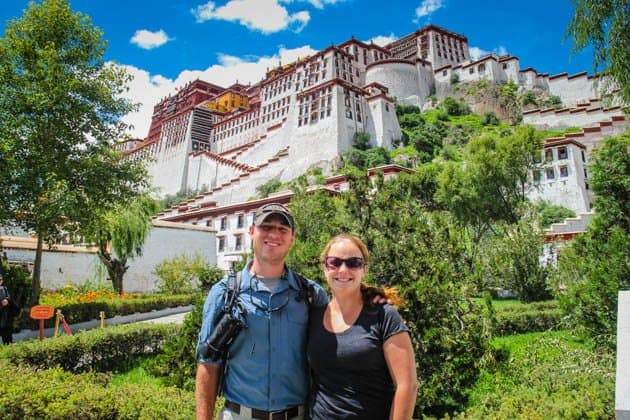 No visit to Lhasa, or Tibet for that matter, would be complete without a visit to the Potala Palace. Of all the sites in Tibet, this one is the most famous and the one that most people will recognize from the travel magazines.
It is a huge, gorgeous palace that sits on top of the highest peak within Lhasa. The palace was the residence of the Dalai Lama until the 14th Dalai Lama fled to India during the 1959 uprising.
The building is a contrast of off white, red, yellow and blue colors that sit against the clear blue skies at 3600m. The palace is an UNESCO World Heritage site and great efforts have been made to preserve the integrity of this beautiful structure.
As part of the preservation efforts, only 2300 people are allowed within the palace each day which is usually met by mid-morning. Reservations are essential and you must not be late.
Like the other monasteries in Lhasa, you may not visit without being part of an organized group.
2. Drepung Monastery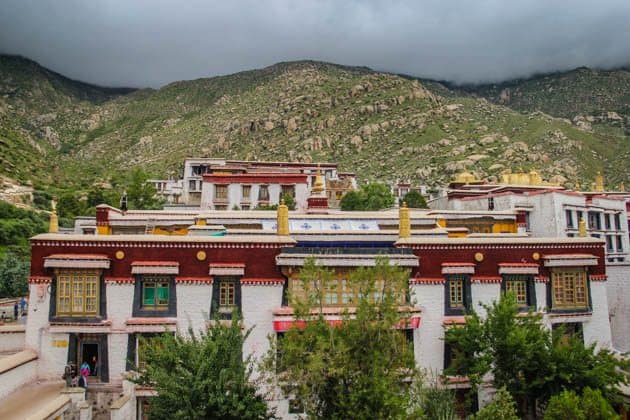 Our second day in Lhasa was started with a visit to the largest monastery in Tibet, Drepung. It is located on the Gambo Utse mountain just outside the city center, which makes it a convenient stop while touring in Lhasa.
During its busiest times in the early 1930's, the Drepung Monastery housed up to 10,000 monks at one time. Today, there are only approximately 3oo monks that live within the walls of Drepung.
Visiting Drepung first was a great way to set the mood for the rest of our time in Lhasa. The monastery is beautiful, with bright colored window dressings set against off white walls that reach for the bright blur sky.
The monks wander the halls within the complex in deep red robes that set off an attractive contrast in color that you can't take your eyes off.
Add in the Tibetan pilgrims in traditional dress that follow their routes while spinning gold prayer sticks and you will find yourself caught in the trance of Tibet's wonders.
3. Sera Monastery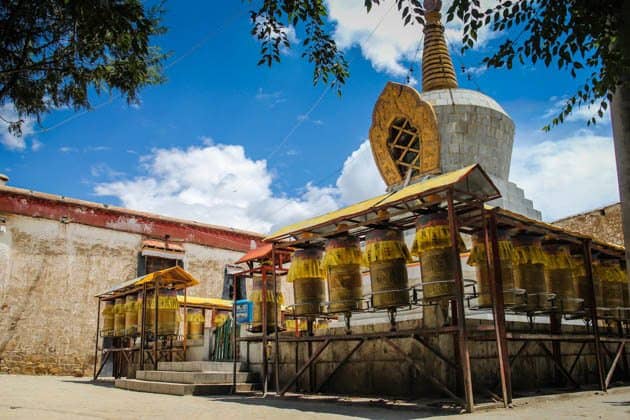 After our visit to the Drepung Monastery and a hearty lunch in a local restaurant, we moved on to the Sera Monastery. This monastery is also located just slightly outside the city but is another that is worth the visit.
Be sure to check out the back alleys for a look into the life of the locals and the resident monks. Much like the Drepung, the Sera Monastery offers that same brilliant contrast of colors and locals.
The entire complex sits on 28 acres and it is easy to spend an entire afternoon there exploring with your group.
4. Observe A Monk Debate in Lhasa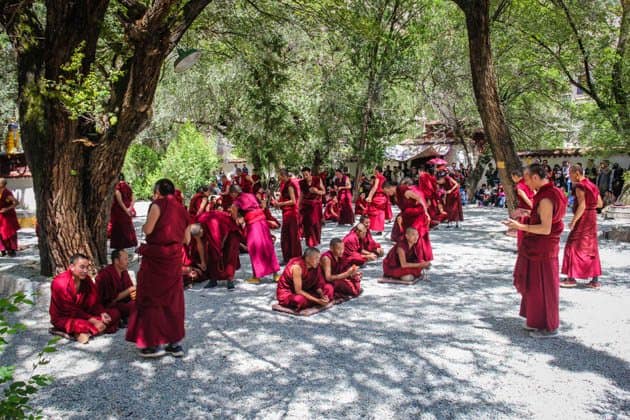 Tibet is full of interesting things to see and do, but one of the most unique things to do in Tibet is watch the monks debate philosophy at the Sera Monastery.
An afternoon visit to the monastery will allow you the opportunity to witness the resident monks displaying a debate of philosophy in the courtyard.
The ritual happens once per day and involves a lot of chanting, talking, clapping, slapping and cross legged contemplation.
5. Jokhang Temple
Our second day started with a visit to the Jokhang Temple. This temple is considered the most sacred place in Tibet by the local Tibetans and is part of the UNESCO World Heritage ensemble that includes the Potala Palace.
It is located smack dab in the center of Lhasa and is surrounded by the famous Barkhor Street, where hundreds of Tibetans spend their day walking and praying.
This temple was first constructed in 642 and it embodies the very essence of Tibetan culture. The interior is dark and mysterious but beautiful all the same. The hallways and rooms inside the temple are very small and on any given day are so crowded it can be hard to enjoy your visit.
Despite that, this is a place that shouldn't be missed.
6. Spend Some Time on Barkhor Street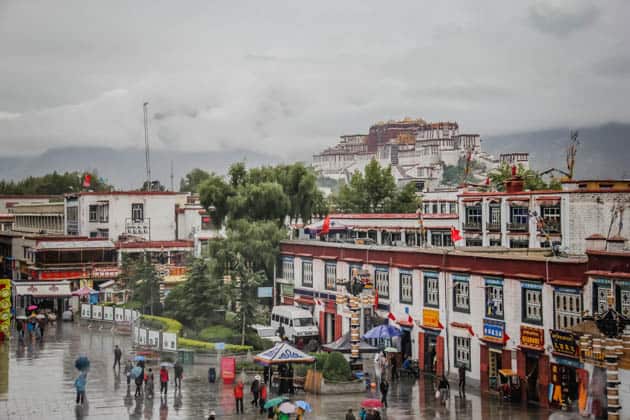 Barkhor street is a circular pedestrian path in the heart of Lhasa that circles the Jokhang Monastery. Pilgrims come at all times of the day and night to walk the path, paying respects to their religion and beliefs.
We witnessed a variety of people carrying prayer wheels, prayer beads as they walked praying and socializing with their friends and peers.
This is an excellent place in Lhasa, Tibet to people watch, engage with the locals and get fantastic photos.
7. Interact With the Locals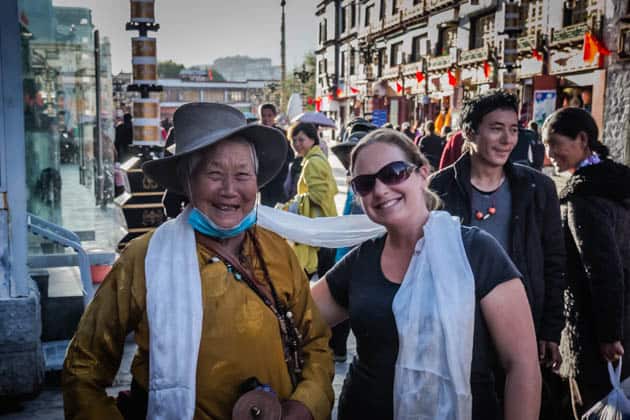 Tibet has some of the most friendly people we have encountered in our travels. Despite the presence of very few western travelers, they welcomed us with open arms.
My favorite moment was when David asked this women above if we could film her placing a traditional scarf over my head. She excitedly agreed and when we started to film, she instead wrapped us both in it an wanted a photo!
It was such a sweet moment. Throughout out visit the people approached us in friendly, enduring ways. They were curious to meet us and interact.
---
Things to Do in Tibet – Outside of Lhasa
---
Rolling over in bed I grabbed my cellphone and hit the snooze button. The morning came fast after spending the past 3 days touring Lhasa while trying to acclimatize to the elevation at 3600m. My phone read 5 AM, ugh.
We would be leaving Lhasa today and heading across Tibet on an adventure through the countryside towards the Himalayas and one of the most remote areas in the World. We would be heading for Mount Everest, and upon remembering that at 5 AM, I sprung quickly out of bed and woke up David.
As a child, I was that kid in school that studied maps of the World for fun. I was absolutely transfixed with the World and all the places that are in it. I didn't know then that it would turn into a lifelong love of exploring those far off places I once studied.
For many years in my life, I daydreamed about places like Mount Everest and never really thought it would be a place I could say I have seen with my own eyes.
You can imagine how years of wonder and dreaming were culminating in these very moments we were living. It seemed surreal and I was bursting with excitement that I could hardly express.
We were going to Mount Everest and not from the Nepal side, from the rarely accessible Tibet side. From what I could find while researching this side of the World's largest mountain was that although the Nepal side is visited more often, the side we would be visiting in Tibet had far superior views.
We would be traveling overland with our group from Lhasa to Shigatse, the second-largest city in Tibet where we spend a short night before loading back into the van and making our way to Rongbuk Monastery.
Ultimately not reaching base camp until the third day of travel.
8. Visit the Gampa La Pass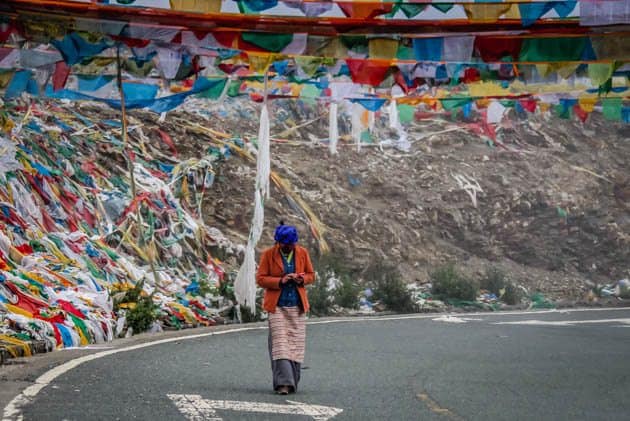 Despite the foggy, wet weather, we made our way along the winding roads and began to climb in altitude. Starting in Lhasa at 3600m was already stress for everyone.
Most of us had flown into Lhasa from various places in China, making a pretty quick ascent. After 3 days at that elevation, we were pretty adjusted, with just some shortness of breath with exercise. The day we left Lhasa, we headed straight for the Gampa La Pass.
The Gampa La Pass peaks at 4794m at which point you are afforded an unparalleled view of the sacred Yamdrok Lake. Even before arriving at the pass, we both began to feel the effects of the quick ascent.
We were rising 1000m in a matter of 30 minutes and it didn't take me long to figure out where the splitting headache and shortness of breath came from while we pulled on the parking lot.
It's really hard to put in words the way altitude can make you feel, especially at 4794m, but the closest description is compared to the feeling of your head bursting or feeling like it is about to while feeling like you have an asthma attack coming on.
I know, it sounds like torture, but you soon forget about the overwhelming feeling when you catch your first glimpses of Yamdrok Lake from the pass.
9. Admire the Sacred Yamdrok Lake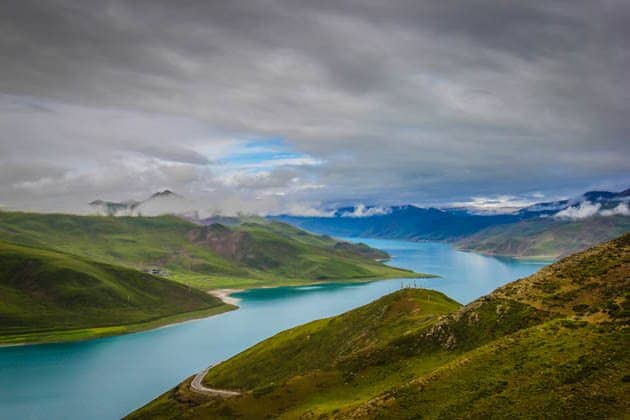 Yamdrok Lake is one of three sacred lakes in Tibet and is the largest inland lake on the northern range of the Himalayas.
We had the advantage of viewing this lake from the Gampa La Pass and then right from the shore once we came down the mountain.
No matter the view, it is absolutely stunning with prayer flags hanging from both vantage points, waving in the breeze while we took in the scenery around us.
Like our photos? Check out: Ultimate Travel Photography Gear List
10. See the Kharola Glacier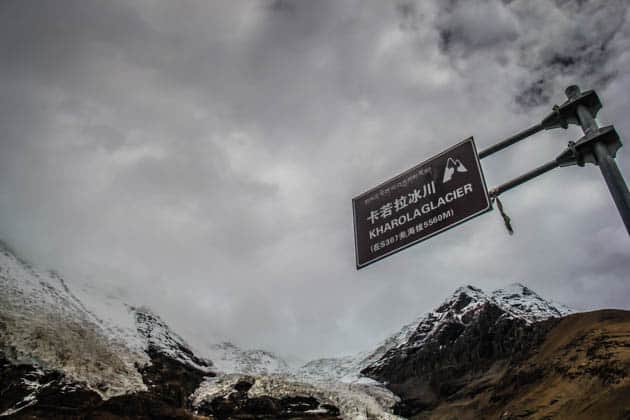 After stopping a couple of times to check out the different vantage points of the Yamdrok Lake, we continued on towards Shigatse. We made our way up to another pass of 4500m where we had the chance to view the Kharola Glacier from a very close vantage point.
The grey contrast of the clouds against the white-capped peaks and frigid glacier made a beautiful backdrop to the colorful prayer flags that were strung at our stop.
The Kharola Glacier is located 200km west of Lhasa off the Friendship Highway and if you were to climb to the very top of it you'd be at 5560m. Standing at the base of it is a magical experience while you mingle with the local Tibetans that live there and sell trinkets to travelers.
At one point David was filming the glacier from a distance when he was bombarded by two young girls who wanted to play and watch his videos from the camera.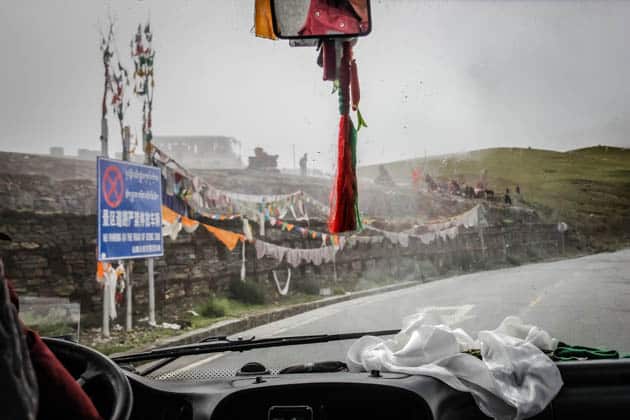 Being at elevation and surrounded by mountains makes for a temperamental weather situation. Rain comes and goes at any given time followed by intense sun and blue skies.
So it was no surprise when our day started out with low clouds and rain. The driving situation can be treacherous in Tibet because even though the roads are paved, landslides can cause pass issues and weather causes visibility issues on a regular basis.
Our 12 hour day was filled was an overwhelming array of weather and landscapes that made our first day of over landing a special experience.
11. Stop in Shigatse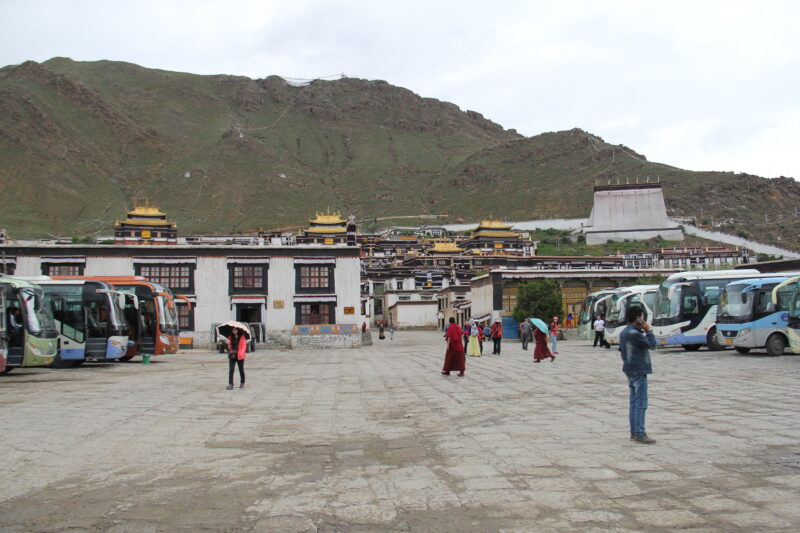 Anyone who is making the overland trip from Lhasa to Everest Base camp in Tibet will be stopping over in Shigatse to overnight.
This is the last civilization stop before you head into the Qomolangma preserved area.
While it's a small city, it has a beautiful monastery to tour during your visit. Best of all, it offers a modern hotel where you can stay to rest after a long day on the road from Lhasa.
12. Tashilunpo Monastery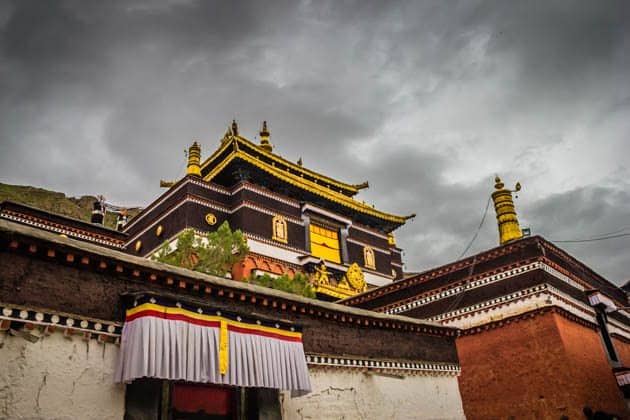 Upon arriving in Shigatse, the second-largest city in Tibet, we made our way to the Tashilunpo Monastery.
This monastery was founded in 1447 by the First Dalai Lama and is the most important monastery in Shigatse. Tashilunpo is located on a hill in the center of the city and housed 4,000 monks at its peak.
Like all the monasteries in Tibet, this one has had its fair share of historical experiences, yet it has persevered and continues to stand today.
After spending 12 hours traveling from Lhasa to Shigatse we were all happy to have arrived and welcomed the hour we spent walking amongst the monks at Tashilunpo Monastery.
13. See the inside of Rongbuk Monastery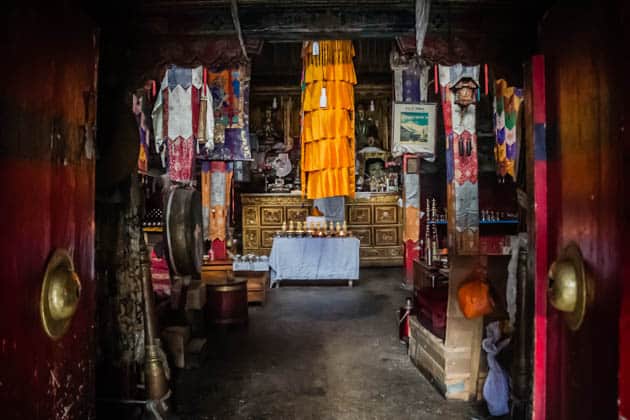 The Rongbuk Monastery is located near the base of Mount Everest on the north side. It sits at 5,009 meters above sea level and is lauded as the highest monastery in the world. Although, it's actually the second highest.
The monastery has been visited by climbers since the 1920s and prior to that, and still today, it was used as an important pilgrimage stop.
It is possible to visit the interior of the monastery if you're in transit to Everest Base camp and staying at the nearby guesthouse.
14. Photograph the Yaks
One of things we loved about Tibet was the yaks! They are everywhere, and often standing in some awe-inspiring places, like near Mount Everest in the photo above.
We enjoyed the many photographic opportunities that these animals had to offer during our travels and think this is easily one of the best things to do in Tibet during a visit.
15. Stay in the Rongbuk 'Guesthouse'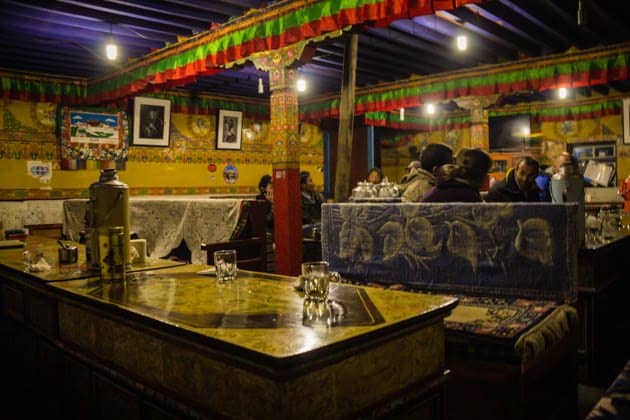 If you've overlanded from Lhasa and are planning to visit Everest Base Camp, chances are you will be staying near Rongbuk Monastery for a night. Logistically, this is the only possible way to reach EBC.
There are two options, either a large dorm style temporary tented camp or the permanent 'guesthouse' just across from the monastery.
Our tour in Tibet had us stay in the guesthouse, and we were thankful because it was frigid cold.
The lounge area had tables, benches and a yak dung stove. We spent the evening telling stories, eating soup and rice while staying warm at 5,000 meters. The accommodations are, well, basic but it does the job.
16. Visit the Tibet Everest Base Camp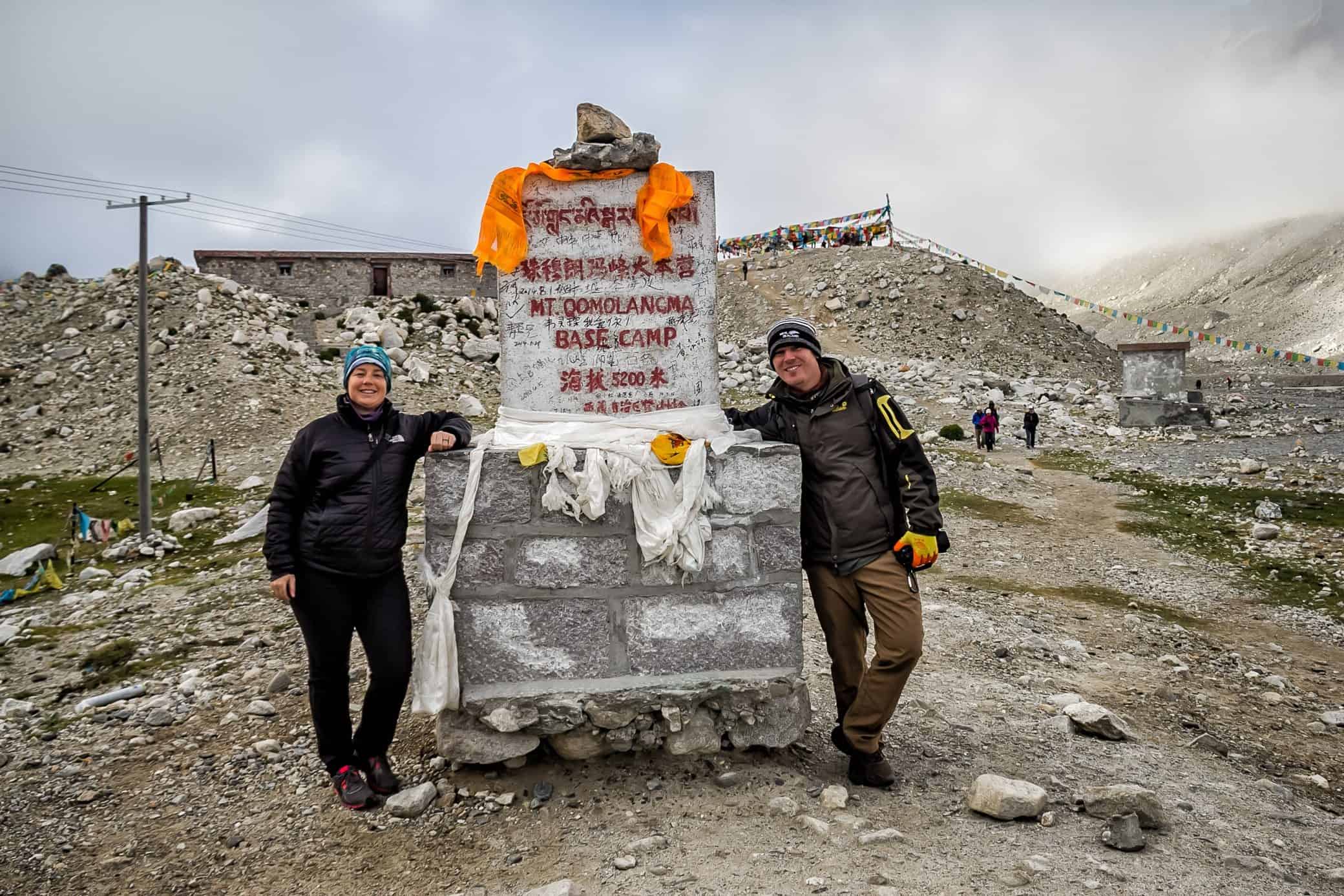 One of our most memorable and favorite adventures to date was the final hike up to Everest Base Camp in Tibet.
The air was thin, we were cold but we made it. Upon reaching the camp, we took turns hanging prayer flags and taking photos with our Tibet adventure companions.
Compared to the base camp in Nepal, this side sees very few visitors.
---
Our Travels in Tibet
---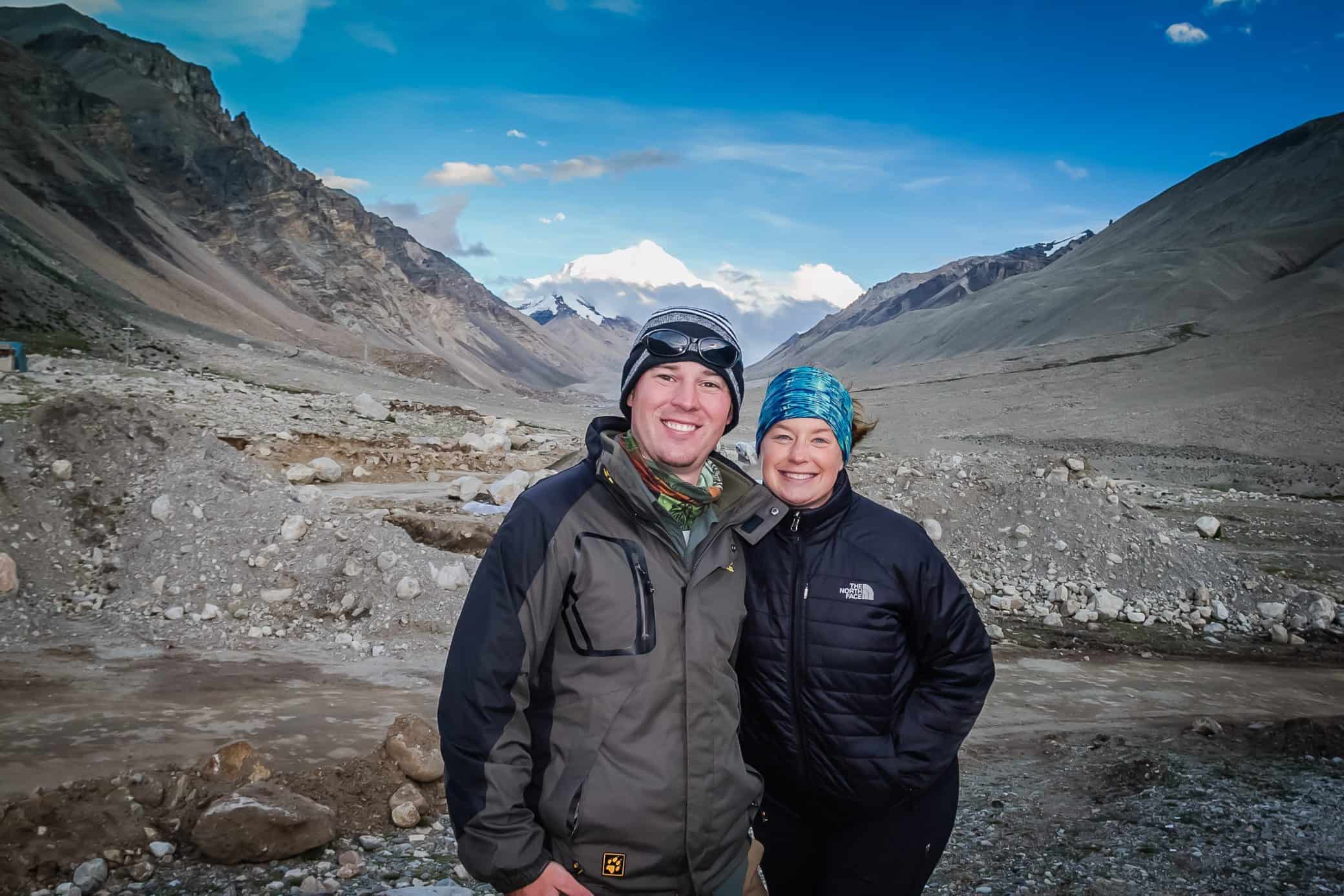 If you're interested in reading more about our time in Tibet, check out our other Tibet articles including great photography of the people and landscapes.
We made all of our arrangements for travel to Tibet after we landed in Beijing and in order to maximize our time and money spent, booked a tour that was 8 days in duration. At the time, this was the longest available tour that involved travel to Mount Everest.
I can't say enough good things about Tibet Vista, the company that arranged our travel to Tibet. They have taken the lead in setting the standard for Tibet travel and we highly recommend them.
They are based in Chengdu and their website is a wealth of information for all the regions that you can visit while in Tibet. If you book with them, tell them we sent you.
Tours We Recommend to Tibet
Discover amazing tours through Tibet visiting places like Lhasa and Gyantse. Most travelers enjoy exploring our Tibet trips in April, making it the most popular time of the year.
More on Tibet:
Did you like this story? Share it!