The decision to go backpacking in South Korea was a last-minute decision when we were in Kuala Lumpur. It had been on our radar, but we didn't know if it would come together or not.
We knew we wanted to leave SE Asia, as we were getting into the prime monsoon months and decided that since we had the flexibility of saving those countries for the fall and winter months that we would head North and visit China during it's best months.
When researching airline tickets we found that we would fly to Seoul for a very reasonable price with Air Asia, $372USD for both of us and no extra visa fees. So we seized the chance to visit South Korea and booked the tickets.
We are really glad we did because we both loved the vibe in Seoul and had the chance to experience a visit to the DMZ & JSA zones on the border with North Korea.
We actually ended up doing a lot of sightseeing within the city because the metro was cheap, easy to use and it went everywhere.
Admission to the main palaces was very affordable, so we didn't hesitate to visit several sites including Gyeongbokung and Changdeouk Palaces. Both were highlights of our visit to the city.
If you are into progressive culture and intense history, then you should visit South Korea, plain and simple. The country surprised both of us in many ways and we are so happy we took the chance and paid a visit.
---
Backpacking in South Korea: 10 Day Recap
---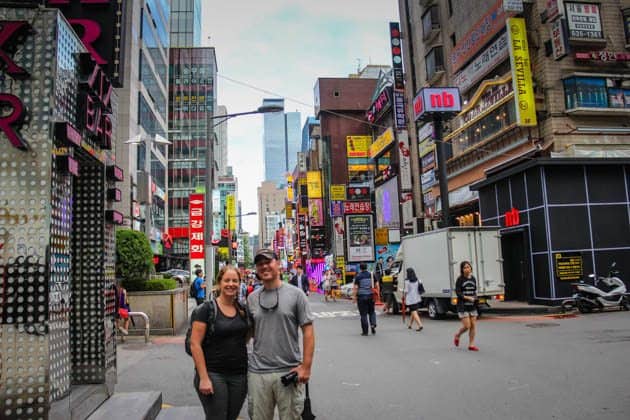 What We Loved About Backpacking in South Korea
Seoul has a very great vibe and we really enjoyed our time in the city despite it being fast-paced and crowded. The country is very progressive and the city is very modern.
If you can look past the Korean writing on the buildings and signs, you'd just as soon be in any big American city.
The city was clean. This is such an important thing for us when looking at cities. There is nothing worse than walking through a big city full of garbage on the streets.
We didn't see that in Seoul or any other parts of South Korea that we visited. It was a nice change after Kuala Lumpur.
The giant metro system. We were able to ride the metro from the airport to the city for 8,000KRW ($8USD) and we were dropped 1 block from our guesthouse. It doesn't get much better than that.
We picked a great base location, next to the main metro station, so that really helped our stay and ease of navigating the city. Besides that, you can literally get anywhere you want within Seoul and outside of Seoul on the metro. One of the best metros we have ever used.
The locals in Seoul were so friendly. There were so many times we would be somewhere looking at a map and a local would approach us asking to help. Most of the time they were young men who would be help us read the map and then point us in the right direction.
I've never been anywhere that the strangers were so friendly and willing to help, despite the language barrier.

What We Didn't Love About Backpacking in South Korea
Space. Plain and simple, there isn't any. Seoul is a very crowded city with people everywhere. You literally cannot go anywhere without being in a crowd of thousands of people.
This got old very fast as their culture is different than where we come from, personal space simply doesn't exist here. There was lots of pushing and shoving in the metro stations, you have to fend for yourself or be walked over.
Food prices. Naturally, food prices are going to be higher in a big city. We know this, but we found ourselves looking at food prices and comparing them to our struggles in Australia.
It was sheer luck if you found something under $10USD a plate in a restaurant. The street food was reasonable, but it was more of the snack variety then an actual meal.
We had anticipated this before our visit, but still felt we should mention it. Be prepared, food costs here.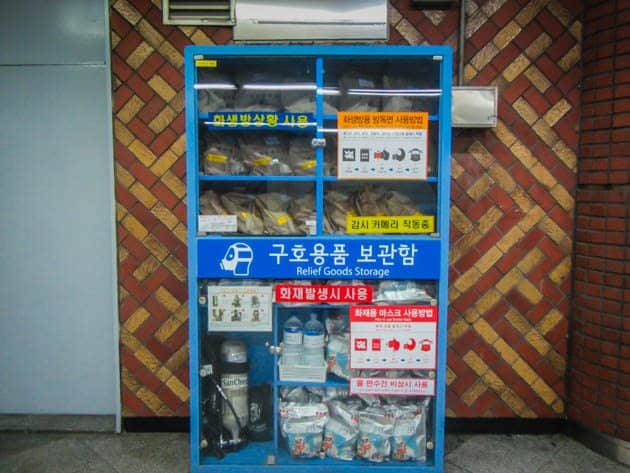 Something Worth Mentioning…
This is a 'in-between' loved and didn't love. We couldn't help but notice the display cases with gas masks in the metro stations and on the trains.
I am still unsure of how I felt about it although I often had intense feelings about whether I should be concerned or not.
South Korea has so much war history and conflict surrounding it that it was humbling to see those things in the public stations.
The South Koreans go about their lives as if everything is fine and stable, but the reality of it is that they are still at war and those gas masks in the metro station are a humbling reminder of that.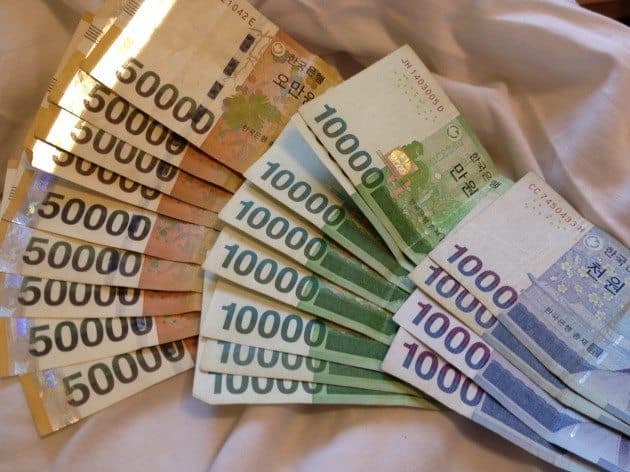 What Did We Spend?
We spent an average of $105USD per day for 2 people while backpacking in South Korea. This included a private room and 3 meals per day. I know, OUCH.
Despite our attempts to cut spending corners by walking, using the metro only, eating instant noodles and planning our days in advance, we still spent way over budget.
Part of it I think is that we weren't there long enough to balance out some of the bigger spends we incurred. With that said, this number does include our air tickets to get to South Korea.
Transportation: After landing in Seoul we used only the metro for transportation. Seoul has the most amazing metro network; you can go well over 2 hours from the city center just on the metro. The price for a ticket is reasonable, 2000 to 4000KRW ($2-$4USD) to go to most places. Once we arrived where we wanted to go, we walked everywhere. We got a lot of exercise in South Korea.
Accommodation: We stayed at the Gom Guesthouse, which was located near the Seoul Station for easy access to the metro. It was affordable and included breakfast. We had a comfortable private room with a shared bathroom.
Activities: We spent most of our time touring the city. We took a day trip to Suwon to explore the fortress city and also visited the DMZ Zone and JSA on the border of North Korea.
Food: After Malaysia we had a bit of sticker shock in Seoul. Things were really expensive so we ate a lot of instant noodles. We had a supermarket within walking distance, so we did buy sushi a couple times and also bought meat to cook at the guesthouse. Somehow we still managed to spend an average of $20USD/day on food.
Our Backpacking in South Korea Favorites
Favorite Beach: No Beaches in South Korea for us! So here's one of our favorite photos…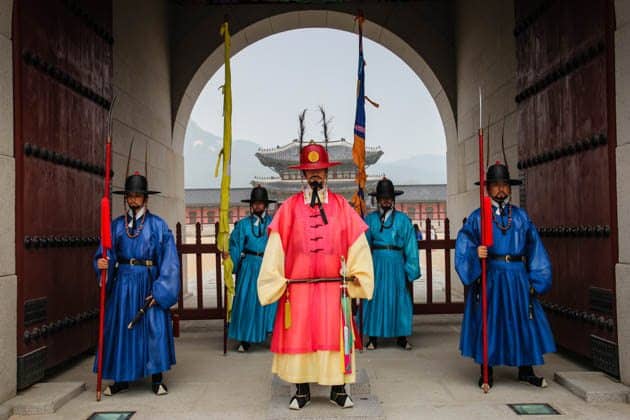 Favorite City: Seoul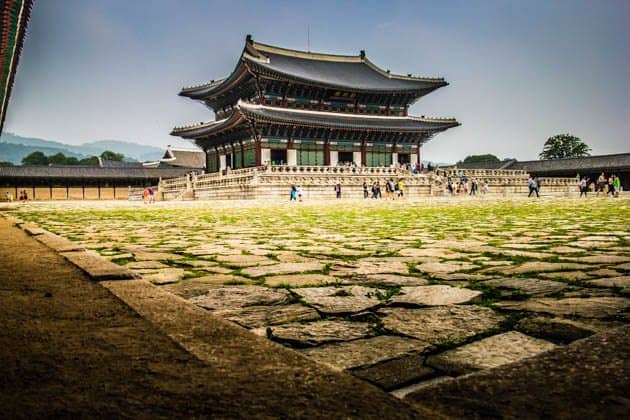 Favorite Activity: DMZ & Panmunjeom JSA Visit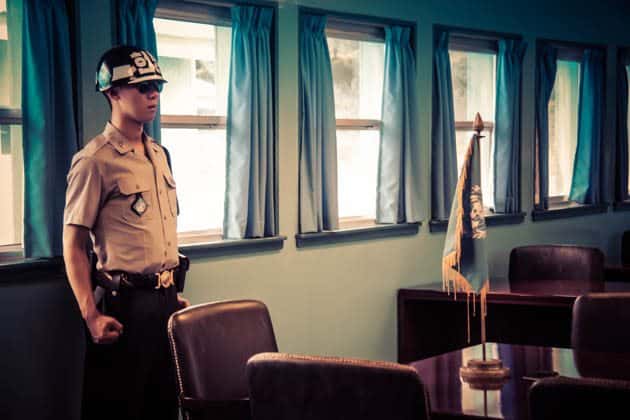 Favorite Meal: Korean BBQ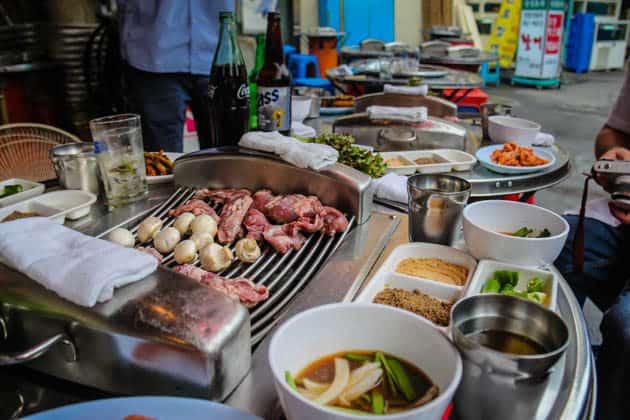 More on South Korea:
Did you like this story? Share it!