Although we love a good heart-stopping adventure during our travels, we also enjoy a slower-paced adventure now and again. For a slow-paced adventure, nothing is better than getting out of your comfort zone and experiencing a culture through their food.
We spent a night with O'ngo Food Tours, walking down tiny alleys in the heart of Seoul, to experience just that.
Our night included 4 stops to try some of South Korea's most loved dishes. We were sure to try everything, even if we didn't like the way it looked or smelled and we found ourselves pleasantly surprised throughout the entire tour.
Each stop also included a story about the dish and was accompanied by a traditional Korean alcoholic drink.
---
Traditional Food in Korea: 5 MUST TRY Dishes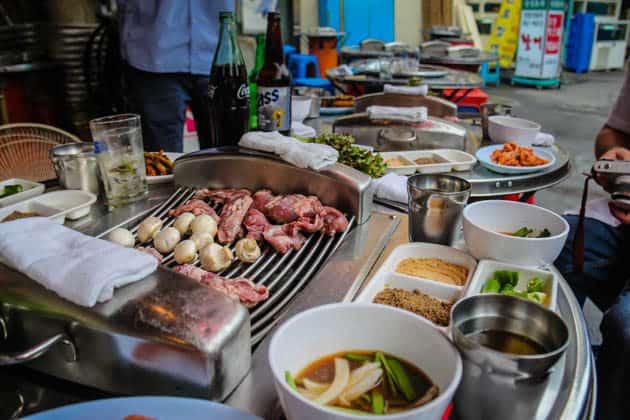 1. Korean BBQ
Our first stop would find us in a tiny alley at Mi Gal Mae Gi. We were seated on the street, just out of the way of the passing pedestrians and bikes. Each table was outfitted with a central BBQ and before we could even start asking questions the staff was preparing our food.
We would be experiencing a traditional Korean BBQ that would be cooked at our table.
The meat served was referred to as skirt meat and described as the meat that comes from the throat area of a pig. It was probably one of the tastiest cuts of pork I have ever experienced and that is saying something coming from someone who is not a fan of pork.
The whole meal was delicious even though it was served in bite-sized pieces. The BBQ was eaten first by selecting a sesame leaf, then a piece of meat that was dipped in your sauce, add your selection of spices, then roll it up and eat it as a bite-size.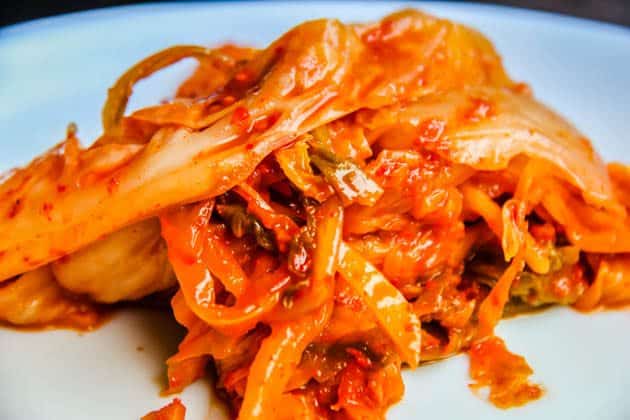 2. Kimchi
This dish was served as a side at our first stop, the Korean BBQ. Korea is known all over the World for it's cooking and consumption of kimchi. I love cabbage, so my initial thoughts were that I would love it but personally, I can live without it.
I took one bite, chewed swiftly and swallowed it. We tried two different kinds and both were too spicy and overwhelming for me.
Often referred to as spicy and sour, kimchi is said to be a superfood that aids in digestion and gut balance for the people that eat it as a staple. Proper kimchi is made by fermenting a variety of vegetables and seasoning in jars underground for several months at a time.
Common vegetables used include cabbage, radish, scallion, and cucumber.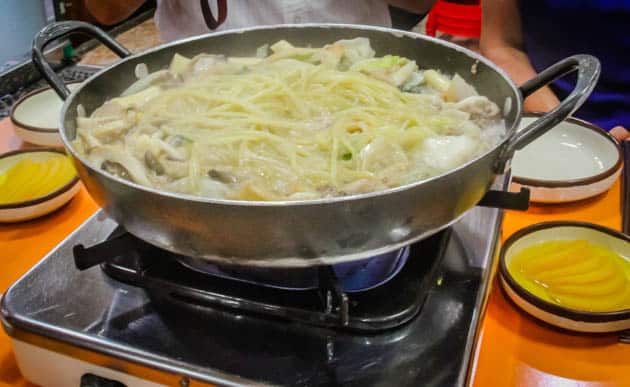 3. Royal Rice Cake
Stop two took us from the street into a small restaurant called Mot Bo Rae. The main dish to try here was the Royal Rice cake, which is served in a huge hot pot with a variety of noodles and vegetables on a propane cooker in the center of the table. The side dish would be a traditional pickled sweet radish.
My first opinion was this dish didn't look the least bit appealing, even though it smelled good. I snacked on the sweet radishes, which had really great flavor but zinged on my tongue, while the main dish cooked.
When ready, our guide wasted no time serving us up and I hesitated while I poked at the stuff in my bowl. Surprisingly, the things I was most suspicious of ended up being my favorite part of the dish.
The actual rice cakes are amazing. They have this addicting texture to them that keeps you looking for them as you work your way through the dish.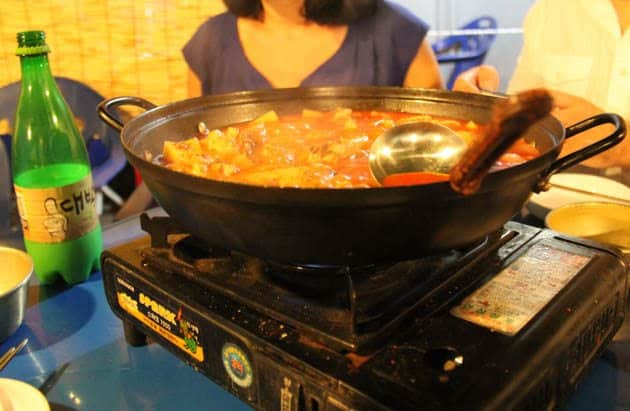 4. Korean Chicken Stew
This was the spiciest dish of our tour but it had such amazing flavor I couldn't stop eating it. This little place was located in a makeshift tent down another back alley and went by the name Jongro Pocha.
We were told that this type of chicken stew is served in almost every household in South Korea as a staple. Especially in the cold winter months.
It is hearty, containing on the bone chicken, potatoes and a variety of vegetables all cooked in a boiling spicy broth with intense flavor.
Here we also sampled a traditional Rice wine called Awesome. Laugh all you want but the stuff really was awesome. It went in pretty acidic but had the after taste of a nice frothy beer.
We loved it and it was something we would have again during our stay in South Korea. The combination of the two items went together perfectly and the potatoes in the stew had us thinking of Wisconsin.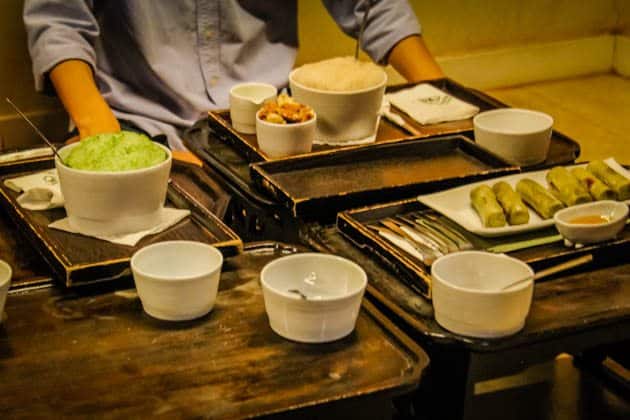 5. Patbingsu
The last stop of the night found us at a beautiful little tea museum, called Cha Bakmulgwan, near Insadong. We had the opportunity to try the traditional black and green tea frosty desserts that are referred to as a type of Patbingsu.
This stop was right up my alley as I was born and raised a tea lover and I can honestly attest that the black tea frosty was one of the best things I ate during our time in South Korea.
A traditional tea frosty, whether you choose to have black or green, starts with shaved ice and your tea of choice. Added to the dish is a combination of mixed nuts, red beans and a sweetened condensed milk.
The combination was odd to us but it actually meshes together perfectly. I could not get over how much the black tea frosty reminded me of a glass of southern sweet tea in the states.
---
Book With Ongo Food Tours
For a soft adventure, we found ourselves out of our comfort zone while explored some of the local dishes in Seoul. If you are looking for a similar experience we can highly recommend a night dining tour with Ongo Food Tours.
The staff is professional and engaging throughout the tour. During our travels in South Korea, we met many other travelers that had done this same tour and had an equally amazing experience, so you really can't go wrong.
More on South Korea:
Did you like this story? Share it!