Despite its uppity neighbor to the north, South Korea is rich with culture and history. It is one of the most beautiful countries in the world. If you plan on visiting this amazing country anytime soon, here is a handy list of the best things to see and do while you are there.
---
Top Things to do in South Korea
Seoraksan National Park
This is by far the most popular park in the country. Take your time meandering through forests that are thick with Alpine trees. Enjoy the burst of color given by the wildflowers that are seen around every turn of the trail.
Marvel at the massive rock faces and find a few hidden Buddhist temples in some of the more remote places of this vast beautiful wilderness. If you feel spry, try trekking to the top of the mountain.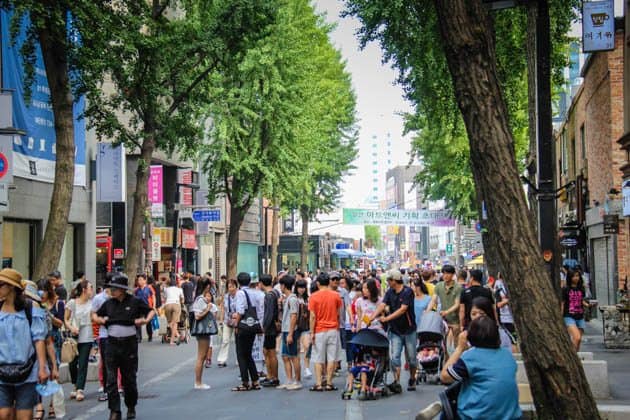 Shopping Street (Insadong)
Wander around the intricate network of streets and alleys that house several antique stores and art galleries reminiscent of the shopping district from the Gremlins movie. Be sure to grab a couple of souvenirs from one of the many street stands while you are there.
You might also check out a teahouse or two should you need respite from shopping or the massive crowd of tourists that roam the streets. The rest will also give you time to take in one of the performances by many of street performers that make Insadong their primary entertainment venue.
Seoul
Seoul is a cultural feast for tourists. It is certainly impressive because Seoul has risen like a phoenix from the ashes of the destruction of war. While you are there make sure you visit Deoksugnung Palace. Built in the 15th century, it is a spectacular sight to behold.
There are statues on the palace grounds and the palace itself is beautifully furnished. The grounds provide quite a respite from the noise of the city. While you are there, be sure to catch the changing of the gate guard at Gyeongbokung Palace, as this is an experience you are sure to remember.
Beyond that, there are simply too many things to list in Seoul. You could visit a Buddhist temple or two, visit one of the traditional markets for some authentic souvenirs, or check out some of the fantastic nightlife that is renowned in places like Itaewon and Hongdae.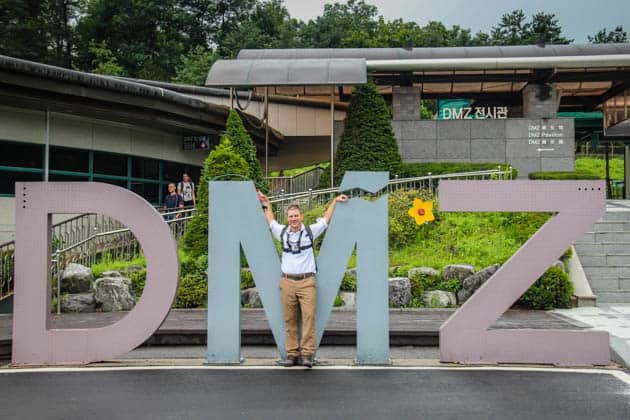 Demilitarized Zone
If you are feeling a bit adventurous, give this outing a try. It might come as a surprise, but you can actually cross over the border from South Korea into North Korea without incident. To do so you must travel by way of the demilitarized zone.
The tourist building on site is somewhat of a land surveyor's nightmare. Half of the building lies in South Korea while the other half lives in North Korea. All you have to do is step foot onto the other side of the building and you are instantly in North Korean territory.
If you want to pay an extra fee then you can descend into the Third Tunnel of Aggression and experience what it must have been like to be a soldier during one of Korea's most tumultuous points in history.
JeJu Island
If you are looking for something unique, then don't pass up a chance to check out Jeju Island. This small island is just south of mainland South Korea in the Korea Strait. It is famous for it's UNESCO World Heritage Volcano and Lava tubes. It's pleasant year round climate, stunning scenery and great beaches make it a top vacation spot for people from Korea, China and Southeast Asia.
The island is easily reached by plane from Seoul and rental cars are available so you can spend your time exploring at your own pace. More information about Jeju Island can be found on Wikipedia-Jeju Island.
Related Article: Top 16 Things to Do on Jeju Island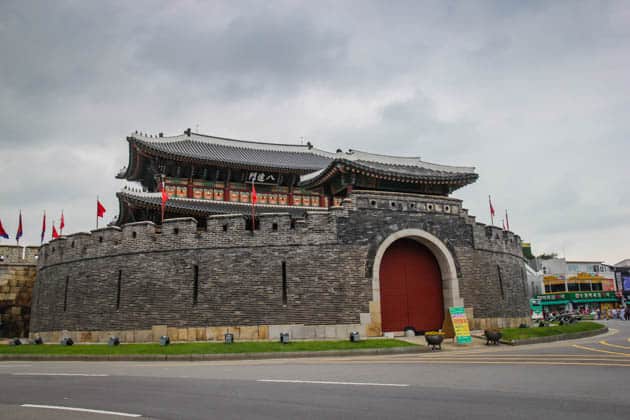 Suwon
This city is the capital of the Gyeonggi Province. Suwon is known for its many well appointed artesian wells. In fact, the name Suwon means "water source". It is known today as a place to look back at South Korea's past. It features stately castle walls and is famous for… well… its short ribs of all things.
When you are there, you can't help but notice the Hwaseong Fortress. It has been around since 1776 and it's massive walls and gates can be seen throughout the city. Since it is integrated in to Suwon, there are no opening or closing times. The gates are always accessible. Consider yourself emperor for a day.
Considering a Trip to South Korea Soon?
Now you have a few items to consider when you plan your next trip. There are several other great places to visit. There also many fantastic hotels. Be sure to check out Lotte Hotel in Seoul as well as the Seoul Plaza Hotel if you are looking for something that is close to the center of town.
For dining options check out Korea house in Seoul, featuring food formerly reserved for those of royal descent. They also have live entertainment. If you are a vegetarian then Sanchon located in Insadong is a great option.
They feature traditional Buddhist dishes as well as evening entertainment. There is so much to see and do in South Korea that the list could go on and on. Use our top five as a good start and branch out from there. Have fun and safe travels.
More on South Korea:
Did you like this story? Share it!