Despite its uppity neighbor to the north, South Korea is rich with culture and history. It is one of the most beautiful countries in the world. There is a wealth of culture, history, and nature that will be sure to keep you entertained and busy during a visit.
If you plan on visiting this amazing country anytime soon, here is a handy list of the best things to do in South Korea while you are there.
Don't leave home without: Lonely Planet Korea (Travel Guide)
---
20 Top Things to do in South Korea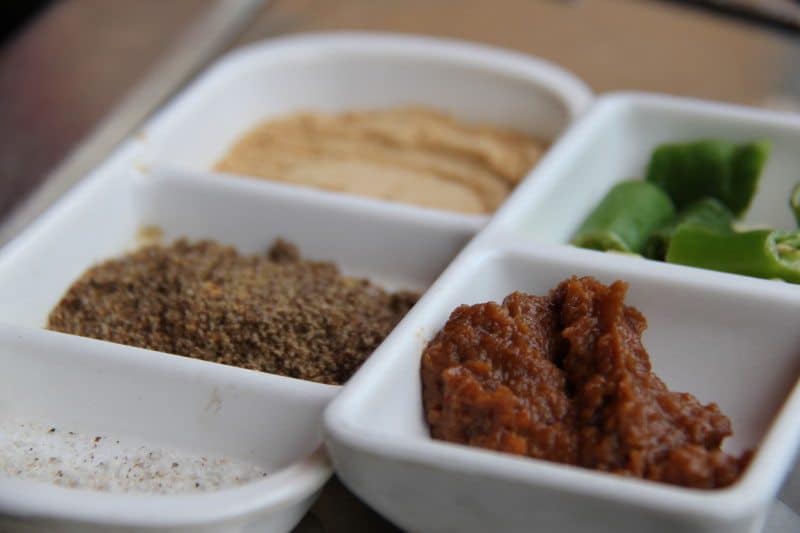 1. Eat All the Amazing Korean Food
Korea is renowned for its delicious cuisine, and wherever you are in the country, you are guaranteed to be eating well, all of the time.
Koreans take their food seriously, and you'll find that even the smallest street vendor uses the freshest ingredients and can cook up a beautiful meal, so don't be afraid to just jump in and start trying different dishes during your visit to South Korea.
There are plenty of different types of Korean food to try, and one of the best things to do in South Korea is just gorge, and try everything new.
Korean staples are rice and noodles, and you'll find these served alongside a variety of different meats and vegetables.
Korean BBQ is one of the must-try experiences when you are in the country, and in the restaurant, you'll be given plates of meat to grill yourself on the hot plate built into the table.
Kimchi is ubiquitous, and this somewhat fiery, and flavorful dish is served as a side at most meals. It's cabbage, fermented with different spices, and you'll find it everywhere.
Other great dishes include Bibimbap, a healthy rice dish that's full of vegetables, and Bulgogi, a deliciously barbecued beef dish.
Over the years, Seoul has developed into one of the most modern cities in the world. Through this change, Koreans have remained passionate about their work, food, and history.
This tour will show you some of the most loved foods and beautiful landscapes our city has to offer.
We will take you through hidden alleyways and quaint backstreets home to secret foodie gems, and a guide will share little tips and tricks along the way that you'll be able to use on the rest of your trip.
2. Enjoy the Seoraksan National Park
This is by far the most popular park in the country. Take your time meandering through forests that are thick with Alpine trees. Enjoy the burst of color given by the wildflowers that are seen around every turn of the trail.
Marvel at the massive rock faces and find a few hidden Buddhist temples in some of the more remote places of this vast beautiful wilderness. If you feel spry, try trekking to the top of the mountain.
Explore Seoraksan National Park at your own pace during a private day trip from Seoul. The ideal choice for outdoor adventurers, this stress-free package gives you the flexibility to customize your itinerary and guarantees the undivided attention of your guide.
3. Juwangsan National Park
Found on the eastern side of the country, Juwangsan National Park is a spectacular reserve that's located within the Taebaek Mountains.
It's remote and isolated, but it's a great chance to escape the cities and the crowds and get back to nature. The park is known for its high peaks and incredible gorges, and it's the perfect place to strap on the hiking boots and to get out walking.
4. Bukhansan National Park
Found just north of Seoul, Bukhansan National Park is one of the most accessible areas of wilderness in the country, and it's one of the best things to do in South Korea. The national park is known for its tall mountains, many of which can be climbed on day trips from the capital.
As well as wonderful mountain scenery though, Bukhansan is home to important temples and ancient fortresses dating back centuries.
Breakaway from the bustling capital and take your private party on a guided hiking tour in Bukhansan National Park, a popular destination among Seoul's city dwellers. You're rewarded with city views from the summit of Bukhan Mountain, followed by a traditional lunch and time to relax at a Korean spa.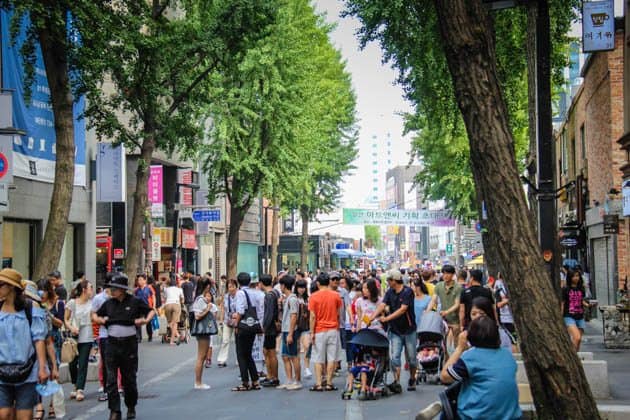 5. Visit the Insadong Shopping Street
Wander around the intricate network of streets and alleys that house several antique stores and art galleries reminiscent of the shopping district from the Gremlins movie.
Be sure to grab a couple of souvenirs from one of the many street stands while you are there.
You might also check out a teahouse or two should you need a respite from shopping or the massive crowd of tourists that roam the streets. The rest will also give you time to take in one of the performances by many street performers that make Insadong their primary entertainment venue.
6. Step Back in Time in Jeonju
For a look at Korean history and culture, then head to Jeonju, where you can find one of the most authentic cities in the country.
The center of Jeonju is remarkably well preserved, consisting of traditional Korean houses dating back centuries. There are some great museums to visit, but most importantly, the city is highly regarded for its cuisine, and you have to try the local variant of Bibimbap, which is popular across all of South Korea.
7. Explore the Ancient City of Gyeongju
Gyeongju is in the south-west of the country, and is one of Korea's most ancient cities, having been the capital of a Korean kingdom for almost a thousand years, until the 9th century AD.
Consequently, the city is packed full of history. You can visit important archaeological sites from its time as capital, explore traditional villages and learn about Korean culture and heritage.
8. Learn About Korean Culture in Daegu
Daegu is one of the largest cities in South Korea, and it's a great place to learn more about South Korean life and culture. Daegu is rich in history and surrounded by beautiful scenery, but it rarely makes it onto travelers' itineraries.
That's a shame, but for those who do make the effort, they have the chance to unearth the local heritage while at the same time experience the bustling streets of the fourth most populous city in South Korea.
9. Tour Around Seoul
Seoul is a cultural feast for tourists. It is certainly impressive because Seoul has risen like a phoenix from the ashes of the destruction of war. While you are there make sure you visit Deoksugnung Palace. Built-in the 15th century, it is a spectacular sight to behold.
There are statues on the palace grounds and the palace itself is beautifully furnished. The grounds provide quite a respite from the noise of the city.
While you are there, be sure to catch the changing of the gate guard at Gyeongbokung Palace, as this is an experience you are sure to remember.
Beyond that, there are simply too many things to list in Seoul. You could visit a Buddhist temple or two, visit one of the traditional markets for some authentic souvenirs, or check out some of the fantastic nightlife that is renowned in places like Itaewon and Hongdae.
Experience the best of the South Korean capital and explore with ease on this full-day tour of Seoul. Visit Jogye Temple, The Blue House, Gyeongbok Palace, Insadong, Bugak Skyway, Bukchon Hanok Village, and Myeongdong. Your tour is limited to just 15 people for a personalized experience. If you choose, upgrade to include a second-day tour to the DMZ. Plus, hotel pickup and drop-off are included.
10. Check out the Nightlife
South Korea has an almost unstoppable nightlife, and if you head out in any major city – especially on the weekend – the chances are high that you won't be returning home until early the next morning.
Great places to hit the clubs and bars in South Korea are the student district of Hongdae in Seoul, where you can find lively venues and big nights out, while Busan to the south has an equally loud and vibrant bar scene.
Koreans love to drink beer and Soju, and you can find a great selection of drinks in most bars and restaurants. Soju is a strong spirit, which averages around 20 percent alcohol and can come in different flavors and strengths.
You'll often see the locals mixing their beer with Soju, to form a cocktail known as Somaek.
Experience the wild side of Seoul on a pub crawl that ideal for party-goers traveling in a group or alone. A great way to make new friends from around the world, this nightlife tour includes VIP access to three bars and one club, four free drinks, and multiple discounts along the way. Plus, exploring with a guide means you'll get local insight into what's considered the party capital of Asia.
11. Attend the Boryeong Mud Festival
One of the best things to do in South Korea is to attend a local festival, and one of the most unusual on the calendar is the Boryeong Mud Festival. From humble beginnings in the 1990s, the festival has grown into a huge event, hosting over 2 million visitors each year.
You can expect two weeks of revelry and mud, with mud pools, mud sports, and mud bathing to name just a few of the activities that take place.
12. See the Jinju Lantern Festival
Another great festival to attend is the Jinju Lantern Festival. Compared to the revelry of the mud festival, this has more somber undertones, as the annual October event commemorates all those who died during the Korean War.
The festival lasts for two weeks, and the river in Jinju comes alive with the vibrant sight of elaborate lantern displays floating along the water.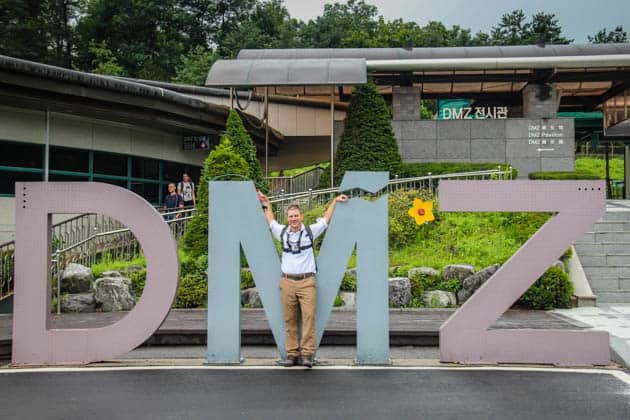 13. Pay a visit to the Demilitarized Zone
If you are feeling a bit adventurous, give this outing a try. It might come as a surprise, but you can actually cross over the border from South Korea into North Korea without incident. To do so you must travel by way of the demilitarized zone.
The tourist building on site is somewhat of a land surveyor's nightmare. Half of the building lies in South Korea while the other half live in North Korea. All you have to do is step foot onto the other side of the building and you are instantly in North Korean territory.
If you want to pay an extra fee then you can descend into the Third Tunnel of Aggression and experience what it must have been like to be a soldier during one of Korea's most tumultuous points in history.
The Demilitarized Zone (DMZ) lies on the border between North and South Korea, and visiting outside of a guided tour is not allowed. On this tour, explore the DMZ with your guide and gain insight into Korean War history. Take in sites of interest including the 3rd Tunnel and the Dora Observatory in safety, with entrance fees plus pickup and drop-off in central Seoul included.
14. Bukchon Hanok Village
Another wonderfully charming village to visit in South Korea is Bukchon Hanok, which despite being now entirely surrounded by the ever-expanding metropolis that is Seoul, has still managed to retain its authentic housing.
It's somewhat older than Gamcheon in Busan, dating back six centuries, and walking through the preserved houses and streets of Bukchon Hanok is like taking a huge step back in time.
People still live in these traditional houses and call the village home, living in the same buildings their ancestors have for years. Visiting Bukchon Hanok is a great opportunity to learn more about Korean heritage and history.
15. Head into the Taebaek Mountains
Located in the northeast of the country, the Taebaek Mountains are fast becoming one of the best things to do in South Korea. The mountains actually stretch from South Korea into North Korea and the range is home to some of the tallest peaks on the peninsula.
The 2018 Winter Olympics were held in the Taebaek Mountains, with Pyeongchang being the main base for the event. There are now great transport connections to Pyeongchang, and the infrastructure is being turned to good use to draw in tourism.
In winter, you can ski and snowboard, while in summer, you can hike through the mountains.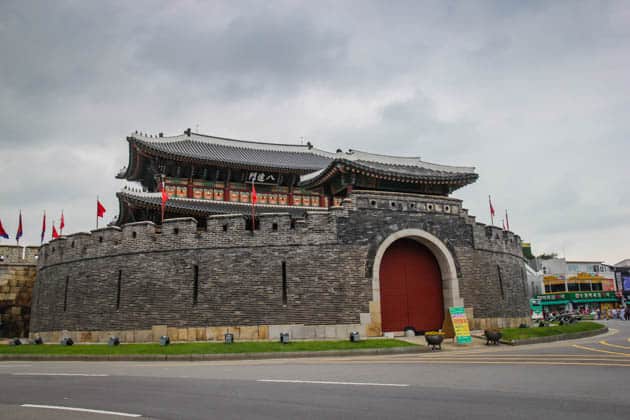 16. Take a Day Trip to Suwon
Located in the densely populated north-west of South Korea, Suwon makes for a great excursion if you are staying in Seoul. The city is one of the most historic in the country, and over centuries it grew from being just a small village into one of the largest urban areas in the country.
This city is the capital of the Gyeonggi Province. Suwon is known for its many well-appointed artesian wells. In fact, the name Suwon means "water source". It is known today as a place to look back at South Korea's past. It features stately castle walls and is famous for… well… its short ribs of all things.
Surprisingly though, the old city is still completely surrounded by its ancient walls, and the main reason to visit is to explore the stunning Hwaseong Fortress. The fortress and the extensive walls mostly date back to the 19th century and are listed as a UNESCO World Heritage Site.
Since it is integrated into Suwon, there are no opening or closing times. The gates are always accessible. Consider yourself emperor for a day.
17. Go to JeJu Island
If you are looking for something unique, then don't pass up a chance to check out Jeju Island. This small island is just south of mainland South Korea in the Korea Strait. It is famous for it's UNESCO World Heritage Volcano and Lava tubes.
It's pleasant year-round climate, stunning scenery and great beaches make it a top vacation spot for people from Korea, China, and Southeast Asia.
The island is easily reached by plane from Seoul and rental cars are available so you can spend your time exploring at your own pace.
Book this all-inclusive full-day tour, to experience the best of Jeju Island in one day with entrance fees, lunch, and round-trip travel from your hotel included. Hike up Seongsan Sunrise Peak, reach sites of interest including Manjanggul Cave and Woljeongri Beach, and enjoy personal attention from your guide.
Related Article: Top 16 Things to Do on Jeju Island
18. War Memorial of Korea
Located in Seoul, the War Memorial of Korea is a moving tribute to the war that irreversibly divided the country into north and south, and that decades later still defines both nations.
One of the most important things to do in South Korea is to visit this memorial and museum, to learn more about the conflict that shaped the Korean peninsula.
Outside the main memorial hall, you'll find a statue depicting a soldier from South Korea embracing a soldier from North Korea, a touching tribute to brotherhood and the desire for reunification. Inside, you'll find various exhibits which will explain in detail the origins of the war and the aftermath.
19. Visit Busan
Busan, on the south coast, is the country's second city, and it's definitely high up on the list of the best things to do in South Korea. The city is often overlooked by first-time travelers to the country, many of whom choose to stay in Seoul, but it's well worth making the journey to Busan to enjoy the heritage, nightlife, and beaches.
The city enjoys a warmer climate than Seoul, and in summer Busan is packed out with tourists. Busan extends right onto the beach, and there are some glorious stretches of sand along the edge of the city.
One of the most popular is Haeundae Beach, which is fringed by skyscrapers and lined with deck chairs and brightly colored parasols.
Visit all the highlights and landmarks of Busan on this full-day sightseeing tour. Take in the seascape of Taejongdae, walk along the Songdo Skywalk, and have lunch in the Songdo Market. Learn about the local religion at Haedong Yonggungsa Temple and explore the Gamcheon Culture Village.
20. Gamcheon Cultural Village
One of the best things to do in South Korea is to visit Gamcheon Culture Village, one of the most iconic sights in the country. Found in the suburbs of Busan, Gamcheon is a small village built on the slopes of a hillside, that is famous for its distinctive, colorful houses.
It's one of South Korea's most cultural destinations, and you can find quirky art galleries, small museums, and charming shops and cafes amongst the maze of multicolored streets.
Perhaps even more intriguing, is the fact that Gamcheon was originally a run-down collection of ramshackle houses built by refugees fleeing the Korean War. They brought their new homes to life though, and have since put the village well and truly on the international map with their creativity.
---
South Korea Recommendations
Now you have a few items to consider when you plan your next trip. There are several other great places to visit. There also many fantastic hotels. Be sure to check out the Lotte Hotel in Seoul as well as the Seoul Plaza Hotel if you are looking for something that is close to the center of town.
For dining options check out the Korea House in Seoul, featuring food formerly reserved for those of royal descent. They also have live entertainment. If you are a vegetarian then Sanchon located in Insadong is a great option.
They feature traditional Buddhist dishes as well as evening entertainment. There is so much to see and do in South Korea that the list could go on and on. Use our top five as a good start and branch out from there. Have fun and safe travels.
Read reviews and check prices with our Hotel Search Engine, which gives you the best hotel deals found on the web. Our search engine pulls results from all of the major booking places, including Expedia, Hotels, Booking and more. All the options, all the deals, all in one place and just for you.
More on South Korea:
Did you like this story? Share it!