Getting the most out of your visit to Berlin doesn't have to break the bank; you can enjoy the history, culture, and architecture that Berlin is famous for without paying a single penny along with getting those photographs that will make your friends and family jealous.
There are several photogenic places to visit in the city but these are the best photo spots in Berlin that we could find on our recent 4-day visit during our 2 month trip through Europe.
It does not matter if you are someone who likes to take photos for fun or a professional looking to build on your portfolio. It's important to know when what and where to go in Berlin, Germany for the best photogenic things. Of course, don't be so intent on getting from place to place that you miss what you see in between!
Don't leave home without Lonely Planet Berlin (Travel Guide)
---
Best Photo Spots Berlin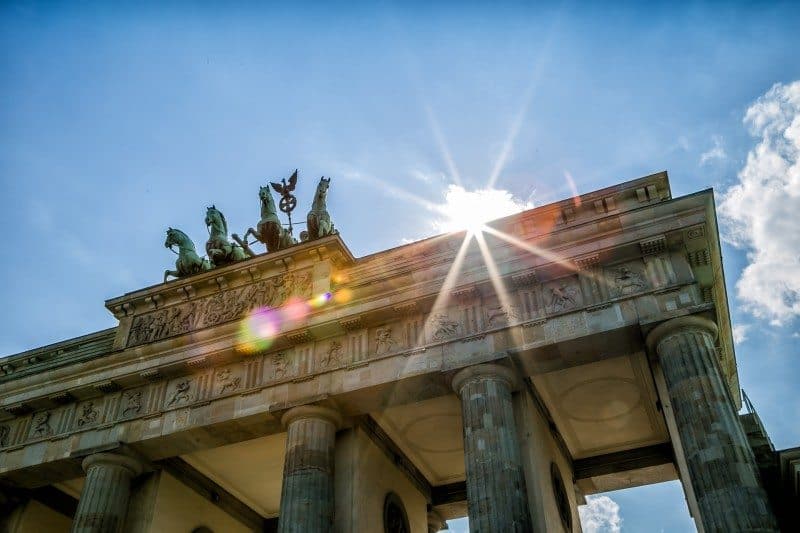 Brandenburg Gate
You cannot visit Berlin without visiting the iconic Brandenburg Gate as this iconic landmark stood untouched between East and West Berlin during the Cold War.
During that time the Gate stood in no man's land where no one could view it. When the wall fell down in 1989 and Germany was reunited, the Brandenburg Gate became one of Berlin's many iconic landmarks.
The Brandeburg Gate nurtures a lively atmosphere at all hours of the day and you can easily spend hours soaking up the scene. Grab a park bench and enjoy the different street performers including musicians, jugglers, and street artists.
Once you're done photographing the atmosphere in front of the Brandenburg Gate take a walk under its 12 Doric columns that form five large passageways with Quadriga, a chariot drawn by four horses covered in gold looking down upon you.
In the early morning, the sun rises over the city streets and you can capture great shots with the gate facing the city. In the late afternoon, the sun sets behind the gate with great views of Tiergarten.
Recommend time to allow for photographing the Brandenburg Gate: 1 hour
Related Article: THE BEST VEGAN FOOD IN BERLIN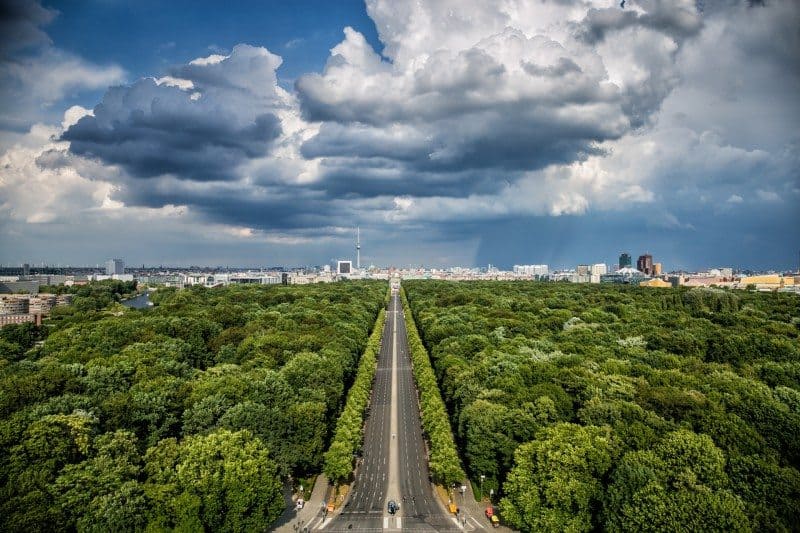 Tiergarten
Enjoy a slice of nature in the middle of the busy city of Berlin. Tiergarten is known as the green heart of Berlin and there's no wonder why with over 600 acres and Berliners love to relax here.
This is a great piece of nature among the concrete city jungle. Get lost photographing or just enjoying the lush lawns, leafy paths and small creeks. Of course, this is Germany and a park would not be complete without a traditional beer garden.
There are many spots within the Tiergarten park where you can feel like your in the forest. For nature lovers like us this is huge, so take advantage of the quiet space. Pack a lunch and enjoy a picnic on one of the many groomed lawns or just get lost in the woods in the middle of the city.
Recommend time to allow for photographing Tiergarten: 1-2 hours at this location, just walking from one side to the next takes around 45 minutes.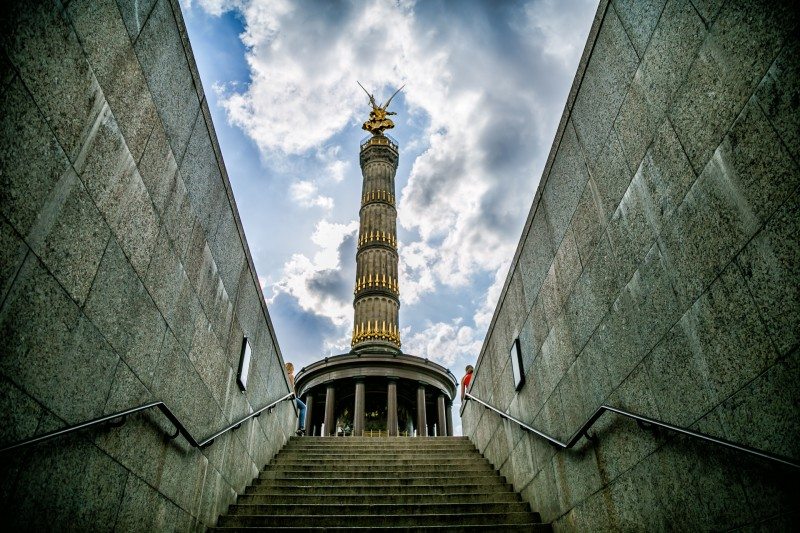 The Berlin Victory Column
The Victory Column located in the center of Tiergarten is one of Berlin's most famous landmarks and a popular tourist spot. The large column can be seen around Tiergarten with the large golden Goddess of Victory shinning down.
If you're looking for great views of Berlin, you need to climb up the Victory Column to the Observation Deck. This is a must for any photographer visiting Berlin and will give you a very unique panorama of the city.
Recommended time to allow for photographing The Berlin Victory Column: 15-20 minutes if you're not going to climb the tower if you are going to climb the tower 1-1 ½ hours.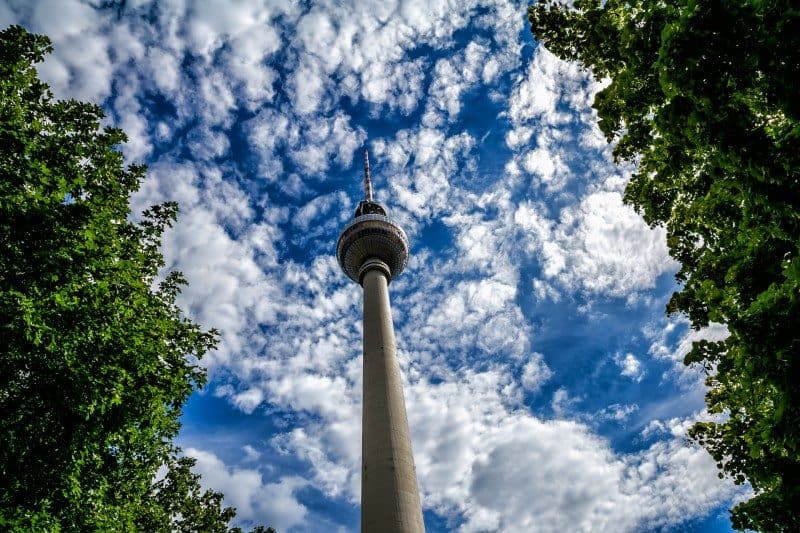 Alexanderplatz
Alexanderplatz is one of the busiest squares in all of Berlin. That being said throughout the day this concrete island comes to life with all sorts of things from street performers, musicians, and just locals just enjoying the sights and sounds. All around Alexanderplatz you will see Socialist architecture and of course you cannot miss the TV tower.
The TV-Tower is known as Fernsehturm and can be seen from almost anywhere in Berlin but Alexanderplatz is probably the best place in the city to get clear ground views of the TV Tower so be sure to try capturing it from different angles and perspectives.
Recommended time to allow for photographing Alexanderplatz: 1 hour
St. Mary's Church
Located near Alexanderplatz and the TV-Tower is the impressive St. Marys Church. The 14th-century Marienkirche (St. Mary's Church) is one of the oldest churches in Berlin.
You cannot miss it's weathered green dome tower poking out like a sore thumb among the Socialist architecture near Alexanderplatz.
Recommended time to allow for photographing St Mary's Church: 30 minutes

Rotes Rathaus and Neptune Fountain
Situated on the southeast side of Alexanderplatz is a large 19th-century red brick building known as the Rotes Rathus or Red Town Hall. In front of the large eye-catching tower is a bronzed fountain known as the Neptunbrunnen (Neptune Fountain).
Getting There: Berlin Alexanderplatz is a railway station in the Mitte district of Berlin's city center. It is one of the busiest transport hubs in the Berlin area. U-Bahn stops for Alexanderplatz U2, U5 and U8. The S-Bahn stops for Alexanderplatz S5, S7 and S75
Recommended time to allow for photographing Rotes Rathaus and Neptune Fountain: 30 minutes

WATCH OUT: This area is known for its pickpockets and bag grabbing thefts. Keep your camera and tripod close to you. We even witnessed a bag grab while we were there.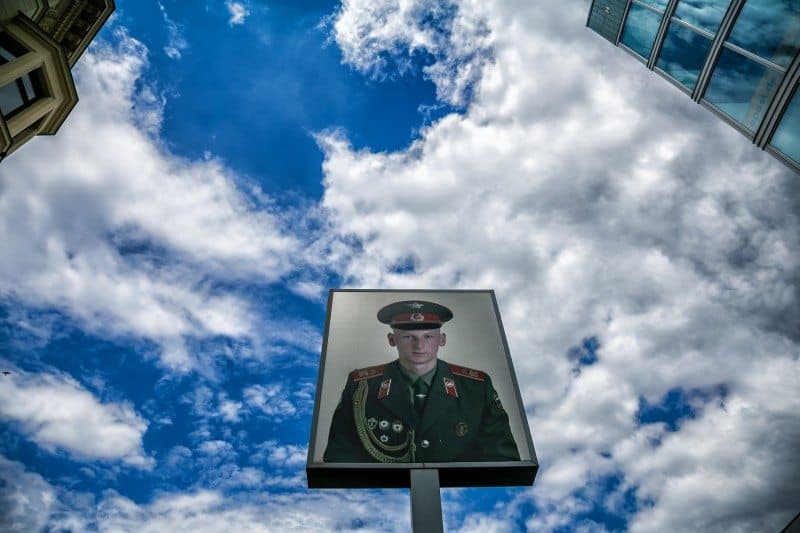 Checkpoint Charlie
Personally, Checkpoint Charlie is a little touristy these days with tourists posing alongside dressed up military guards in the middle of a busy street with McDonald's in the background.
However, it's importance in Berlin's history will always be burned in photos. It was the scene of an infamous showdown between the Soviet Union and the United States troops. Checkpoint Charlie was also used for the occasional prisoner swaps between the Soviet Union and the United States.
Today a replica version of the guardhouse was installed on Friedrichstrasse St. as a tourist attraction, but the original now sits on display in the Allied Museum in Berlin. It's hard to get great photographs of Checkpoint Charlie since it's a top attraction in Berlin so you have to be patient and wait for the large crowds to clear out.
Watch out for traffic on the streets, most cars will watch out for you however in sections of town like this they will be more aggressive towards tourists. It's best to get to Checkpoint Charlie early in the morning.
Recommended time to allow for photographing Checkpoint Charlie: 15-30 minutes depending on the time of day and the number of tourists.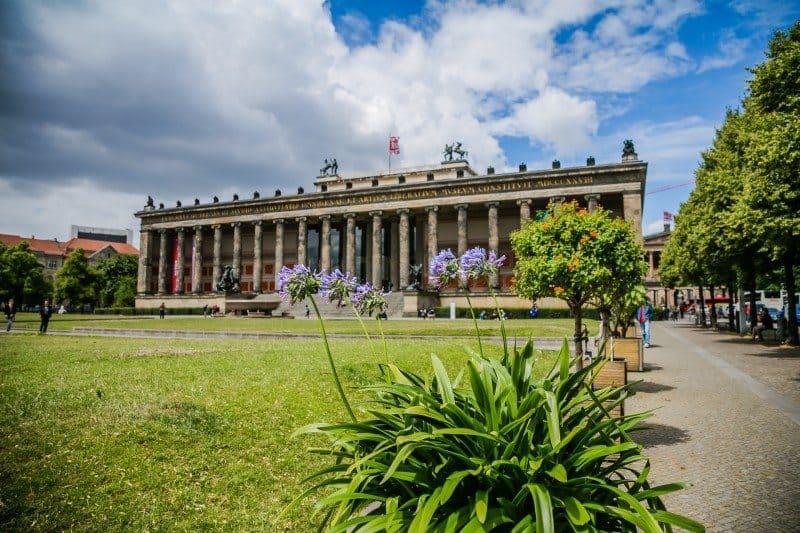 Museum Island
Do not let the name Museum Island turn you away. Museum Island is a UNESCO World Heritage site and this little island is jam-packed with traditional buildings but every building has its own unique look. Soak up the architecture and stroll along the Spree River for some great photo opportunities.
If you're planning a visit to Museum Island plan your visit with enough time to not only take photos but also enough time to explore the different museums. We recommend picking up a Museum Card to gain access inside most of Berlin's famous museums during your visit.
Recommended time to allow for photographing Museum Island: 1-2 hours without visiting any museums.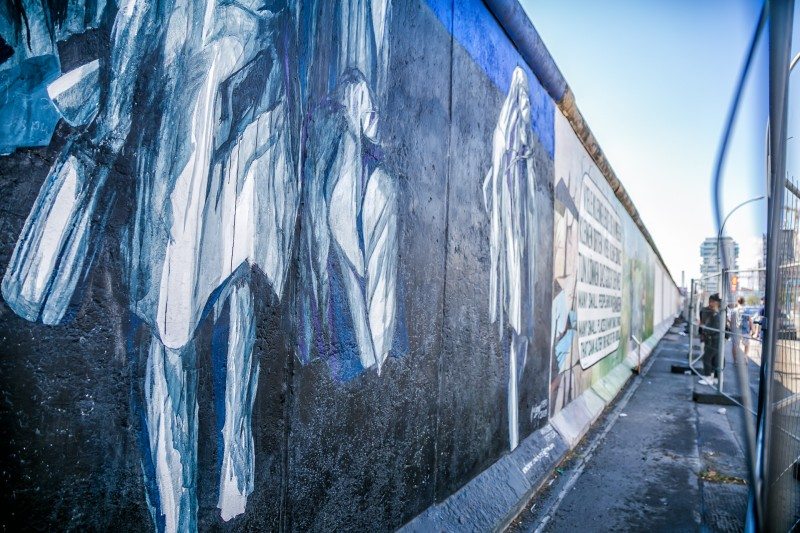 East Side Gallery & The Berlin Wall
A visit to Berlin would not be complete without a visit to the East Side Gallery. While today it is an iconic landmark for tourists, almost 30 years ago this now colorful section of the Berlin Wall was anything but colorful.
It was the defying symbol of the Cold War, separating families and keeping people from jobs and opportunities in the West. Walk along the wall, today the largest open-air gallery in the world, that displays more than 100 paintings and murals by artists from around the world.
Most of the Berlin Wall is covered by a large chain fence which makes photographing it a challenge, however, you can still find the odd section that does not have a fence in front of it.
The East Side Gallery (The Berlin Wall) can get busy during the day so the best times to visit the Berlin Wall is early in the morning or late in the afternoon.
Recommended time to allow for photographing East Side Gallery, The Berlin Wall: 1-2 hours to walk along and photograph.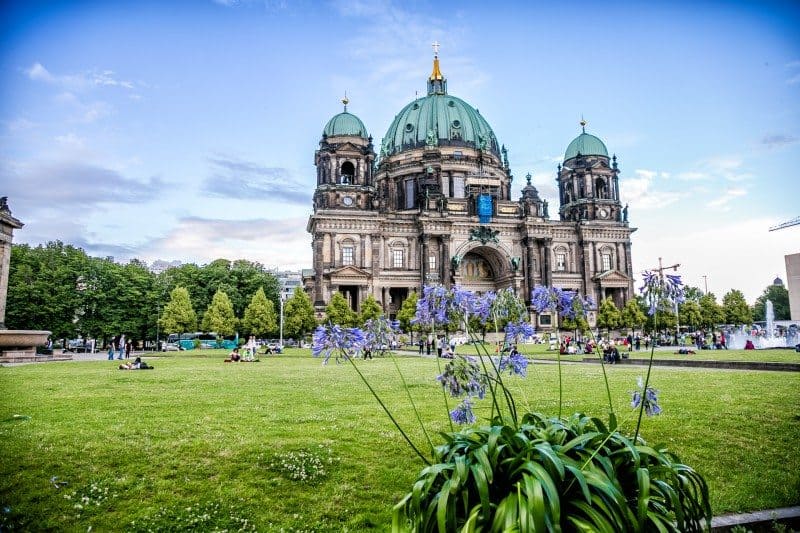 Unter den Linden – Boulevard
Take a stroll down the grand boulevard "Unter den Linden", that stretches from Museum Island to the Brandenburg Gate. You will get lost behind your camera throughout this district while your head swings to both sides of the street while you take in the historical statues and buildings.
Some things you can expect to see are the Humboldt University, the State Opera, the State Library, the German Museum of History and embassies.
Recommended time to allow for photographing Unter den Linden – Boulevard: 30 minutes to 1 hour.
Kaiser Wilhelm Memorial Church
Throughout Berlin, there are little signs of World War II everywhere. Situated in between one of the most popular luxury shopping stores, a now modern concrete church and next to a fast-food restaurant is the Kaiser Wilhelm Memorial Church.
If you did not know where to look, you would just think it's a pile of bricks. However, this is one of Berlin's most prominent landmarks, being heavily damaged by air-raids in World War II.
This bombed outbuilding is just one of the many landmarks that give a grim look at Berlin's past and makes for a strong centerpiece if you're looking to capture some history.
Recommended time to allow for photographing Kaiser Wilhelm Memorial Church: 30 minutes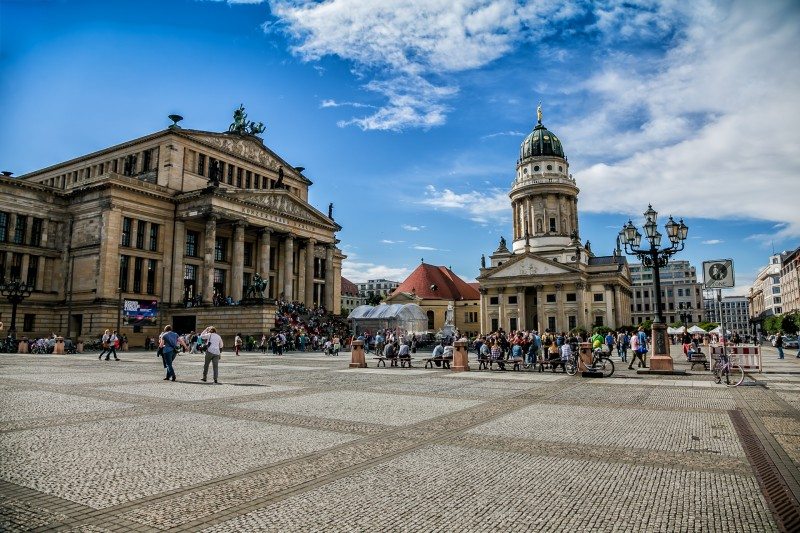 Franzosischer Dom/ Gendarmenmarkt/ Deutscher Dom
We stumbled on to Gendarmenmarkt accidentally; it was not on our radar as one of the best photo spots in Berlin, but are glad we found it.
The Gendarmenmarkt is one of Berlin's most photogenic squares. This square offers three beautiful buildings; Konzerthaus concert hall, The German Church and the French Church. During Christmas, Gendarmenmarkt square is one of the most popular Christmas markets in Germany.
Recommended time to allow for photographing Gendarmenmarkt/ Deutscher Dom: 45 minutes
Best Photo Stops in Berlin Conclusion
Photographing Berlin by foot is a great option if you have a few days as Berlin is a huge city. Yes, walking around allows you to truly scratch the cities surface and it allows you to get those different shots from the basic tourist shots.
We recommend taking local transport between iconic sites and then spending your time walking around the district after you've photographed the main monuments.
Alternatively, you can jump on one of Berlin's Hop On Hop Off bus tours for some commentary on the major sites and fun ride to each of the best photo spots in Berlin we have listed above.
They run normal hours and allow you to get off and on at your leisure. You can even walk between stops to capture more great shots.
If you love street art, another great way to get some unique photos is to take an alternative Berlin tour around the city. It's quirky and you'll see some really great street art along the way.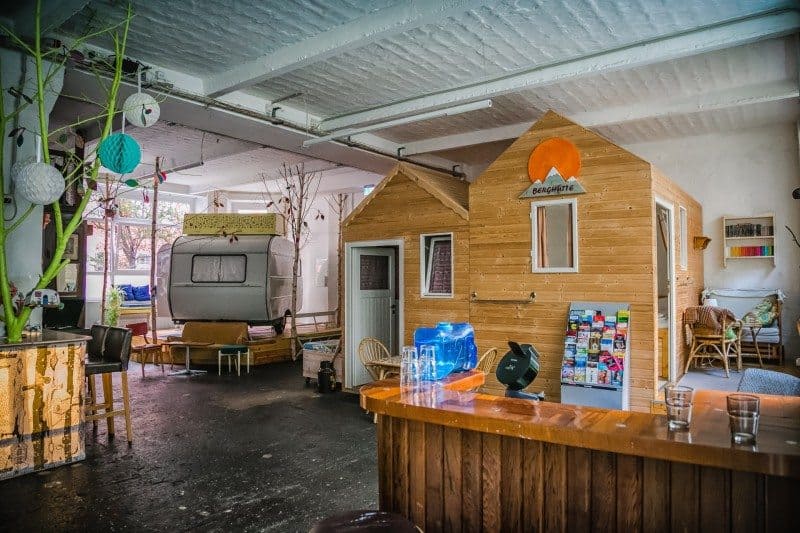 Accommodation in Berlin
It is very important that you base yourself correctly to maximize your time to photograph in the city. You don't want to be a 30-minute public transport ride away from the nights at night.
On a 4 day visit, we recommend splitting your time between two different districts for easy access to the best photo spots in Berlin. Our recommendations are as follows:
The Circus Hotel
Within easy walking distance of Museum Island and Alexanderplatz, the Circus Hotel sits among a street filled with dining options and offers modern, comfortable rooms in the thick of it all. They serve up an organic breakfast to start off your day and their partner hostel across the street has their very own brews served at the bar.
Huettenpalast
This indoor camping venue is located in Kreuzburg with easy access to a funky district, loads of street art and the East Side Gallery. This accommodation offers camping style accommodation in an old industrial warehouse with a lot of style and flair. It's a very unique experience and a great little spot to escape the fast-paced city life.
Looking for more information on Berlin? Here's 5 things worth check out in Berlin for Free, perfect for those on a budget.
We hope the listed locations and advice help you plan your visit to Berlin, Germany.
---
More on Germany:
Did you like this story? Share it!