Luxembourg was truly 'Unexpected Luxembourg' for us and is one of our favorite hiking countries rating right up there with New Zealand, Ethiopia, and Ireland. Hiking in Luxembourg took us over tall hills and paths, through enchanting forests with spellbinding wheat fields and wild rippling rivers running next to beautiful trails.
Luxembourg offers a unique way to hike around the country. From urban walking paths that head right through sleepy villages to heavily wooded walking paths that twist and wind around the countryside.
With more than 5,000 km of marked hiking trails stretching across the country, it's easy to be submersed into nature. If you're someone who loves the outdoors and nature then hiking in Luxembourg should be on the top of your list to visit in Europe.
I don't think it is much of a secret that Lina and I are not city people. We may use cities to base our adventures out of but we prefer to be out in nature or doing crazy things.
After exploring some of the best castles in the world that are located in the small villages, our natural sense was tingling and we needed some time in the outdoors. We were thrilled to be able to discover Luxembourg's nature side by hiking from Kautenbach to Wiltz on the CFL Trail.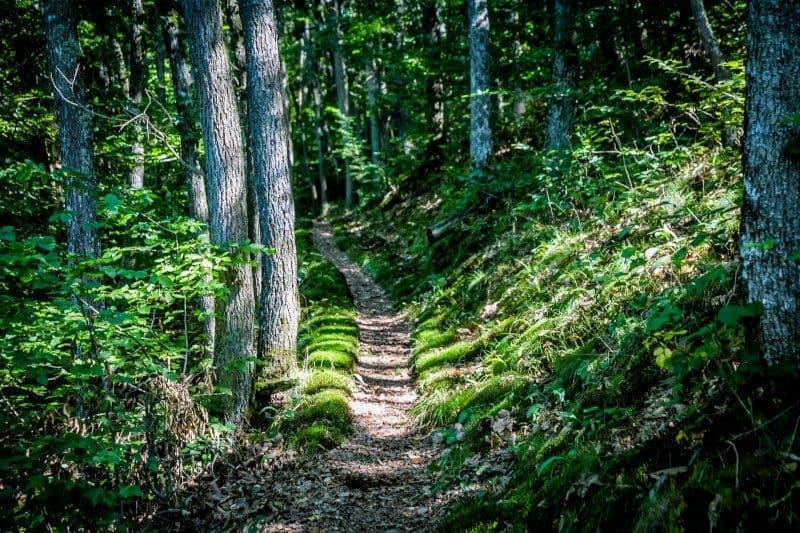 What is the CFL Trail in Luxembourg?
The CFL trails run through all of Luxembourg from one rail station to the next. This allowed us to base ourselves in one town but also be able to explore others by hiking to one town then jumping on the train back to our base.
I know what you're thinking, who wants to hike next to train tracks but that is not the case. The CFL trails do not follow the train tracks, they are truly hiking paths that connect one rail station to the next by taking you through the countryside and into the Ardennes hills.
The trails are marked with signs that distinguish between trails and made it easy for us to find our way while hiking. The CFL signs can be anywhere including on trees, rocks and even park benches.
This is nice for those people who do not have maps or cell service. If you have cell service you can use their handy mobile app that allows you to pinpoint your position throughout your hike. This was a cool app to use and it worked well for those few moments when Lina and I wanted to check our location and progress.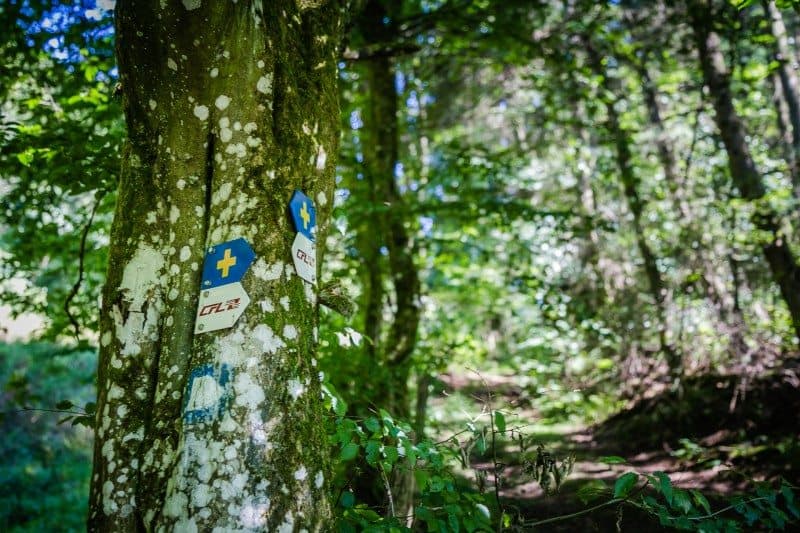 Hiking in Luxembourg-
Kautenbach

to

Wiltz

Planning the night before, we did our research on the hiking path, the weather and we told our campsite of our plans. This is always important, just in case you have an accident or get lost. We decided to start our hike at 8 am knowing it was 29km between the start and finish. As for time, we had an idea, but with us, we are always stopping to take photos and typically take a bit longer. The trail was estimated to walk in 5-6 hours.

We lucked out with a picture-perfect day when waking up at the campsite in Kautenbach. The morning was a little cool and breezy but really it made for excellent hiking weather. Knowing that the hike would take all day, we asked our campsite to pack us box lunches and a couple of refills for our water bottles.

The hike started on the outskirts of Kautenbach and we were able to walk straight from Camping Kautenbach. Heading up out of the small village and down a country road that saw little to no traffic, we made our way on the CFL with a bounce in our step. The city of Kautenbach is tucked in a valley, between tall hill like mountains and shortly after we left the town we quickly found that the start of our hike would be mostly uphill and into the wilds of Luxembourg.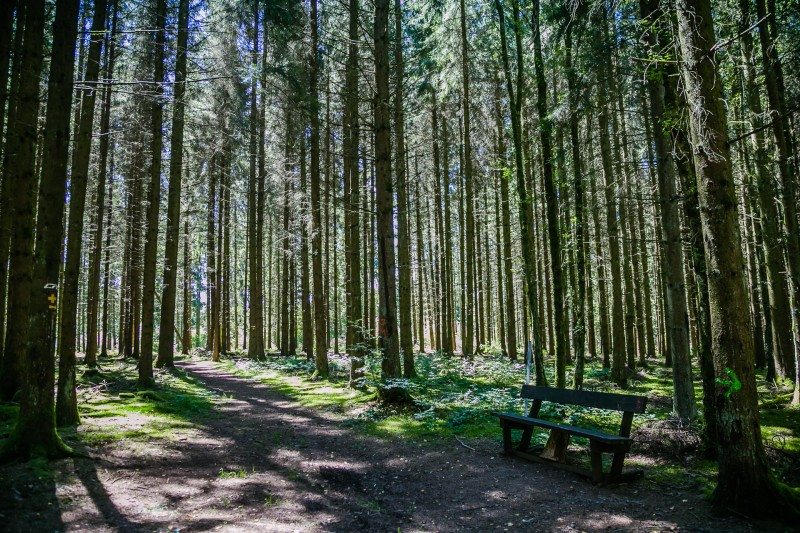 The paved road wound its way around the hill and after the first turn, we said goodbye to the pavement and set foot onto the grass-covered hiking path. Once up the hill, we joined a wider hiking path that looked to be an old logging trail. This part of the CFL trail took us through a tall forest that looked like they came straight off the set of a Twilight movie set with leaves blowing and the sun shimmering in-between them.
Most of our time was spent hiking in large forested areas like this which provided adequate shade from the sun. Now and then we would come across poop piles from a horse, located smack dab on the hiking trail. We never saw anyone riding a horse but there was evidence. Lina would say every time we saw one, I wish I had time for a horseback riding adventure. The trails were wide and tall so this portion of the CFL trail from Kautenbach to Wiltz would be great for horseback riding. Maybe next time.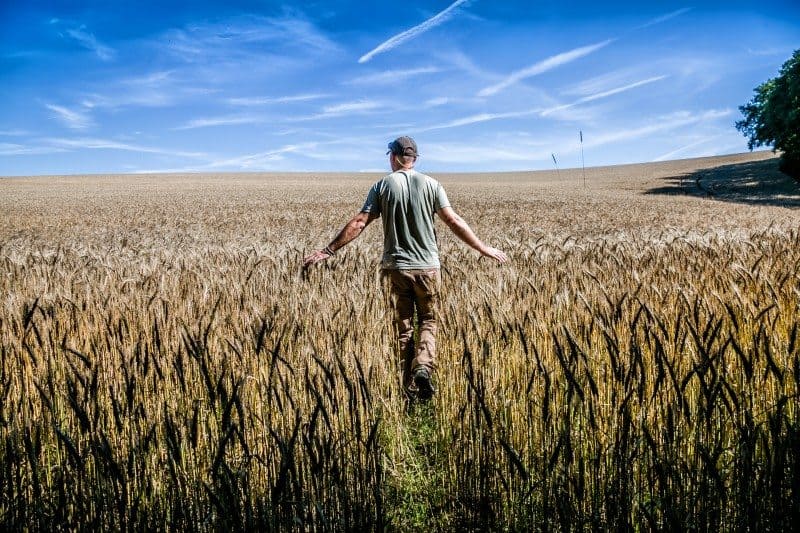 Fields of Gold
A golden glow sparkled from the corner of the dark woods like a window calling out to us as we hiked closer. It pulled us in like a magical spell and the effect was hypnotic. Entering the golden wheat field was like stepping through a door from darkness to light. The field went as far as the eye could see and you could easily get lost in it for miles.
Lina was under its spell as she walked through the field running her hands over the tips of the wheat. We spent what seemed to be hours playing and shooting photographs and videos. By far, this was our favorite moment while hiking in Luxembourg. It was all we could do to pull ourselves away and keep hiking to Wiltz.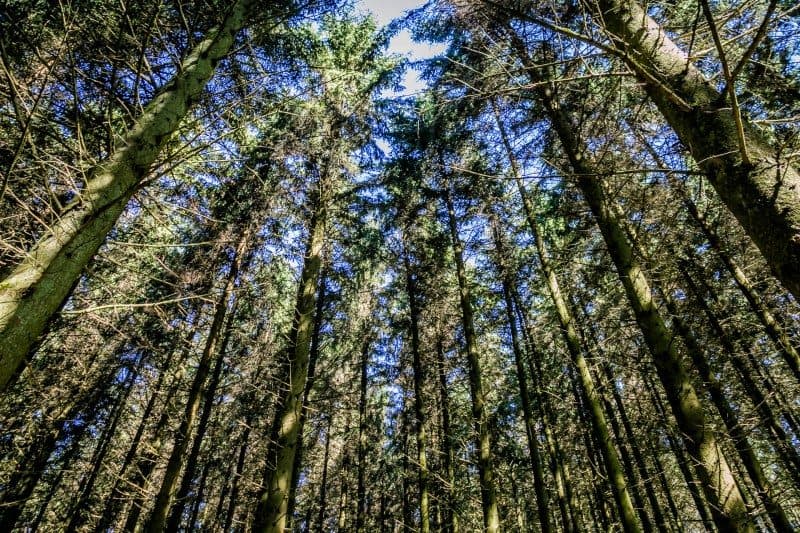 Onwards to Wiltz
By now the sun was at its tallest point in the day and it was time for lunch in the small town of Merkholtz. Luckily we had our box lunches because there was nothing but a few farms in this small town. This would be our first sighting of a person in hours. A farmer said a quick hello as he ran from one farm to the next after that it was a ghost town.
We found a spot on a brick wall to drink some water and rest for a little while. The town was quiet and looked to be no larger than 10 houses. After a quick rest, we decided to eat and walk to save some time since we have been taking our time with photography. It wasn't long before we were back on the hiking trail making our way along the little farm fields into yet another tall wooded area.
This area was different because the trees were perfectly placed in rows, they must have been replaced at one time. The huge pine trees stretched easy 40-50 feet into the air above us as we hiked. This was another well-marked, wide hiking path where we could easily hike next to another. It was this section of the trail that we ran into our first hiker and he looked to be lost but like us was taking his time enjoying the magic of Luxembourg's countryside. We did not want to have a hiking partner so we hiked a little quicker and he faded away behind us.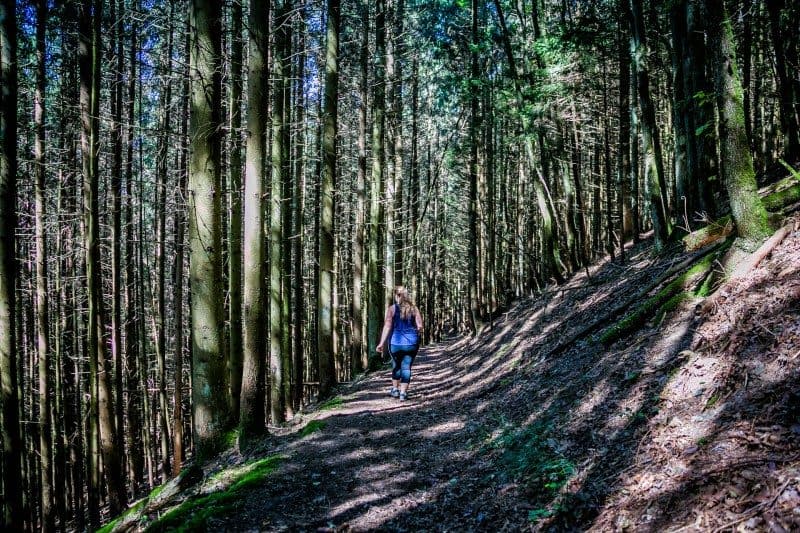 One thing I really love about hiking in Luxembourg is that we were the only hikers on the hiking paths. We hiked on the weekend and throughout our 29k hike on the CFL trail, we only saw one other hiker who was only hiking a small part of the trail. In Luxembourg, we had nothing but pure nature to enjoy.
As we entered the city of Wiltz, it was bittersweet. Our hiking in Luxembourg adventure was over and all we were left with was the memories and photos. We made our way through the city to the train station where we jumped on the next train back to Kautenbach and our campsite where we could put our feet up and enjoy our last night in the outdoors of Luxembourg.
We easily could have camped along the hiking trails with a tent. We did not have gear for that and we enjoyed having the luxury of a full restaurant, bar, and showers at the Camping Kautenbach campsite. This campsite has it all and it was a great place to base ourselves on this adventure. They have all kinds of camping options that include pods, campers, safari tents, and numerous areas to pitch a tent. We stayed in an original Pod and it had everything you could ever want to be tucked away in nature on a campground.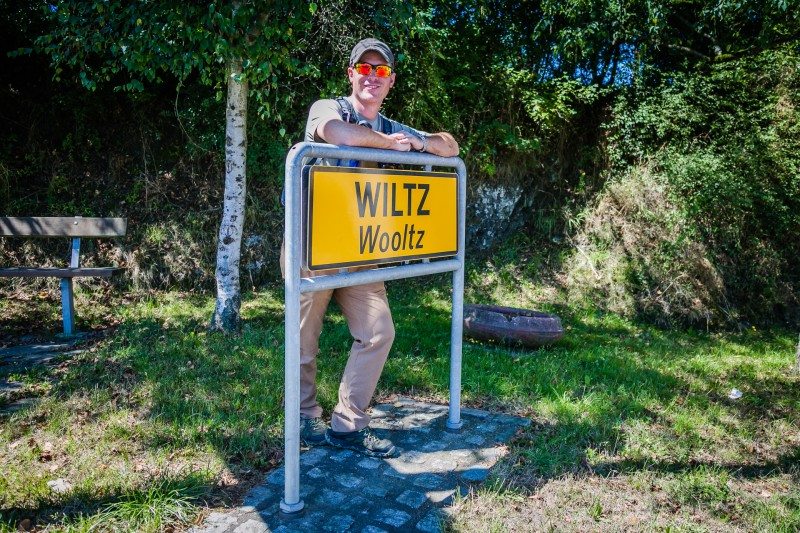 Other Hikes in Luxembourg That You Should Check Out:
Mullerthal Trail- Stretching 112km, the Mullerthal Trail twists, and winds through the Mullerthal Region known as little Switzerland. With wild paths that lead through the forest, endless farm fields and impressive canyons with huge rock formations, you will truly experience unexpected Luxembourg on this hike. This hike is 100% on our return list when we visit Luxembourg again.
Escapardenne Lee Trail- Stretching 53km long with steep paths and rocky hillside ridges, the Escapardenne Lee Trail offers a variety of things for all types of hikers including breathtaking landscape, nature, heritage, and culture. If you're looking for a hike that offers a taste of everything Luxembourg has to offer this is the hike for you. It's also a great option if you want to do multiple days of hiking in the region.
European Stage Trail- Known as the E2-GR5, it links the Netherlands and the Mediterranean Sea. This hike is a long-distance European hiking trail and is without a doubt one of the most beautiful hikes in the world. If you're looking for one of those hikes for inner reflection, check this one out as I guarantee you it will be less crowded than the Camino de Santiago.
Looking for other great hikes in Luxembourg check out: Hiking in Luxembourg: Fairy-tale Castles in Hollenfels and Ansembourg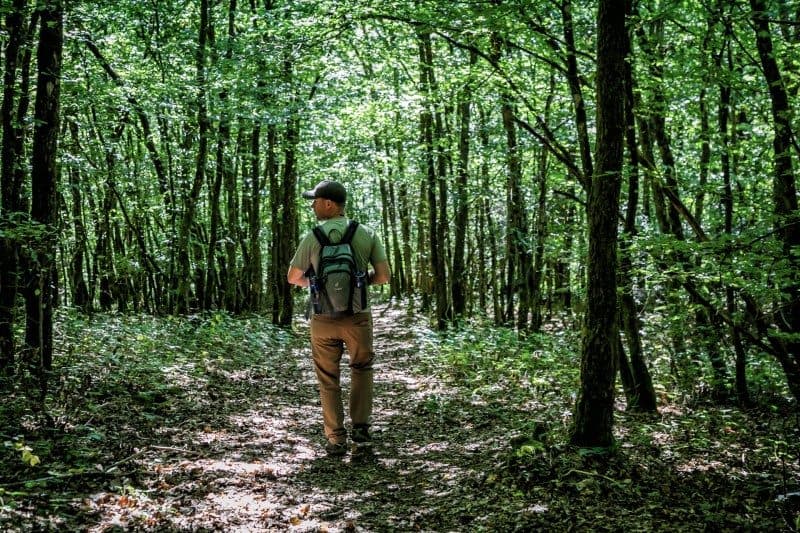 Premium Way Traumschleife- If you're a wine lover this hike is for you. Get lost hiking among Luxembourg's great vineyards and the tall limestone rocks, leading to enchanting forests. Once you think the hike is almost over you will get lost again in the nature reserve of Palmberg that's famous for its orchids. Enjoy a glass of wine and fruit while enjoying Luxembourg's nature.
Circular Walk- Known as Our Valley Walk or the Circular Walk of Naturwanderpark, it is yet another hiking gem in Luxembourg. This hike is challenging, however, its views and experiences are worth it. On this hike, you can experience the magical side of Luxembourg with the ancient landscape, rocky trails along tall mountains, clear lakes, and let's not forget what makes Luxembourg famous, castles. Explore the ruins of Falkenstein Castle that looms over the medieval town of Vianden. This is a great hike if you are short on time or looking for a shorter trail to enjoy.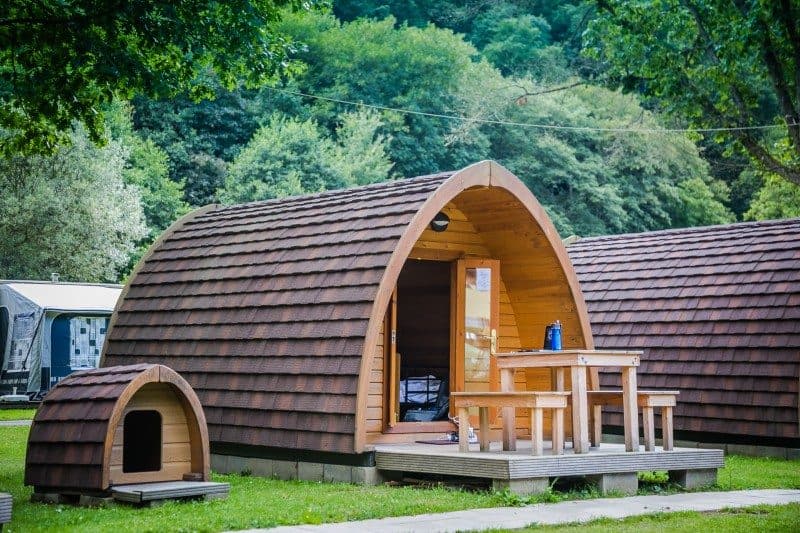 Base At Camping Kautenbach
As we have mentioned, we took a train to Kautenbach and based ourselves at Camping Kautenbach. This was a brilliant decision and exactly what we needed after a summer in Europe. The camp itself is set on the outskirts of the village, smack dab in nature with a running river through the property. The grounds are healthy and green with all the amenities you could ask for outside of a big city.
Read reviews and check prices for Camping Kautenbach.
Hiking in Luxembourg was magical and an experience that was more than just unexpected, it was needed. Spending so much time in cities over the summer left us drained and being able to step away from it all, into the hills of the Ardennes, was something we won't soon forget.
Special thanks to Visit Luxembourg for hosting our visit to Luxembourg.
---
More on Europe:
---
Did you like this adventure? Pin it!