It can be difficult to seek thrills when you're traveling within cities unless you leave the city limits. Some cities don't even offer adventure options to explore, so getting a good rush in can take some work and planning. That said, some cities do a good job of incorporating in some adventure activities, whether they be soft or not, to have on offer for those that seek a bit more than a walking tour on their visit. In Sweden, it was the rooftop tour in Stockholm.
I wasted no time signing up for and taking advantage of the hair-raising rooftop tour in Stockholm to check out the views. Not only would it be offering some great photography vantage points, but it would also provide a chance to get the blood pumping which turned out to be a welcomed thing after over a month of touring around Europe with not enough adventure.
Stockholm turned out to be one of the most photogenic cities we have been to and being able to take to the roofs of the city was a highlight from our 2 months in Europe this summer.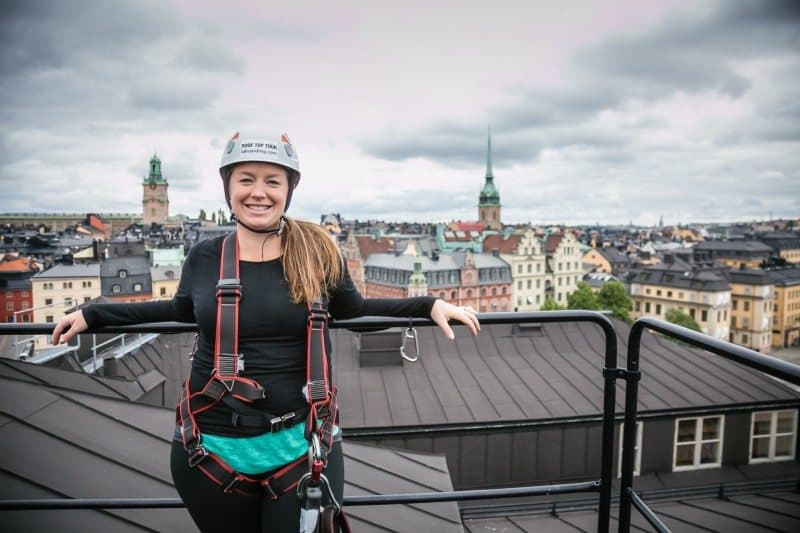 After signing up for the tour I did no research about what was involved in the activity. So when I arrived at the meeting point that morning, I was going in blind. The activity leader gave us a quick briefing in the square outside of the building on Riddarholmen and then led us into the Old Parliament Building where we began our ascent to the top via the winding staircase.
Upon reaching the top, we were led inside a small room that resembled an attic space. It was dark and cluttered where the climbing harnesses, safety equipment, and helmets hung on the wall. To one side were lockers to store your personal belongings, to the other side a series of benches.
We were kitted up with equipment and given a safety briefing. They explained to us how the mechanics of our harness would work and how we should use it to navigate the rooftop lines smoothly and without interruption. Then just like that, they opened a small door and we all climbed the steps, one by one, into the light and onto the rood of the building.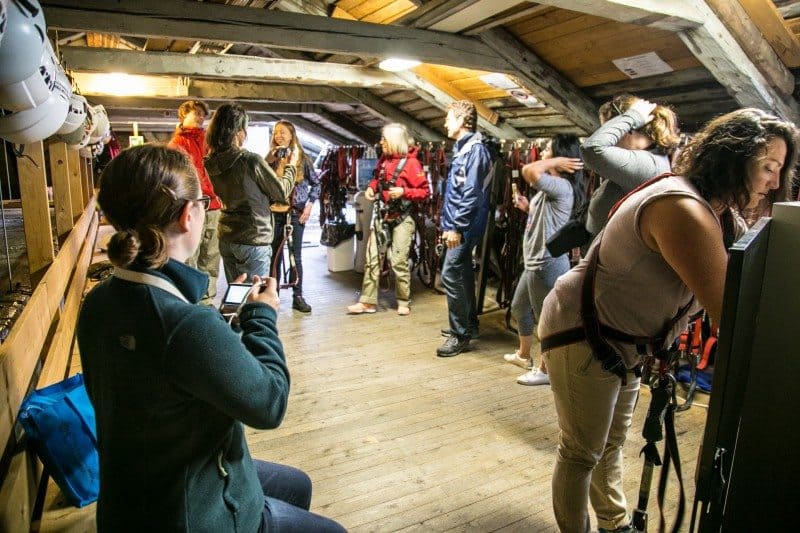 On a Roof Top Tour in Stockholm
I have to admit, it is completely different than I had imagined when I signed up. I had envisioned a tour that was led across the rooftops along secured walkways with safety railings.
What I actually signed up for was a rooftop tour in Stockholm that involved safety harnesses, tethers, lead tracks and a narrow metal foot track with no railings along the spines of the Old Parliament building.
While I think some people would have been terrified at that revelation, I was elated. Our summer in Europe has been wonderful, but pretty void of any good adrenaline options due to our schedule.
The prospect of balancing across these walking paths, despite being tethered, was going to be a thrill for me. So, one by one, we were hooked to the safety line and sent along the first short section to a platform to begin our tour.
The track itself snaked around the top of the building, climbing at parts onto other parts of the building and then descending. As we navigated the route, I found it difficult at times to get my tether to follow efficiently behind me.
This caused me to have hang-ups while walking on the track. I didn't find it scary, just annoying because I wasn't able to walk continuously and look around. I had to focus on the tether line and freeing it each time it got stuck.
I thought maybe it was just me and I wasn't lining up the tethered head correctly, but as the tour continued everyone experienced similar hang-ups. You'd have to re-position yourself to make the tether track smoothly, which posed a problem sometimes when there were no handrails to hang on to. Sometimes I ended up using my foot to gently guide the tether forward and free it from being hung up.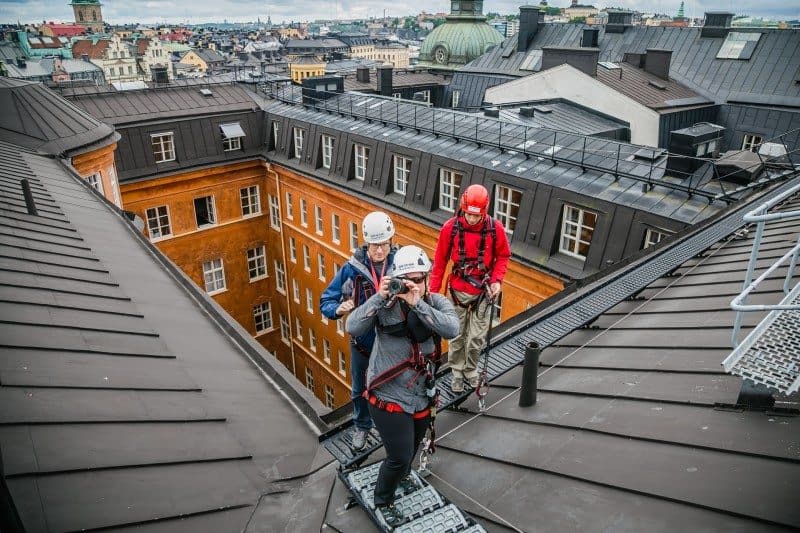 From the top, we were rewarded with 360-degree views of Stockholm accompanied by excellent commentary from our activity guide about the history of the city. She even told us some funny stories and got us involved by quizzing us before providing answers on the facts.
At the end of the tour, we all gathered on the last platform and took turns taking pictures of each other with the fabulous city of Stockholm in the background. The rooftop tour in Stockholm did not disappoint, providing fantastic views, a balance challenge and a little adrenaline to top it all off.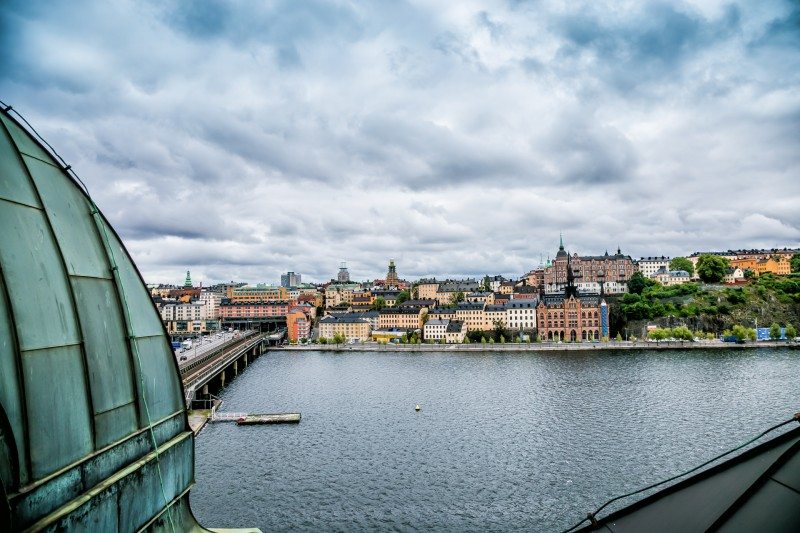 Tips for the Stockholm Roof Top Tour
After experiencing this activity, I think it is only fair that I pass on some tips to those of you who are considering this tour on your next visit to Stockholm.
Are you afraid of heights? This tour is not for the faint of heart or anybody that experiences vertigo. There are no handrails when you are on the rooftop and you need to be able to maintain composure and balance for the duration of the tour. If you are scared of heights or experience vertigo, I do not recommend that you take this tour.
Make sure your tether is straight: When you are getting your harness on and connecting your tether in the attic room, make sure your tether is straight. If not, you will have a twist in it and this will make it hard to lead the tether during the tour.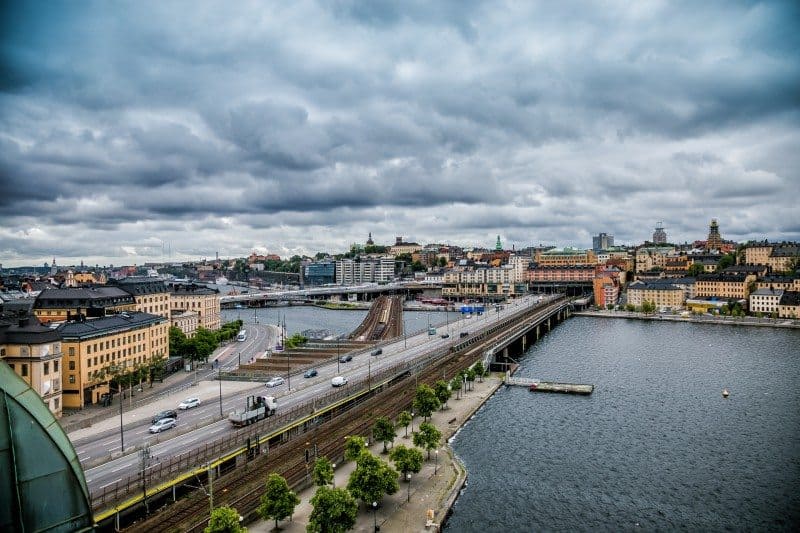 Bring along a camera strap: If you want to take pictures from the rooftop, you will have to secure your camera to your body. This means you need a long, cross-body type strap. Yes, even for your point and shoot. They do not allow wrist straps. They do provide cell phone pouches with a neck strap so you can bring your phone if you like.
Wear long sleeves and long pants: Even at the height of summer, Stockholm brings a cool wind. When you get up above the city, there are no obstructions and the wind will be howling at you. Be prepared for this by dressing in long pants and bringing a long sleeve shirt.
Above all, enjoy the experience, it's a spectacular one.
Looking for a Place to Stay in Stockholm?
We can recommend the Hotel Birger Jarl as the perfect base during your stay in Stockholm. The hotel is located just a 3-minute walk to the closest metro station that will connect you with the whole of Stockholm. Hotel Birger Jarl offers modern rooms with free WIFI and a large breakfast buffet with loads of selections. Amenities of the hotel include a restaurant with floor-to-ceiling windows, a lobby bar with a fireplace and a fitness center. Check reviews and prices at Hotel Birger Jarl to plan your stay in Stockholm.

Wonder how much it cost to visit Stockholm, Sweden. Check out, Stockholm in the Summer on a Strong U.S. Dollar.
---
More on Europe:
---
Travel Insurance: We use for Allianz for travel insurance and have since our first trip to Mexico in 2003. They've been there for us on our adventures – and many friends and readers – multiple times over! If you want to book with Allianz Travel Insurance, simply use this link to get their travel insurance!
Disclaimer: We were hosted by Takvandring on this rooftop tour in Stockholm while attending TBEX Europe, the world's largest travel blogging conference.
If you liked this post, pin it!