Russian river cruises are one of the best ways to see some of the best places that Russia has to offer travelers.
It is one of those destinations that piques the interest of many people from all around the World. They have a tumultuous history, captivating architecture and stake a claim to the largest mass of a country on the Globe. How can you not be interested?
It wasn't much of a discussion for us when David suggested that we pay a visit this summer during our 2 months in Europe. This is how we came across the Russia river cruises option and the Waterways of the Tsars itinerary through Russia.
The hardest part of going to Russia is obtaining a visa, which can take weeks and like in our case cause delays of your travel if you are not flying straight to Russia from your home country.
Never fear, we got it sorted and now we both hold 3-year multiple entry visas for Russia with plans to return for some epic journeys across the country.
This time around, we opted to explore the major cities to get a taste for what Russia is about and since we decided to see Russia on the Waterways of the Tsars Viking River Cruise itinerary, we also got a small look into rural life as well.
What appealed to us about the itinerary was the chance to see more than just Moscow and St Petersburg, the flagships of Russia, and it certainly delivered.
Let us take you through northwest Russia as we start our journey in historical St Petersburg and spend 13 days cruising the Volga River before landing in Moscow.
---
Russian River Cruises on Viking's Waterways of the Tsars
---
St. Petersburg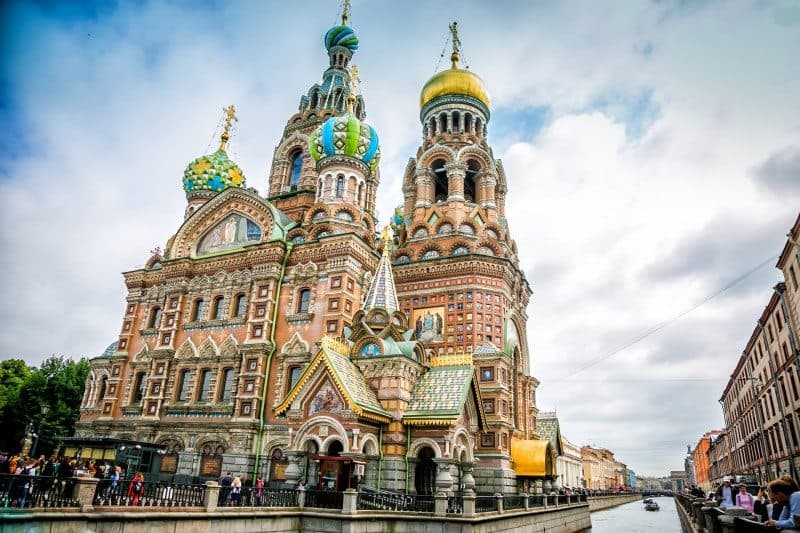 While some people might argue on this, St Petersburg is Russia's most visited city with its location being on a port. Cruise ships come and go every single day with Russia's 72-hour port visa and the city is absolutely bursting with tourists.
I mean, to the point where going to a place like the Hermitage during the day is torture.
Lucky for us, being with Viking River Cruises we had the option of achieving behind the scenes early access to places and we were let into the major museums hours before they opened.
We enjoyed quiet, non-crowded enjoyment of some of the most historic buildings in the World and you can't really put a price on that.
We spent 3 days exploring the very best on offer in St Petersburg and even hit up the Russian ballet for an inspiring performance of Swan Lake.
St Petersburg – Hermitage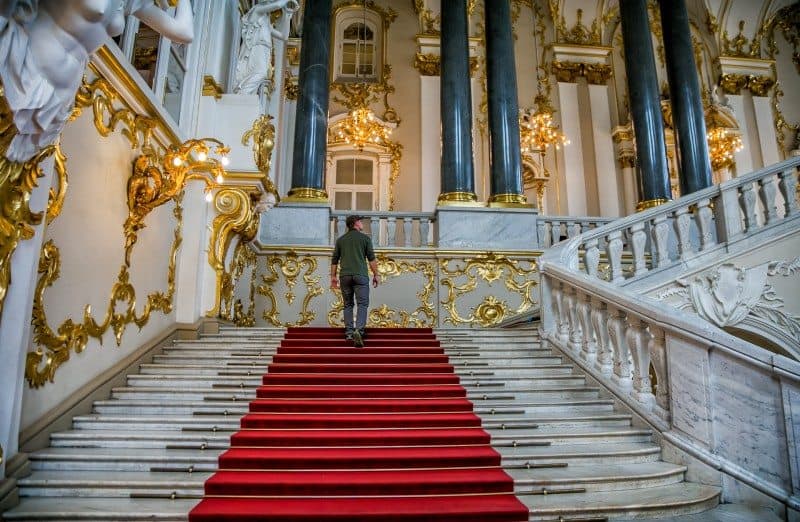 The mighty Hermitage museum is the most visited location in St Petersburg and with good reason. The place is a testimony to the history of the country and the people that ruled it.
It houses one of the greatest art collections in the World and if you were to stop for 3 seconds at every single item on display it would take you something like 17 years to see the whole collection. It is staggering.
The absolute secret to having a pleasant visit to this museum is by joining one of the behind the scenes tours that grant you special access to the museum a few hours before it opens to the public.
The museum will be empty and you have a chance to explore without the crowds pushing you over.
We shared several pictures from our experience with fellow guests on the Viking Astrild and the ones that had opted for the standard tour were very jealous of our intimate experience.
It's worth the money spent.
Mandrogy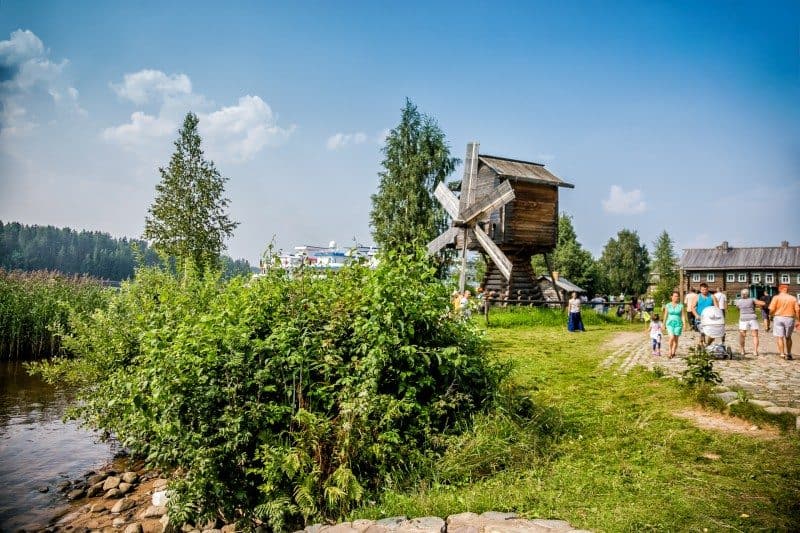 Set on the Svir River between Lake Ladoga and Lake Onega is the small rural tourist village of Mandrogy. The original village was ruined during World War II and disappeared from the maps for many years.
In 1996, Sergei Gutzeit, got the idea of reconstructing it as an open-air museum and testimony to traditional Russian villages. Its sole purpose is to benefit travelers taking river cruises between St. Petersburg and Kizhi.
On the day we visited there was a festival happening and the village was bursting with locals and Russian river cruises alike.
I can't say that it was authentic, but it was presented in a way that would give you a good idea of what life was like in the original village.
We made use of our time flying the drone over the village and also attended a Matryoshka doll (Russian nesting dolls) painting class.
Kizhi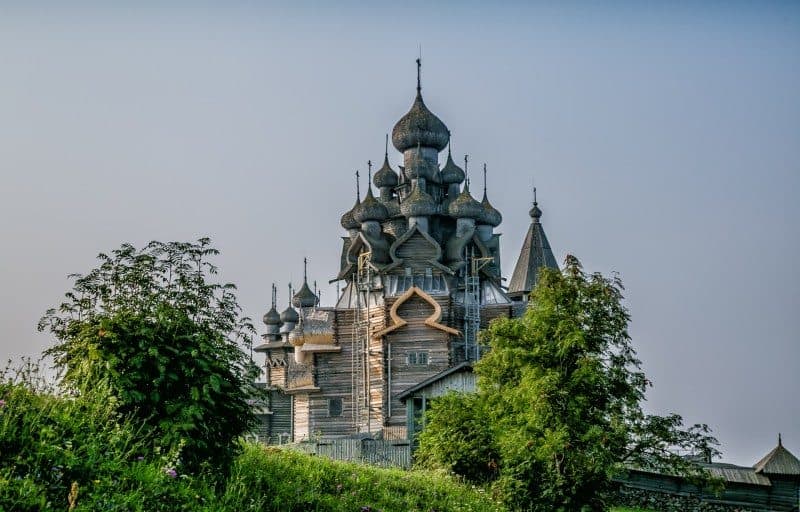 Kizhi Island is a 17th century UNESCO world heritage site located in the middle of Lake Onega. It is famous for its large wooden churches that were built using a single ax and no nails.
Upon completion of the project, the builder walked to the shore and tossed the ax into the lake. The site is very remote and other than the river ships, we saw only a couple of other tourists that were camping there.
The site is large, stretching across the length of the island with several different buildings and everything in between is kept very natural.
We were told to stay on the paths as there is a unique type of viper snake that lives on the island.
I wasn't sure I believed that the buildings were built without nails, however, upon closer inspection, it proved true. The wood was shaped and carved in a way that interlocks, no nails needed.
Kuzino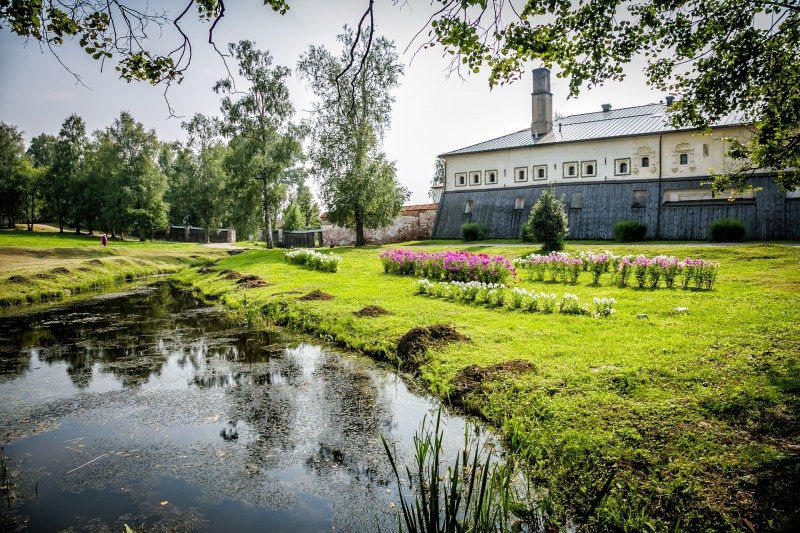 Our stop in this small Russian village equated to a morning visit with our main goal to visit the Kirillo-Belozersky Monastery.
It was founded in 1397 by Saint Cyril and today is a peaceful refuge for people that come to see it and those that worship at it.
The whole monastery skirts against a lake and many locals were relaxing outside the monastery walls and swimming in the lake.
The grounds are huge and reminded me of a castle complex with a large wall surrounding the premises and many large buildings spread out within.
The Assumption Cathedral and museum are the main draws containing several old paintings.
The grounds in beautiful to photograph but you need to really appreciate the religious history to find interest in all the paintings at the museum.
Yaroslavl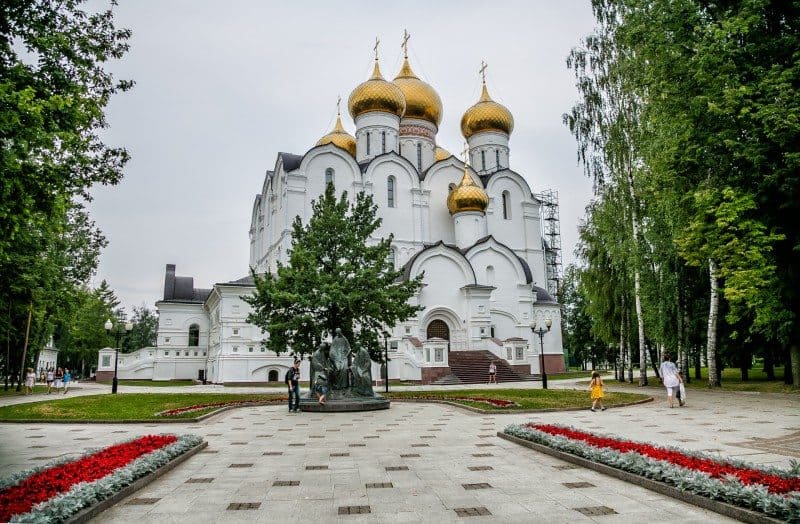 The first thing we did in Yaroslavl is to tour the large, prominent church at its center. The church features large, gold onion domes and it can be seen from almost every part of town.
Our church visit was followed by a trip to the local market where we sampled a variety of locally prepared smoked meats and cheese. My favorite by far was the walnut cheese with smoked sausage.
The afternoon was spent with a tour of the governor's mansion where we enjoyed beautiful art, architecture, dancing and a musical performance.
I'm usually up for a dance or two but the waltz led by traditionally dressed dancers had David and I hiding in the back row.
Uglich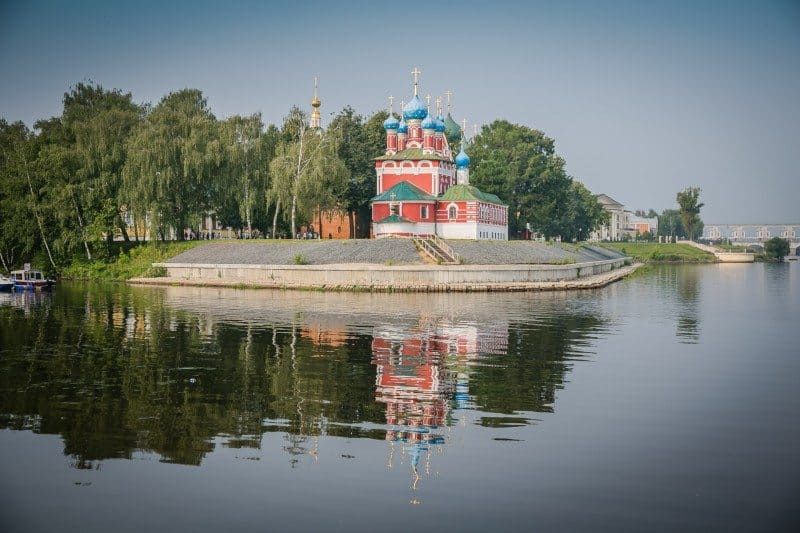 This town gave us a fix on church buildings built with the classic Russian onion domes. It seems everywhere we turned they could be seen as we wandered this town.
I'm not complaining, they come in a variety and are beautiful to photograph if you're lucky enough to have some good light. We had a mixed day with fog, smog and some rain but I managed to get a couple captures.
Besides photographic opportunity, we had the chance to tour the insides of them and have a look at religious art.
I'll be honest here, we found it quite boring as they all looked the same, so we wandered from the crowd a few times to photograph the area from outside.
Lastly, we were invited into the home of a local to enjoy a freshly cooked meal with local produce and of course, toss back some vodka.
Moscow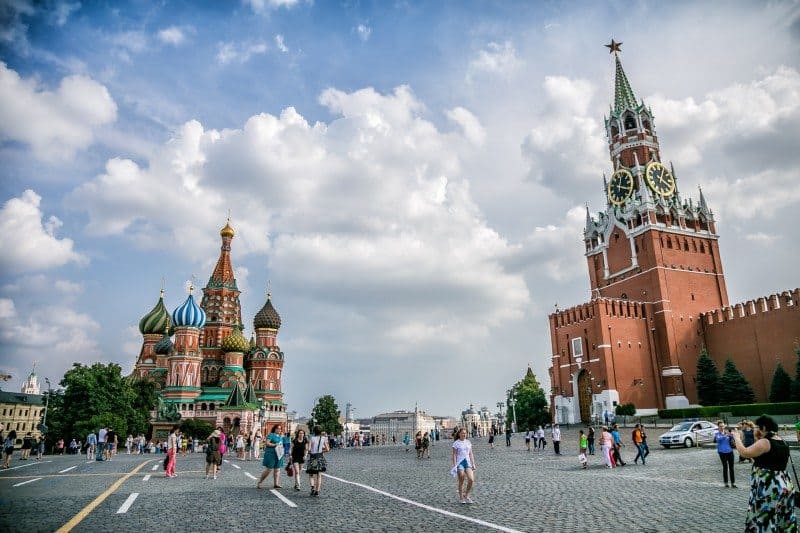 Have you ever arrived in a place to find it so much better than you imagined? This was Moscow for us. The city is fabulous and stunning. They've gone to great lengths to make the city appealing and it shows.
Our time was well spent taking walking tours, exploring the Kremlin, listening to folk music concerts, shopping in the GUM center and standing in awe at the Red Square and St Basil's Cathedral.
When night came, we enjoyed a night canal trip through the interior of the city and mingled with the local biker gangs at the city overlook on a Friday night. Moscow is magical and we wouldn't hesitate to return.
It was the perfect way to end our 14 day trip through the Russian River Cruise with Viking River Cruises.
Read more 17 Interesting Things to Do in Moscow
Sergiev Posad and Trinity Monastery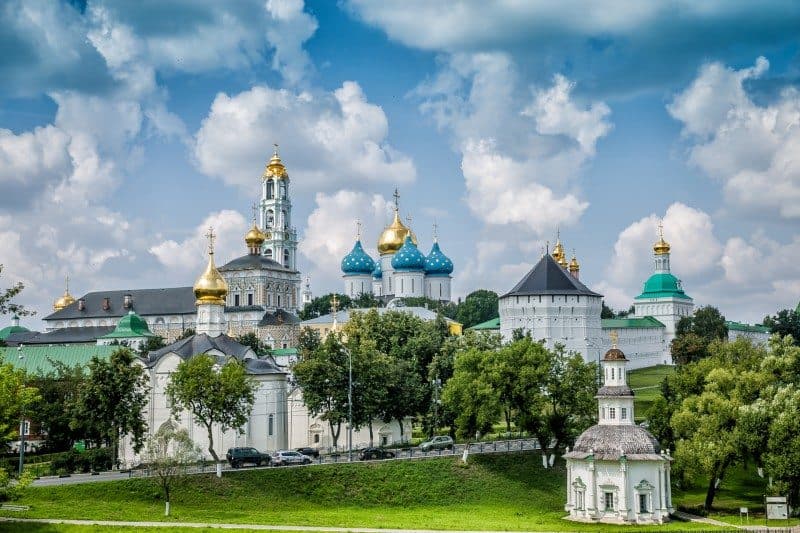 When the Russian capital moved to St. Petersburg, the Trinity Monastery remained the center of the Russian Church until 1920. It was then closed by the Bolshevik government.
Stalin permitted the reopening of the monastery as part of victory celebrations in 1946.
The structure is ripe with Russian history and a beautiful place to visit on a visit to Russia.
This site is beautiful but was so crowded during our visit that you could hardly move. Russia seems to be experiencing a boom in tourism and traveling to famous sites in the summer is unpleasant.
You can't move, you can't get photos and you can hardly get into the buildings you are paying to see. While we managed, it was difficult to muster up enthusiasm when you were pushed around all day by strangers.
---
Waterways of the Tsars River Cruise
---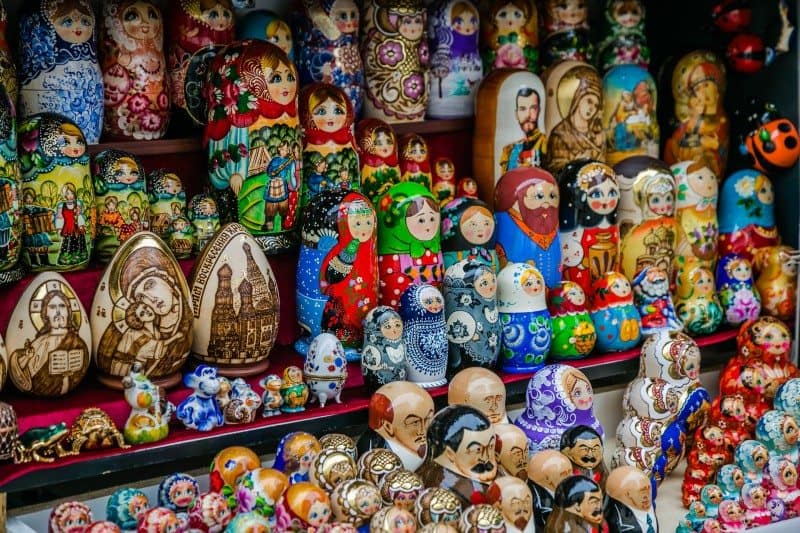 After cruising through Russia for 13 days on the Waterways of the Tsars with Viking River Cruises, I think it is safe to say we've had our appetite for exploration whet and we are eager to make a return visit to Russia.
The country gave us something different to look at then we had experienced in other parts of Europe during our travels over the summer, plus the TV news was always interesting.
Want to book a Viking River Cruise and not sure what to expect? Let us tell you all about it.
We partnered with Viking River Cruises to bring you this fabulous itinerary. All opinions are 100% mine.
More on Russia:
Did you like this story? Share it!