From the minute we touched foot in the city, we were on a quest to uncover the best places to visit in St Petersburg for photos.
This may be surprising because no one really talks about the photogenic side of the city but St. Petersburg offers a chance to photograph and experience ancient history, culture, architecture, classic art, nature and cityscapes all within close proximity of one another.
We made it our mission to capture the best photo spots in St. Petersburg so we could share it with you.
After our 3 days in St. Petersburg we can understand why it was named Europe's leading destination at the World Travel Awards.
The city has a way of presenting itself that is unique to what you would normally see while traveling in Europe.
Perhaps it's the whispers of a long seeded past that you hear while wandering the halls or streets that give the St. Petersburg it's the allure.
Either way, it's a magical place, so grab your camera and get ready to hit the best photo spots in St. Petersburg.
---
11 Best Places to Visit in St Petersburg, Russia
---
1. Winter Palace And Hermitage Museum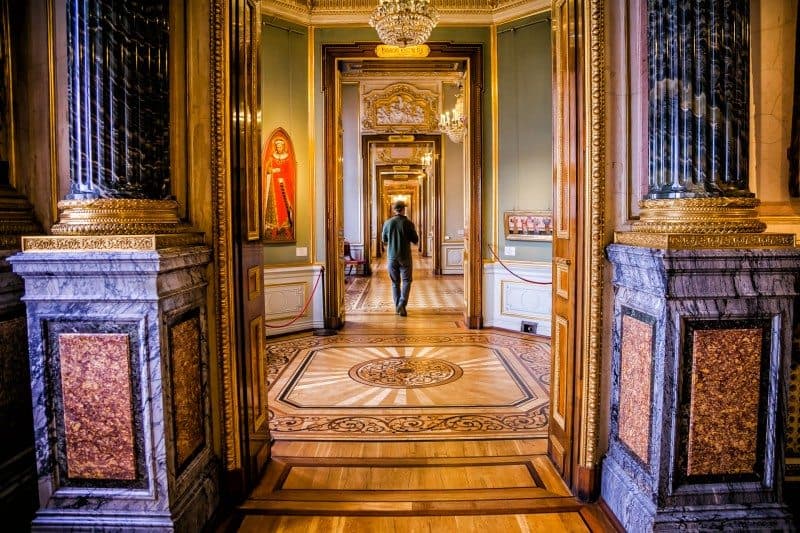 Once you enter Palace Square, you will be drawn to photograph a green-and-white three-story building.
This building is a marvel of Baroque architecture with its tall windows, gold-leafed trim, large pillars and tall cast-iron gates with the iconic gold double-headed eagle. You have just feasted your eyes on the Winter Palace.
The Winter Palace is part of the Hermitage Museum that is open to the public and you are allowed to take photos inside, making this one of the best places to visit in St Petersburg.
This building is as amazing to photograph inside as it is outside. Within the Winter Palace and the Hermitage are some of the most cherished Russian treasures on display throughout 350 rooms.
You will feel like a Russian royal as you capture the sites and sounds around the elegant and lavishly decorated halls and rooms. Gaze up at the gold leaf as you're walking up the red-carpeted stairs of the Jordan Staircase.
Special Secret: Book yourself onto a tour that will give you special access to the Winter Palace. This will give you access to the museum before it opens to the public. We did this on our recent Russian river cruise with Viking River Cruises and virtually had the palace to ourselves. Prime photoshoot moment.
Recommend time to allow for photographing the Winter Palace and Hermitage Museum: 3-4 hours.
2. Church of the Savior on Spilled Blood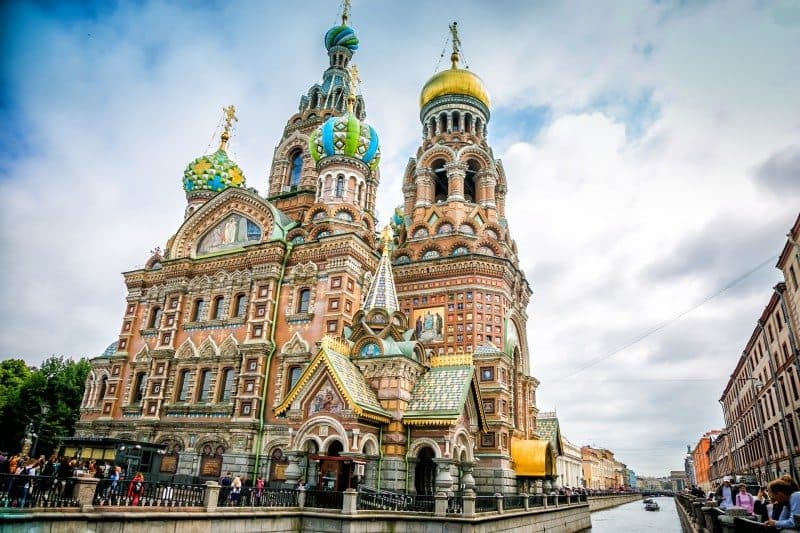 Just a walk along the outside of the Church of the Savior on Spilled Blood and you will understand why it's one of the best places to visit in St Petersburg.
It's a stunning church from all angles with so much life built up around the Church.
Tourists and locals flock to it from all over with locals selling tourist goods, scuffling past the tourists to pay their respects, street performers and street artists trying to get you to pose with owls.
The experience is lively, to say the least.
After taking in the incredible architecture of the outside you may prepare to be disappointed by the interior, however, the best comes last.
Once walking into the Church of the Savior on Spilled Blood you will not be able to stop looking up at the incredible mosaic work. I challenge you to get creative in capturing the light and art on display inside this church.
Recommend time to allow for photographing the Church of the Savior on Spilled Blood: 1-2 hours. The Church of the Savior on Spilled Blood can get crowded at times and this is a prime spot for pickpockets and bag snatchers, so keep your gear on the front of you.
3.
Aleksandrovsky S

ad (Alexander Garden)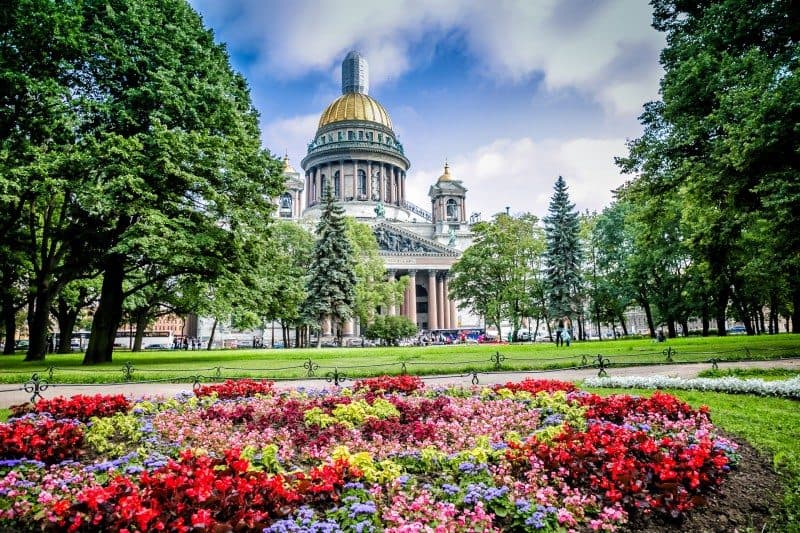 Aleksandrovsky Sad, also known as the Alexander Garden, is not one of the largest or most beautiful parks in the city.
However, it is one of the best places to visit in St. Petersburg because it's the best spot to photograph St. Isaac's Cathedral with flowers and/or the park lawn in the background.
I feel it's one of the few spots to photograph the whole Cathedral without large groups of tour buses in your photograph.
Throughout the day this little park will be filled with many locals as it is a peaceful oasis in the middle of the busy city.
Many locals sit on the green lawns just enjoying the peace and quiet with great views of the Neva River and St. Isaac's Cathedral.
It's also a great place to snipe some wedding type photos as it does not matter what day it is, you will be able to find couples getting their wedding photos taken in this park.
Recommend time to allow for photographing Aleksandrovsky Sad: 30 minutes
4. Summer Garden
Just take a stroll through the Summer Garden and you will fall in love with the oldest park in St. Petersburg. The look of the Summer Garden is based on Versailles and they did a great job of matching it.
The real gem is in the gardens with many fountains and statues. Besides photographing the architecture, a variety of rare flowers and plants can be found.
Feel like you have stepped back into time as you stroll the paths where nobility used to hold prestigious balls. This is the very reason we've added it to our best photo spots in St. Petersburg list.
Recommend time to allow for photographing Summer Gardens: 1-2 hours.
5. St. Isaac's Cathedral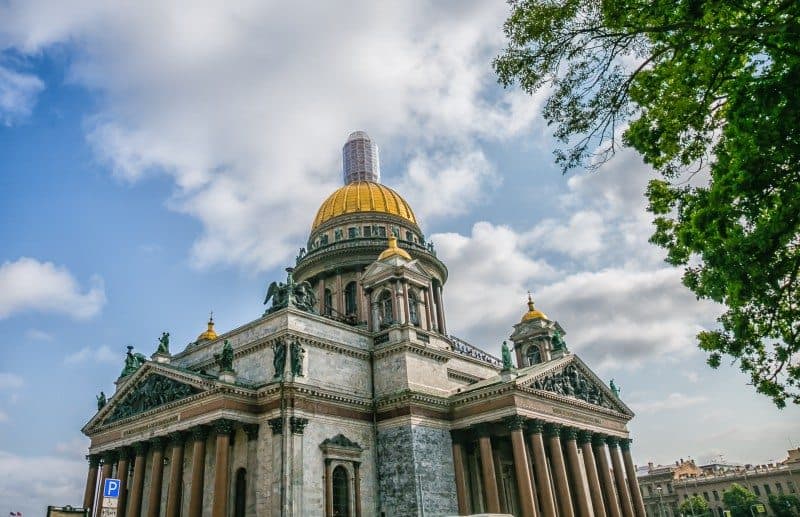 No matter where you are in St. Petersburg you can see the gold dome of St. Isaac's Cathedral. This dome was built with more than 100kg of gold leaf and when we were there it was getting restored.
So sometimes it can be a challenge to work around ugly scaffolding when trying to capture photos.
Once you get closer though, you will be able to make out the cathedral's facades that are decorated with sculptures and massive granite columns. This is the fourth largest cathedral in the world and it's lit up pretty well at night.
Once inside, it will be hard for you to keep your eyes from looking up at the incredibly detailed mosaic icons and paintings.
You will be drawn to a large, brightly colored stained glass window of the "Resurrected Christ".
However, most tourists bypass everything inside and head up to the top. You can climb 300 steps to the top of St. Isaac's Cathedral for some great views over the city of St. Petersburg.
Recommend time to allow for photographing St. Isaac's Cathedral: 2 hours if you're planning to climb up to the top for epic views of St. Petersburg.
6. Palace Square in St.
Petersburg

Russia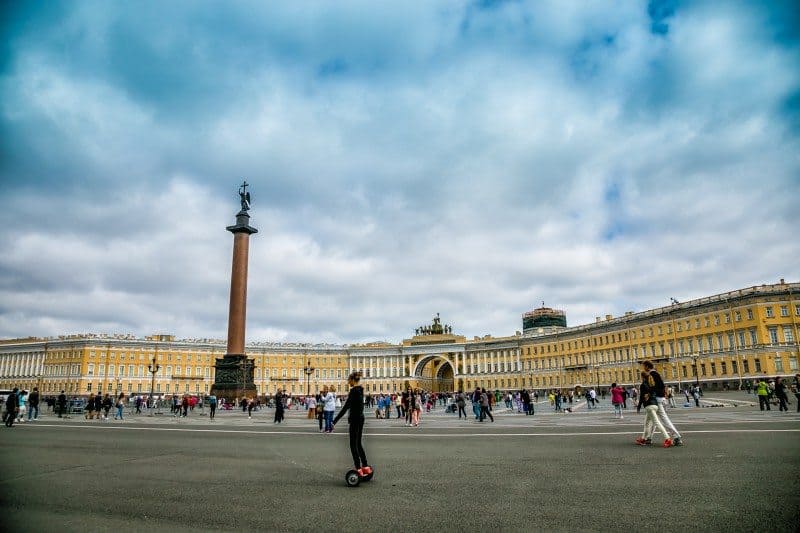 St.Petersburg's palace square has been engraved into many major events in Russian history. With the iconic Winter Palace on one side and the Hermitage Museum on the other, the palace square opens up between them with the tall Alexander Column marking the center.
This red granite column is the tallest of its kind in the world. In the palace square, you can expect to find actors dressed up as old Russian military solders or even as Catherine the Great posing with tourists for photos.
This square is huge and I mean huge (bring the wide-angle lens for this one folk) and it can be filled at the busiest of times.
The square also turns into an open-air concert hall at times of the year and can be quite lively. Keep your valuables close and make sure you put your wallets in your front pockets.
Pickpockets to target tourist in this area and if your not careful you will lose something.
Recommended time to allow for photographing Palace Square: 15-20 minutes and it's better to make different visits if you can just to capture the different light during the day.
7.
Catherine's

Palace and Gardens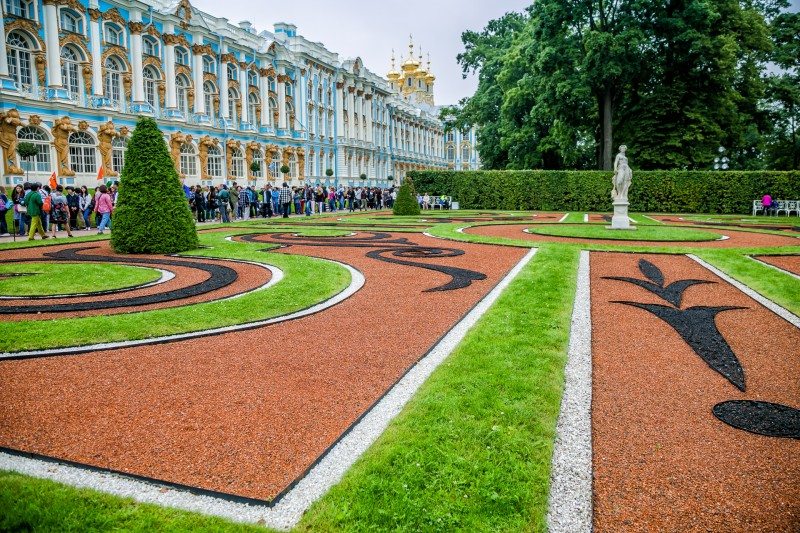 Catherine's Palace is one of the most popular places to visit in St Petersburg but inside the Grand Palace, photos are not permitted in many rooms.
So why are we including it on our best photo spots in St. Petersburg? Because Catherine's palace outside grounds are as impressive as the inside and you can take photos at will while you explore.
You can truly get lost in nature while exploring the different sections of these French-style gardens.
It was surprising because there were large groups of tourists, however, most of them only go to the main fountains of the park and that is it.
This leaves much of the place empty for you to explore with your camera. Don't be scared to explore the grounds, however, don't step off the grass because there is a guard who will blow his whistle at you.
Recommend time to allow for photographing Catherine's Palace and Gardens: 3-4 hours, it can get busy later in the day so show up early to be one of the first in the grounds.
8.
Alexandrinsky

Theater Russian Ballet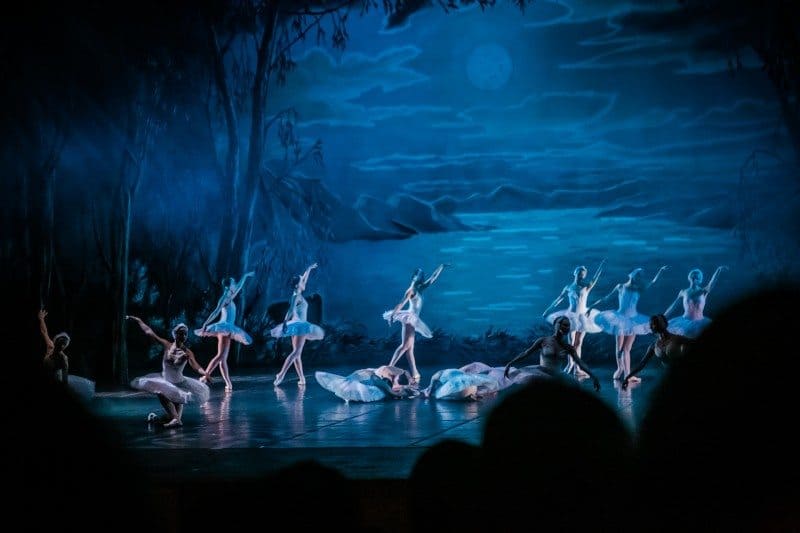 A visit to St. Petersburg could not be complete without seeing a Russian Ballet.
There are many theaters in the city, however since we are looking for the best places to visit in St. Petersburg for photos, the Alexandrinsky Theater stood out with its large park in front and it's Empire-style architecture outside.
Just stepping through the doors of the oldest national theater in St. Petersburg will find you transported back in time. The inside of the theater still has its historical look and feel. Grab a seat and enjoy the show.
We enjoyed the world-renowned performance of Swan Lake during our visit and we must say, it was performed to perfection.
A really fun way to add a little luxury to your evening out at the ballet is by hiring Blacklane limousine service to take you from your hotel to the theater in style.
Recommend time to allow for photographing Alexandrinsky Theater: 2-3 hours depending on the show.
9. Canal Cruise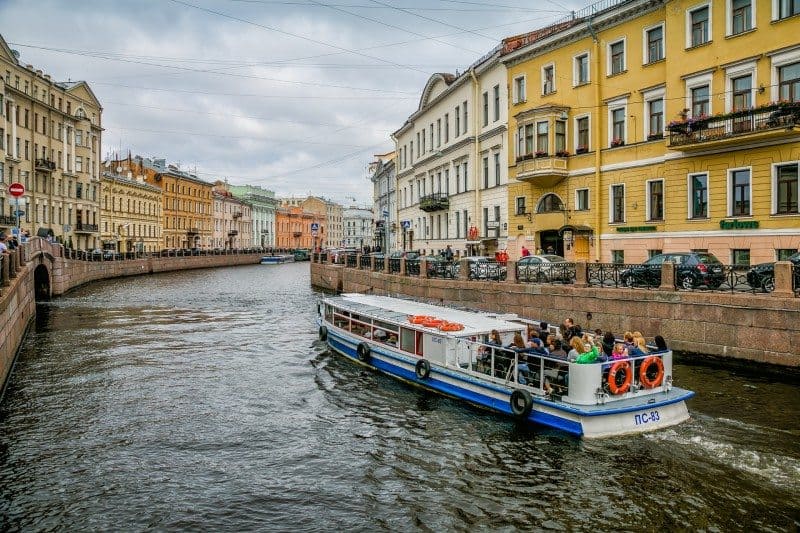 With the sea to one side and the rivers to another, there are few cities like St. Petersburg in the world. Did you know St. Petersburg, Russia is based on the iconic city of Amsterdam with all of its canals?
Jumping on an open-air boat allows you to photograph most of the major buildings in a short amount of time along with giving you a different point of view.
The canals of St. Petersburg stretch a total length of 300 kilometers with over 800 different bridges crossing them. Every bridge is different and has its owns a unique style and story.
The canals that run through the city are one of the best places to visit in St Petersburg for photos.
Recommend time to allow for photographing Canal Cruise: 2-3 hours
10. Admiralty Embankment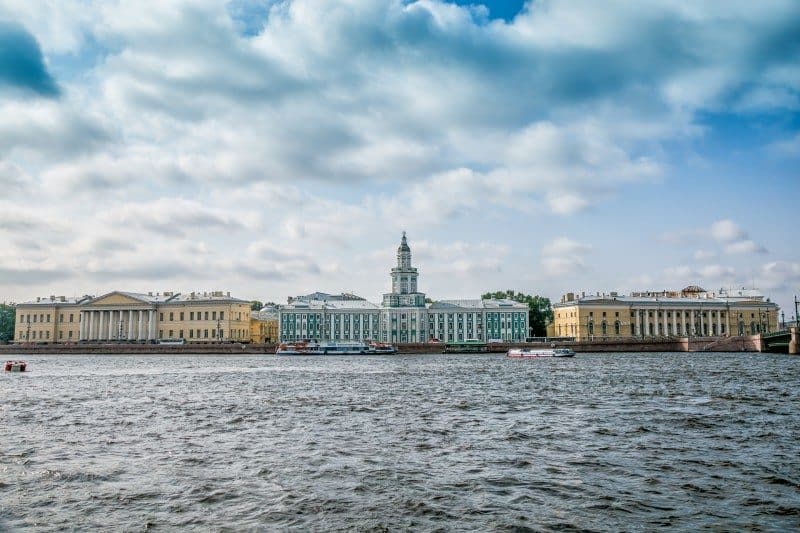 Stroll along the Admiralty Embankment under its large canopy of trees with the Neva River on one side of you and some of the most historic buildings of St. Petersburg on the other side of you.
You will find locals selling all kinds of items from antiques to Russian hats. Throughout the day musicians will be playing classical music while travelers and locals pass on by.
The Admiralty Embankment is a great place to jump on one of the many river cruises to explore St. Petersburg by its canals and rivers as well.
Along the riverbank, you can find two of the most popular sculptures in the city. One called the Tsar Carpenter that shows a young many building a ship and the other is the epic Lions on Palace Pier.
This large marble lion statue is the most photographed statue by tourists in St. Petersburg.
Recommend time to allow for photographing Admiralty Embankment: 1 hour
11. Peter and Paul Fortress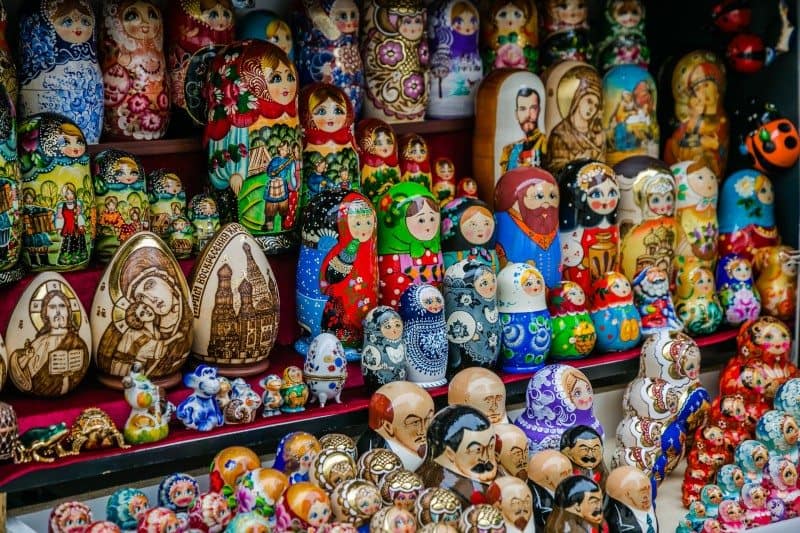 If you're looking for one of the best panoramic views of St. Petersburg you must head to the top of the walls of Peter and Paul Fortress on Zayachy Island.
Besides great panoramic views of St. Petersburg, it caters to the history buff. For photograph inspiration, stand under the sky-scraping bell tower topped with an angel cupola and walk among the dead in the Grand Ducal Mausoleum.
If you're not into history and cathedrals, you can grab a towel and enjoy the sandy beaches with the fortress walls surrounding them. This is one of the most popular places for locals to enjoy the few and far between sunny days in St. Petersburg.
Recommend time to allow for photographing Peter and Paul Fortress: 2-3 hours
---
Best Places to Visit in St.
Petersburg

Conclusion
---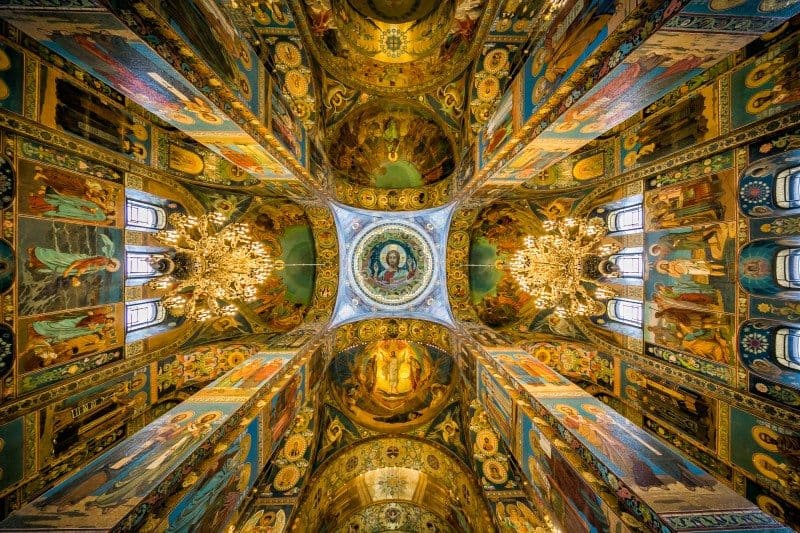 There are so many great places to visit in St. Petersburg that offer so many great photo opportunities and every spot has its own uniqueness.
Just like other places in the world, you may have to sit and wait for that perfect photo opportunity, especially if you visit in the peak summer months, however, when it all comes together it's magic.
We love to give travelers inside tips on photography and we understand you may not have as much time as we do as full-time travelers when you arrive in a new place.
This is why we have put together the best photo spots, so you have an idea before you visit, saving you time and allowing you to get those epic photos that will make your friends and family jealous.
Click to read about all of the camera gear we carry: Ultimate Travel Photography Gear List
More on Russia:
Did you like this story? Share it!