You don't need to be a professional photographer to capture beautiful photos of the Angkor Temples during your visit to Siem Reap. Let's face it, an astonishing 1 in 3 people will be carrying some sort of image capturing device during their travels. Why not learn how to take better photos?
Unique photos come more from the person that takes them than from the equipment you are carrying, so even if you are just taking photos with your iPhone or cheap point and shoot camera, these tips will help you take better photos during your visit.
Don't leave home without: Lonely Planet Cambodia (Travel Guide)
---
Photography Tips for Capturing the Angkor Temples
1. Composition
One of the most important elements in capturing images of the temples is your photo's composition. Take the time to look at the temple you want to photograph, really take a good look at it, and plan out a good shot. The key is to capture photos that are different than what everyone else takes.
2. Patience
The Angkor Temples are very busy most of the year; so if you were hoping to have them all to yourself, well, think again. The key to capturing great photos is to be patient. Extremely patient, I can't stress this enough. You will have people walk into your frame, bump into you and it is likely a large group of tourists will take up residence in your frame just as it cleared out and you want to press the shutter.
It happens. Be prepared for it and just breathe. Find that shot you want and then wait for it. Be sure to plan your days so that you can take the time that you need to make great photos. If you have a particular temple you want to shoot in optimal lighting and with fewer people, get up early and have your driver take you straight to it. Don't be afraid to ask for this.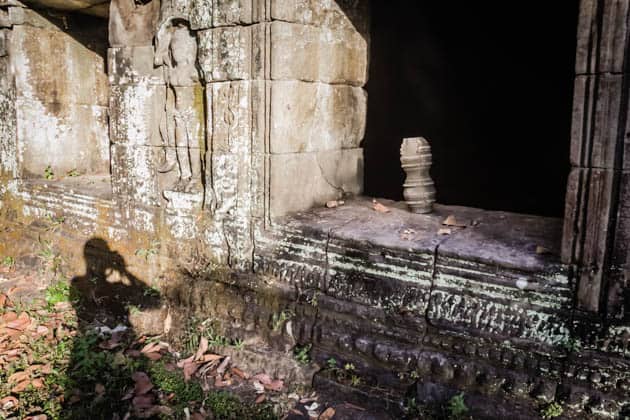 ~ I used the light to my advantage, creating a shadow that is photographing the temple ~
3. Pay Attention to Light
The light here will be challenging. There seems to always be a high sun, not so many clouds and there is not much for shade. The few trees that you will see near the temples will sometimes create awful shadows to deal with as well. However, you can work with the light, even in the middle of the day. Keep the following things in mind:
Don't shoot towards the sky in the middle of the day. This will create a washout in your photos.
Bring a lens hood and use it. This will stop some of the light from entering your lens. Also, don't be afraid to use your hand as a cup to shield excess light if you've found a shot with too much direct light. Just be mindful that your hand is not in the frame.
Shoot in Aperture Priority Mode (AV) and set it to minimize the light entering the shot. A good place to start is the sunny 16 rule F16, and then adjust from there.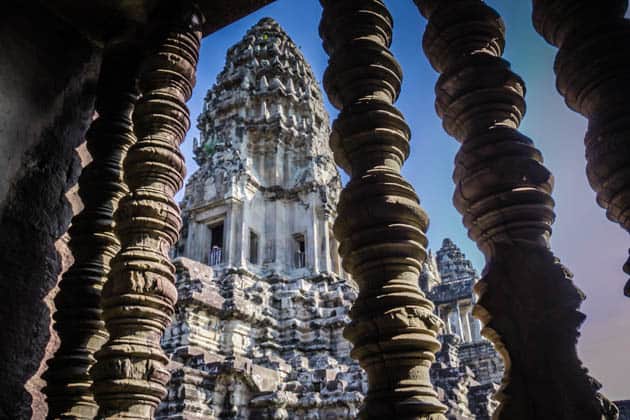 ~ This shot was taken sitting on the ground using an angle to capture the temple through the window~
4. Angles & Perspective
Think about your angles, sure everyone wants that classic shot but don't forget to photograph the other aspects of the temples too. Try to capture a different perspective, sit down, lie down, climb, get up high and just try something different. I find some of my favorite shots come from experimenting with different angles and perspectives.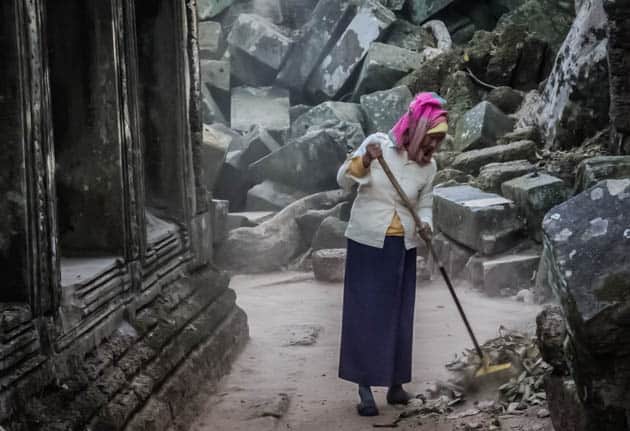 ~ Local sweeping within the temple walls ~
5. Don't Forget About the People
It is a given that you will encounter many local people while you explore the temples. Many of them will be hanging out on the temples or caring for them by sweeping. We have found them all generally receptive to being photographed and they usually want to see the photos with excitement. First things first, be respectful and gesture that you want to take their photo, when they approve, shoot away. You can really capture the essence of the temples with the people that live their daily lives near them.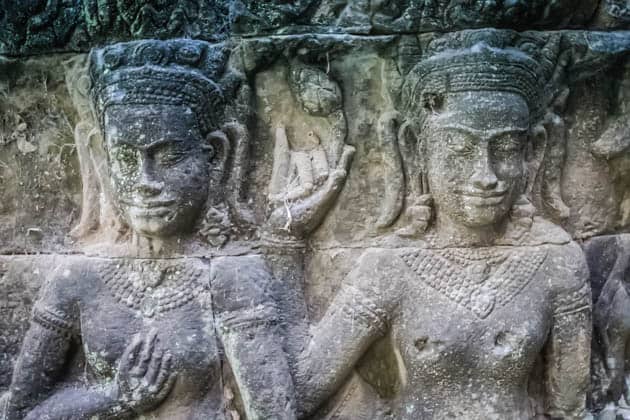 ~ Get close and capture detail ~
6. Get Close
Don't be afraid to get up close and personal with the temples. You will find some amazing art and architecture in doing so and a whole new variety of photography opportunities. How many photos have you seen of a temple wall from a long way away? You can see it is cool, but you cannot really discern what is on the wall, nor appreciate it. Don't be that person! Get up close and capture the ornate details.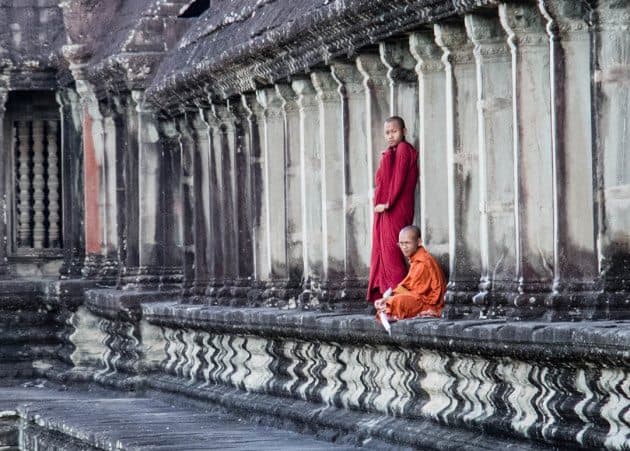 ~ We went for a walk around the outside of Angkor Wat and saw this… not one other person was there ~
7. Explore Outside the Temples
Go for a little walk, away from the crowds. You will be amazed at the things you can capture by just looking in different places. We both like to walk through the temples to the backside then make our way around the outside or less traveled path back to the entrance. We have rarely encountered other people by doing this and were able to take our time and photograph some things that are less explored.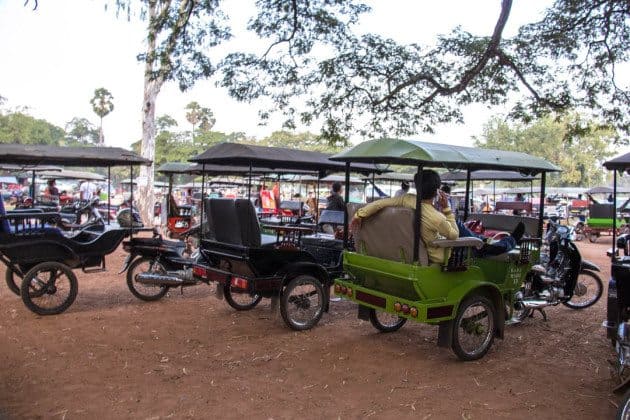 ~ Sea of Tuk Tuks waiting on tourists outside of a temple ~
8. Capture Moments for Yourself
Ever been somewhere that blew your mind only to return home and realize you have no photos to back up some of your stories? Just sit somewhere and take in the scene. Is the temple crowded with tourists? Take a photo of it. Are kids playing within the walls? Take a photo of them. Are the vendors selling beautiful art or creating handicrafts? Take a photo of this. It's easy to get caught up in the temples themselves, but take the time to capture the moments that tell the story of your visit too.
Those are my top 8 tips for photographing the Angkor temples. I hope that you are able to take this information and turn it into great shots on your visit to Siem Reap, Cambodia.
Have a great shot of the Angkor Temples?
More on Cambodia:
Did you like this story? Share it!