The last time I sat on a horse was when we paid a visit to Wisconsin back in September. As someone that has spent most of my life in the saddle and by this I mean that saddle time was pretty much a daily thing for me prior to this trip, I was starting to go through withdrawals.
Giving up my time with horses was one of the sacrifices that came with taking this time to travel full time and while I don't regret the decision to travel right now, I really miss having horses in my life. When we left the USA in early October, I knew that it would be a challenge to find places to ride horses in Southeast Asia, where we planned to spend the winter months.
This may come as a surprise to you as there isn't an island or tourist area you can't visit without seeing an advertisement for horseback riding. However, there are only very few establishments that are worth giving your money to, as you will often see skinny horses that receive little to no food and no care at all. Yet they are used daily to make money and quite frankly, I refuse to support this.
Don't leave home without: Lonely Planet Cambodia (Travel Guide)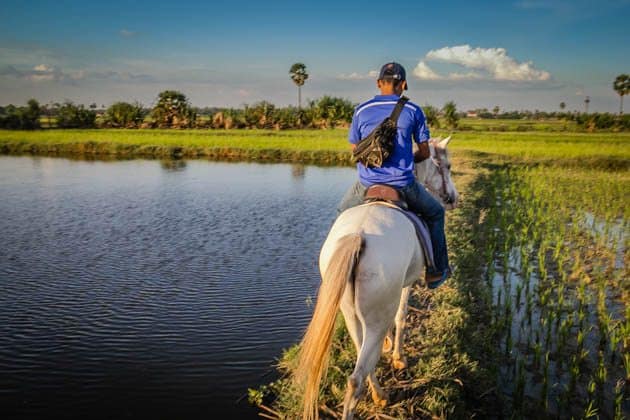 My criteria are high when it comes to horse care and while there are many opportunities to ride, very few horses actually receive standard care. My absolute bottom standard is a decent weight on the horse and trimmed hooves, you would think this would be a given but sadly it is not the case. Unfortunately, this leaves my horse experiences on the road few and far between as I contact various stables during our travels.
So you can imagine that when we arrived in Siem Reap, and I came across an ad for horseback riding, that I was momentarily excited but immensely skeptical. Not getting my hopes up is the name of the game these days as I have been so excited to be around horses only to have my hopes dashed when learning about their condition and level of care. I just refuse to support that type of abuse.
So I asked around to other businesses about the horse ranch in Siem Reap and received an overwhelming amount of support and comments as to the care and condition of the horses. My interest was piqued and I decided to look them up online and arrange a visit to the stable.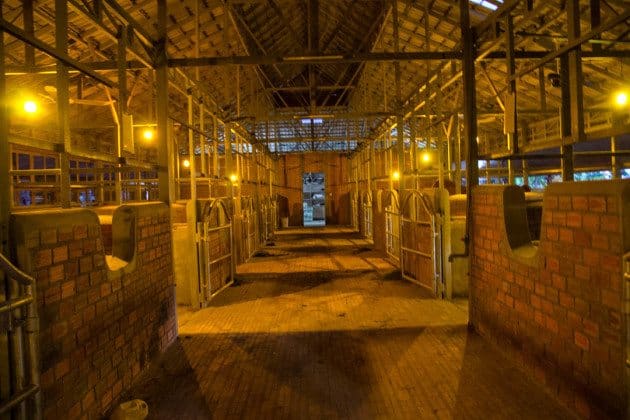 ~ Stable interior at Happy Ranch ~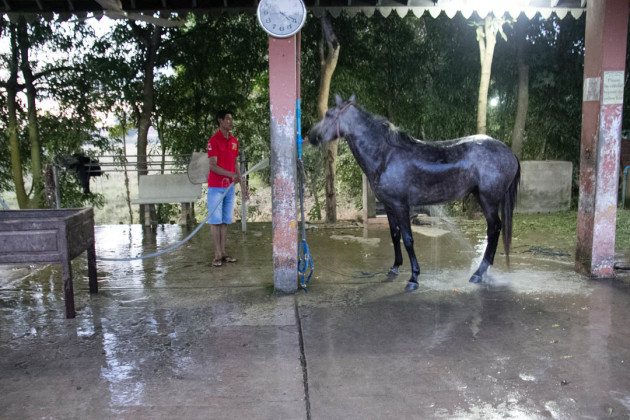 ~ Ponies receiving baths after their rides ~
Of course, the website was beautiful and contained several photos of not only the places you can ride, but also the horses and the stable. This was promising because most sites only have photos of the places you can ride to, not the actual facilities and horses. I emailed them directly and arranged a visit, with the possibility of a ride for both of us the next day.
The company was extremely professional and responded within the hour explaining the availability and asking for our information, including our heights and weights. They explained to us that the horses only go out twice a day, morning and late afternoon, to avoid the extreme heat of midday. I was impressed.
They picked us up promptly at our guesthouse and drove us to the ranch located just outside of town. The facility was stunning with pristine fences, gates and driveways. When we reached the main gate, we pulled through it into a manicured yard with a beautiful western world stable and arena. These people had their act together. As far as the eye could see, were fat, beautiful and healthy ponies.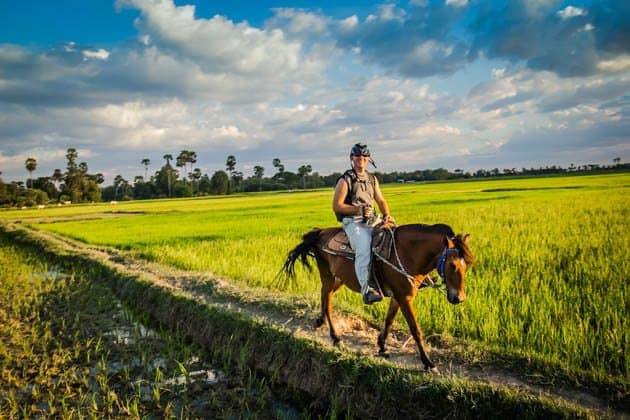 ~ David enjoying his ride through the rice fields ~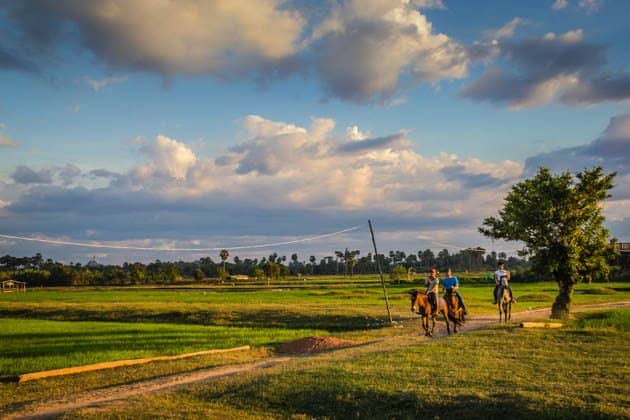 Finding a gem like this in a third World country is a rare occurrence and I couldn't wait to wander the stable and learn about their horse care practices. Of course, I was most excited that I would finally be able to get back in the saddle after my 3-month hiatus.
We learned that the owner of the stable was a Cambodian man that had escaped to the USA during the Khmer rouge years and while in the states took up a job working with horses while completing his studies. After school, he took his new degree an newly acquired horse skills back to Cambodia and opened the Happy Ranch in Siem Reap where he breeds, raises his own line of ponies and operates train rides around the countryside for tourists.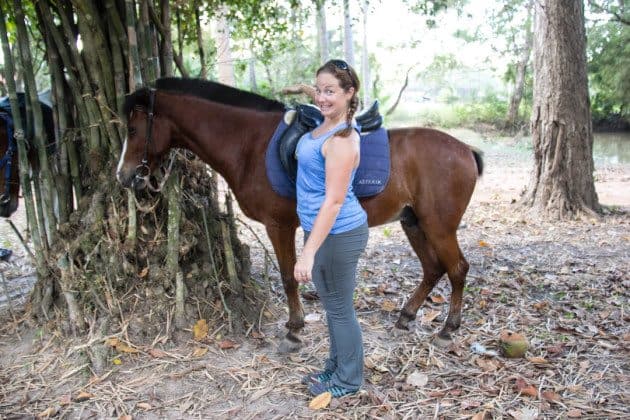 ~ Cute, short pony! ~
This find was elation for me. After being questioned about our skills, we were given ponies based on our preferences and then introduced to our trail guide. We would be going out on a 3-hour trail ride through the countryside, local villages and to some remote Angkor ruins that the tourist buses do not visit.
David was given the most adorable, rolly polly beginner pony I have ever seen. Of course he came with all the naughty pony habits of rooting for grass and attempting to roll in any sand pile we came upon. My pony was more advanced and thought he needed to be in the front of the group the whole time that made for a nice challenge for me in keeping him on task in the middle of the pack.
The opportunity to go for a ride in Siem Reap gave us a look at a side we never would have experienced otherwise. We literally rode on the elevated areas of the rice fields, through the back alleys of the locals villages and then tethered our horses to trees while we explored abandoned Angkor ruins way off the beaten path. Only the locals knew the ruins and we enjoyed our time watching the local kid gang play tag and keep away within the temple walls.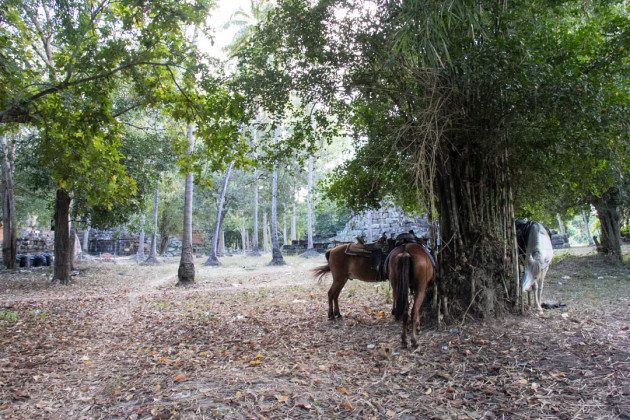 ~ Tethered ponies at remote Angkor ruins ~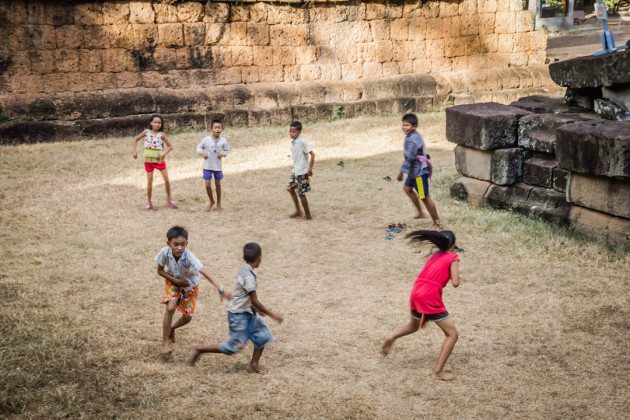 ~ Local kids playing tag and keep away in the temple ruins ~
We returned to the ranch as the sun was setting and I watched with satisfaction as the stable hands unsaddled and bathed each horse that had just returned from a ride. They were then returned to their meticulously cleaned stalls to enjoy their dinners and rest for the night.
It was a beautiful experience and for anyone looking for a horse fix, I do not hesitate to recommend this company that puts their earned dollars right back into their animals. The way it should be.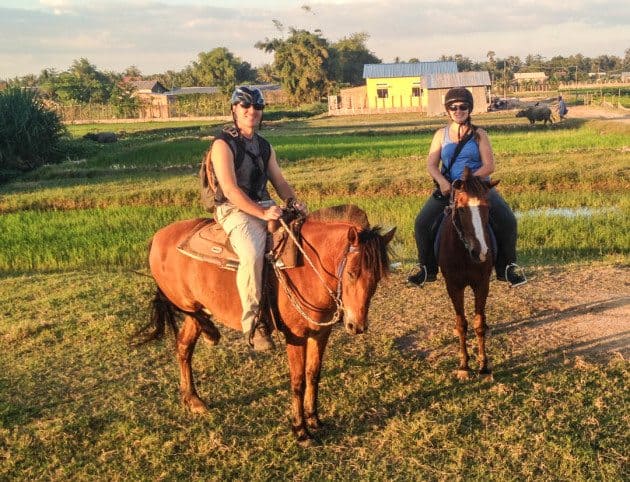 Check out this article on Responsible Horse Tourism for more information on how to make informed decisions about participating in horse activities while traveling.
More on Cambodia:
Did you like this story? Share it!