So, you've decided you're going to take a trip to Southeast Asia. You've started your research and realized that 2-week vacation you just put in for isn't really enough time to explore all this part of the World has to offer. You start scouring Google for the top things to do and see in Southeast Asia and you undoubtedly came across a picture like this: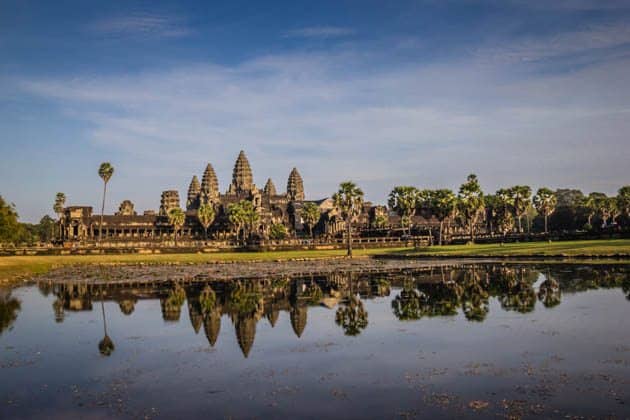 Or perhaps something like this: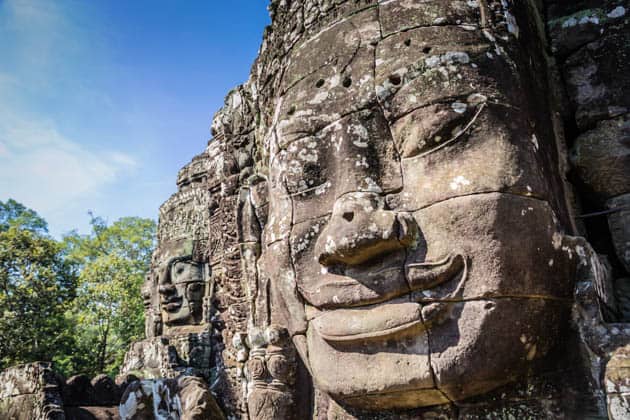 And before you know it you've added Siem Reap and the Angkor Temples to your shortlist. Well, good for you because it is easily one of the top destinations to visit in Southeast Asia. Now that you are planning your trip, here's everything you need to know about your visit to the Angkor Temples in Siem Reap, Cambodia.
This guide will present you with travel facts that will help you plan your visit, not the history of the temples. I can't even begin to get into that here as the history is long and diverse, my advice to you is to buy a good book on the temples and start reading it before you get here. Then bring it along and read while exploring the temples to enrich your experience.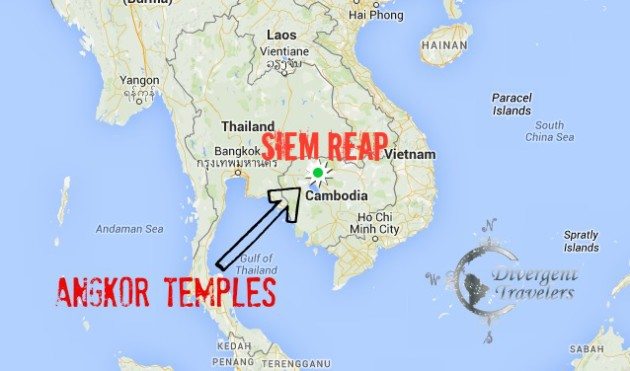 Location
The Angkor Temples are located outside of the small village of Siem Reap in Northern Cambodia. What was once a sleepy village has now been transformed into a tourism hub for the massive temple complex. The village itself has grown into a small town complete with markets, pubs, restaurants and all levels of accommodation you can think of to cater to tourists.
Don't leave home without: Lonely Planet Cambodia (Travel Guide)
Getting to Siem Reap
There are two main options for getting to Siem Reap, airplane and bus.
Bus: Siem Reap is well connected these days, with a majority of the routes into the city being well paved. You can take a direct bus from Phnom Penh, Battambang, and Bangkok. Additionally, you can reach Siem Reap by bus coming from Ho Chi Minh City by connecting first through Phnom Penh.
Buses are cheap and many are quite comfortable. If traveling within Cambodia, be sure to book on the Grand Ibis, these are the most modern and comfortable buses available. Although, there are many other bus company options available. Any travel agency in the cities you are coming from can arrange transport to Siem Reap right up to the night before departure. Bus tickets range from $10USD-$20USD depending on where you are coming from.
Airplane: The other option for getting to Siem Reap is by air. The Siem Reap International airport is now well connected to other major cities within Southeast Asia, which means you can fly there in a short amount of time. The cost of flying is considerably more than traveling overland, but if you are crunched for time, it can be a good option. Flights from Bangkok average $150USD, more or less depending on how far in advance you book and take just over an hour.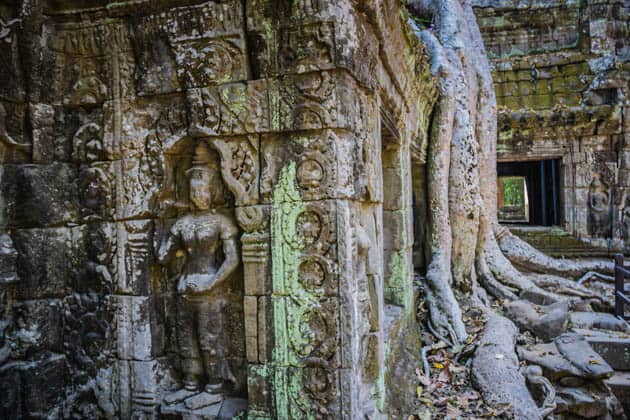 ~ Ta Phrom, Small Tour ~
Tickets & Hours
In order to enjoy the temple complex, you must purchase a ticket at the main ticket center located on the main road to Angkor Wat. There are a couple of options for tickets including 1 day ($20USD), 3 day ($40USD) and 7 day ($60USD) passes into the temple complex and this pass covers entrance into all the immediate temples, Banteay Srei and the Rolous Group. A regular admission ticket is not required to visit Phnom Kulen, Koh Ker or Beng Melea, but there is a separate entrance fee of $20USD, $10USD and $5USD.
Each pass is issued individually and you will stand in line to have your photo was taken, which is then printed on your pass with your name and date information. Your pass will be checked at most temples for validity and verification, so be sure to carry it at all times. Trying to use someone else's pass or thinking you can get in without a pass all together is not a viable option these days. If caught within a temple without a valid pass, you can expect a very large fine.
Visiting hours are 5:00 AM – 6:00 PM. Angkor Wat closes at 6:00 PM, Banteay Srey closes at 5:00 PM and Kbal Spean at 3:00 PM.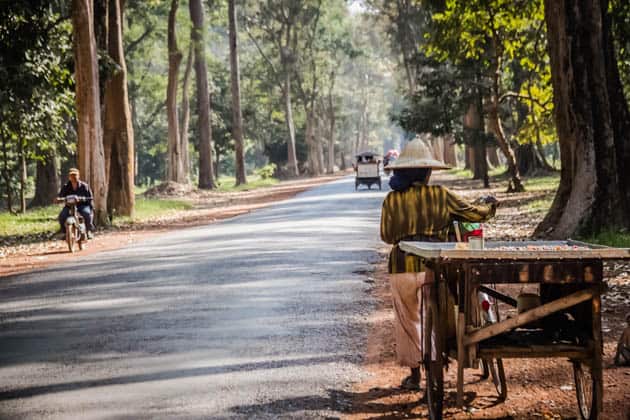 Transportation Options
The theme of Siem Reap seems to be options and transportation is no exception. You have several options to explore the temples including bike, tuk-tuk, car, van, shuttle, and bus. I wouldn't recommend renting a car and you will only be in a van, shuttle or bus if you book through an organized tour.
Bike: This is a great option if you are on a strict budget or are looking for some exercise. Both the small tour and big tour are possible by bike and it is a slow, relaxed way to meander your way between temples. Bike prices vary but prices seem to average around $5USD per day for rental.
Tuk Tuk: The most popular option, renting a tuk-tuk with driver for the day to take you around the temples. The local drivers know the routes around the temples effortlessly and can come up with a good plan to keep you ahead of or opposite the giant tour buses. It is best to book one through your hotel or guesthouse, as opposed to haggling with one on the street, as the prices will be fixed and you won't get ripped off. Prices for tuk-tuk service will vary; depending on the tour you want. At the time of publishing, these were the current hotel rates for a tuk-tuk service:
Temples of Angkor Small Tour- $15USD
Temples of Angkor Big Tour- $18USD
Temples of Angkor Small+Big Tours- $25USD
Rolous Group- $15USD
Banteay Srei- $18USD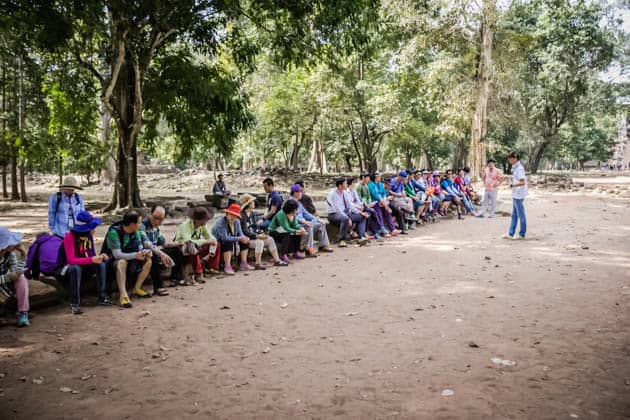 Guides & Tours
An alternative to seeing the Angkor Temples independently is with a guided tour service. You can book something in advance, that will likely include stops in other parts of the country, or you can wait till you arrive in Siem Reap and book a package tour around the area through your hotel or any travel agency in town.
While I recommend buying a good book and exploring the temples on your own, you can receive a wealth of knowledge regarding the temples from a qualified guide. You may be approached at the temples, especially Angkor Wat, by people offering guide service and it is up to you to determine if they are legit or not. Some are, some are not.
If you have your heart set on hiring a private guide your best option is to do some research online in places like TripAdvisor Siem Reap, or talk to your hotel when you arrive in Siem Reap.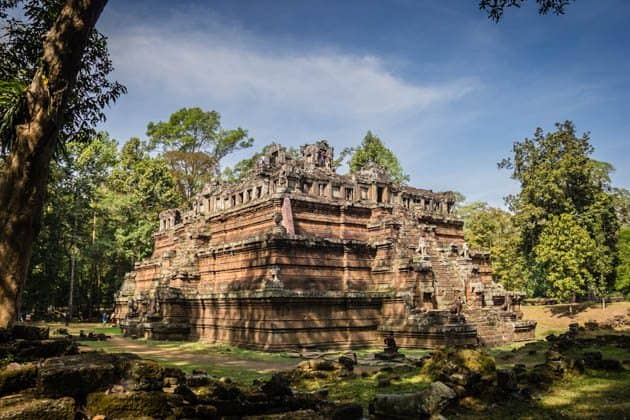 One-Day Itinerary
If for some reason you find yourself in Siem Reap with only a couple days, it is still worth purchasing a one day pass and seeing some of the highlights in this massive temple complex. I would recommend starting your day with a sunrise at Angkor Wat then taking a trip around the Small tour. This will take you to Angkor Wat and then to the massive complex of Angkor Thom where you can see the faces of Bayon, the jungle consumed Ta Phrom and a few others.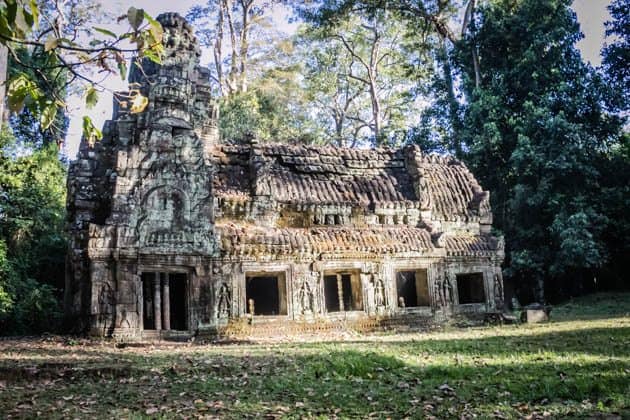 Three-Day Itinerary
Three days in a nice compromise if you have the time to spend 4 or more days in Siem Reap. Start day one as listed above to give yourself a nice introduction to the temples. The following day, opt for the Big tour, which will give you a second look at Angkor Wat, if you choose, and will take you to some of the outer temples. Here you will get a chance to see a different type of architecture and learn more about the history of the complex.
If you still have energy on your second day, head out to the Rolous Group to check out some of the most beautiful temples in the entire group. On your third day, sleep in then head out to Banteay Srei and Kbal Spien.
Beyond Three Days
If you are able to buy a 7-day pass and actually use all 7 days of it, then Angkor is your oyster. Besides the main groups mentioned above, there is a whole other level of exploration that can be had at more remote temples. You can even slow it down on the traditional tours and take more time to explore the little temples in between the highlights. It's really up to you how you spend your time.
If you find yourself spending more than 3 days in Siem Reap be sure to look up some of the other things to do in the area. There is a lot of history, culture, and adventure to be had in the area outside of visiting the temples.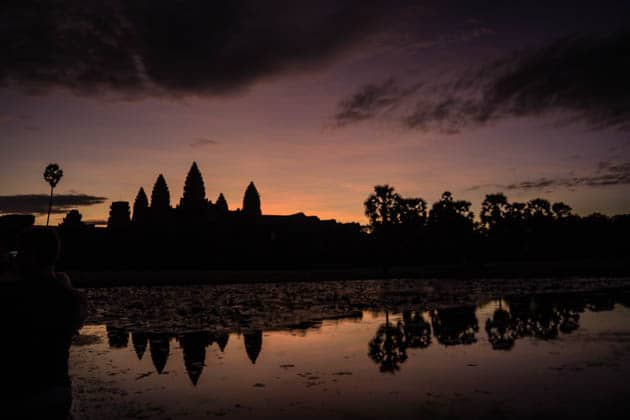 Sunrise & Sunset
Sunrise: No matter how much time you have for touring the temples, be sure to catch a sunrise at Angkor Wat at least once. It is stunning and will be exceptionally crowded. Get there early if you want to take photographs because even by 5:30 AM, the place will be packed. Another alternative for watching the sunrise is from the moat, which gives you a beautiful view of the sunrise over the water with the peaks of the main temple poking up above the surrounding wall.
Sunset: The most popular spot for sunset is Phnom Bakheng but expect a huge crowd. Not only will you see lots of people, but most of the tour groups and buses drop off here for sunset. Getting there early in imperative and even then, be prepared to hold your ground if you want to take photos.
Practice Sustainable Tourism
Common sense practices apply here, don't leave trash lying around, don't deface the temples, don't touch or climb in places you shouldn't, etc. You know, the basic rules of respecting and maintaining places. However, there are a couple of things I want to bring your attention to that may not seem as obvious.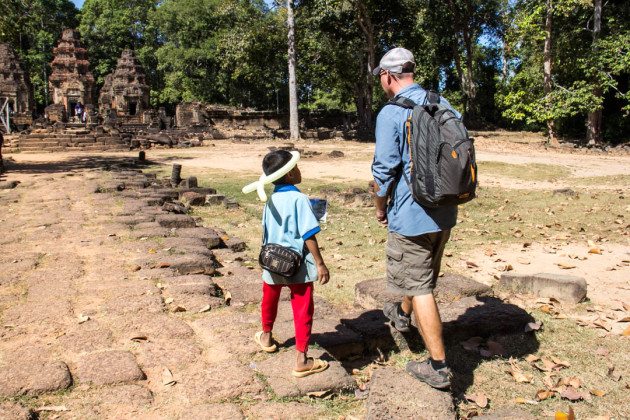 Begging Children: Prepare yourself to see beautiful children begging and trying to sell you things. They are everywhere and while it may seem that you are doing something for the good, you may actually be contributing to the problem. Many families will keep their children home from school to send them to the temples for begging or selling of trinkets. If you decide to purchase from them or give them money be aware that you are supporting this decision. It is likely that they will never get an education because they can 'make money' for their family.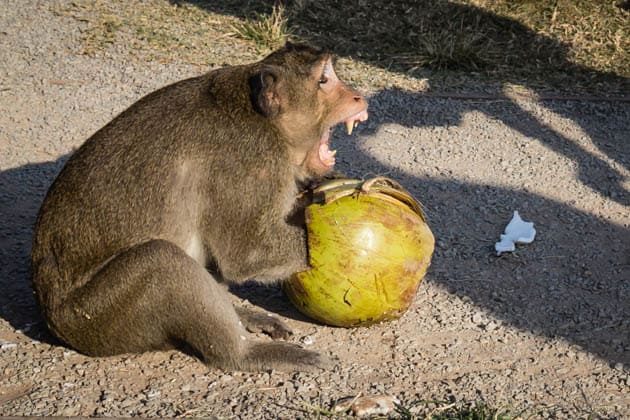 Don't feed the monkeys: There is a high probability that you will encounter long-tail macaques while touring the temples. While it is ok to stop and photograph or observe them, don't feed them. Don't give them anything. While they may be interested in anything you have, leave them to forage in the woods and don't encourage them to approach tourists for handouts. Plus, they can turn quite vicious if they want something and you won't hand it over, so be aware of that.
Angkor Temple Resources
Looking for additional information on the Angkor temples? Have a look at some of these resources:
Complete Guide to Visiting the Angkor Temples Conclusion
Hopefully this complete guide to visiting the Angkor Temples gives you the information that you need to make the most of your time in Siem Reap. Keep in mind this is basic travel information and the rest is up to you to complete your own adventure.
If you have anything to add, please let us know! We're happy to update and add information to keep this up to date for you. Enjoy the Angkor Temples.
More on Cambodia:
Did you like this story? Share it!