A visit to Cambodia can be a sobering experience. The history of this country is enough to knock you right on your ass and keep you there while you explore it. At least that is how it was for me and I still find myself thinking about it all in random quiet moments.
This was our second visit to Cambodia, the first being in 2010, and this time we decided to pay a visit to the capital city, Phnom Penh, to dive a little deeper into Cambodia's brutal past. We didn't have to go far for this. We spent a day visiting the Choeung Ek Killing Fields and the Tuol Sleng Genocide Museum.
In 2010 we traveled only to Siem Reap, of course, the objective was to visit the Angkor temples, yet we ended up spending a couple of days visiting the land mine museum and killing fields located outside of Siem Reap. Honestly, while it was still sobering and full of heartache, that experience was nothing compared to our exploration in Phnom Penh.
It wasn't that it was visually different, but it was the history that just clawed at my mind while we were there. I would often find myself lost in distant thoughts as we wandered the streets of Phnom Penh. I just could not shake the thought that this entire city was emptied into nothingness in 1975. All of the local people were driven into the countryside and the foreigners were sent back to their countries and it would stay that way for the next few years.
That fact is staggering to me as the city is extremely alive and plum full of people, so the very thought of this happening, in a matter of a day, just shocks me. The people were driven out of the city to work, to Tol Sleung to be tortured or sent to their deaths at one of the Killing Fields.
Don't leave home without: Lonely Planet Cambodia (Travel Guide)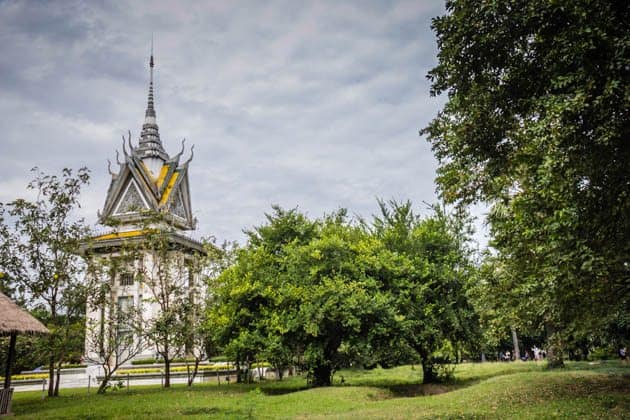 ~ Memorial Stupa at Choeung Ek Killing Field ~
Choeung Ek Killing Fields
This was just the beginning of our time in Phnom Penh, which continued to be an eerie feeling for me throughout the visit and came to a head when we visited the numbing Choeung Ek Killing Fields on the edge of the capital.
Dave and I both donned the complimentary audio tour and meandered slowly through the site of 129 mass graves. I can't really explain the feelings we both experienced during our visit, as it's personal and I am sure different for each person. I've done a lot of reading on the subject and seeing it in person still made it hard for me to really grasp the reasoning behind such a massive loss of life.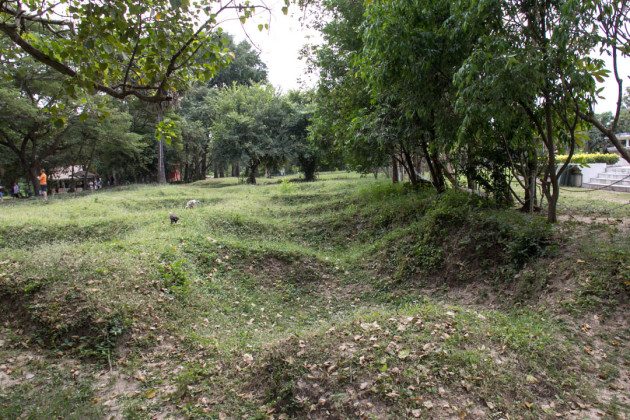 ~ Mass gravesites at Choeung Ek Killing Fields ~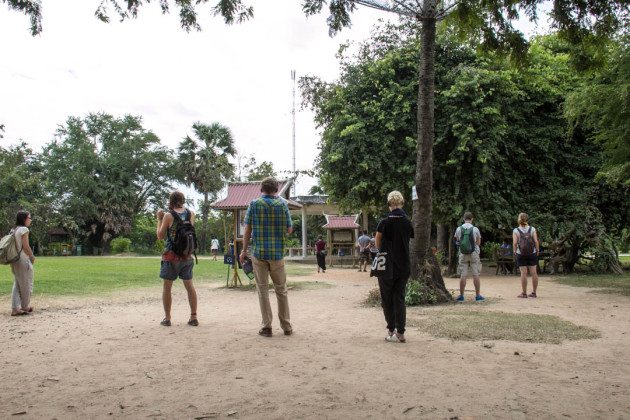 ~ Visitors standing in silence while listening to their Audio Tours ~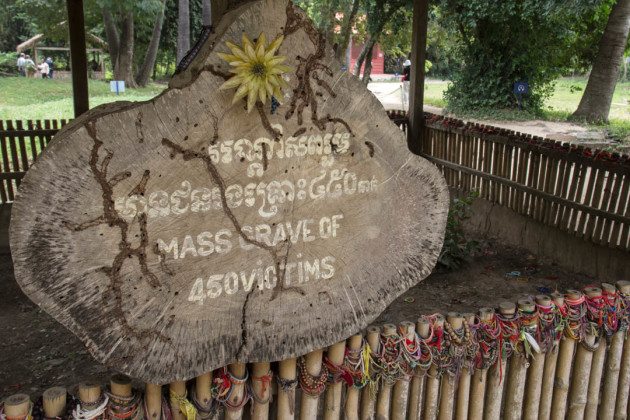 ~ Memorial sign to one mass grave ~
~ Photo from the initial discovery of the Mass Graves at Choeung Ek Killing Field ~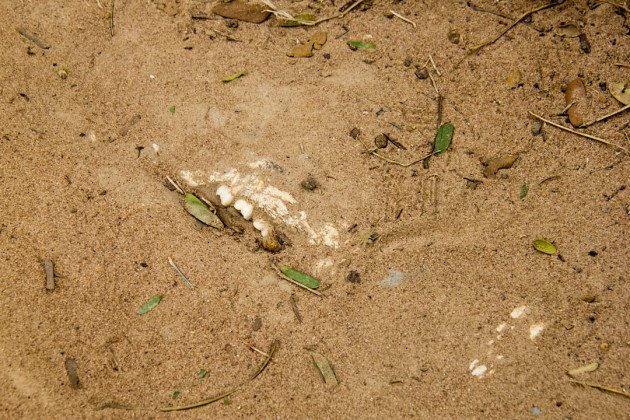 ~ Each month the staff collects newly emerged bones and clothing ~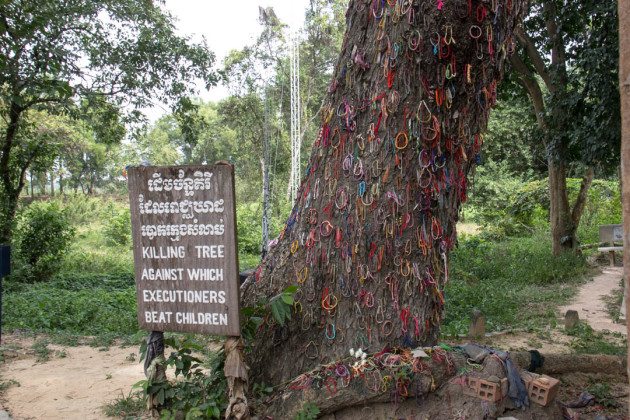 ~ Bullets were in short supply, so they resorted to additional measures for killing ~
Pol Pot had a vision of making Cambodia independent and self-sustaining, yet he killed off his people in such large numbers that he would never achieve his vision. A country cannot be self-sustained when it's population is almost cut in half during a period of 4 years. On top of it, he sent most of the product outside the country, so he wasn't even supporting his own infrastructure. I find this ridiculously frustrating.
That said, it is important for future generations to learn about this and learn from it. This is the only thing that will prevent this from happening in the future and while this is a staggering experience, people need to visit places like the killing fields to understand this.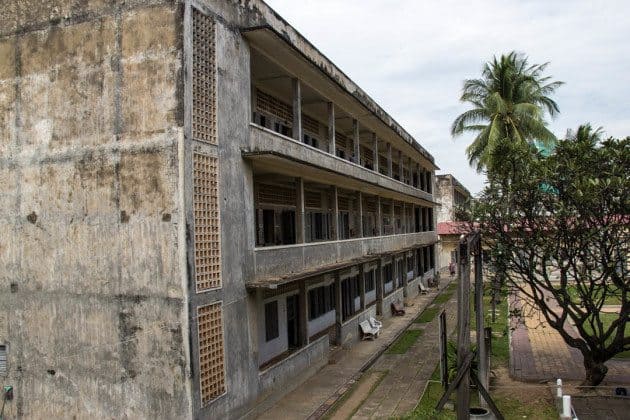 ~ Central building at Tuol Sleng Genocide Museum, Phnom Penh, Cambodia ~
Tuol Sleng Genocide Museum
Reeling in thought from our experience at the Choeung Ek Killing Fields, we hopped back in our tuk-tuk and headed back into Phnom Penh to make a visit to Tuol Sleng Genocide Museum. What once acted as a torture center and prison to Cambodia's 'defects' is now a genocide museum to help educate people about the events of the Khmer Rouge.
Originally a school, the revolutionaries took control of it and converted it into a prison. Anyone who was thought to be against the new ruling of Cambodia was sent here to be tortured for information and eventually sent to Choeung Ek Killing Fields to be murdered. Although it wasn't just people that were thought to be against the new rule, it was also anyone that participated in the previous government, military or was considered too old or educated in previous ways.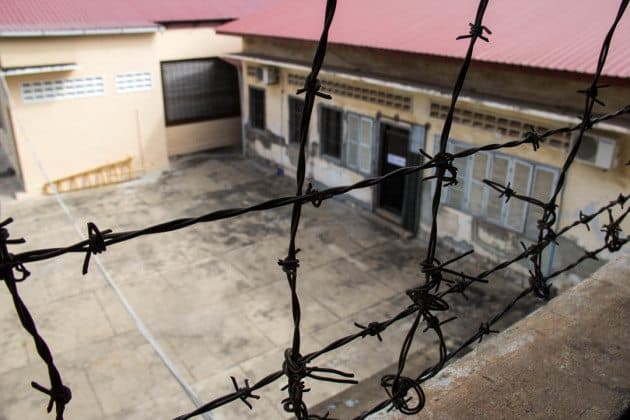 ~ Barbed wire was hung to prevent suicide attempts by the prisoners ~
This type of involvement labeled you for imminent death as the Khmer Rouge could not re-educate these people. They were forced to sign confessions of treason and disposed of in brutal ways to clear the way for the new race of Cambodian people. A race of loyal, brainwashed people to only the rule of Pol Pot and his Khmer Rouge.
Making our way through the buildings, we came across some rooms with photos and displays from the people that were recorded in the prison. The Khmer Rouge photographed and documented every person that came through Tuol Sleng, their photos hang on the walls today with their black and white faces staring right into your eyes.
If the walls could speak, I am not sure I would want to hear what they have to say. The whole place is eerie and much of it has been left to time. There has been little to no restoration of the rooms, many with items that have never been moved. A walk through the first building will blow your mind with ramshackle beds and dried blood slightly hidden by a thick layer of dust on the floor. It's a staggering experience.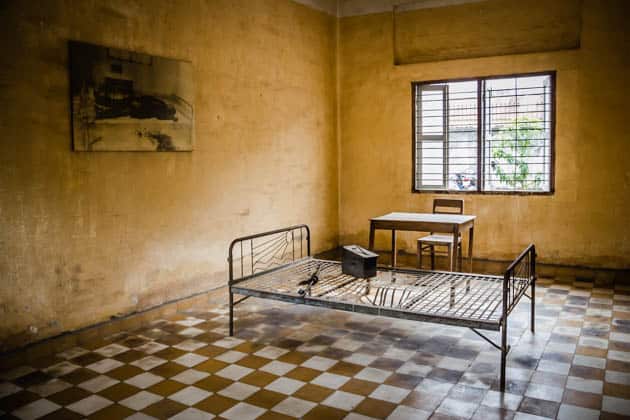 ~ Torture Cell at Tuol Sleng Genocide Museum ~
~ Bloodstains under years of thick dust ~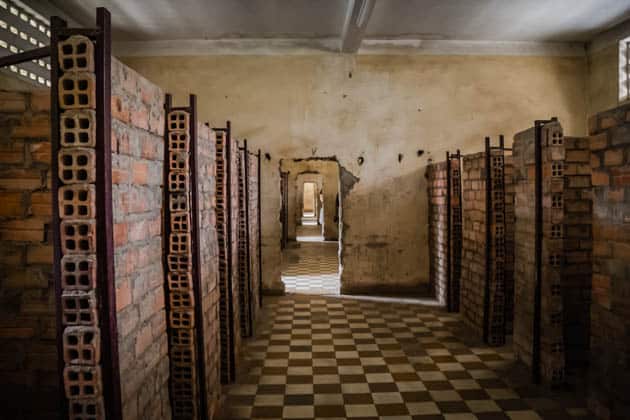 ~ Detention Area in the second building ~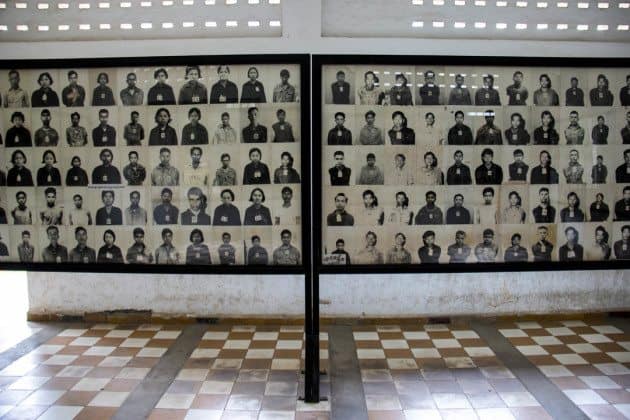 ~ Faces of Tuol Sleng Prison ~
Travel is Not Always Glamorous
I know this isn't the side of travel that everyone wants to see, but it is so important that we take the time to check these things out when we travel. I mean we collectively, all of us that travel. This is not a warm fuzzy experience with amazing scenery, it is history and the truth. While it may be more than some can bear, we can only truly make gains of humanity by learning about our past and doing what we can to prevent these things in the future. I wholeheartedly encourage everyone who visits Cambodia to visit these places.
If you have visited Cambodia and paid a visit to one it's killing fields or museums of war, let us know in the comments below.
More on Cambodia:
Did you like this story? Share it!