The first time we went backpacking in Cambodia was in 2010 on our whirlwind honeymoon tour in Southeast Asia. We walked away in total awe at this beautiful country and didn't hesitate to tell people it was our favorite country. 4 years later, we are still in love.
Our return visit solidified our original opinions of this country, it is beautiful, the people are beautiful and the history is enough to consume you and take you to a surreal place while visiting. We love Cambodia and already want to go back again.
This time, we visited the capital city of Phnom Penh first before making our way north back to Siem Reap. The capital is busy and raunchy, exactly what you would expect when traveling in Asia.
However, it has a pulse that is so much different than other countries in this hemisphere, the people here have an intense desire to work hard and show their spirit.
I will admit though, Phnom Penh is not our favorite place in Cambodia. It is an absolute must for a traveler though because it is a place that will help you get a small grasp on Cambodia's history.
The best thing you can do for yourself before visiting is to pick up a book or two and read about what happened in this country.
This knowledge will make for a much more enriching trip then showing up and being that person making comments like ' something really horrible happened in this country, right?'.
After Phnom Penh, we decided to just head straight up to Siem Reap and spend 10 days there re-exploring our favorite stop from our 2010 travels.
While Siem Reap has grown up, A LOT, we still love it as it has kept its charm. The growth seems to be mostly within the downtown area of the city where people stay, I mean they even have a Hard Rock Café now!
The temples are still gorgeous and we had an amazing time visiting our favorites and exploring some new ones. We both still have an intense desire to explore more of Cambodia and I can see it being on a return trip in the not so distant future.
---
Backpacking in Cambodia: 2 Week Recap
---
Where Did We Go?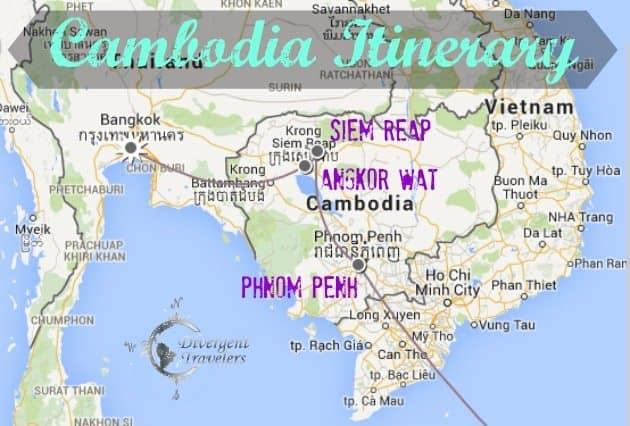 ~Phnom Penh and Siem Reap ~
What We Loved About Backpacking in Cambodia
THE PEOPLE
We still love the Cambodian people. They have some of the warmest people in all of Southeast Asia and we were so happy this hasn't changed with the influx and growth of tourism in the past 4 years.
There is nothing more special to traveling them from being able to connect with the local people and smiling faces.
A prime example is the family of the guesthouse we stayed in Siem Reap routinely invited us to join them for dinner during our stay and when we tried to pay him, he refused and told us it was his pleasure.
They were some of the best meals and company we have had in our travels.
CHEAP FOOD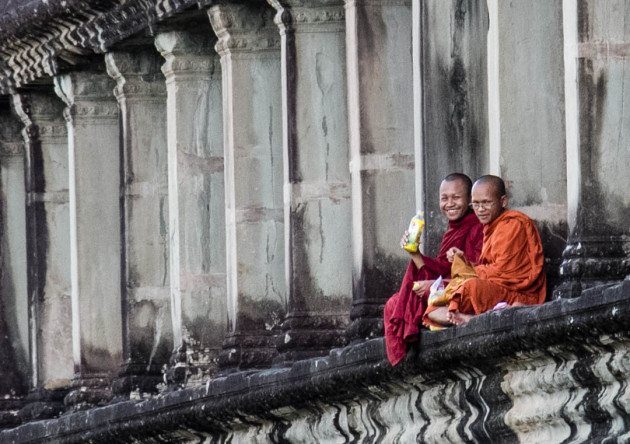 ~ Smiling Monks at Angkor Wat ~
And it is really easy to find. One of our least favorite things about traveling is having to go out and find food for every single meal.
It gets old, especially when you find yourself in a place where it is hard to find a good, cheap meal without having to trek miles.
We stayed outside the busiest area, on the skirts, of Siem Reap and had at least 10 different local restaurants within a 3-minute walk that served food for $1USD per plate and $0.50USD fresh fruit shakes. You can't beat that.
THE LAND
Cambodia is gorgeous and unique. We have yet to come across another country that really compares, landscape wise.
You have rice fields for miles with towering palms jutting from them. It is so beautiful and that scene just makes us both sigh and say Cambodia. There's nowhere else quite like it.
What We Didn't Love About Backpacking in Cambodia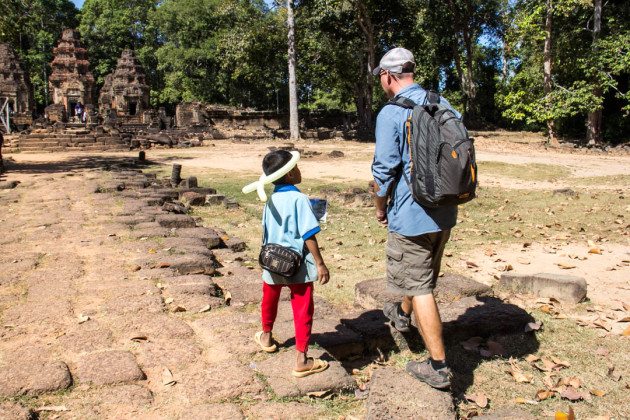 ~ Begging children can be seen at most temples ~
SCAMMY TUK-TUK DRIVERS
This one is a given if you spend enough time in SE Asia, it is going to happen to you. Unfortunately, it happened a couple of times while we were in Siem Reap.
We made arrangements with a driver to take us to sunrise at Angkor Wat, we got up at 4:30 AM and were ready and waiting at 5:00 AM for him. He never showed up.
We then attempted to pick up another driver, who happened to be driving past our guesthouse and spoke good English.
We negotiated and hopped in at 5:30 AM fearing we would be too late for the sunrise but going for it anyway, only to have him drive us to the corner and try to pawn us off on his friend that could barely speak English for the same price.
Sigh, no thanks. We returned back to our hotel and at 6 AM, received a knock on our door, it was our original driver. Hello, the sun is already up!! Buzz off!
CHILD BEGGARS
While the children you will encounter in Siem Reap while temple touring are beautiful, extremely friendly and a good chat, I was surprised to see so many children on the streets begging and trying to sell to tourists.
Admittedly, there were considerably fewer children than we encountered on our last visit in 2010, yet they were still prominent and were quite aggressive at times.
We absolutely do not believe in supporting this, we do not give handouts and do not buy from children that should be in school when we travel.
It was really sad for us to see them acting like zombie drones, 'mister, mister, buy my stuff, one dollar, one dollar, please, please, one dollar, one dollar, please, mister, one dollar".
Over and over and over and over and over (you get my drift), while they stared straight through you. So sad, these kids belong in school or playing with their friends, not being used as tools to capture money from the softer hearted tourists.
What Did We Spend?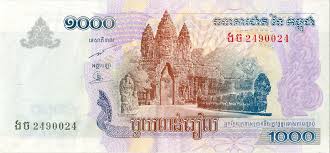 We spent an average of $55USD per day for 2 people while backpacking in Cambodia. This included a private room and 3 meals per day, temple passes and activities.
However, our daily living expenses were around $30USD per day for 2 people. It is really affordable there! We bought a 3-day temple pass, hired a private tuk-tuk and also went horseback riding, so these things are what drove up the average, but still very cheap here.
Currency: While the official currency is the Cambodian Riel (4,000 riel = $1USD), the US dollar is primarily used by all businesses and merchants in Cambodia. ATM's even dispense USD.
Transportation: We used all local transport via tuk-tuk when we were in the cities. Traveling between cities we used a local coach bus, Giant Ibis, to get between Phnom Penh and Siem Reap. This cost us $15 each and took around 7 hours. We only flew into the country, when we left we took a direct bus to Bangkok, traveling overland.
Airlines Used: We did not fly within Cambodia.
Accommodation: We only stayed in 2 different guesthouses while in Cambodia, I think this is some sort of record for us. Both were comfortable, although the one we had in Phnom Penh had some smell issues, not sure what it was, we had an occasionally stinky room. Both had a private bath.
Places Stayed:
Bun Linda Guesthouse, Siem Reap
Activities: We didn't do too much in Cambodia compared to other countries, but we did a day trip by tuk-tuk to the killing fields and Genocide Museum while in Phnom Penh and of course did 3 days of temple touring in Siem Reap. We did the small tour, big tour, a trip out to the Rolous Group, some countryside tuk tuk cruising and a couple of different sunrises. We also spent an afternoon horseback riding through local villages and to remote ruins.
Food: Glorious, cheap food abounds here. We even found a tasty Mexican restaurant on the riverfront in Phnom Penh that was so yummy. Finding Mexican food is really hard in Asia!! Fresh fruit shakes are everywhere and I lived on coconut shakes during our time in Cambodia. It is really easy to find cheap, good cuisine in this country and that was amazing for us.
Our Backpacking in Cambodia Favorites
Favorite Beach: No beaches for us here, but here's one of my favorite shots from our temple touring.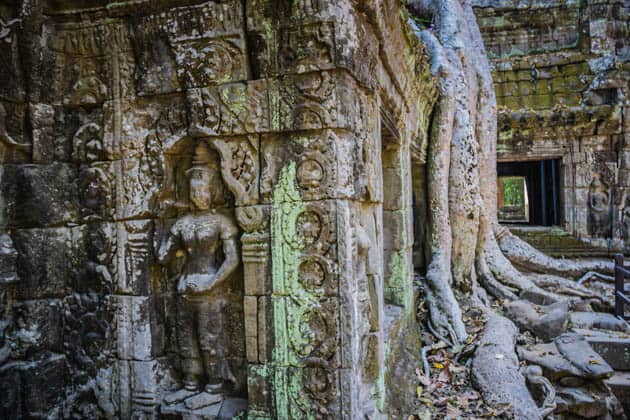 Favorite City: Siem Reap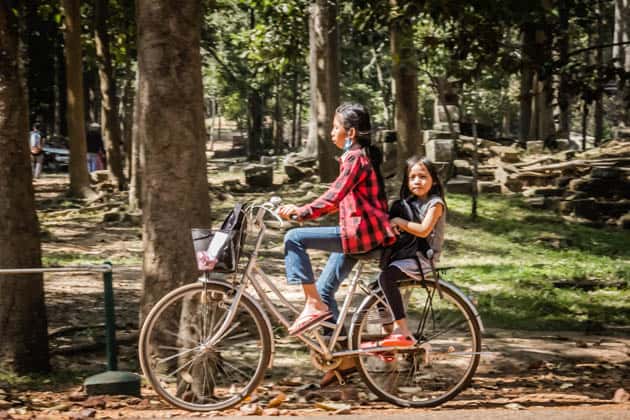 Favorite Activity: Horseback Riding in Siem Reap, Temple gawking around Angkor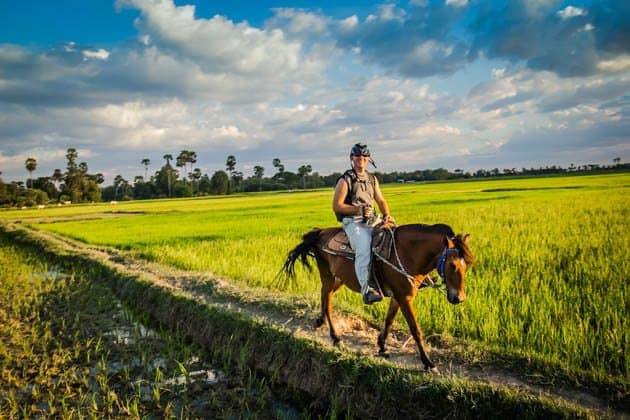 Favorite Meal: Fresh Coconut shakes, hands down. Followed by Christmas Dinner for us at Hard Rock Café, Siem Reap (I know, lame, but it was like having a piece of home for us)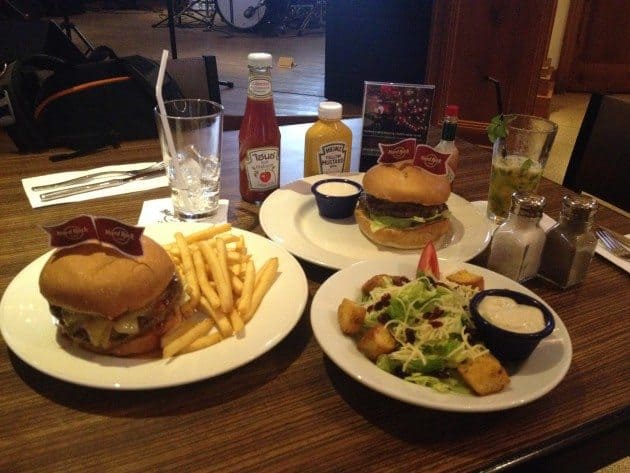 ~ Chrismas Eve dinner in Siem Reap!! ~
Check out the other RTW Travel Recaps from our travels:
More on Cambodia:
Did you like this story? Share it!