Backpacking Vietnam was something we were a bit hesitant about while making our travel plans after we would leave America again. We had finished traveling in China and decided to make a quick visit home to avoid some travel burnout and catch up with family and friends.
We've heard a lot of things about Vietnam and we were really hesitant about how we might receive the country after our visit to China. In all honesty, I was really afraid it would be too much like China so we hesitated in planning too much time there.
We settled on 3 weeks and I am happy to report that we fell in love with the country and wish we had stuck with our original plan of 4 weeks and used up our whole visa stay.
What can we say, we were a bit jaded from China but ready to get on the road. Vietnam had been on our list of countries to visit for many years and we decided to just push on with the plans and head there from our visit to America.
The country surprised us in so many ways with beautiful nature, kind locals, great food and a book's worth of things to do while visiting. Our 3 weeks hit many of the highlights, explored off the beaten track but still left much of the country for us to explore on a return visit.
We are already talking about a return visit that involves motorbikes and a self-tour of the country from the bottom up.
---
Backpacking Vietnam: 3 Week Recap
---
What We Loved About Backpacking Vietnam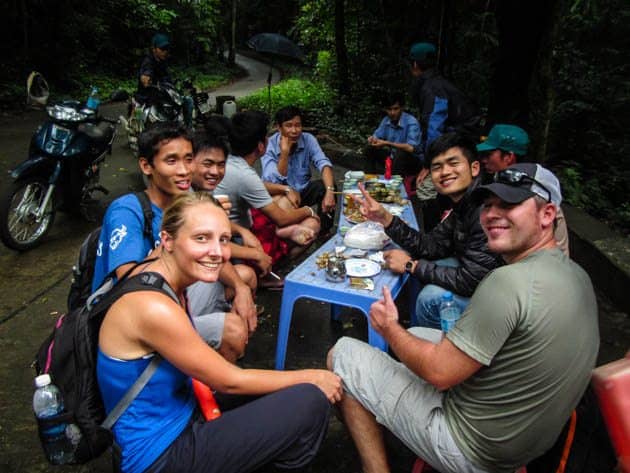 The pulse
I know that seems like a weird, broad term, but the pulse of Vietnam is absolutely addicting. As fast as things speed up, they slow down. Just when you think you might get lost in the sea of scooters you find a quiet back alleyway to walk in.
Yes, it's busy and there are lots of people, locals and westerners alike, but it just has this magnetism about it that you can't help but love.
Local Food
The Vietnamese really have it right when it comes to food. We didn't have a bad meal the whole 3 weeks we were there. They have fabulous takes on noodles and sandwiches and I think we ate our weight in Banh Mi while we were there.
The best part is just sitting down on the sidewalk, ordering your meal and just watching the fast-paced part of their culture cruise on by you. Also, we didn't have a bad cup of coffee there either. They really know how to make a sweet, beautiful coffee.
The smiles
Everywhere you look there are local people with huge smiles on their faces. They welcome you, they smile at you and they are eager to help if you need it.
Many times we would be wandering around the streets, just taking it all in, and we would encounter person after person that would go out of their way to send a big smile in our direction.
The land
Vietnam is stunning. I think so many people visit this country and just miss out on what it really has to offer. If is so easy to just hop a bus or flight and skip Hanoi, Danang to Ho Chi Minh City and really miss the best the country has to offer.
This was our primary purpose for seeking out a different way to experience the country and let me tell you, Vietnam is gorgeous! The national parks in the North central area are full of pristine jungles and crystal clear rivers.
What We Didn't Love While Backpacking Vietnam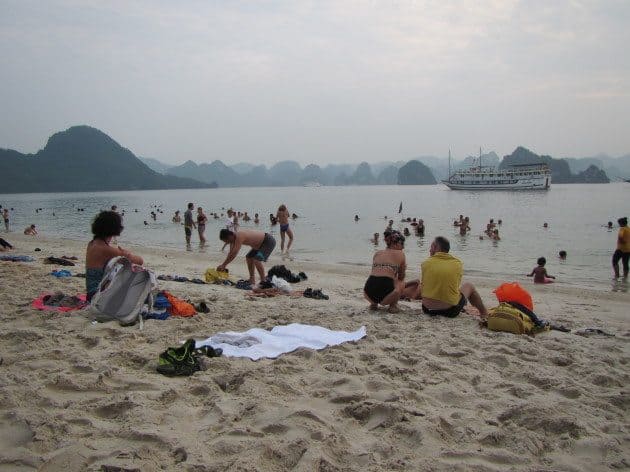 All the tourists
This is a love/hate type of thing. It is always nice to see other travelers out exploring the World but man, Vietnam is really crowded with travelers right now.
We were able to get away from this when traveling through North Central with the Buffalo Run, but otherwise, the main areas are just packed with Western travelers of all varieties. Backpackers, package tours, couples, you name it, they are there.
Hawkers on the street
This is petty, but it gets really old when you are sitting on the street trying to enjoy your meal and you get asked at least 100 times if you'd like to buy the same pair of sunglasses.
Or when you are waiting to cross the street and the shoe hawkers run up to you like there is a fire, jumping to the ground while grabbing your foot insisting they need to clean or fix your shoe. This was non-stop and they were very persistent and impossible to avoid.
Yea, that is really all we can come up with from our 3 weeks in Vietnam.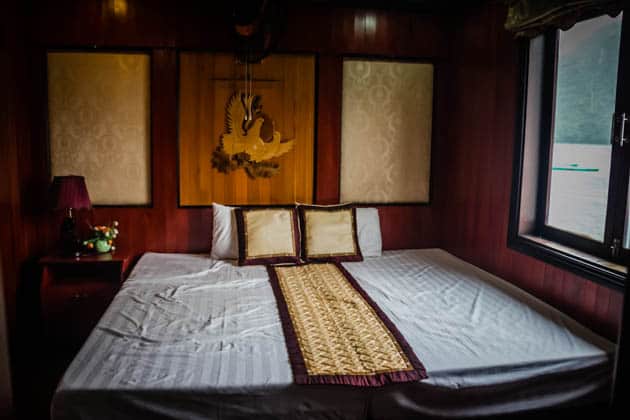 What Did We Spend?
We spent an average of $87USD per day for 2 people while backpacking Vietnam. This included a private room and 3 meals per day, all activities and a plane ticket from Danang to Ho Chi Minh City.
Not bad considering everything we did here, but still more than we wanted to spend. We had set our target at $50USD per day and, well, you can see we blew that out of that water, despite staying below our overall trip target amount.
It didn't help that I messed up when booking our plane ticket and booked it on the wrong date! So we had to eat $80 in change fees to change it to our needed departure date.
Transportation: As with every destination, we used a variety of transport including taxis, buses, vans, scooters, planes and our own two feet. We did spend a lot of time hoofing it and took many steps while we explored all the cities this way and did many hikes while we explored the North Central area of Vietnam.
Accommodation: You can get along with a bang for your buck in Vietnam when it comes to accommodation. We didn't go to the cheapest places, but we did book private rooms at guesthouses and small hotels with breakfast for most of our visit. We did spend a few nights in dorm rooms at hostels and one boat as well.
Activities: We found ourselves doing a lot of activities while in Vietnam. We did a 3 day/2 night trip around Halong Bay, attended a Water Puppet show in Hanoi, joined in on the Buffalo Run- a 7-day overland trip between Hanoi and Hoi An, spent a day traveling by scooter between Hue and Hoi An, visited many war museums and took a cruise of the Mekong Delta.
We did a lot, but the money goes a long way in Vietnam, even on tours and we found everything very affordable.
Food: We ate a lot of local food while in Vietnam because it was very cheap and very good. We found ourselves mentioning to each other several times that it was some of the best local food we had eaten in our 8 months of travel. Average street food meal cost 25,000dong per person, so $2USD total for both of us.
Our Favorites from Backpacking Vietnam
Favorite Beach: We only visited one beach during our time in Vietnam and that was a private beach in Hue. It rained but was still beautiful.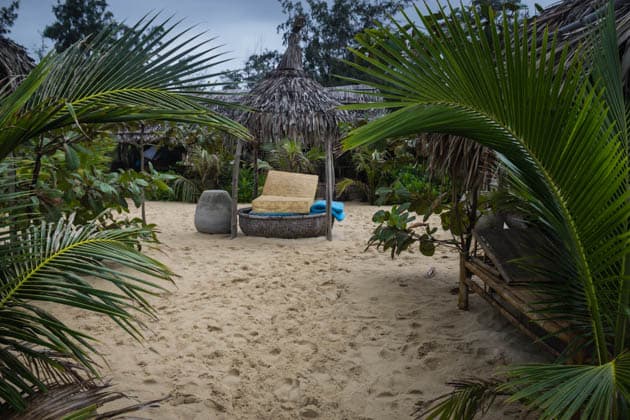 Favorite City: Hanoi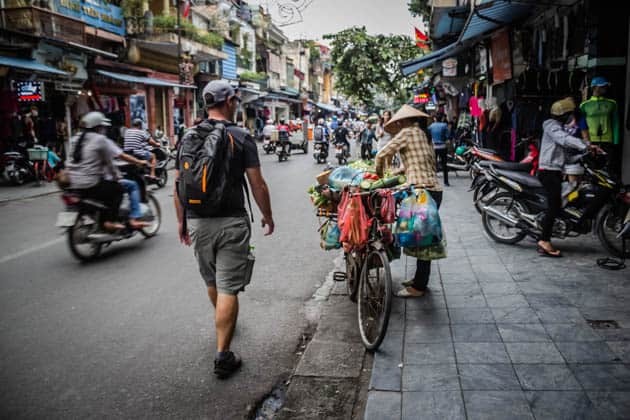 Favorite Activity: Buffalo Run, Mekong Delta Cruise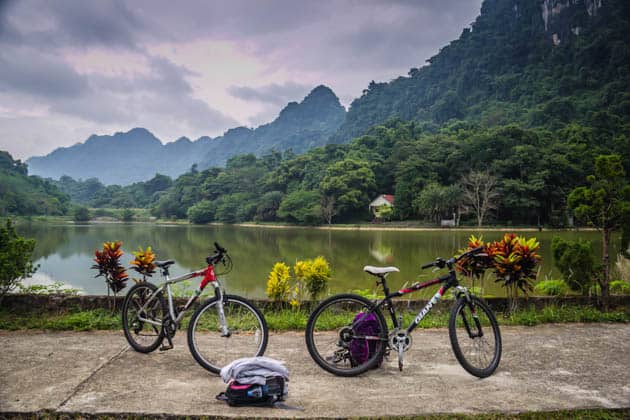 Favorite Meal: Banh Mi in Hoi An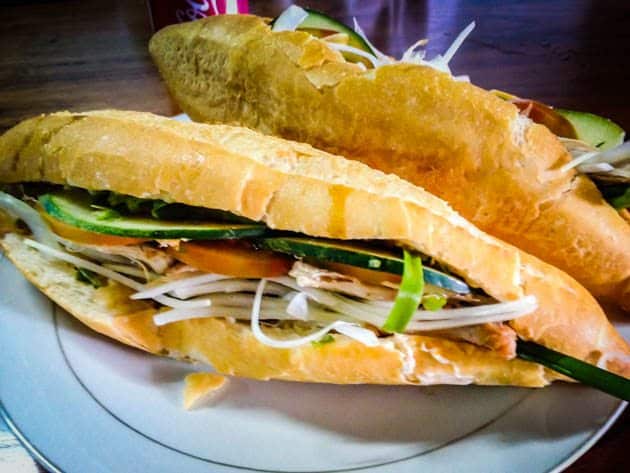 More on Vietnam:
Did you like this story? Share it!