One of the strangest tourist attractions in Hanoi, Vietnam is the water puppet show. It's a mix of handcrafted puppets performing dances on a pools surface to traditional music. We really did not know what we were getting into until the first few acts started. It's no wonder they say a visit to Hanoi is not complete until you have experienced a Thang Long Water Puppet show.
Water Puppet History
Traditional Vietnamese water puppetry is a unique folk art that originated a thousand years ago. Villagers in Northern Vietnam staged water puppet performances to celebrate the end of the rice harvest, religious festivals, and other important occasions.
The original water puppet festivals were performed inside a rice paddy, with a building (pagoda) built on the top to hide the puppeteers who stand in the waist-deep water. The water acts as the main stage for the puppets and as a symbolic link to the rice harvest.
It also hides the puppets strings and puppeteer movements, improves the musical and vocal acoustics, and also provides a shimmering lighting effect.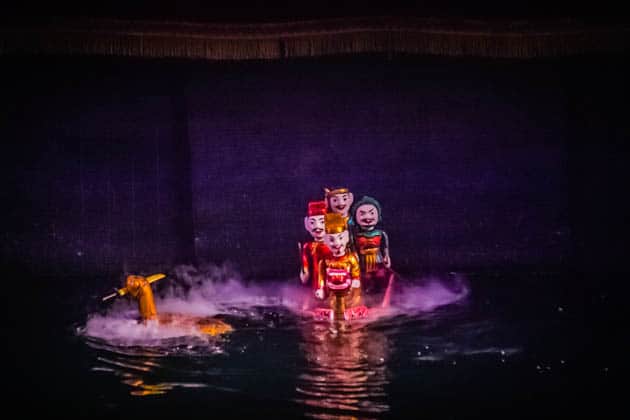 A modern water puppet show today imitates the daily activities that a Vietnamese villager would encounter each day, as well as important historical events and ancient legends.
Each water puppet is hand-carved and given many layers of lacquer paint to protect the puppets from the water and add vital colors to the performance.
A hand made Vietnamese water puppet can weigh up to 30 pounds. So wondering how the puppeteers control the intricate movements blindly part of magic in the water puppet shows.
Great shows of skill include choreographed dances, passing of items, squirting of water, fire or fireworks and many more magical skills that will keep you on the edge of your seat.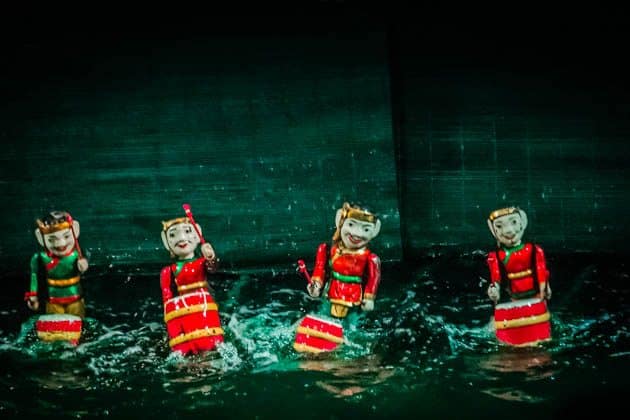 Overall Review
It's no wonder why this is a must see attraction in Hanoi, if you're looking for a magical experience you must check out the Thang Long Puppet Theater in the heart of the historical district.
It's a little difficult to follow what's going on in each act as each performance is performed in traditional Vietnamese without any English subtitles.
The concert hall is nice with lots of seats and you can pay extra for an up close experience but be warned you may get wet. With no more then 60 rows there's really not a bad seat in the house.
The theater is built for shorter people so if your a taller person you will have a hard time fitting in the seats, as there's little to no leg room. Like most attractions, you do have to pay more if you want to take any type of photo or video and they were checking peoples tickets at the door is they saw you carrying a camera.
Once inside, grab your seat, sit back, relax and enjoy some first class Vietnamese culture in Hanoi.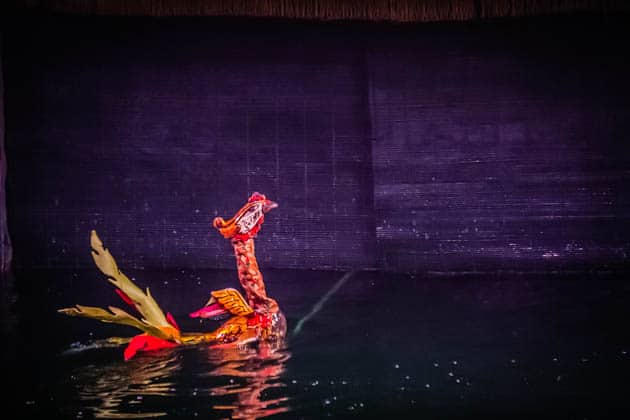 Puppet Performance Video's
The videos we captured above were performed on the day we visited the theater in Hanoi and they include 14 original items selected from the repertoire of 400 items of ancient Vietnamese puppetry.
The show also involves the participation of many eminent and excellent artists of the Thang Long Puppet Theater. Art Director: Eminent artist Nguyen Hoang Tuan.
More on Vietnam:
Did you like this story? Share it!