It goes without saying that our visit to Vietnam would include a trip to the UNESCO World Heritage recognized site of Halong Bay. I can't say that I disagree either, the area is absolutely stunning with large towering limestone mountains jutting out of the bright green waters of the Gulf of Tonkin.
Halong Bay is made up of over 3,000 different islands and is easily Vietnam's number one visited site by tourists and locals alike. It is world renowned and argued by many to be part of the natural wonders of the World. Needless to say, we were paying a visit and we wanted it to be a good one.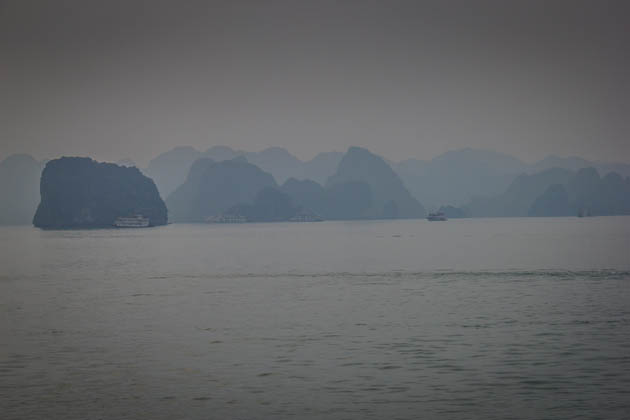 Day 1- Hanoi and Cruising Halong Bay
Our pickup and transfer from Hanoi to the town of Halong was smooth and seamless. The distance is only 180 km (107 miles) but because of the road conditions and traffic in Vietnam this trip takes around 3.5-4 hours one way.
Our transport made a stop off half way through and after a quick nap we were at the terminal in Halong to check in for our cruise.
The boarding process here is easy, the company that we booked with took care of everything and we simply needed to go where we were directed with our stuff, when told. It was that easy.
After checking in, we all boarded a dinghy boat from the harbor and made our way to the big boat. We had a hazy day with fog and rain, so it wasn't too exciting but we were really looking forward to getting on the boat and starting our cruise.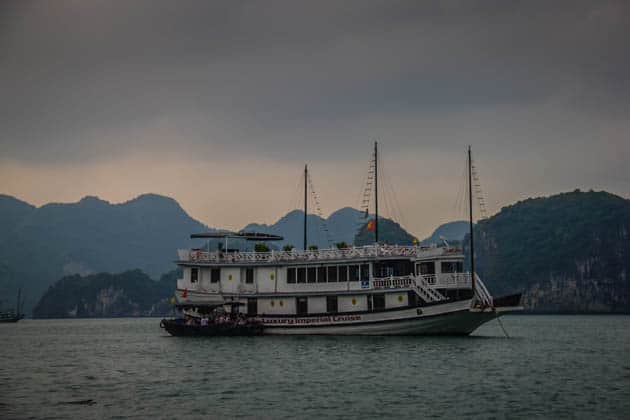 Turns out we had received a free upgrade to the Luxury Imperial boat, so upon boarding we were pleasantly surprised at how nice the boat was. We checked into our private cabin, complete with bathroom and then met in the restaurant for a lunch that was put together with fresh seafood and local dishes. Of course, complete with sticky rice and fresh fruit.
The rest of the day turned into a bit of a rat race. Since some people are only in Halong for 1 night, the companies put all the people, regardless of how many days you book, through a bit of a marathon on that first day. While we did some cool things, it was too rushed and we found it hard to enjoy.
The first stop was to take a look at the Surprising Cave, and while it was cool, we have seen many caves and weren't too impressed. It didn't help that there was hoards of people moving through the cave in large herds that made it less enjoyable.
Our next stop was much better with a stop on a small island with a white sand beach and clear water. There were many people here, but it was nice to have a chance to relax on the beach and go swimming.
While we were sitting there a small group of macaque monkeys came out of the forest to check peoples bags for goodies.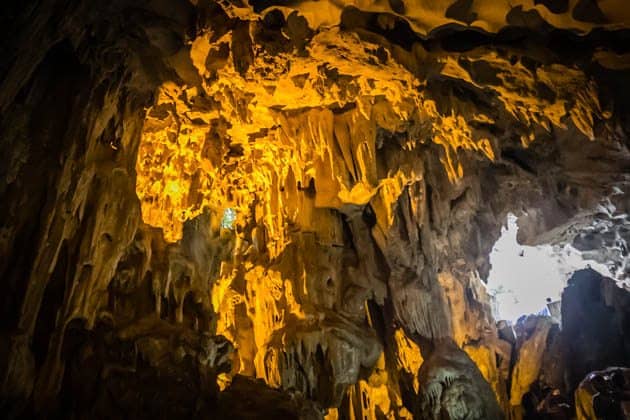 ~*~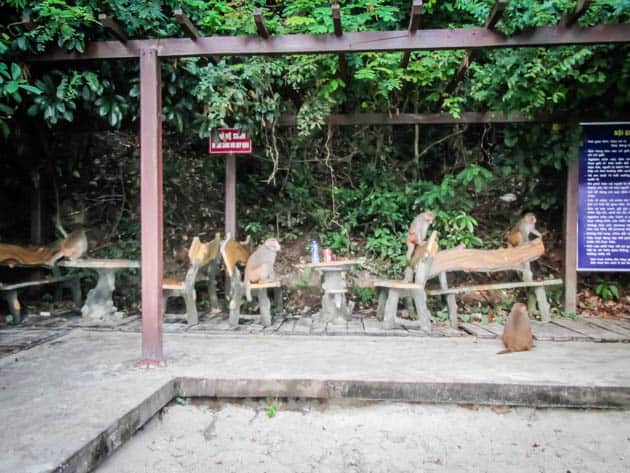 After what seemed like no time at all, meaning our stop was painfully short, we were whisked back to the boat and promptly headed towards a floating boat for some kayaking.
At this point, the sun was setting and it would soon be dark but they insisted on pushing us all into kayaks to take a short, very short spin around the immediate area before we all returned in the dark.
Our whole group was relived to finally be back on the boat for the night. We enjoyed complimentary champagne and fresh fruit before gorging on another seafood dinner.
The night was spent playing endless rounds of Uno with our new friends from the UK and squid fishing off the back of the boat. Yes, we actually caught a squid. I can now say that I have been inked by a squid while cruising Halong Bay in Vietnam.
A moment that was not great at the time as I tried to clean the ink off of one of only 5 tops I have in my bag at the moment.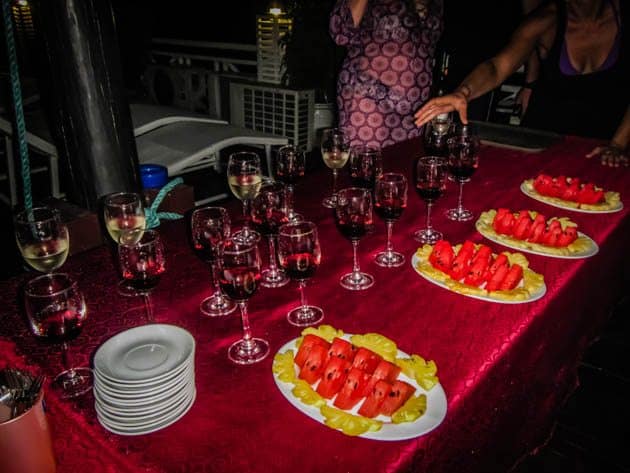 Day 2- Monsoon Rains and a Bungalow with a View
After a nice sleep on the boat, we awoke to torrential rains. Hmph, this was going to be just great. We settled in for breakfast in the restaurant before boarding the dinghy and being shuttled to one of Halong Bay's pearl farms.
This was a neat experience as we had a chance to view what goes in with collecting, harvesting and growing pearls in Halong Bay.
The trade in this region is supported worldwide and they produce many perfect pearls each year. The tour was brief, but we did get a chance to view some of their technicians opening live clams to inspect pearls before safely returning them to the sea.
The tour ended with being routed through their gift shop. There were many beautiful pieces of jewelry here that I would have considered purchasing pre-backpacking days.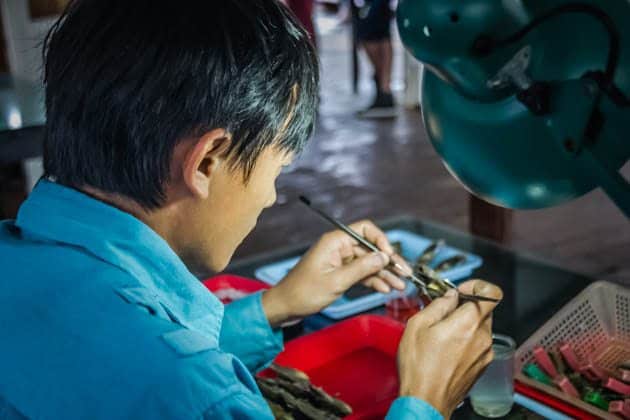 As much as we had hoped, the rain did not let up while we were at the pearl farm. We boarded back onto the big boat and checked out of our rooms. What came next was a cluster f**k of transferring people between boats.
Some of the people were headed back to Halong, some to Nat Cam island for the night and some boarding onto the boat from other boats to return to Halong Bay.
We were with the group that was heading to Nam Cat Island to spend one night on the private island. As excited as we were for this, it was slightly ruined by the intense rain and boat shifting that was taking place in that moment.
Once everyone was situated, it was a 2-hour boat ride on a small boat until we arrived at the island.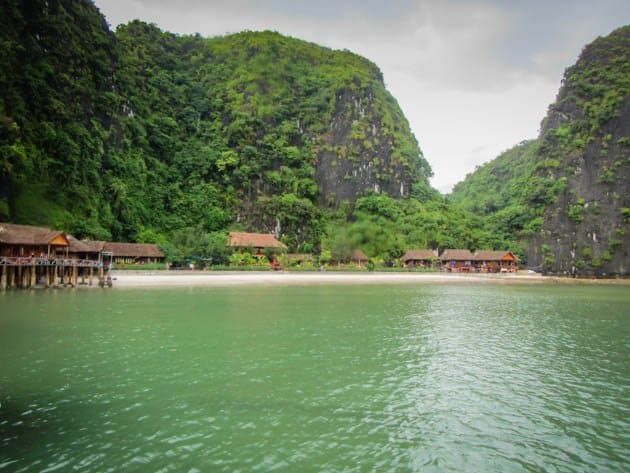 Checking in here was pretty smooth and we made our way to our private bungalow overlooking the beach and the sea. It was a beautiful spot and despite the rain, we were really looking forward to the chance to do our own thing.
The cruise had not set itinerary for us once we arrived at the island, which was a relief after yesterday.
David and I sat on the deck contemplating if we wanted to have a kayak adventure. It was pouring and we were in slight disagreement about it, but we decided that it may never let up and went for it.
We spent the better part of an hour kayaking around the towering islands around the area; we paddled to secluded beaches and played in the rain. As we began making our way back, the sky cleared and the rain stopped.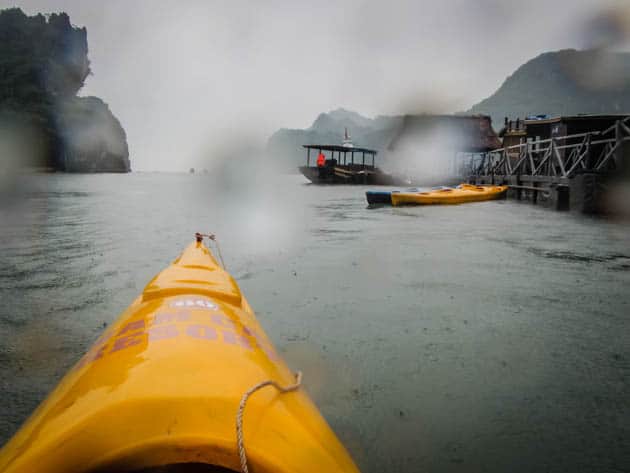 We enjoyed another evening visiting with fellow travelers, playing Uno, having a couple beers, eating well and having a good sleep. The island is a bit of paradise without the rush of the cities in Vietnam.
Day 3- Back on the Big Boat
Even though it rained buckets and there was too much fog for a great sunset, the time we spent on Nam Cat island was relaxing and beautiful. It isn't every day that we get a chance to slow down while the scene around us slows down with us.
It was a nice luxury for us after flying from America, to Thailand then Vietnam and spending 3 days in Hanoi.
When we left the island, we made another 2 hour boat trip back to the same boat we had stayed on the first day. Once we were on board, the boat headed straight back to Halong Harbor.
This trip took 3 hours and during that time we had a cooking class and lunch. The cooking class was interesting as they taught us how to make traditional Vietnamese spring rolls, which were then cooked and served to us for lunch.
The weather on day 3 was a bit better, but still overcast and a bit gloomy.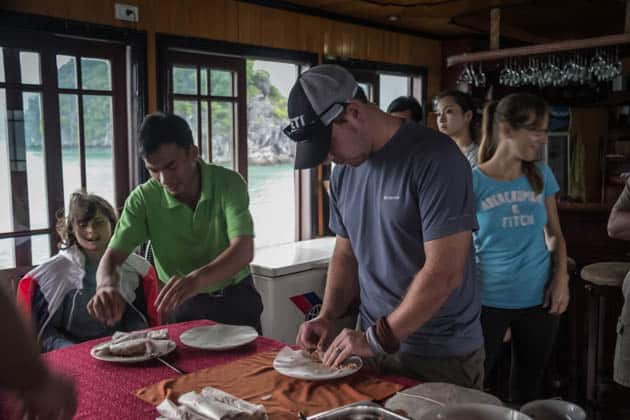 As we cruised back into the harbor we were both astonished at the number of boats everywhere. We had been informed that it was low season in Vietnam at the moment, but there were easily 200 boats with 20-30 people each.
Which is an insane number of tourists. I can say without a doubt that tourism is booming in Vietnam and you should get here fast before it gets too commercial.
Naturally, the last part of the day was the 3.5-4 hours commute back to Hanoi. This leg of the trip, again, included a half way stop over and had us back in the city by 5pm. We said our goodbyes and were released back onto the streets of the Old Quarter Hanoi.
Halong Bay Luxury Imperial Cruise
Overall, the Imperial Cruises offer a good time in Halong Bay. Unfortunately, you will be hard pressed to find a cruise with a slower schedule on the first day as they are all trying to compete in that day trip market, as well as, the multi day market.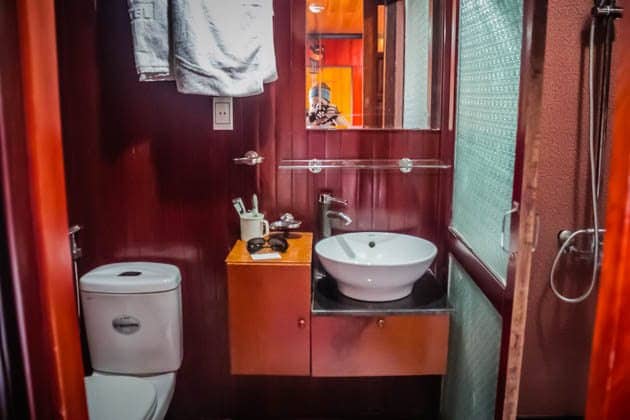 ~*~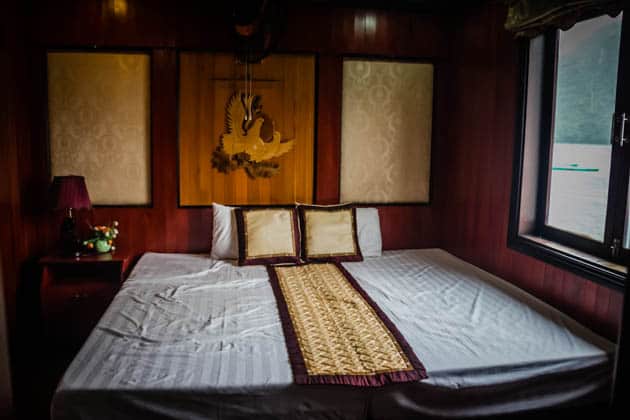 Besides those parts of the schedule, we loved our cruise and were happy with our decision. How did we go about booking with them? We walked into Lily's travel agency in the Old Quarter of Hanoi and booked directly there.
The agency was able to verify availability, get us an upgrade for free and a really great price. Have a look at How to Book a Halong Bay Cruise for more information on securing your own trip to Halong Bay.
More on Vietnam:
Did you like this story? Share it!