Vietnam offers some of the greatest national parks in Southeast Asia with large limestone mountains, diverse cave systems, beaches, pristine rivers and thick jungles.
Most of those places are only reached by rustic back country roads that only a motorbike can get down. If your looking for one of the best motorbike rides in Vietnam, you have found it.
We started our ride early in the morning, smack dab in the imperial city of Hue, where there's tons of shops, restaurants with food vendors pouring into the streets , people walking on the street due to bikes being parked on the sidewalks and lots of bikes on the road going in every direction.
Hue is the typical crazy city in Vietnam, this did not scare us from jumping on a motorbike and taking a 80 mile adventure from Hue to Hoi An with endless adventure possibilities.
Our adventure was lead by our guide, mister Jon, who loves showing the adventure side of Vietnam. We quickly went over a plan on where we were going to go before making sure we all knew the signals to use should any problems or diversions be necessary during our ride.
The most important sign being the one that indicates we should pull over for photos. We went over our Honda, reviewing the basics and making sure everything worked well before we hit the road.
Related Article: 24 Wonderful Ways to Experience Hoi An, Vietnam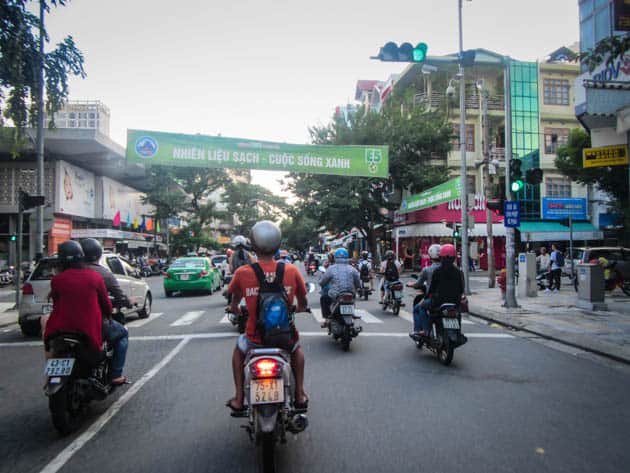 We were handed our two red, apple helmets and we started off. Our ride out of historic imperial city of Hue was nice and easy, even though there were lots of bikes on the road.
The city quickly faded away and turned into sleepy little fishing homes with old wood fishing boats dead on the side of the house. They would be drying fish on the side of the road and in some cases drying items took up half of the road.
With the ocean to the left side of us and wetland with crops growing to the right of us, our fishing houses turned into little country homes packed on the side of the road.
The road turned from city black asphalt to concrete to packed down mud. Many times we had to weave around pot holes or mud puddles. There were many I could not miss and we felt them as we hit them. Some roads in Vietnam are not passable with cars or trucks; this is why we saw many motorbikes.
As it happens in Vietnam, our nice day turned into a rainy day quickly. We could see the rain in the distance turning the sky into dark gray and black shades. While dodging water drops that quickly soaked us we decided to pull over and put on our much used rain jackets.
We were so glad we had our rain jackets because when it rains, it pours like cats and dogs! Once our jackets were on we started up again. The rain was easy to drive in, we just took our time, it was nice to have our sunglasses on to keep the water from getting into our eyes.
The rain turned the roads from hard and muddy to soft and muddy with large puddles everywhere. It only rained for twenty minutes and once the rain stopped we quickly ripped off our rain jackets, as the humidity was almost unbearable.
You can not let rain ruin your ride because in Vietnam, rain is something you will have to put up with.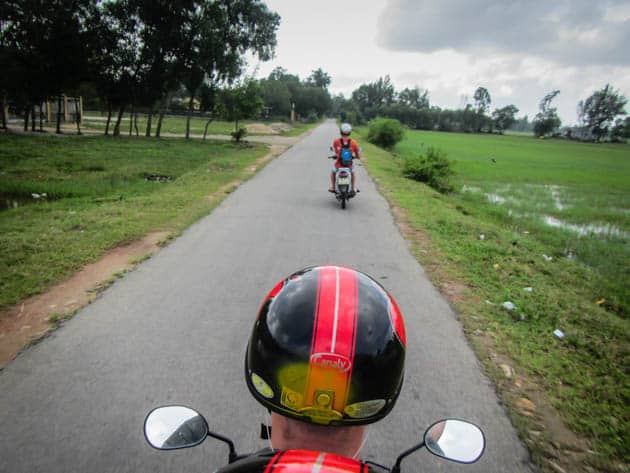 As we went from country land to small villages, kids would be on the side of the road heading to school. Some would be walking in large groups carrying backpacks with lunchboxes.
Others would be riding bikes, we saw many bikes with two to three school kids on it. All would wave and yell out 'Hello' to us as we passed them. A few times we pulled up next to them to say hello, they would love that and greet us back while waving.
After our encounter with the snake man, we jumped on to Highway 1, staying to the right side of the highway so large trucks could pass us. It wasn't long before our stomachs were grumbling and we pulled off the highway on to this small dirt track with water filled potholes.
We pulled into a National Reservoir called Suoi Voi (Elephant Springs). This stop blew me away and it was just off the highway but travelers were missing it due to taking buses or vans to the next city. They really missed out.
We hiked to a spot on the river where we had a quick swim in the river and then had lunch on the river rocks in middle of the river.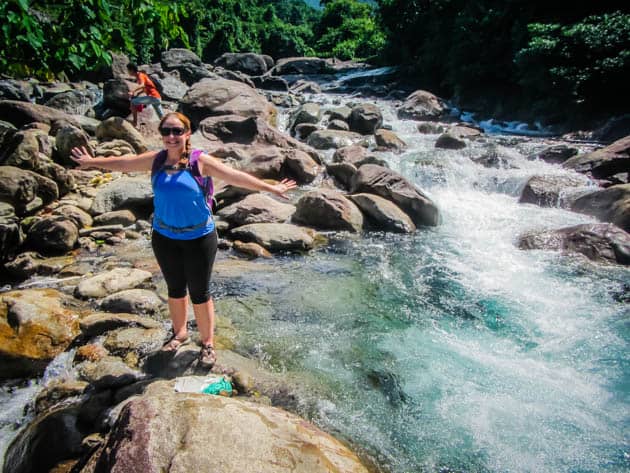 We headed back to the highway from the dirt track we took to get to the Suol Voi (Elephents Springs). Once we were back on the highway we only took the highway for another few minutes, which was good because it was prime time for trucks running loads from one city to the next.
We followed Jon to another spot where the road drove right into the ocean. We pulled over to take photos and to take in the white sand beach. We were only halfway to Hoi An.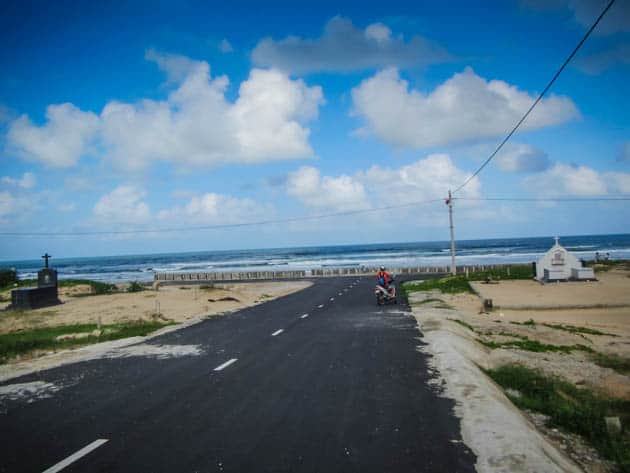 Along our motorbike adventure we came across many animals on the side of the road or even on the road blocking traffic. We saw many lazy dogs sunning themselves on the road that did not even raise their heads when we would honk and whiz by them.
Many chickens that would have to cross the road seconds before you passed them on the side of the road. We even encountered a few herds of cattle and the occasional water buffalo during our trip.
Riding though the windy hills with endless switchbacks of the we came across buffalo droppings right in middle of the road, These droppings were huge and would have not been good if we hit them.
That would have made our bike tires slippery and not to mention it would have given us a stinky ride. That gave us the indication that there were some cattle in the area, around one turn there was a red mark in the road that looked like a large pile of red goo, well as we got closer to it I noticed it was after birth.
Just around the next bend we came across a herd of cattle walking right in the middle of the switch back turn with a freshly wet baby calf.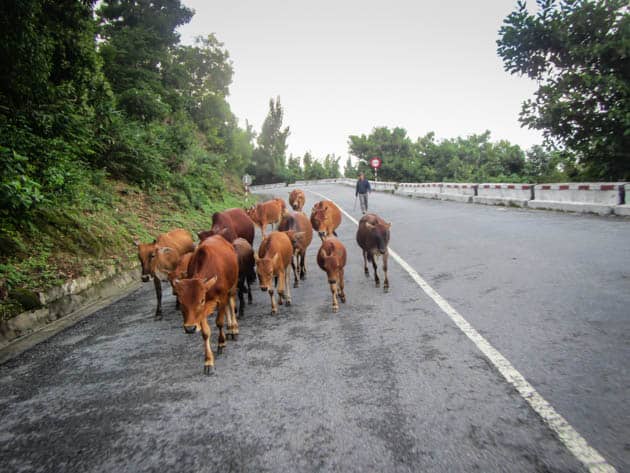 With the ocean to the left side of us our sun kissed beach turned into a rocky hillside as we headed up the breathtaking switchbacks of Hai Van Pass. We drove up windy roads up to the top viewpoint where there were French and American War bunkers built on the top over looking the Pass.
We pulled over to take some photos and there were many people at this stop. Locals were taking wedding photos on the top of the bunkers. After we took our photos we jumped on our bike to head down the pass and towards Danang.
We turned off our bike at the start of the hill and rode for 30 minutes with the bike off just using the hillside to propel the bike down the hill. There were many people who looked at us like that bike is moving but there's no sound.
It was cool to feel the wind in our hair. Heading down the hill you could see more beaches with resorts along the road. It was like a whole new world compared with the farm villages and sleepy country towns we had passed through at the beginning of the day.
As we passed over a large yellow dragon bride with the sun setting to the right side of us it hit us. Our Vietnam Motorbike adventure was coming to a end as Hoi An was a short ride from Danang.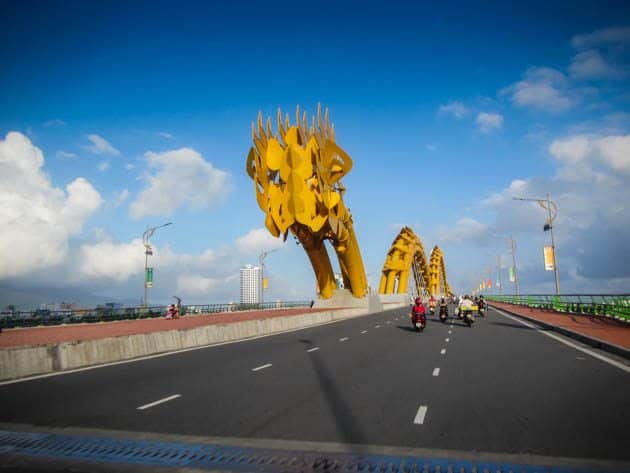 ~*~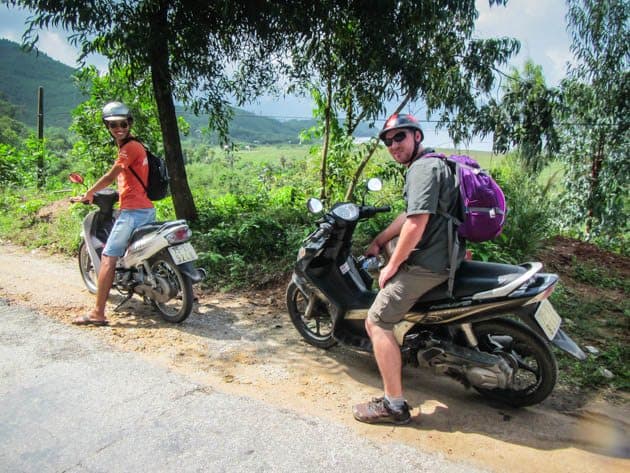 ~*~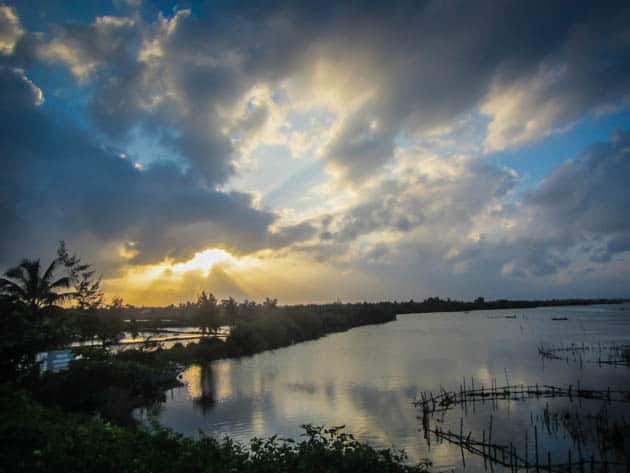 This visit we only had a 30 day visa, so our time was limited and gave us just enough taste of adventure that we are eager to return. Our next visit to Vietnam will be done by motorbike ride only.
It was nice to have our own guide who knew the off beaten paths and tired country roads. Paths that most travelers drive by everyday and don't even know where they lead. Paths that are really the true Vietnam Motorbike adventure and can only be seen with a motorbike.
More on Vietnam:
Did you like this story? Share it!