I'd be lying if I said that most people didn't head to Southeast Asia to lie on beaches, eat cheap food and drink cheap beer. That said, there are certainly many more things to do in Southeast Asia than that.
While this is certainly the norm in the region, it is also a part of the world that holds an immense amount of adventures opportunity.
Due to the nature of the climate and proximity to the equator, most of Southeast Asia offers up a humid, tropical climate with intense jungles and landscapes to be explored.
There are towering hills on small islands, massive active volcanoes, jagged limestone cliffs, an abundance of underwater life and amazing views to be had if you're willing to hike for them.
Don't write off Southeast Asia as an adventure destination just because there are beaches available. Pack your hiking boots, your sense of adventure and get off the beaten path to see the real side of this beautiful part of the world.
Of course, truth be told this is a small sampling of all the adventure on offer. We asked our fellow travel bloggers to help us put together a collective of some of the best Southeast Asia adventures you can have, this is what they had to say.
---
34 Things to Do in Southeast Asia
---
1. Hiking Kalaw to Inle Lake (Myanmar)
Myanmar is a country that is still relatively untouched by western cultures but is quickly becoming a top destination for many explorers.
While many heads to the popular areas of Inle Lake and Bagan, many miss out on the opportunity to trek between the two common destinations.
From Bagan, you take a bus to Kalaw and begin your 2-3 day trek through the rolling hills of the countryside.
You'll pass locals that may have never seen a foreigner before, you'll learn about the plants you encounter and may even have them cooked up for dinner.
You spend time in a local's home and bond with others who are on the trek with you. And most importantly you get to see how beautiful of a land Myanmar is.
Even if you are out of shape (I am and was sick when I did it), it is completely worth it to push yourself through just to understand their culture a little better, to experience the Burmese kindness, and to see a part of the country many skips.
Depending on the weather it can be a tough trek, but walking through the tea plantations and rice paddies will be a unique and personal experience for every traveler.
Contributed by Taylor, Taylor Tracks
2. Hiking Mount Kyaiktiyo (Myanmar)
One of the most sacred Buddhist sites in Myanmar is the Golden Rock, where a massive boulder's precarious position on a ledge is attributed to it being held in place by a strand of Buddha's hair.
The true pilgrim route is to hike from the very bottom of Mt Kyaiktiyo to the rock. The hike is steep in parts and combined with the hot and humid conditions, this is a challenging route.
For those who do not wish to hike, you can board a massive lorry from the town of Kinpun that hurtles up the steep roads and swerving around the numerous bends.
The lorry I was in did not reach the peak, and once it stops there is still a one-two hour hike to reach the summit. It is possible to procure a porter or to pay for being borne on a palanquin if you wish not to hike at all.
Lack of time meant that that full hike was not an option, but being carried to the summit seemed a bit ridiculous so the one-two hour hike was in order.
The further you climb, the hotter it gets, but there are numerous refreshment stands on offer along the twisty steep road to cool yourself down, and it is definitely needed as the humidity and heat can become intense.
Once at the peak, there are many hundreds of pilgrims in attendance. As is usual with Buddhist sites, they are best viewed near sunset and sunrise.
I approached the rock and there was a constant passage of men praying and a square of gold leaf on the Rock, women are not allowed to approach, so instead, they pray, burn incense and place offerings of food in front of the rock.
With sunset imminent, the crowds blossomed further, and when the sun did finally sink beneath the horizon, and as the ribbons of colored light slowly melted away, bright orange lamps that illuminated the revered Rock burst into life, and these lights, like many of the pilgrims, would continue their vigil until the morning.
I awoke before sunrise the following day to observe further prayers in the pre-dawn stillness that was more tranquil than the previous evening.
Mt Kyaiktiyo is only approximately 160 kilometers south-east of Yangon, but the travel time is not as short as you may think. Factor in a four-five hour journey if you are taking either the bus or the less frequent train.
These transport options stop at the village of Kyaiktiyo. The full hike from there is at least a full day excursion, but if you take transport to Kinpun the hike is at least half a day.
However, if you take the lorry ride from Kinpun, the hike is only one-two hours, though there are reports of the lorry now stopping much closer to the summit.
This is definitely one of Myanmar's finest sites, but due to its location, the site receives fewer foreign visitors than it deserves.
Contributed by Shane, The Travel Camel
3. Kayaking the Nam Song River (Laos)
Laos is a great destination for thrill-seekers. During my time there, I did a ton of adventure activities and kayaking on the Nam Song River in Vang Vieng was one of them.
It was part of a day tour so we coupled it up with some caving and tubing as well. It was a fantastic experience as you paddle down the pretty Nam Song river with greenery and limestone formations on either side.
The scenery is absolutely spectacular which definitely enhances the experience. Paddling was a little tough, to be honest, but then I went in the wet season (not the best time to go) plus my skills are somewhat rusty.
Though Laos is a year-round destination, for Kayaking and general traveling, I would suggest avoiding the rainy season from May to October even though I went in July.
Well, no wonder the Kayak flipped because of the heavy flow and rapids swelling up during the rains. No doubt it was a tad embarrassing to have strangers rescue you but hey, it's all part and parcel of the experience.
If you haven't yet visited Laos, you need to hear there now and try one of the many Southeast Asia adventures this laid back land has to offer.
Contributed by Jo, Wander with Jo
4. Scuba Diving with Bull Sharks at Sail Rock (Thailand)
Are you game enough to scuba dive with bull sharks without a cage? If so, put the warm crystal clear waters of Southern Thailand on the top of your list.
Located 11km north of Koh Phangan and about 2 hours south of Koh Tao is a landmass known as Sail Rock. Because it is the only landmass between the two islands, it supports the breeding cycle of many species, the most notable of these being Bull Sharks.
Traditionally thought of as an aggressive shark, being in the water with these gracious, powerful, and beautiful animals is the ultimate adrenaline rush.
The dives at this site usually consist of a lap around the rock, and although the sharks are not known to swim right up to the rock's surface, they can be often found gliding around just a few meters away.
Being firm believers in the old adage – that if you don't bother them, they won't bother you – we were more than comfortable being in the water with them.
Add in the sheer variety of other sea-life and coral at the rock and it easily hits the top of my list of dive sites in Asia and I couldn't recommend it highly enough.
Contributed by Vicki, Make Time To See The World
5. White Water Rafting the Mae Taeng River (Thailand)
The northern regions of Thailand are an adventure lover's destination with a variety of outdoor and recreational pursuits. One of my favorite experiences was to go white water rafting along the Mae Taeng River about an hour's drive north of Chiang Mai.
With class 1 to 3 rapids, the rafting experience covers agricultural areas, scenic landscapes and jungle areas that add to the river rafting experience.
For more details on this white water, experience check on my rafting tour here, along with a biking and tea tasting with a local eco-tour company.
There are many white water outfitters that cover this region along with combination tours. I ended up taking a biking/tea plantation visit and then a white water rafting tour on the Mae Taeng River through a tour provider called Asian Oasis.
They also offer a fantastic eco-retreat in the area called Lisu Lodge that is an amazing experience with the food included in the price of the stay.
Contributed by Noel, Travel Photo Discovery
6. Cliff Jumping in Chiang Mai (Thailand)
Looking for an adrenaline rush in SE Asia? Chiang Mai has just the place. A few miles southwest of the city, there is an abandoned quarry that has been filled in with water.
For just a few baht, you can hire a taxi and make your way down the highway. Once you get there, there's nothing between you and the water except open air.
Jump off the 5-meter high cliff to start off with, and then throw away your fear of heights as you vault off the 15-meter cliff. Don't forget to hold your breath.
To get there, either find a taxi or tour who knows where it is, or hire a scooter for as little as 80 baht a day, ride south on the 120 highway, and take the first right after the PT gas station.
Admission to the quarry is 50 baht, which includes an herbal drink. A lifeguard is on duty, but take caution all the same. This is Thailand, and things can get pretty wild. Oh, and don't forget the sunscreen. Read more at Skyetravels.com/Chiang-Mai-Grand-Canyon.
Contributed by Skye, Skye Travels
7. Trekking & Camping on Doi Pui (Thailand)
A sweet 30-minute motorbike ride from Chiang Mai is Doi Pui, one of the coolest camping spots in Northern Thailand. Nestled high up in the mountains the views of the city from the site are unreal, especially at sunset.
On my last visit, I could have just happily just stayed there and relaxed, but instead, I choose to take the two-hour walk to the local Hmong village Khun Chang Kian.
The trek was tough but took us through some untouched natural beauty. Upon arrival at the village, we were greeted by smiling kids and charming coffee shops.
You can rent everything you need there, tents, sleeping bags, and mats, you just need to set it all up yourself. It's a world away from any technology, and a great place to unplug for some time.
We took things a step further, we collected wood and got a campfire going, it was a real back-to-basics adventure.
This is one of the best things to do in Chiang Mai and can be visited any time of year, but the winter months do get a little cold, so wrap up.
Hire a scooter and make your own way there and bring some food too, there isn't really anything to buy on site.
Contributed by Jon, Adventure in You
8. Rock Climbing in Krabi (Thailand)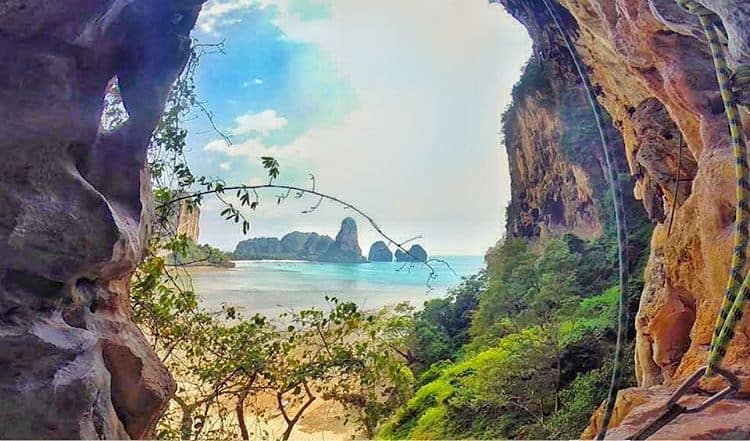 Krabi is already one of my favorite places in the world, so adding in that it happens to be one of the top rock climbing spots in the world just upped it a notch in my books.
I got to say; I got pretty lucky having these incredible karsts with the most amazing beach backdrop right in my backyard. I lived in Krabi for over a year and had the opportunity to go climbing quite a few times!
Railay and Tonsai are the two hot spots featuring hundreds of routes varying in difficulty. Even chilling on the beach of Tonsai you can look over and see climbers harrowing some pretty gnarly boulders and rocks.
A few of the spots I got to climb at require you to hike up a bit which makes for even more adrenaline-pumping time as you're already off to a high start!
Some climbs might even involve jumping off the rock wall to a stalactite. Can we say, "hell yeah!"
It's pretty hard to describe the intensity needed to get your body up these rocks, especially if you're like me and have jelly noodle arms.
Despite not having the upper body strength I desired, it didn't stop me from trying pretty difficult but rewarding climbs.
After clambering up you can chill up top in a small crater or on a boulder and gaze upon the beaches, the longtail boats passing, and your teeny tiny friends below cheering you on.
There are plenty of rock climbing shops, but if you just hang out for a while and make some friends who are rock climbers, I'm sure they'd let you tag along just as long as you rented the gear.
No matter what, I'd suggest trying out climbing in Krabi, it's a once in a lifetime experience!
May to October is the rainy season, but really, anytime is fine as even during the rainy season as there are plenty of pockets of the sun if you have some time to hang around.
Contributed by Nina, Where in the World is Nina?
9. Kayaking & Hiking Koh Tarutao (Thailand)
Koh Tarutao is the largest island in the Tarutao National Marine Park in Southwest Thailand and a former concentration camp for political prisoners. Unlike most of the Thai islands, it is completely untouched by mass tourism.
You pay a $6 entry fee and accommodation is either bungalows or camping on the beach.
It's the perfect place to experience Southeast Asia adventures and some beach fun. It's like being on a remote deserted island. The beaches have some incredible coral life, making it ideal for snorkeling.
The island is made up of untouched jungle, making it ideal for jungle trek passing through waterfalls, such as the Lu Du Waterfall or the 400m Tob-Bob Cliff at Ao Talo Phante Malacca.
Mountain biking is another way to see the islands and reach the more remote areas like the very pretty Ao Son. The trail goes through the Tarutao mainland jungle and took us around 40 minutes each way.
Finally, you can also do kayaking here, which was one of our favorite activities. You rent the kayaks for the day and paddle through mangrove forests to a former crocodile cave.
It is hot throughout the year here, but due to the rainy season, it's best to avoid May-November.
Contributed by Stefan, Nomadic Boys
10. Getting Open Water Certified in Koh Tao (Thailand)
Little we know we were going to fall for scuba diving while wandering around Thailand a couple of years back so badly.
But soon we learned that Koh Tao was a learner's paradise for its easy and great dives, affordable prices and overall good vibes. So it was a matter of time and one week in we were already there.
Apart from getting our Open Diver licenses by an SSI school, we got to dive a few cool spots: Japanese Gardens, Twins (Nang Yuan) and White Rock up to a depth of 18m.
Slingjaw wrasse, blue-ringed angelfish, longish bannerfish, chevron barracuda, blue spotted ribbon tail ray, magnificent anemone, saddleback anemonefish (Nemo), blotched porcupine fish, parrotfish, titan triggerfish, long-faced emperor fish, barrel sponge, hexagon grouper, crocodile fish and pink anemone fish were some of the species we were fortunate enough to spot during our 4 prep dives and 2 extra fun dives after getting our licenses.
For some more info about the place and if you are feeling curious, read more about our first scuba diving experience in Koh Tao here.
Contributed by Inma, A World to Travel
11. Motorbike the Mae Hong Son Loop (Thailand)
The Mae Hong Son Loop is the trip of a lifetime, and it's affordable too! If you are comfortable driving a motorbike in Thailand then this is adventure is perfect for you.
Starting in Chiang Mai you can rent a motorbike for $10-$20/day and find hotel rooms for anywhere from $6-$10/day along the way. We did it in 5 days but the more time you have the more you'll be able to see.
Since the drive is a loop you can start by heading south to Mae Chom then Mae Hong Son and Pai or vice versa like we did.
Between each city, you'll pass gorgeous rice paddies, massive mountains, national parks, temples and more.
Definitely stop at Lod Cave, a massive river cave cutting through the jungle and a perfect afternoon break. You'll also find plenty of waterfalls and hot springs to relax in near Pai.
Along the route, tiny villages welcome foreigners with open arms and you'll eat some of the most authentic Thai food you can find. Be careful when driving the loop though!
For safety, we made 3 rules: no driving at night, no driving in the rain (we had to fudge that a few times) and new drunk driving. There are a few sketchy passes and especially between Pai and Chaing Mai you'll cross dozens of blind corners.
Stay hard on your horn to warn vehicles coming the other way, follow the 3 rules and you'll be fine.
You can easily drive the loop any time of the year but I recommend NOT doing it in the rainy season like we did. Whether you drive the whole loop or just part of it you're sure to enjoy the wild ride, beautiful scenery and welcoming locals. Best of all the Mae Hon Son Loop is great for any budget.
Contributed by Michael, Live Travel Teach
12. ATV Tour Through Siem Reap (Cambodia)
While most people venture to Siem Reap to take in the ancient ruins of Angkor Wat, an alternate adventure takes you on a tour through the outskirts of the city.
A great way to get away from the hustle and bustle of Pub Street and Psar Chah is on the back on an all-terrain vehicle (ATV).
Even if you've never driven an ATV before, you'll have a blast rolling through the rice paddies and villages surrounding Siem Reap.
You'll venture into areas that are virtually untouched by modern society, driving across rugged farmland and through herds of cattle.
You'll even have the chance to take a quick walk around a small local temple. A variety of tour packages are available, ranging from easy rides for beginners to full-day treks that circle the entire area.
How far you go and how much you get to see depends on you. The faster you drive, the more you get to take in.
But even if you opt for a slow ride, you'll get to see plenty of traditional homes, children playing, and farmers wading through the waters of the rice fields.
You'll feel like you've taken a time machine to another time and place.
Despite the relatively flat terrain, hardcore ATV riders won't be disappointed. There are plenty of rough roads and obstacles to keep you entertained. There's no bad time of year to take this tour.
Even if it rains, it will just add another layer of excitement to the ride. It's a great way to get off the beaten path and see another side of this city that most tourists don't even know exists.
Contributed by Heather, Wanderlust Wayfarer
13. Trekking Up the Mekong River (Cambodia)
Cambodia isn't just a country known for ancient ruins and a brutal civil war. Adventurers will love the opportunity to get off the beaten track here and explore some of the lesser-known spots while traveling in their Southeast Asia adventures here at Cambodia.
One adventure that can't be missed is taking a trip up the Mekong River to see the famous pink dolphins, as well as all the other amazing activities to do in Stung Treng, a province in northern Cambodia.
The journey starts in the city of Stung Treng where you can cycle, motorcycle or catch a long-tail boat up the Mekong, close to the Cambodia-Laos border town of Preah Romkel.
From there you can trek out even further up the river to the colossal waterfalls. As the sunsets over the Mekong River, you can see the rare pink river dolphins swimming and playing in the water.
With no electricity and only nature to enjoy, it's an early night in a hammock that overlooks the river.
In the morning wake up to the sunrise and a swim in the Mekong, before making your way back down the river in a long-tail boat, through the flooded forest.
When the river is high these monstrous trees are submerged up to the middle of their trunks, but when the river is low all the roots are left exposed on sandy banks in the middle of the river.
You can stop off along the way to explore or continue cruising down the river at a leisurely pace.
Contributed by Jules, Don't Forget to Move
14. Hot Air Balloon over Angkor Wat (Cambodia)
I hopped into a hot-air balloon to see the sunset over Angkor Wat in Cambodia. I jumped into the basket with about four fellow tourists and the operator of the balloon.
The balloon generated hot air and it was pretty hot in the basket. It was a bit scary the moment the balloon took off, but I got used to the feeling of being in the air once the balloon took off. We were flying in the air.
The temples looked very small below us. It was wonderful to see the ancient city of Angkor Wat right below us.
We could see the vast green land, the animals, the palm trees and the nearby village below us. We were flying around slowly for about 20 minutes until the sunset.
The weird thing about the hot-air balloon is that it is not navigated. It is taken by the wind and the driver will land the balloon on the ground somewhere in the middle of the field when he finds a suitable landing field.
Once we landed, we were picked up and driven back by a car to the village. Watching the sunset from up there was a very memorable experience.
Contributed by Barbara, Jet Settera
15. Trekking to Hang Son Doong- World's Largest Cave (Vietnam)
Hidden in the jungles of Phong Nha-Ke Bang National Park in Central Vietnam lies the largest cave in the world, Hang Son Doong. Translated as "Mountain River Cave", this colossal cavern was first discovered in 1990 by local man Ho Khanh while seeking shelter from a storm.
He, unfortunately, he lost his bearings on his way back to the village and didn't find it again until 2008. When he returned with a team of British caving experts they surveyed the cave and determined it to be the largest ever found.
The local tour company Oxalis fought hard to run sustainable and responsible expeditions to Hang Son Doong, and ran their first trip in 2013.
Numbers every season are strictly limited and sell it a year in advance. Today more people have stood on the summit of Everest than have seen the inside of this beautiful natural wonder.
To reach Hang Son Doong involves a tough two-day trek through dense jungle, with a night spent camping in Hang En, the third-largest cave in the world.
Two nights are spent inside Hang Son Doong, exploring the enormous chambers, with one more night in Hang En on the way out.
Large enough to have its own climate, cloud system, jungle and underground rivers, Hang Son Doong is epic in every way. It truly is an adventure like no other.
Contributed by Jarryd & Alesha, NOMADasaurus
16. Trekking in Ha Giang (Vietnam)
Adventurous types have long gone trekking in Vietnam seeking indigenous culture and endless rice fields. Instead, they might find Sapa, a once quaint hill-station town turned messy tourist hub.
Sure, Sapa might be worth the crowds, but if it's unbridled nature and authenticity you're after, trekking in Ha Giang makes a nearly perfect alternative.
Just south of the Chinese border, Ha Giang is the northernmost point in Vietnam, and often referred to as the country's final frontier.
With surreal views in every direction, Ha Giang is an illustration of how nature can flourish when left to its own devices. Far off the tourist trail, you'll wander mountainsides and form friendships around curiosity rather than commerce.
You can trek for days in any direction, learning about the local culture within family homes. It's green, splendid, and full of authentic adventure.
Contributed by Taylor & Daniel, Travel Outlandish
17. Cycling from Hanoi to Ho Chi Minh City (Vietnam)
There's no better country to take on a cycling adventure than Vietnam. With two main cities – one in the north (Hanoi) and one in the south (Ho Chi Minh City) – cyclists typically ride between the two, taking in the majority of the country as they go, and leaving only one big decision to be made – which route to take.
No matter where you choose to start, be sure to explore all the things to do in Ho Chi Minh City and Hanoi before setting off again.
There are just two main roads that run the length of the country, and both provide for quite different adventures.
The Ho Chi Minh Highway is a favorite amongst keen cyclists, providing stunning views (some of the best you'll find in Vietnam) and many off the beaten path destinations.
However, with its position inland, it cuts through many hills, and offers a far limited number of villages to rest, requiring quite a bit more effort from a cyclist than the coast bound Highway One.
As the alternative, Highway One provides plenty of places to stop as it passes through a number of top destinations – Mui Ne, Nha Trang, and Hoi An to name a few – as it sneaks it's a way through central Vietnam.
It also provides greater opportunity for getting off the main road, with more development bordering it.
However, as it is the main road across the country, it is constantly full of other vehicles that often put a cyclist at the bottom of their list of things to worry about.
With either route, a cyclist will cover about 2,000km, with the best time to take it on being from February to May. As long as you can ride a bike and you can push yourself to keep going, you'll be able to achieve this adventure – it's one for everybody.
In the end, you'll have cycled across the length of a country, seen many stunning views, spent many evenings in small villages with just the local communities and seen the best parts of a country that you'd otherwise have only glimpsed through a window.
Contributed by Caitlin, A Girl Abroad
18. Hiking in Sapa (Vietnam)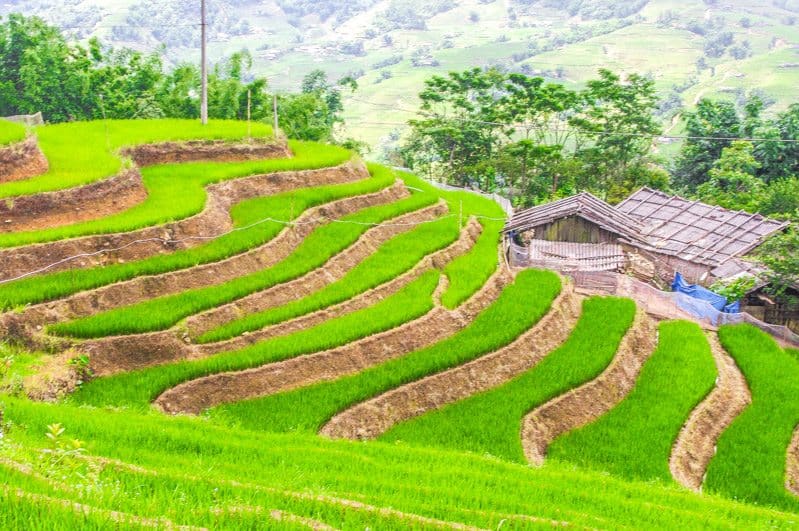 I was absolutely buzzing about taking a boat tour around Halong Bay. Little did I know that I'd be majorly underwhelmed and pretty disappointed by the litter at Halong Bay but blown away by Sapa Valley in Northern Vietnam!
We arrived in Sapa at 5 am after a comfortable overnight train and short bus journey to be greeted by young lads and rice wine, they'd taken a shine to Craig's tattoos over breakfast and wanted to cheers him for the ink.
We would be seeing rice wine again within the next 10 hours. Rice wine is rocket fuel, just what we needed for hiking in the typical Asian downpours through the lush rice fields of Sapa Valley. We stayed with locals and showered in the natural swimming pools, a pretty perfect way to spend two days.
Contributed by Gemma, Two Scots Abroad
19. Climbing Mt. Batur in Bali (Indonesia)
Climbing a volcano is an experience of a lifetime, but to do it during night time is one of the SouthEast Asis adventures you will never forget.
Our adventure started when we jumped on our motorbikes and crossed the island, passing by rice paddies, waterfalls, temples, and lovely people.
We drove from south to north and slept in a tiny village overlooking Mount Batur. At 3 AM we woke up and with a flashlight, in hands, we made our way to the top of Batur.
The trail is full of stones, sandy paths and some deadly cliffs that you can only see during the daytime. Step by step we conquered the mountain. At the summit, we were rewarded with a stunning sunrise, one of the most beautiful sunrises I have ever seen.
It's not an easy climb, it took us 2:30 hours to reach the summit that is 1,717 meters above sea level. Climb Mt Batur at nighttime is one of the best things to do in Bali, and we suggest you to do it is during the dry season (May to September).
Don't forget to bring a warm jacket, is cold at the top. You don't need proper hiking shoes, runners work fine, but don't try to climb Mt Batur wearing flip flops sandals, you might hurt yourself.
Hire a guide at the local hotel, or at the parking lot near to the volcano, it's better to have with you someone that knows the trail, just in case you need extra help or orientation.
And don't forget to bring your camera, the views you have from the top of Mt. Batur are breathtaking.
Contributed by Rob & Nati, Love, and Road
20. Downhill Cycling in Bali (Indonesia)
Last summer in Indonesia, I went cycling in Bali through rice terraces in the countryside. We started off overlooking Mount Batur, a beautiful volcano with a crater lake at its feet.
After eating a hearty breakfast, we were ready to begin our downhill cycling tour!
We barely had to pedal as we sped down the hills of the Balinese countryside, braking to stop to look at beautiful vistas and visit inside traditional Balinese housing compounds.
Finally, after a lot of downhill cycling, we reached where we had been heading the whole time: the gorgeous rice terraces.
We got off our bikes and walked around, taking in the serene beauty of these deserted, remote rice terraces.
Unlike the popular touristy rice terraces of Tegalalang, these were all ours. I walked into the rice fields, teetering precipitously on the edges of the muddy terrain — even slipping in a bit at one point, resulting in a very dirty leg!
After walking around these beautiful terraces and taking in the beauty, we had the choice of taking on an uphill portion. Energized by the sights seen, I took them up on the offer: a decision I'd regret about 10 minutes later, cycling in Bali humidity.
Luckily, a delicious buffet feast awaited me as a reward for the adventure I'd undertaken that day.
This adventure is great to do year-round, as the weather in Bali is almost always fantastic — just try to avoid the rainy season (October through March) as you have a higher chance of having bad luck with the weather.
Contributed by Allison, Eternal Arrival
21. Climbing Kawah Ijen Volcano (Indonesia)
Choking on the billowing smoke all around me under the 2 am moonlight barely able to see and engulfed by an awful rotten smell. This sounds like the beginning of a misadventure, but in fact, I did this to myself on purpose…
Exploring the incredible volcanoes in Indonesia is a must-do experience when you're wandering around the archipelago, but Kawah Ijen offers up a few extra characteristics that might not be for everyone.
If you're fit and game enough, your hike will start around 1 am and lead you down a dangerous caldera filled with sulfuric gasses seeping out from below. The smell is intense and far from pleasant. But you're down here for a reason.
Taking a closer look, you'll see locals hard at work in these intense condition mining for sulfur, a strenuous job that involves hours in these conditions and lifting 60-90kgs of yellow sulfur bricks in straw baskets and hiking it out! I thought this was an onerous way to earn a few bucks.
The most spectacular sight, though, is the dancing flames and lava-like blue substance that pours out from the earth. It's an ignited sulfuric gas that's incredibly hot making the hiking conditions dangerous, but totally worth it experience.
Keep in mind the sulfuric smoke gusting past you. Like I mentioned, hiking Kawah Ijen isn't for everyone, but it's simply entrancing to see this phenomenon.
After the hike, take a rest at the rim of the crater and enjoy the spectacular sunrise over the top of the volcanoes that surround you and the eerie green and highly acidic lake that you unknowingly were just next to!
June to August will be the best month but also the busiest. You can go anytime, just remember conditions are a bit more difficult when it's windy, which is when I went! Definitely, check out my hiking Kawah Ijen post for more details and tips on how to survive and enjoy this hike.
Contributed by Nina, Where in the World in Nina
22. Orangutan Trekking in Sumatra (Indonesia)
Orangutans are an endangered species and currently only exist in the wild in two places; Sumatra, Indonesia and the island of Borneo. Access to the jungles where they exist in Sumatra is done through the sleepy little riverside village of Bukit Lawang.
You'll be lucky to encounter a handful of other foreigners here and it is about a 4-hour drive from the closest airport.
Bukit Lawang gives access to the Gunung Leuser National Park and is the starting point for all trekking trips into the jungle.
While it is possible to take day treks, we highly recommend a minimum of 3 days to get yourself deep into the jungle and a chance to see some of the last Orangutans that exist on our planet.
You'll camp in the jungle, swim in the river and hike your legs off. The terrain is rough and there are no cut paths. It's a real trek in the real jungle.
The region is very hilly and it is not uncommon to climb 3-4 tall peaks in one day. You'll be exhausted, but it is incredibly rewarding when you get the chance to see Orangutans.
Orangutan Trekking in Sumatra is one of our Top 100 Travel Adventures in the world.
23. Free Diving in Bali (Indonesia)
There really isn't a bad time to visit Bali when you're going to be spending your time underwater.
But if you also want to enjoy the beach, the best time to visit is during the dry season, between April and October. An initiation to freediving is a unique experience to try.
The quaint little strip of fishing villages along the coast East Bali is known as Amed is a spectacular place to do so.
Stunning views of Mount Agung wait while out on the water, as well as underwater wonders such as sunken statues and WWII ships. All this really transforms things into an almost magical experience.
Free Diving alone is something that everyone should try just to test the limit of their own mind and body, and doing it in Bali is just extra special. I completed my Free Diving Level 1 course in Bali and loved every minute of it.
Contributed by Amelie, Mostly Amelie
24. Climb Mount Bromo Volcano Crater (Indonesia)
Due to the remoteness of the volcano, you will likely arrive late in the night to a high elevation with cold air. If you're lucky, you will be able to find a room for the night at one of the hospitable homestays.
Don't count on freshly laundered sheets or a functioning toilet, but it sure beats sleeping in the vehicle you arrived in.
A 3 am wakeup call will send you into the chaotic streets of Cemoro Lawang and into a rusty land rover to journey into the volcanic area of the region.
You'll watch the sunrise over Mount Bromo and the surrounding area before heading back down to the base of the volcano crater.
From here, you'll begin the long hike across the plateau before starting the steep climb to the top of the crater. When you reach the top, you'll peer inside smoking, an active volcano.
As I mentioned before, the area is remote but it is possible to reach by hiring private transport. It is hours from the closest tourist area and you'll find pretty slim pickings once in Cemoro Lawang.
However, the views and hike up the crater is well worth the journey. Read about our Mount Bromo Hiking Adventure
25. Sailing from Flores to Lombok (Indonesia)
Want to see Komodo Dragons in their natural habitat? You'll need to hop on a boat and sail through the Komodo Islands to do that. You can travel the route either way, but we started in Flores and worked our way West.
The trip took us 5 days and involved stopping at many unimaginable islands along the way but the highlight was stopping at the Komodo Islands, trekking inland and seeing the world's largest lizard with our own eyes.
At the time of our visit, the Bima volcano had just erupted so the islands were covered in ash, creating clouds of dust as we trekked inland. This didn't stop the Komodo Dragons from being active and we had several great sightings on our visit.
The weather is excruciating with the sun beating down so take plenty of water and good shoes, you're going to be climbing large hills and hiking all over the island in search of sightings.
There is very little shade, so a hat is also a good idea. When you're not chasing dragons, you're going to be traipsing around islands in a very remote corner of the globe.
Read about our sailing adventure from Flores to Lombok.
26. Swimming with Blacktip Sharks in the Perhentian Islands (Malaysia)
The Perhentian Islands are among the most beautiful tropical islands of Southeast Asia. They are located near the northeastern coast of Malaysia.
The two principal islands are Perhentian Kecil, which is the smaller island with a backpacker vibe and Perhentian Besar, which is more expensive and is popular amongst Malaysian families.
The best season to visit these islands is between April and October since during the rest of the year there's a quite intense monsoon season resulting in bad weather and very rough sea.
Most of the accommodations on the island stay closed off-season.
There are fantastic beaches on the island and a really cool vibe that made us stay for 2 whole weeks.
However, probably greatest experience on Perhentian is the half-day long snorkeling excursion you can take part in for around 25-30 RM (5-6 Euros).
The excursion consists of stops at several points around the island and includes swimming with marine turtles for instance.
Nevertheless, the best moment of the snorkeling trip is the stop at Shark Point, where we had to chance to swim near blacktip reef sharks.
These sharks are not considered dangerous, but they are still sharks, and it was impressive to see them swim so close to us. I don't have to say that our adrenaline level rose significantly.
They were not too big, but still, I would not have chosen to wrestle with one of them. We can recommend Perhentian to all fellow travelers. It's a real paradise with lots of fun stuff to do.
Contributed by Gabor, Surfing the Planet
27. Kinabatangan River Safari in Borneo (Malaysia)
Known as one of the best birding areas in the World, located smack dab in the Amazon of the east, literally one of the last patches of lush primary rainforest on the Earth, the Kinabatangan is an adventurer's paradise.
Not to mention you can also see Orangutans and Proboscis primates.
Base yourself at one of the rustic lodges in the small village of Sukau for at least 5 days and spend your time on the river seeking out wildlife, exploring tributaries and hiking into the leech-infested jungle.
When the sun goes down, head out to see what goes bump in the night, I think you'll be surprised at all that lurks in the darkness.
Read about our time spent in the Kinabatangan Rainforest.
28. Beach Camping on Palau Kapas (Malaysia)
When most travelers make there way over to Malaysia, they tend to visit islands like Penang, Langkawi, or Perhentian Kecil.
While I have been to all of these destinations, and really do love them — I'm always telling people that they are truly missing out if they do not visit this little paradise called Pulau Kapas.
This island is the ideal place for a relaxing escape, but also for the adventurous soul. The snorkeling just a few meters off the beach is absolutely mind-blowing!
You're guaranteed to swim with turtles, hundreds of different species of fish, and even spot a few sharks if you're lucky.
There are also two different jungle hikes through the island that is well worth your time, and you can even rent your own boat to cruise around and find your own private beach.
One of my favorite parts about visiting though is the beach camping on Pulau Kapas. You don't even have to bring your own tent, as you can rent one there. The camping vibe is awesome, and you'll definitely meet some awesome fellow travelers."
The island actually shuts down during the Monsoon season between November – February, so I always recommend visiting during June, July, and August for the best weather and snorkeling conditions.
If you've got some spare time in your Malaysia itinerary, definitely check out Pulau Kapas!"
Contributed by Dave, Jones Around the World
29. Climb Mt Kinabalu in Borneo (Malaysia)
I'd been dying to visit Malaysian Borneo for years, to explore the rain forests and hot springs, to sea turtles and orangutans. But when my husband and I booked our trip, there was one part that I wasn't looking forward to.
Enter Mt Kinabalu. Standing at 4095m, it is the tallest mountain in Malaysia and the 5th highest in SE Asia.
Most ascents take two days, beginning with a 6km uphill hike through the cloud forest to a rest house where, if you're lucky, a few hour's sleep can be snatched.
You then wake at an ungodly hour to scramble up bare rock for 2km to catch the sunrise at the summit, before walking the whole 8km back. I wasn't sure that I was cut out for it.
My first glimpse of the mountain didn't do much to allay my fears. Kinabalu looms imposingly above the lush park below, it is grey peak shrouded by clouds much of the time.
However, once the hike started, I was proved entirely wrong. The trails weren't difficult and the views of the surrounding area were phenomenal.
Luckily, I was unaffected by altitude sickness and pulling myself up the steep expanse of rock near the top was exhilarating.
Kinabalu is climbable all year round. We climbed in August and the weather was ideal.
The rainy season runs from November to March and climbing conditions can be made trickier by heavy rainfall. Just don't forget to bring hiking boots, warm clothing, and a head torch.
Contributed by Emily, Kids, and Compass
30. Caving in Gua Tempurung (Malaysia)
Malaysia has some sneaky good adventures across the country including caving at Gua Tempurung 90 minutes from Kuala Lumpur.
It's off the beaten track for travelers but for ~12 USD you'll get an epic three-hour cave adventure inside the beautifully jagged limestone hillside.
You have four tour options, but take tour number four as the dry cave tours sound boring! Tour #4 starts off sedate, walking along the man-made path for one kilometer.
As soon as you get off the track the real adventure starts as you move from dome to dome. The cave is best described as a series of honeycombs (domes) connected by the chambers you squeeze, crawl and walkthrough.
You won't really notice as you move through in real-time but the water level, marble content, and temperature difference between each dome, which is rather unique.
Eventually, you'll get to the halfway point for a break where you chat about the creepy crawlies the guide spotted and your close encounters with the bats.
The guides won't be able to tell you much about the cave, as they'll be speaking in Malay mostly, but embrace the adventure.
You're going to end up hot, wet and sweaty no matter what time of the year you visit but August was a good as time as any with not so many fellow people joining you on tour.
Contributed by Jub, Tiki Touring Kiwi
31. Hiking in Taman Negara National Park Penang (Malaysia)
Most people go to Penang to bum on the beach and relax. What they are missing is a chance to trek through one of the most prominent National Parks in Malaysia, the Taman Negara.
The most popular route is to start at the ranger station and hike all the way to the tip of the island and visit Monkey Beach. This route takes roughly 4 hours one way with options to add additional climbs and trails along the way.
Once at Monkey Beach, you can relax, swing over the ocean and if you're keen, set up a tent and stay a few days.
Monkey Beach is a great place to base yourself if you want to explore further into the park with additional trails that get into some pretty remote areas.
Always hike with enough water and provisions and let someone know your route before you set off beyond Monkey Beach. There are no facilities here so prepare to pack in what you need and pack out all your garbage.
Read about our hiking adventures in Taman Negara National Park.
32. Skydiving in the Philippines (Philippines)
There are few countries in the world that are famous for beautiful skydive drop zones, but only a handful know that you can also experience this in the Philippines. Skydive in this country is done in two sites – Cebu and Zambales, and the locations are on a beach.
This makes for a wonderful view while fearlessly falling from thousands of feet above the sky.
I chose to skydive in Zambales, which is conveniently just a few hours away from Manila. We were given two choices: solo or tandem jump. I chose solo skydive even though I had no prior experience in skydiving.
There was an orientation in the morning where a skydiving master taught us the proper way to jump from the small plane and how to use the radio, which would be used by the skydive master to give instructions to the skydiver.
After the orientation, we rode the plane and instructed to jump one by one. If you think the idea of skydiving is scary, wait until you're holding onto a part of the aircraft, split seconds before letting yourself go.
It's indescribable. So is the fall itself, the rush and at the same time the calm upon seeing a bird's eye view of the beach and the surrounding land areas. A solo skydive costs about P13500 and above. It can be done as long as the weather is good.
Contributed by Hali, Tara Lets Anywhere
33. Stand Up Paddle Boarding in Bohol (Philippines)
We spent a month in the Philippines, and our favorite destination was Bohol. That's because the island offers everything the Philippines are famous for – stunning beaches, great diving, and wonderful nature.
There are plenty of things to do in Bohol, but if we had to recommend one it would be stand-up paddleboarding.
To do that, we left Panglao Island, where we were staying, and headed to the Loboc River in the center of Loboc. The jeepney journey was a fun way to start an adventurous afternoon. The Loboc River is a famous tourist destination in Bohol, with restaurant boats offering lunch cruises with live music.
Our paddle boarding tour took place in the afternoon when the lunch boats had finished for the day, and we had the chance to enjoy the river in total peace and quiet, with nothing but nature and birds to keep us company.
We paddled 5 km to a waterfall where we had a swim and paddled back during sunset. When we arrived it was already dark and the fireflies were out – a magical ending to a magical experience.
Contributed by Margherita, The Crowded Planet
34. Diving in Coron (Philippines)
Coron is said to have the best scuba diving in the Philippines, and it definitely didn't disappoint. Secluded lagoons and bays are home to spectacular coral reefs full of a variety of fish and turtles.
There are also 14 diveable Japanese shipwrecks in the waters surrounding the 80 islands that makeup Coron, lying at depths from 5 – 40 meters.
Among our Asia adventures, Coron is also home to the cleanest lakes in Asia and Barracuda Lake makes for an interesting freshwater dive to cap off your diving experiences in Coron with.
The lake is a thermocline with layers of fresh and saltwater and varying temperatures from an underground hot spring reaching up to 38°C (100°F).
There aren't corals or many fish to see in this bizarre environment, but it's like the mountains from the movie Avatar in an underwater world.
Contributed by Jen, Luxe Adventure Traveler
35. Kayaking Expedition in Palawan (Philippines)
While just the prospect of setting foot on lesser-visited islands is an inspiration for some people, the true adventure comes in paddling between uninhabited islands, camping on beaches and living off only what you can obtain from the small villages you visit along the way.
In the Philippines, the ultimate adventure is to take a kayaking expedition between Coron and El Nido.
Averaging 9 days, you'll spend your days paddling, snorkeling, hiking, interacting with locals, cooking and setting up your camp each night. Showers? Who needs em.
You won't encounter another foreigner for the duration of the trip unless you want to, it is that remote and that incredibly secluded.
Prices vary depending on how much support you want, but we definitely recommend booking with a reputable operator that knows the waters and studies the weather patterns for this region.
A kayaking expedition in the Philippines is one of our Top 100 Travel Adventures in the world.
---
Hopefully, this article will not only inspire you to add some adventures into your travels but also tease you off the beach, away from the beer can and out into nature to explore.
Southeast Asia is a beautiful part of the world with a lot of secrets to discover, so don't be shy, grab some water and head out on the trail.
---
Travel Photography Tips:
Did you like this story? Share it!