Located in northern Thailand, Chiang Mai has been a firm fixture on the so-called Banana Pancake Trail for decades – but for good reason. Steeped in history and bursting with culture and great food, there's a lot to keep you busy here.
It's easily accessible from Bangkok and other destinations, making it a great place to add to any Thailand itinerary.
Our first visit to the city was on our honeymoon in 2010 (I know, ages ago!) but wanted to dig in a little deeper to provide you with the best knowledge of Chiang Mai that we could provide. Below you'll find a collective of the best things to do in Chiang Mai from multiple travelers that share our love for this Thai city.
---
Best Things to do in Chiang Mai, Thailand
---
For culture lovers
---
1. Visit the Old Chiang Mai Cultural Centre
There is much more to see in Chiang Mai than just the Old Town and Doi Suthep temple. Once part of the Lanna Kingdom, one of the three ancient kingdoms of Thailand, Chiang Mai is the best place to experience culture and history.
At the Old Chiang Mai Cultural Centre, you will be treated to musical and cultural dance performances from the Lanna Period accompanied by Northern Thai cuisine.
Apart from the demonstrations of traditional Lanna Thai dancing, Hill Tribe shows, and Muay
Boran boxing exhibitions, you can also attend the nightly Khantoke dinner show.
Started by the Nimenheiman family in 1970, the Khantoke dinner show has elements reminiscent of a luau with its buffet and choice of seating: on chairs at the back or on cushions on the ground closer to the performers.
Located on Tipanet Road, just 500 meters north of the Central Airport Plaza and 1.5 kilometers
from the south gate of the Old City, you can take a songthaew (a red pick up that is used for
public transport) for THB20 per person.
To book a ticket, call +66 532 029 935 or e-mail info(at)oldchiangmai(dot)com. Tickets cost
THB570 for adults. Although the show begins at 8 p.m, you need to arrive at 6:45 p.m. in order
to be seated.
Recommended by Karolina of Karolina Patryk
2. Wander the night markets
One of the best things to do in Chiang Mai is to visit the night markets. Chiang Mai is known for its various colorful and exciting night markets. If you're looking to buy some souvenirs or searching for delicious street food, you'll most likely find what you need in the night markets of Chiang Mai.
The most popular night markets for tourists are a short walk from the east gate, in between the Old Town and the river. Here you'll find the best souvenirs, clothes, paintings and much more. Remember to compare prices and to bargain to get the best deals.
If you're looking for a food night market experience, head to the north gate. At this night market,
you'll find delicious meals for less than $1. This market was my go-to place in the evenings when I was craving a fresh fruit smoothie or some mango sticky rice.
If you're in Chiang Mai on a Sunday, head to the main road in the Old Town after dark when it turns into a huge night market. The market can be very busy and crowded though, which can get a bit exhausting.
As you see, Chiang Mai is full of night markets and I'm sure you'll have a great time exploring them!
Recommended by Patrick of German Backpacker Travel Blog
3. Watch the sunrise at Wat Doi Suthep
There are so many fantastic things to do in Chiang Mai it can be hard to squeeze them all in during your trip! However, one thing you absolutely must take time to do is to see the sunrise at Wat Doi Suthep in Chiang Mai.
Doi Suthep is the name of the mountain which lies to the west of Chiang Mai Old Town. The famous temple on the mountain is called Wat Phra That Doi Suthep but is commonly shortened to Wat Doi Suthep.
The best time to visit the temple is very early morning. Ideally, you want to arrive before the sun has risen in order to watch the sunrise from Mount Suthep.
Set your alarm for 5:30 a.m. and rent a scooter the day before. Race up the mountainside to reach Wat Doi Suthep. Climb the 300 steps until you reach the temple complex. Head towards the balcony and prepare to watch one of the most spiritual sunrises of your life.
Slowly the bright sun sleepily rises upwards. The shining ball peeps above a bed of clouds. As the warm glow begins to illuminate the earth, Chiang Mai will still be concealed under a blanket of darkness.
Yet on the terrace of Wat Phra That Doi Suthep, you will be treated to a spectacular sunrise. The dull sound of Buddhist chants can be heard from the temple buildings, which adds to this ethereal experience.
The sunrise on Doi Suthep was one of the most magical moments during our stay in Chiang Mai and must be on your list of the best things to do in Chiang Mai!
Recommended by Anna of My Travel Scrapbook
4. Explore Wat Suan Dok
There are so many beautiful temples in Thailand, but the one that sticks out to me is Wat Suan Dok in Chiang Mai.
Located near Chiang Mai University just west of the walled Old City, this stunning temple complex is not nearly as crowded as some of the other temples in the city. I love this temple for all the white chedis next to the large, golden Sri Lankan-style giant chedi.
The smaller chedis contain the ashes of the Chiang Mai royal family, while the large golden chedi contains a relic of Buddha.
About that relic: it was originally believed to be a shoulder bone of the Buddha. The monk from Sukhothai who discovered the relic was invited to Chiang Mai so they could enshrine the relic
inside the temple in the 14th century.
When the monk arrived, the relic broke in two. One was enshrined in Wat Suan Dok and the other at the mountain temple of Doi Suthep.
The best time to visit to get the best angles for photography is sunrise and sunset. Otherwise, it's not ever that crowded, so you can go anytime really! The official closing time is around 5 p.m., but since it's Thailand, that time can be somewhat variable.
Recommended by Henry and Zory of This Life Of Travel
5. Get a Sak Yant Tattoo
If you're looking for the ultimate magical, spiritual and traditional experience while in Chiang Mai it has to be this: getting a Sak Yant tattoo in Chiang Mai! Sak Yant tattoos are a very powerful gift to give yourself, for they are believed to give you protection from the difficulties in your life and enhance the gifts within you that you want to share.
I visited a monk on the outskirts of Chiang Mai in the lush green jungle with Where Sidewalks End. It's a fantastic company that researches extensively what and where the most authentic experiences in Thailand are.
As the tattoo is done with a sharpened bamboo stick and ink, health and hygiene are of utmost importance. Where Sidewalks End also has fantastic translators. It would have been impossible for me to have found this place and to express my wishes and needs with the monk if I had not been with them.
After the monk listened to what I was looking for in life, he opened his book of designs and pointed to what he thought would be the perfect protection for me.
I instantly felt connected to it and it still remains with me today on my left shoulder. Its purpose is to radiate love and bring kindness and love right back to me. I feel it!
Recommended by Alice of Teacake Travels
6. Visit the Baan Tong Luang Hill Tribe village
There are mixed views on visiting the Baan Tong Luang Village, 30 minutes outside Chiang Mai. This village was set up in 2003 to help hill tribes displaced from neighboring Laos and Myanmar to preserve their traditions and culture and earn an income through agriculture and handicrafts.
It's a tourist 'exhibition' village that doesn't pretend otherwise. It has a community of five hill and mountain tribes, the most 'famous' being the Karen Long Neck whose women wear multiple brass rings around their necks, a practice that is part of their cultural identity and seen as a sign of beauty.
Critics argue the village is exploitative and unethical, while others recognize the financial benefits and precious source of income it provides. A percentage of the THB500 entrance fee pays for the children's schooling.
The best way to decide is to see for yourself, especially if you're interested in meeting different cultures can appreciate both sides of the story, and can't do the mountain trek required for a truly authentic experience.
Once there, it looks like a feature from the pages of a travel magazine: bamboo huts on stilts, thatched roofs, green rice fields, kids playing, and women wearing colorful traditional costumes. We were met with welcoming, smiling faces and invited to sit and take photos, even to try on a ringed brass necklace.
The village is laid out like a craft market with an array of wares and trinkets displayed on raised platforms. Much of it is locally made; we watched the weaving, embroidery, and batik drawing in
action.
The villagers are not pushy and this approach turns out to be a good sales technique. I still treasure the scarf and jewelry I bought.
It was a privilege to meet these tribes and we think the Baan Tong Luang Village is worth inclusion in any Chiang Mai itinerary.
Recommended by Sharon of What The Saints Did Next
7. Explore Wat Chedi Luang
Wat Chedi Luang, or the Temple of the Great Stupa, was built around the turn of the 15th century and was quite possibly the tallest building in ancient Chiang Mai. No one knows for sure exactly how tall it was before it was damaged, or even how that damage occurred.
Some experts say the top of the stupa was destroyed in an earthquake, while others believe it was toppled by cannonballs during the recapture of Chiang Mai from the Burmese in 1775.
What we do know is that it once held the Emerald Buddha (Phra Kaew), the most sacred religious relic in Thailand, which now sits in the Wat Phra Kaew in Bangkok. Today, there is a jade replica to take its place.
Worshippers gather here for candlelit processions on major Buddhist holidays. There's even a pulley system that makes it possible for devotees to leave offerings on the top of the stupa during the day.
The wat is open from 6 a.m. to 5 p.m. and is located right in the heart of the Old City, on Phra Pokklao Road. Even at its reduced size, the stupa is still one of the tallest structures in the old town of Chiang Mai and is a distinctive feature of the city's skyline.
A restoration project in the 1990s restored the elephant statues around the base and the nagas (water serpents) on the staircase. The spire was not restored, though, since no one could agree on what the original had looked like.
Monk chats take place every day at the outdoor tables on the north side of the temple complex. These chats are an opportunity for young monks to practice their English with foreigners who want to learn more about their way of life.
A giant gum tree stands guard at the entrance to the temple. This is one of three gum trees that is believed to protect the city from disaster. According to legend, if the tree falls, a great catastrophe will follow.
Recommended by Wendy of The Nomadic Vegan
8. Visit the royal palace and gardens
Located in the hills of Chiang Mai is the summer residence of the royal palace, a must-visit in Chiang Mai. The palace gardens are open for the public to enjoy if the royal family is not visiting.
This is a perfect stop to enjoy cooler weather and also get a glimpse of the beautiful homes and gorgeous gardens in the expansive compound. Although you cannot go inside any of the homes, you can view them through the gardens which really are the pride of the royal family.
You can take your time on a self-guided tour or join a guided tour. Local vendors even prepare
and serve food within the complex.
Getting to the gardens is easy. Take any of the red shared songthaews that go up to the golden
temple and further up to the royal palace gardens.
Recommended by Noel of Travel Photo Discovery
9. Take a Day Trip to Chiang Rai
If you have time for only one day trip outside of Chiang Mai, let it be to visit the impressive white temple of Wat Rong Khun in Chiang Rai.
Not only does it sit on a beautiful grounds but the temple itself is a masterpiece of ornate Thai architecture. Unlike other temples you'll visit in Thailand that serve Buddhist religion purposes, this temple is solely an art exhibit.
This means you'll find interesting art throughout the design and it's highly recommended that you hire a guide to tell you the stories and interpretations behind each display.
Recommended by Lina & David
---
For foodies: The best things to do in Chiang Mai
---
10. Eat khao soi
Thai food is delicious. Every traveler to Thailand knows this. The northern part of Thailand – where Chiang Mai is located – has very different dishes compared to the south. One of the must-try dishes, while you're in Chiang Mai, is the noodle soup called khao soi.
Khao soi is egg noodles in a curry-like soup made with coconut milk. Topped with chicken, fried noodles, lime, shallots and some greens, it has a rich, green curry-like flavor. Depending on where you eat it can be quite spicy.
There are three restaurants I recommend:
Khao Soi 100 Cups is conveniently located in the old city of Chiang Mai. The restaurant is quite modern and is designed with wood and beautifully taken pictures of the food. They offer different variations of khao soi, including the original chicken but also beef, tofu, mushroom, and other toppings. Khao Soi 100 Cups is the most expensive of the three restaurants I recommend, and it is definitely geared toward foreign guests.
Khao Soi Samer Jai is where the locals eat their khao soi. The khao soi here is topped with a delicious chicken leg and is seasoned in a way that makes the dish quite spicy. There are not too many noodles in the soup, and I basically wanted to eat a second portion after the first one.
Khao Soi Mae Sai is so popular they will run out of khao soi if you arrive too late. It sells not only khao soi but also a couple of other noodle soup dishes. The khao soi at Mae Sai is considered the best in Chiang Mai, so if you have the chance to check it out, do it.
Recommended by Lena of The Social Travel Experiment
11. Eat along Nimman's Café Street
Chiang Mai is well-known for its cafés and coffee shops, but the area of Nimman (short for Nimmanhaemin Road) takes the local café culture to a whole new level.
Tucked beneath the backdrop of Doi Suthep, the laidback sois of Nimmanhaemin Road have become a popular choice for ex-pats and tourists, as well as a hot spot for Thailand's local 'Fung- Fing' culture (the Thai equivalent of Japan's 'Kawaii') who share an obsession for selfie-centric cafes and coffee shops.
And there is a maze of them, dotted through a number of leafy backstreets, where they are found alongside independent Pan-Asian eateries and everything you need to enjoy a relaxed stay in an otherwise bustling and lively city.
The area could be described as "ta ton yon", meaning "chilled" and "laid back", yet is still just a short taxi to reach the often chaotic streets within the main city walls of central Chiang Mai.
One of the more popular cafes is the whimsical iBerry Garden (Nimmanhaemin Road Soi 17), which is hard to miss with the massive pink "man-dog" on the front lawn.
A popular dessert is Korean bingsu which is found at many of the dessert cafes in the area. If you're in Chiang Mai during the durian season, I highly recommend the durian bingsu at Cheevit Cheeva. Otherwise, it's just the perfect area to explore and to get lost in some of the best cafes in Chiang Mai.
Recommended by Allan and Fanfan of Live Less Ordinary
12. Take a cooking class
Thai food is often a big draw for visitors to the country, but what happens when you go home and can't find any good Thai food? Well, you learn to make it yourself by taking a cooking class in Chiang Mai.
Chiang Mai has a number of cooking schools dotted around the city and all are a great way to learn how to make classic Thai dishes such as curries, pad Thai and pad see ew. My research led me to Asia Scenic Thai Cooking School.
We started the day at the market, where we picked up fresh food for the meals we'd later be making. Along the way, we learned about the differences between ginger and galangal and sniffed and nibbled other herbs and spices that are essential to Thai cooking.
Back at the school, we lined up in front of woks and chose the dishes we'd be cooking – four dishes each in total. The next few hours were spent whipping, grinding, chopping, and stirring our creations, all the wonderful aromas surrounding us.
When everything was ready, we sat down as a group and dug into our meals, amazed at what we'd been able to make.
We were given cookbooks so that we could take the recipes home with us to practice some more. There are plenty of cooking classes in Chiang Mai, but take a look at Asia Scenic Thai Cooking School or the cooking classes offered by Backstreet Academy, an organization that connects travelers with unique local cultural experiences.
Recommended by Rebecca of Rebecca and the World
---
For festival-goers: What to do in Chiang Mai
---
13. Celebrate Yi Peng Festival
If you find yourself in Chiang Mai in November and have a flexible schedule, I highly recommend attending the Yi Peng Festival.
The annual festival coincides with Loi Krathong, which involves making decorations out of flowers and banana leaves and floating them down the river in Chiang Mai, which symbolizes letting go of things that need to be released, while the lantern release is accompanied by a well-wish for the future.
Lanterns are released all over Thailand as well as other parts of Asia, but the real epicentre, the real place where the magical release of thousands in unison takes place, is unequivocally Chiang Mai.
The big release takes place at a university about 20 kilometers outside of town. It begins with Buddhist chants and silence for about an hour prior to the lighting and letting go of the lanterns into the night sky.
Then, an announcement in Thai, followed by English then Mandarin, is made to instruct everyone to light the torches in preparation for lighting the lanterns. You will see families and friends help each other to light their lanterns, which are made of rice paper and bamboo, and hold them in place until they build enough heat to rise up towards the sky.
There's something truly beautiful about the unity required to light and release a lantern, and it definitely makes a memorable experience in Chiang Mai.
The trouble is, to reduce the number of tourists at the local event, they try not to release the exact
dates until only a month or so before the Yi Peng festival, though it has always been held in mid-
to-late November.
Even then, there were rumors floated that it had been canceled or moved. This is why flexible travel plans are essential. If you are determined to go, talk to the locals who are attending and see if you could tag along.
Some guesthouses can help organize transport to the university and back. As with any other sacred events in Thailand, you are required to cover up, ideally in white. There's also a special "tourist" Yi Peng Festival several days after the actual event if you are interested. Just check with your hostel!
Recommended by Kristin of Be My Travel Muse
14. Celebrate Songkran Festival in Chiang Mai
Many vacationers travel to Thailand for its paradisiacal beaches. Although Chiang Mai doesn't have the oh-so-gorgeous-emerald-green water, this northern mountainous city hosts the most anticipated water festival in the country!
Songkran Festival is Thailand's New Year celebration that takes place each year on April 13-15. Traditionally, the Thai people blessed each other by sprinkling water. This tradition has evolved
into a giant water fight nowadays, happening in every corner of the country for three consecutive
days.
As the birthplace of Songkran, Chiang Mai is THE place to ring in the Thai New Year. On April 13, head over to Tha Phae Gate. The Buddha statues from all local temples are carried out on a decorated float for the annual cleaning, guarded by monks and volunteers in traditional Thai costumes.
Music and performances accompany this spectacular parade. Not only you can soak in the festivity but also get soaked in water (i.e., lots of blessings) by monks and others. The water fight continues during the day until April 15.
So arm yourself with water guns and baskets, join in on the fun with thousands of others from all around the world to celebrate this Thai holiday.
Detailed planning is a must before you go, so read everything you need to know to have the best
time of your life at Songkran Festival right here.
Recommended by Chloe of Chloe's Travelogue
---
Chiang Mai For nature and outdoor lovers
---
15. Walk with elephants (ethically)
You've probably seen pictures of tourists atop elephants and been aghast. I was once one of those tourists – until I learned about how elephants are tortured into becoming submissive creatures for tourism and logging.
So, if you're planning to visit Thailand and want to see these magical animals up close, don't ride them. Instead, visit a sanctuary that rescues and rehabilitates elephants that have been abused or abandoned.
A short drive outside Chiang Mai, Elephant Nature Park is one such place. Run by a Thai lady called Lek, there are more than 30 elephants that now live a life of love and kindness, roaming across the huge, grassy grounds.
At Elephant Nature Park, visitors learn about the cruel tactics used to domesticate elephants. After this education, visitors help to feed and bathe the elephants. They're then sent away armed with information to help educate other people about the damage that riding elephants causes.
Recommended by Rebecca of Rebecca and the World
16. Get up close with creepy-crawlies
The Nimmanhaemin area of Chiang Mai is ground zero for many things: coffee shops, digital nomads, and trendy restaurants (I personally love Salad Concept). But get off the main strip and discover a destination that doesn't get the attention it deserves: the Museum of World Insects and Natural Wonders.
This little oddball museum offers a diverse variety of insects — over 10,000 species goes the claim, though of course, I didn't take the time to count.
The two stories here offer just enough space for them, though it's also not clear how much more the space can hold! Be aware the gate may be closed – ring the bell to enter.
The owners are a couple of older locals, including a quirky and extremely well-educated lady who has cataloged hundreds of new mosquito species. Look for a little religion in the mix as
well.
The opening jungle/garden scene sets the stage and merits careful examination. As often happens in small, private museums, not everything's in a logical placement, and sometimes the good stuff is hidden behind other stuff.
Look for the 'wishing bell' stone, which symbolizes good luck. Knock the bell to make a wish. Also around are signs encouraging you not to squish God's creations. Bring your macro lens!
Address: 72 Soi Nimmanhemin 13, Sirimangkhalachan Rd., Chiang Mai, 50200. Open 10 a.m. to 4 p.m. every day (until 3 p.m. on Sunday). Admission: THB200 (an additional THB100 donation is suggested to take photographs).
Recommended by Chris of Becoming a Digital Nomad
17. Go zip-lining with Flight of the Gibbon
Flight of the Gibbon is located in the lush rainforest about an hour's drive from Chiang Mai. The zip-line experience is designed to make the most of the stunning rainforest scenery.
With 34 zip-lines, a couple of wobbly bridges, and an abseil or two, this zip-line experience delivers on fun and adventure. Flight of the Gibbon Chiang Mai features one of the longest single zip-lines in Asia, at 800 meters in length! Two sky rangers accompany each group
throughout the adventure through the trees with safety as the highest priority. They also tell you about many of the rainforest plants and animals. Flight of the Gibbon is so named as there is a
the chance that you will see or hear wild gibbons swinging through the rainforest canopy.
Zip-lining at Flight of the Gibbon, Chiang Mai, is suitable for anyone weighing under 125 kilograms and taller than one meter. Pick-ups and drop-offs to and from Chiang Mai and lunch are included.
The tree-top adventure through this ancient rainforest takes approximately three hours, although 6-7 hours are needed for the entire experience. Booking can be made easily online.
Recommended by Nicky of Go Live Young
18. Get outdoors at the… Grand Canyon?
When visiting Chiang Mai, by far the best thing we discovered was the Grand Canyon. Yep, you read that right!
Though it's not quite as impressive as the USA's Grand Canyon, it is nonetheless a great place to visit. It's essentially a large, old quarry that over the years has filled with water and has now been turned into an amusement park where people can do all sorts of water sports.
This includes diving from a 10-meter-high platform, going tubing, kayaking, and just plain ol' swimming. Which makes it a great place to go if you're looking to cool off from the hot weather
of northern Thailand.
Getting there is pretty straightforward, and it's about a half-hour drive outside of town. As always in Southeast Asia, I recommend you take a moped as this is in itself so much fun and gives you complete freedom over where in Chiang Mai you visit afterward.
Recommended by Bradley of Dream Big, Travel Far
---
Important Chiang Mai Travel Tips
---
Now that you've figured out what to do in Chiang Mai, here are a few tips to help you plan your trip.
Best time to visit Chiang Mai
November to February are the best months to visit Chiang Mai when the weather is cooler (although when I say "cooler", you can still expect an average temperature of between 22 and 25 degrees Celsius / 72 to 77 degrees Fahrenheit).
These are also the busiest months when tourists descend on Chiang Mai. Consider planning your trip to Chiang Mai around early March or late October to avoid the crowds and hopefully the high temperatures.
Late April until late October is the rainy season, where you can expect bucketloads of rain every day – but the rain usually arrives in short, heavy bursts that shouldn't impact your trip too much.
April is when the Songkran festival is held, and in November the photogenic Yi Peng festival sees
lanterns lighting up the skies.
How to get to Chiang Mai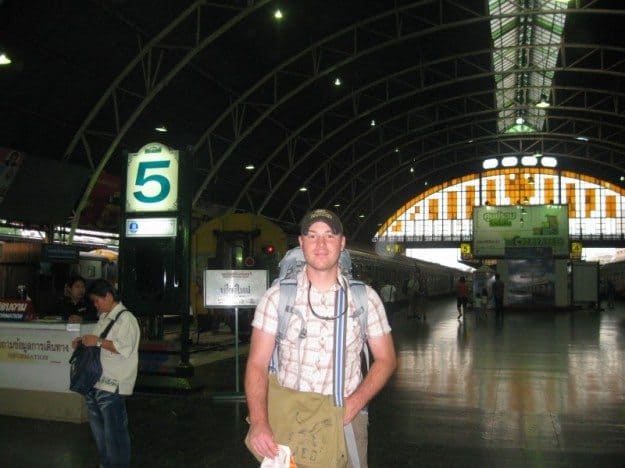 There are a couple of different ways to get to Chiang Mai from Bangkok (if you're in Bangkok, check out this 3-day Bangkok itinerary). The quickest way is by plane. The flight time is just over 3 hours. Flights can often be as cheap as $35.
You can also take a bus from Bangkok to Chiang Mai, which takes 9.5 hours and costs around $24. Buses usually depart in the evening and you'll arrive in Chiang Mai early morning the next day.
If you're willing to spend time traveling, then I'd choose the train over the bus. Choose one of the services with first-class cabins and bunk beds (you'll spend about $30). The train trip takes around 11 hours and it's an adventure in itself.
While I haven't taken the bus from Bangkok to Chiang Mai, I have done the trip from Bangkok to Surat Thani. Taking a train in Thailand is a must-do.
More on Thailand:
Did you like this story? Share it!