Eight hours away by bus and an hour away by plane from Manila, Ilocos Norte is a refreshing break from the hustle and bustle of the Philippine capital city. Bringing only my instant camera and a backpack filled with clothes, I made my way to this province that's home to one of the best beaches in Asia and destinations that offer loads of adventure.
If you're looking for one-of-a-kind experiences as an adventure traveler, Ilocos Norte will not disappoint. I'm sharing here the three activities I did during my visit and why I had a great time there.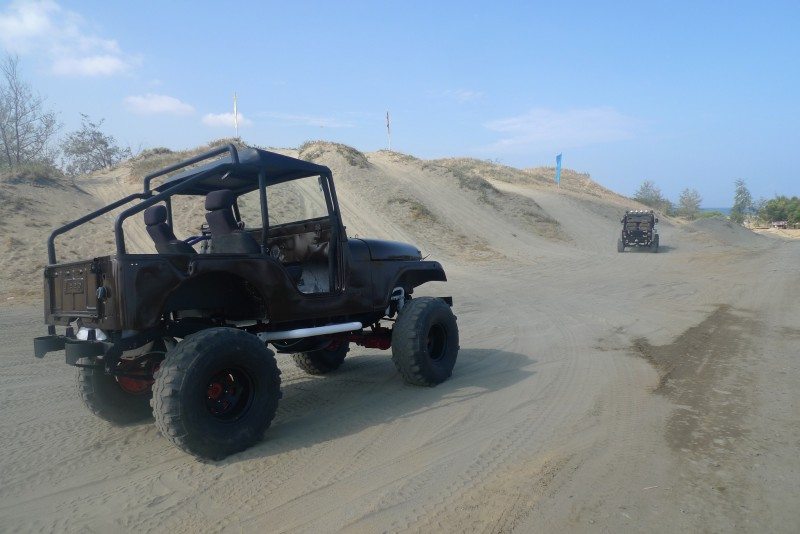 Photo by Yvette Tan/ CC BY 2.0
Sandboarding at Paoay Sand Dunes
Ilocos Norte is considerably hotter than Manila, but the air is fresher and the food is better, too. After visiting Paoay Church—a UNESCO heritage site for being one of the few remaining authentic Baroque churches in the world—and eating a yummy local fusion cuisine called pinakbet pizza (basically a pizza topped with vegetable toppings), I rode a tricycle to the sand dunes and prepared for my first adventure.
When I got there, a lot of people were already roaming around and taking pictures as they waited for their turn to sandboard. Because I was traveling solo then, I was grouped with four other people so that it will be easier for our guide to instruct us on using our sandboard. I knew that it's like surfing and skateboarding, except that it's done on sand. But at that time, I still had no experience in surfing and skateboarding, so I just winged it, stepped on the board, and made my way down the sandy slope.
It felt awesome sliding down the sandy slope. But as I was about to reach the bottom, I got off balance and fell. Good thing the sand was fine, so I wasn't wounded or scratched. Not one to easily give up, I tried again and again until I finally made it. It took me three tries before I was able to do it successfully. Then we were asked to go to the other side of the dunes and board a 4×4 vehicle. This ride was meant to be enjoyed standing up, so we were asked to fasten the improvised straps they installed around our waist to ensure our safety as the vehicle went up and down each dune.
It felt like an ordinary ride at first, but the driver's sudden acceleration every time we went downhill made me feel like I'm riding a roller coaster. I had to latch on a part of my tummy onto the handlebars to assure myself that I won't fall. I screamed my lungs out at every descend. I never thought that riding the 4×4 this way can give those exhilarating amusement park rides a run for their money.
I really had fun in Paoay that day. Despite the scorching heat, I'll gladly go back and do those activities again. These experiences definitely gave my trip to Ilocos Norte a great start.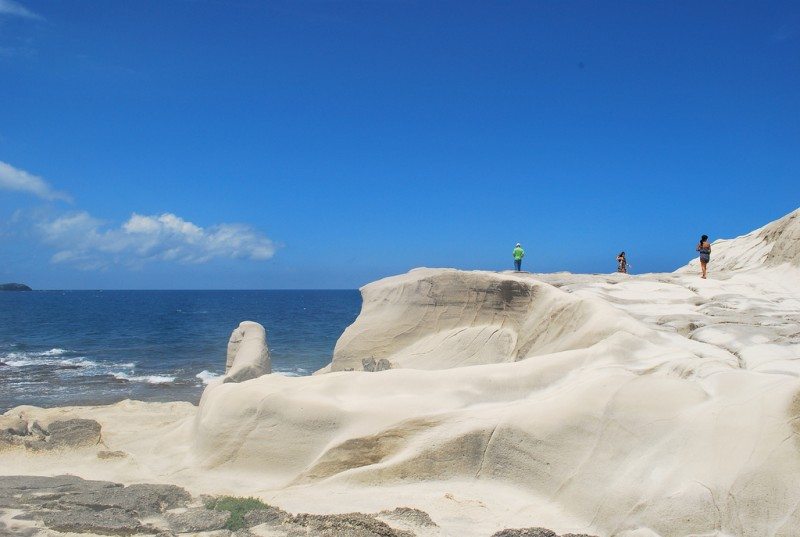 Photo by Ernette Jaganas / CC BY 2.0
Trekking at Kapurpurawan Rock Formation
Another must-visit spot in Ilocos Norte is the Kapurpurawan Rock Formation. Located in the town of Burgos, this natural wonder was formed by the accumulation of minerals from the sea waves crashing over the shore. The rock formation was just a tricycle away from Bangui windmills, another famous attraction in Ilocos Norte.
So after snapping a few photos of the windmills, I took a tricycle that led me to the rough road that served as the entry point to Kapurpurawan Rock Formation. From there, I had to take a 10-minute trek to reach the main site. The rocks were a bit slippery and around some of them were puddles, so I had to be extra careful with every move.
When I saw the Kapurpurawan Rock Formation, I was in awe at how white and luminous it appeared as the sun hit its surface. It was as if a chopper flew right over it and bathed the formation with white sand all over. From afar, the rock formation looked so intricately done, you'd think an artist sculpted it by hand.
Certain parts of the formation were off limits, but you can still climb on top of some parts at the back and take a cool photo with your group. Or if you're a solo traveler like me, have your guide take a photo of you looking out into the distance. Having the majestic Kapurpurawan rock formation in the background will make your picture look extra awesome.

Photo by Bryan nys / CC BY 2.0
Surfing at Pagudpud, Philippines
Known for being one of the best beaches in Asia, Pagudpud is a must-visit destination in Ilocos Norte. At one end of the beach, you'll enjoy bathing in calm blue waters that will make you want to soak in there for hours. At the opposite end, you'll get to explore your more adventurous side with the huge and strong waves that are perfect for surfing and for taking great surf photos.
Since I haven't tried surfing yet prior to this trip, I booked my first surfing lesson at Kapuluan Vista resort in Pagudpud. My instructor taught me how to get on the board and how to keep my balance. When he felt that I was ready, he instructed me to paddle and ride the first wave I saw, keeping perfect timing in mind. I was able to ride the wave for a few minutes, but I got wiped out when I lost focus as I tried to tell my instructor, "Hey, I can do it!" My instructor laughed when I came back to the shore. He told me that the key to holding what they call "the sweet spot" when surfing is to always keep my eyes on the peaks of the wave and ride it. I shouldn't lose focus even for a minute.
So I went up my board, tried again and was able to ride the waves a couple of times during my 1-hour session. It felt great to learn something I've always wanted to do. And learning it in a foreign country makes the experience even more special.
Ilocos Norte for Something Different
If you want to experience something different from the more popular adventure spots in Southeast Asia, give Ilocos Norte a try. With the many sights and adventures in store for you in this place, you'll never run out of things to do.
More on the Philippines:
Did you like this story? Share it!