Boracay has long been the most popular place to visit in the Philippines, but in recent years its popularity got the better of it and the entire island was closed by government decree.
A huge cleanup operation followed, and the island went through a total revamp and restyling to protect the environment and the beautiful beaches that Boracay is famous for
Things have changed, and Boracay is once again open for business, but this no longer a party, backpacker island.
It's more of a family affair, but it's perfect if you're looking for a relaxed beachside getaway in spectacular surroundings.
Yes, it's still busy, but it's also chilled out and easy to travel around.
To inspire your trip to the Philippines, here are the best things to do in Boracay.
Don't leave home without: Lonely Planet Philippines (Country Guide)
---
15 Things to Do in Boracay, Philippines
---
1. Relax on White Beach
White Beach is the most famous beach on the island, and perhaps the most famous beach in the entirety of the Philippines.
This long stretch of beach is wonderfully soft to walk upon because the pure white sand here is glorious.
The sand, in fact, is the beach's defining feature, so much so that it's protected by law, which means you can't even build sandcastles here anymore after the Boracay shakeup.
You can walk from Station 1 to Station 3, the beach is divided into 3 distinct areas, it's that big.
Along the way you can swim out into the shallow water, sunbathe, sit under swaying palm trees and enjoy watching the world go by.
2. Swim Out to Willy's Rock
Halfway along the length of White Beach, you'll come across Willy's Rock, one of the most unique natural attractions on the island.
This is one of the best things to do in Boracay because it's possibly the most photogenic spot you can find here.
This small rock formation is a few meters away from the beach, and depending on the tide you can either wade out to it or simply cross the exposed sand.
Willy's Rock is found at Station 1, and you won't miss this famous landmark or the crowds of selfie hungry tourists snapping photographs
3. Escape the Crowds at Diniwad Beach
White Beach is undeniably beautiful, but it can get crowded, especially in peak season. To escape the crowds though, head along the beach to the far end, past Station 1 and keep going until you reach the cliffs.
A dramatic pathway leads you around the rocky cliffs, as the surf crashes into them, but brave the walk and you'll emerge at Diniwad Beach.
It's a smaller stretch of sand, and it's not quite as iconic as White Beach, but it is a much more relaxing place to hang out.
4. Hike Up Mount Luho
You'll notice that Boracay is in most parts, almost entirely flat. There's one small exception, however, and that's Mount Luho.
It's hardly a mountain, not by most standards, but it is certainly much more elevated than the surrounding beaches.
Walking or taking a tricycle to the top of Mount Luho, is one of the best things to do in Boracay because you'll have great views over the whole island.
There's a 360-degree viewing platform at the top of Mount Luho, and you'll be able to see for miles out across not just Boracay but the surrounding ocean and islands too.
5. Enjoy a Helicopter Flight
If Mount Luho isn't quite high up enough for you, then don't worry, because one of the best things to do in Boracay is to take a helicopter flight.
It's surprisingly good value on Boracay, and you can book scenic flights that will take you high up above the island, for a bird's eye view of the beaches far below.
Whizz along White Beach as you rise high into the blue skies of Boracay, and enjoy the best view possible of the island.
6. Do Some Island Hopping
One of the best things to do in Boracay is always going to be Island Hopping. This is the best way to explore Boracay's best beaches and the smaller islands that are found off the coast.
Boats leave every morning from White Beach, taking tourists around Boracay, stopping off at the more secluded beaches found on the other side of the island.
You'll be able to jump into crystal clear, cold water to go snorkeling with fish and turtles, and you'll be able to drink beers under palm trees while the sun is shining above.
7. Visit Crocodile Island
One of the best islands to explore is known simply as Crocodile Island. Don't worry though, it's not because the island is home to many crocodiles.
Rather it gets the name because the shape of it is supposed to resemble the outline of a crocodile. You might beg to differ, however.
What is certain though, is that this small island is beautiful. It's usually a stop on island-hopping itineraries because the waters around Crocodile Island are protected and are perfect for snorkeling.
8. Go Scuba Diving
If you want to spend more time exploring the underwater world, then one of the best things to do in Boracay is to go Scuba Diving.
As with anywhere in the Philippines, the waters around Boracay are teeming with marine life, and are incredibly biodiverse.
There are lots of local diving shops that run diving tours out to the best dive sites, usually, just a short boat ride away from the island.
You'll escape the island hopping crowds that you find at most of the snorkeling spots, as you'll be able to head out further and stay down longer.
Not scuba certified? Quickly and easily learn the basics of scuba diving in Boracay at one of the world's most beautiful beaches.
This scuba diving lesson will drill you on basic safety guidelines and key skills needed to dive under the supervision of a PADI instructor. Enjoy two discovery dives: one in shallow waters plus an open water dive that can be reached by boat, both from White Beach.
9. Wander the D'Mall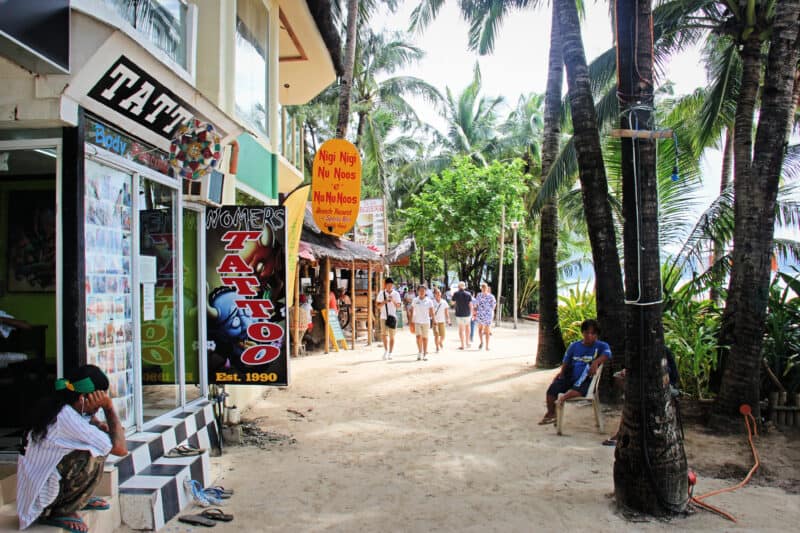 D'Mall is the most famous place in Boracay, White Beach aside.
This open-air shopping street is the center of life away from the beach itself because here you'll find a huge range of restaurants, bars, and shops.
You can buy snorkeling gear, sunhats, beach towels, and souvenirs. You can also sit in the small plazas and drink cold beers, or dine on everything from Mexican style Tacos to sizzling Filipino dishes.
10. Try Out Some Watersports
Boracay is the perfect place for Watersports, because, with beautiful beaches and crystal clear water, there are plenty of opportunities to enjoy different activities.
You can hire jet skis, or go parasailing. You can rent kayaks or canoes or you can paddleboard across the gentle ocean.
Whatever watersports you're into, you can find a place to do it here on Boracay, as it's the perfect island for adventure seekers.
11. Give Paraw Sailing A Try
Sailing and boating have been a way of life here in the islands for millennia, and one of the best things to do in Boracay is to go Paraw Sailing.
Paraws are small, traditional outrigger boats with distinctive, and colorful sails.
They are surprisingly fast, and you'll hundreds of them zipping along White Beach all through the day as the local boatmen take tourists out for a ride on the waves.
12. Watch All the Sunsets
One of the best times of the day to ride a traditional Paraw is as the sunsets. One of the best things to do in Boracay is to simply enjoy the sunset because the island is famed for its fiery end to the day.
The sunsets here are incredibly tropical, and that means the sky will turn into a thousand shades of red, yellow and orange as the sun drops over the horizon.
Enjoy a beer on a sunset cruise or from a bar along White Beach. Ride a Paraw along the coast, or simply take a stroll along the white sands.
It's the best way to end any day in Boracay.
13. Get in On the Nightlife
Boracay was once infamous for its beach parties and nightlife, but after the closure, things have changed considerably.
Boracay is much quieter, and there are no longer any parties on the beaches, but that doesn't mean that there isn't a great array of clubs and bars across the island.
Most are found along White Beach, or in D'Mall, but just remember that the rules on the beach are very strict now, and you'll be facing heavy fines just for taking a beer onto the sand.
Party like a local in Boracay with this 4-stop pub crawl. You'll meet up with like-minded travelers from the world over, visiting four local bars to get to know the Boracay nightlife.
Entry to each club is included, as well as a welcome shot and drink specials.
14. Splurge on the Spas and Massages
After a long day spent exploring the island or after a hard night of partying in the bars, one of the best things to do in Boracay is to enjoy a spa or massage session.
You can find great value spa shops along White Beach, or more often than not, they'll find you as you stroll along the walkway.
If you're looking for more upmarket options though, then Boracay has plenty of those too.
The island is home to a huge range of high-end resorts, all of which have high-end spa facilities to match.
15. Visit the Motag Living Museum
To experience a different side of life in the Philippines, then take a trip over to the Motag Living Museum.
This wonderful, locally run museum is an exhibition of agricultural life in the villages, as it would have been years before the tourists started to appear on Boracay's shores.
The Motag Living Museum gives demonstrations of life in the villages, from planting rice to traditional home setups.
You'll eat local food, meet and talk with villagers, and see just how much Boracay has evolved due to tourism.
More on the Philippines:
Did you like this story? Share it!