Having made the decision to resell our current packs and purchase new packs we have gone a binge of researching and trying to select new packs. Now the obvious answer here being schlep our hinnies into an outdoor store near you and try on packs. Sigh, we live in pretty much the middle of nowhere. We have exhausted the ONE option we have here and come up short handed. So our search is relying very heavily on reviews, opinions and online selections. The good thing about this is we have unlimited options and the ability to check out all the options. The bad thing about this is we don't get to try them ahead of time and may have to eat some return shipping costs if the bags don't work for us.
The first bag to fall prey to our highly educated critique is the EAGLE CREEK LOCHE 70L.
This bag was picked out by David for himself. He is worried about not having enough space for his stuff…. I am INSISTING he not take anything bigger than 70L!! So this was a painful decision for him, but we ordered one and it showed up for a trial nonetheless. First off, the bag is attractive to look at. Designed nicely with decent coloring. It has all the features you could want in a travel pack- zip away harness, front panel luggage entry, some mesh pockets, looped zippers to easily padlock all pockets and the main compartment. The bag is VERY ROOMY inside. The first negative was when we opened it- no mesh pocket on the inside of the flap. So the ONLY inside pocket is the big packing area. It did have a top zipper with a separate pocket on the top… small though and when you unzipped the pocket, it wasn't smooth.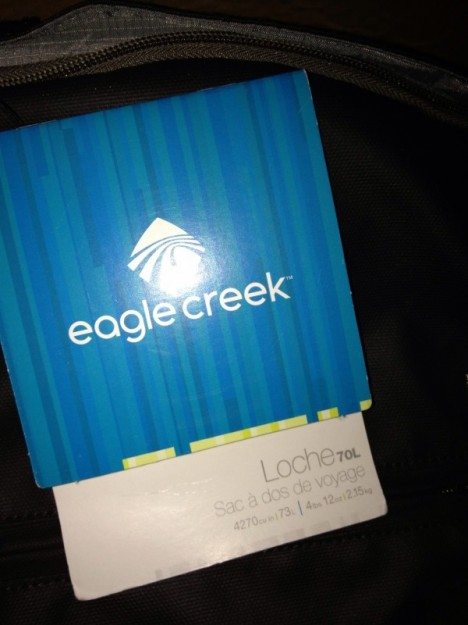 Next we loaded it up with stuff and put some weight in it. Filled out nicely and looked conformed- good options for strapping it down. However, when he put it on, it sat funny on his back. There were no areas to balance the bag load. We made one up and pulled up a compression strap to pull the pack into his back more. This made a huge difference in comfort for him- but why should we have to 'make it up' that should be standard.
His biggest complaint was the shoulder straps. He said no matter how we configured the bag it felt like the bag could just fall of his shoulders at any moment. NOT COOL.
Although this bag looked great and was built with the traveler in mind- it didn't fit him well and the options were too limited for adjustment.
RETURNED!