Figuring out where to stay when visiting Glacier National Park can be a hard task. You're presented with options like the east side, the west side, in the park, near the park or in one of the nearby hub towns. Ultimately, we landed at the Grouse Mountain Lodge in Whitefish, Montana.
Staying at this lodge offered us the opportunity to experience a classic mountain lodge with access to a town that offers anything you could need for both comfort and convenience.
---
6 Reasons to Stay at the Grouse Mountain Lodge When Visiting Glacier National Park
---
1. Mountain Resort Town Atmosphere
One of the things that we really loved about our stay at the Grouse Mountain Lodge in Whitefish was the quintessential mountain resort town atmosphere. If you've been to places like Banff or Vail, then you know what I'm talking about.
From the minute that you arrive in town, you know you're in a place where you'll find craft beer, cozy restaurants and a place to shop a wide variety of souvenirs.
You'll meet people from all over the world that have come together on nature's doorstep and chosen the town of Whitefish for its conveniences and vibe.
2. Abundance of Food Options
While staying inside the park in Apgar, Lake McDonald, West Glacier or just outside the entrance is convenient for transit, you'll find the food options very limited in comparison to being based in Whitefish.
This is one of the main reasons that people choose to drive the extra distance and stay here versus closer to the park.
You can find everything from hamburgers, pizza joints, Italian restaurants, Thai, Chinese and more. There are also fast food places, if that is your thing.
3. Local Shopping and Galleries
With the added food options comes more shopping opportunity too. You'll find plenty of places selling reasonably priced souvenirs that are branded for the town and Glacier National Park, but you'll also find outdoor stores and a variety of specialty shops.
Additionally, there are a number of artist galleries around Whitefish that are worth checking out, even if you are not looking to buy. The artwork in them is incredible and very unique.
4. Recreation and Relaxation Options
Being based in a small town also affords more recreation and relaxation options. There are golf courses, ski hills, walking trails, biking trails, kayak and stand up paddle boarding launches to name a few.
You can also enjoy a variety of spa options around town from traditional massages to manicure and pedicure shops.
5. Whitefish Has A Rich History
Whitefish itself boasts a lot of history as an access town for the mountain wonders that now reside within Glacier National Park. With this, comes a rich story of settlers and entrepreneurs that graced the town with their skills and goals.
The town offers a highly interesting self-guided walking tour through the downtown that showcases the many original buildings and their stories.
6. Access to Other Natural Areas
While Glacier National Park certainly steals the show when it comes to natural wonders in the area, Whitefish also offers you access to plenty of other natural areas that are worth checking out.
This includes state parks, lakes, rivers and trails of all varieties. Just around the corner from the Grouse Mountain Lodge is Whitefish Lake, where you can enjoy the beautiful sand beaches.
---
Grouse Mountain Lodge Review
---
Overall, we found the Grouse Mountain Lodge to be well located and comfortable as our base for exploring Glacier National Park and the surrounding area.
Being located just outside of Whitefish, we had a nice variety of options for entertainment, food, drink and shopping.
We spent most of our time in the National Park, but enjoyed being able to retreat back to the lodge in the evenings.
The Classic Mountain Lodge Experience
When we first entered the lodge, my eyes went immediately to the stunning stone fireplace with the giant moose head mounted above it. It was the first time I felt like I was in the mountains since entering Montana.
Around the fireplace were inviting leather couches, a place I looked forward to hanging out in with my morning coffee. Now, this is how I pictured a stay in the mountains.
The Loft Room
For the duration of our stay we were booked into one of the Loft rooms at the Grouse Mountain Lodge. These rooms feature a two level layout with the beds placed in the loft area.
The room featured a nice sized living room area with a couch and two comfy captain chairs. There was a large flat screen on the wall with cable tv channels.
The living area also featured a wet bar with a small fridge, sink, microwave, tv trays and plenty of counter space.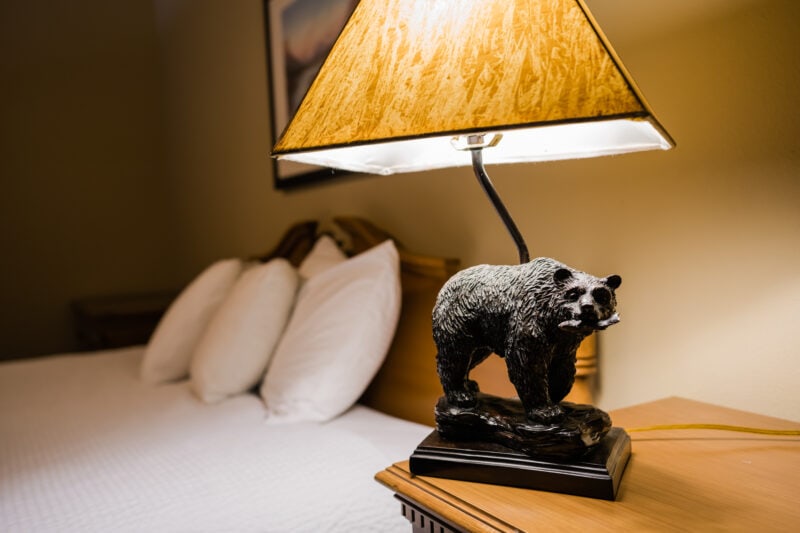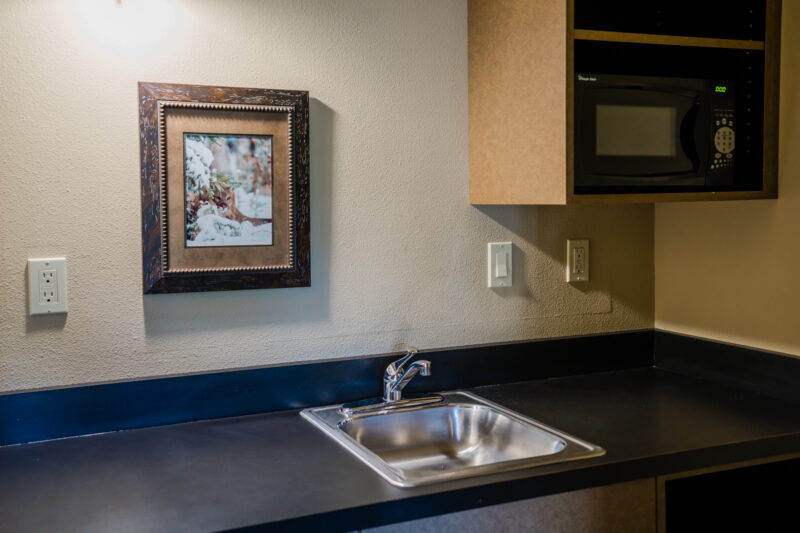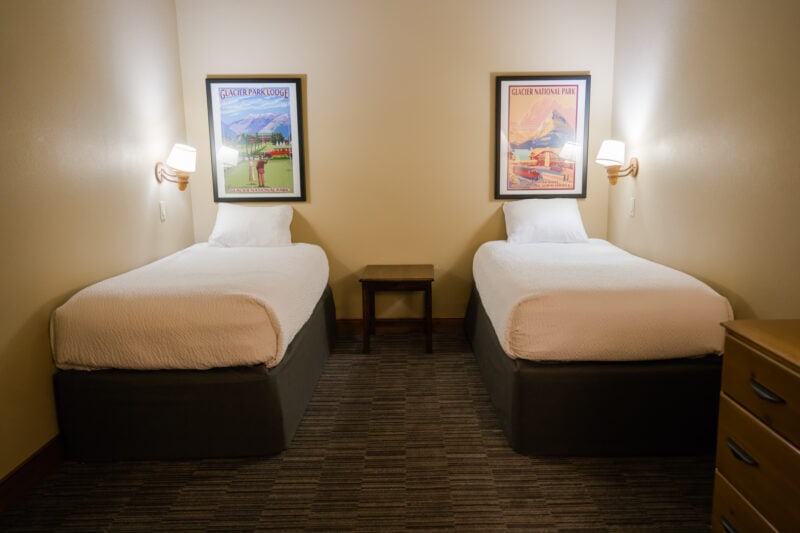 The bathroom featured a walk in shower and sinks were placed both inside and just outside the main bathroom.
In the loft, there was room for 4 adults with the main room featuring a king sized bed and tv. The adjacent sleeping area was a separate room with two twin beds. The two spaces were separated with closet type doors.
Lastly, the room featured a small balcony that overlooked the parking lot and part of the golf course.
We found the overall space of the loft to be very generous. We had no problem making ourselves at home and finding space to both rest and work during our stay.
Amenities
The Grouse Mountain Lodge has no shortage of standard amenities to enjoy including a pool, outdoor hot tub, terrace, fire pits, sitting areas and a fireplace in the lobby.
The outdoor patio was especially inviting and a fantastic place to hang out in a public area during COVID times.
The lodge also features an onsite restaurant and bar. We were able to order drinks from the bar to enjoy on the patio, however the restaurant was closed during our stay. That said, the menu looked delicious.
Sanitation and COVID Safety
While our stay at the Grouse Mountain Lodge was early in our most recent road trip across the USA, I can say without hesitation that the sanitation measures that have been put in place by Pursuit are top-notch.
They have a policy in place to protect both their staff and guests that is enforced with ease and acceptance. Both wore masks and physically distanced to ensure reduction of exposure.
We found the state of the hotel to be immaculate. Rooms are specially cleaned between guests with hand sanitizer provided too.
Throughout the property we found many hand sanitizer dispenser placed near all entrance doors, elevators and stairwells. The pumps featured a foot pump, which is brilliant and made using the pump both safer and easier for guests.
We would not hesitate to recommend a stay with Pursuit as travel continues to reopen.
Our stay at the Grouse Mountain Lodge was in partnership with Pursuit. All opinions are 100% mine.
More on USA Travel:
Did you like this story? Share it!