Did you know that Yangshuo, China is the #1 spot in Asia to enjoy rock climbing? Well, neither did we before our travels to China. We happened to be sitting in our hostel in Emei Shan on a rainy day, researching our next destination when we came across several sources that told us just that.
Neither of us had ever tried rock climbing before. We've done many similar things, like ice climbing, abseiling and cliff rappelling, but have never done actual rock climbing and we weren't sure how we would like it.
David is afraid of heights, so the prospect of signing up for something like this was daunting for him. I was gung-ho, bring it on, right?
The Black Rock Climbing office is located right in downtown Yangshuo, so we hopped on our bikes and made a short trip from the guesthouse to the office to meet the owner of the shop and be briefed for our climbing on a sunny, humid afternoon.
Aniu showed us how everything worked, gave some demonstrations of technique and a map of where we would be climbing.
We loaded up our gear, hopped in the van and headed outside of town towards the beautiful Karst mountains. Yangshuo is a tiny village located along the Li River that cuts through a towering variety of limestone mountains.
This creates dramatic scenery which has made this area extremely popular with backpackers and package tourists alike. Due to its mountains, it is also a top place for climbers and adventure seekers as well.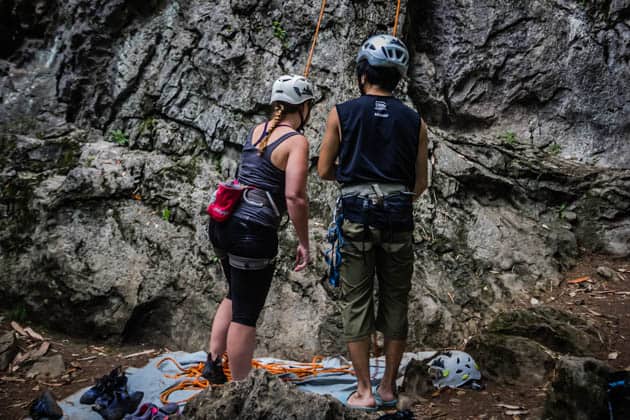 Because we are new to rock climbing, we visited an area called the Swiss Cheese that day. It was graded a 5.6-5.10 and with its numerous ledges and holes, it would make for a fairly easy intro to rock climbing.
Getting to the wall involved a short hike from the car park through the jungle into a clearing at the base of the mountain. Standing at the bottom we stared up at the wall and were overcome with the beauty and proposed challenge it was provided to us for the day.
Getting geared up was almost identical to our experiences with similar activities, a helmet and hip belt harness with leg holes. Everything was put on then adjusted and carefully inspected by our guides.
One thing that was different from our other experiences, was the addition of a chalk belt and really tight climbing shoes with pointy toes.
The belt wraps around your waist, above the harness, and has a small satchel with chalk attached to it. Rock climbers use this to chalk their hands to improve grip while climbing if you start to get sweaty hands or happen to touch a wet part of the wall.
The tight, pointy shoes allow you to step on and grip things as tiny as a pebble while climbing.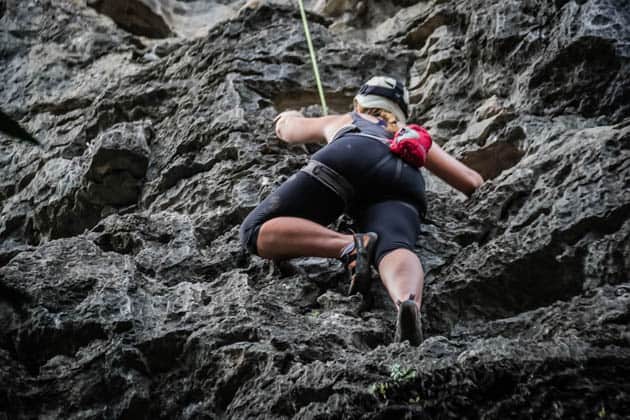 ~*~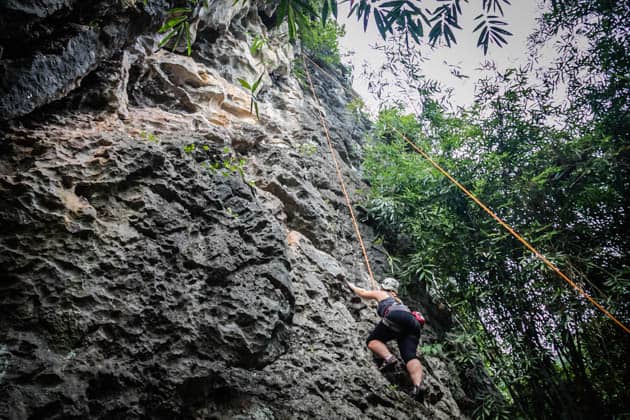 ~*~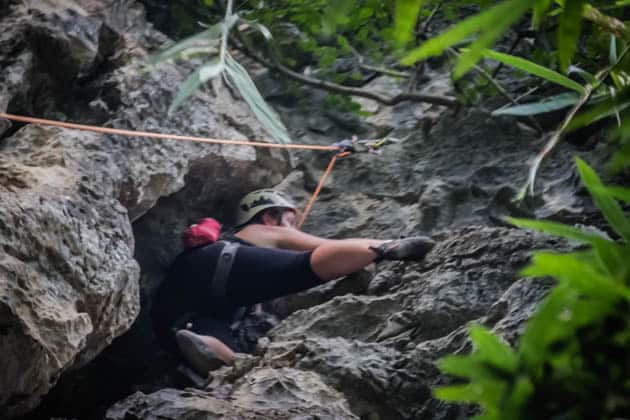 David was the first to go and despite the fact that he was nervous about the heights, he was a natural at it. He climbed up the wall as if he was born to do it. 10m, 18m, 25m he climbed over the day with no issues whatsoever.
I, however, ran into some issues on my last climb where I struggled to find a good path and had to cut my climb short. I literally got myself stuck under a ledge and could not, for the life of me, find my way back to go around it.
When you have your face against the wall and are completely focused on where you are placing each hand and foot, it is easy to become absorbed in the activity. You lose the sense of being on the wall and don't realize that you are climbing.
This happened to me a few times and it wasn't until I came to a spot where I needed to rethink a move that I would catch myself looking down or taking a moment to glance behind me.
Wow, you get up that wall quick! I would highly recommend that anyone with even the slightest fear of heights, don't do this. Just stay focused on the wall.
On our last climb, we were aiming for a 28m mark, by the time you reached around 15m, you were well above the tree line, so glancing back allowed you a chance to see out over the valley. Simply put, it was a stunning vantage point.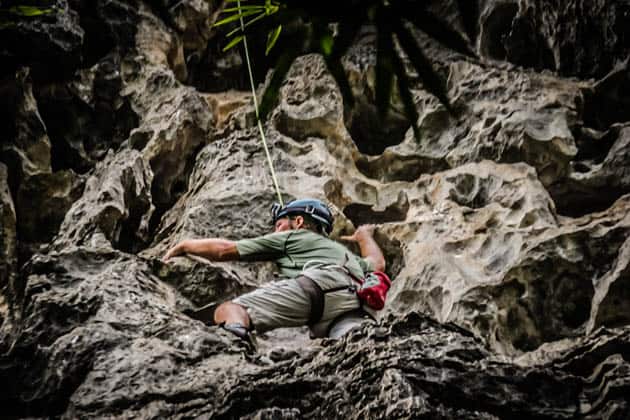 ~*~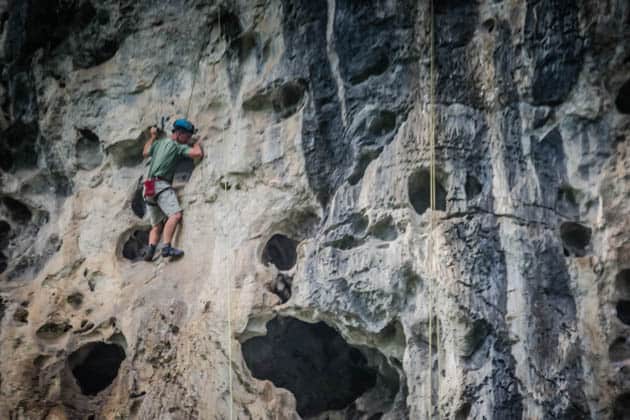 ~*~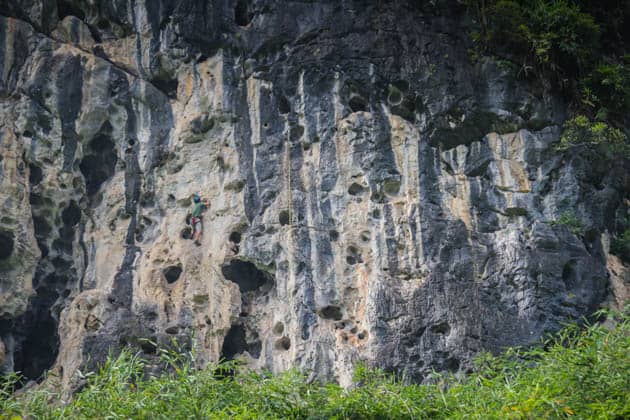 The most stressful part of it for me was coming down from the climb. You spend your whole climb focusing on staying close to the wall, making smart moves, placing your feet and hands perfectly to stay in balance and avoid falling.
Then you get to the top, touch the mark and are expected to just let go, fall back into the harness then walk back down the wall while your abeil partner guides you down the wall. This is a lot of fun but takes some getting used to after you've focused so hard on staying close to the wall.
Overall, our experience with Black Rock Climbing was amazing. We have a newfound love of rock climbing and we can't wait to take to the walls in other great parts of the World as we continue our travels.
Have you ever tried rock climbing?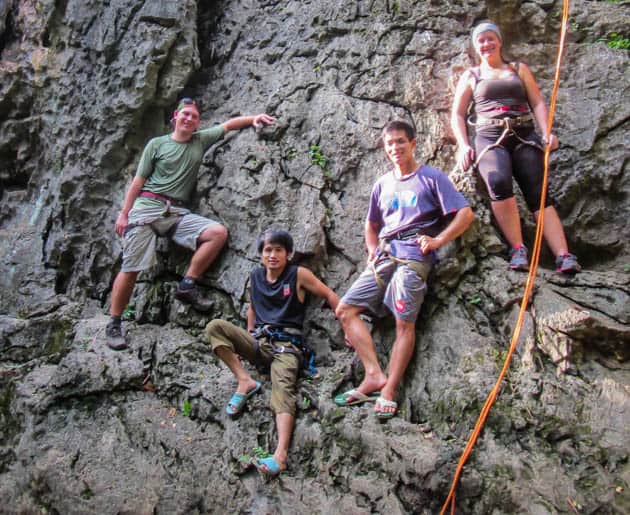 More on China:
Did you like this story? Share it!