After jumping out of our food comfort zone in Seoul we were eager to uncover the best Beijing street food when we arrived in China.
So we set out on a food adventure with Discover Beijing Food tours where we visited local markets, sampled street food, stepped into crowded corner restaurants and had a meal in a traditional hutong.
Prepare your senses as we show you the dishes we tried, what they were like and whether we liked what we tried or not.
We're not foodies by any means but we do feel that a great way to have a local adventure and get to know the culture we are immersed in is through its food.
---
The Best Beijing Street Food
---
Chaoyangmen Food Market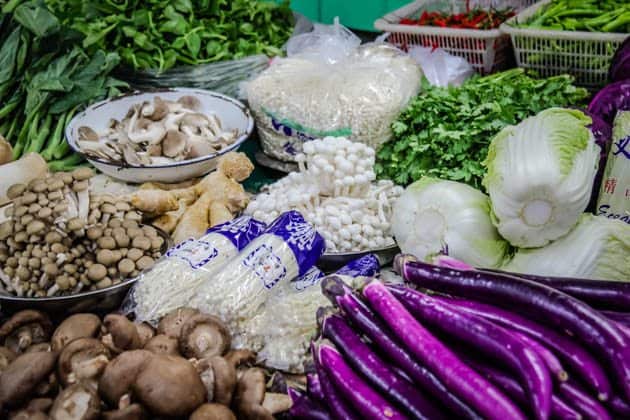 Our first stop for the day brought us to a colorful food market in the district of Chaoyangmen.
We have always been fans of visiting local markets because it is a great way to see what they eat and interact with locals in their own environment.  This market didn't disappoint us to form this aspect.
All of the food on display was beautiful with bright colors and fresh smells. We were told that most people will buy their foods from markets like these because the produce is fresh and brought in by the farmers on the same day. Unlike the products you will find in local grocery stores.
Ma La Tang BBQ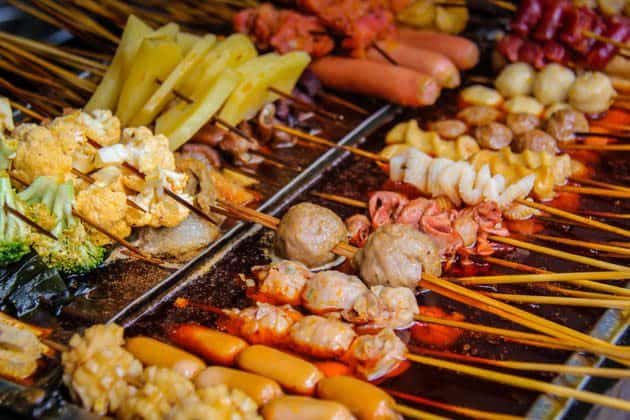 Ma La Tang literally means numb, so you can imagine what we were in for trying this type of street BBQ.  This is also an insanely popular Beijing street food favorite among locals.
We had passed these many times on our walks around the city but due to the language barrier and the fear that it would be too spicy for us, we hadn't yet tried them.
So we were pretty excited when our guide, Ashley, brought us to this stop.
The concept is to skewer your choice of meats or vegetables and then soak them int he vats of spice and then BBQ them upon order. Since I am often weird about meat, I selected the beef meatballs and dug in.
They were amazing with really good flavor and a hint of spice to them. The spice came after you swallowed but it was a really warm spice that did, in fact, leave our mouths numb.
Qin Zhemmy Pi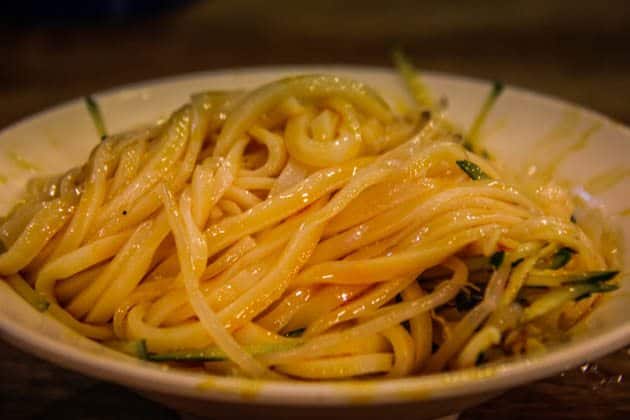 During the summer, the last thing the residents of Beijing want to do is stuff their mouths with hot food. The weather is already scorching, so they opt for this favorite of cold noodles.
This particular dish featured cold rice noodles, which unlike wheat noodles, are thicker with a much nicer texture to them, at least in my opinion.
The dish is served cold with shaved vegetables and a spicy sauce. It had an amazing flavor that I couldn't stop going back for. It ended up being my favorite dish on the entire food tour and something I look forward to having more of on our travels through China.
Beijing Street Food Favorites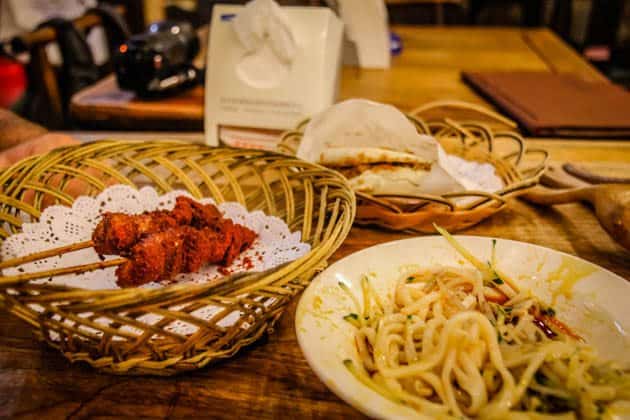 At this stop, we had a variety of things that are unique to Chinese cuisine. We started with the noodles I talked about above and because they were my favorite, I singled them out.
Next, we were served fresh plum juice and this was a great drink to offset some of the taste and spice that came with the dishes.
This was followed by mutton skewers with a weird rub on it. David thought these were great, but after one bite I could live without these. Next on the table was the Chinese version of a hamburger.
They use a bread pocket and stuff it full of seasoned pork and vegetables. This was pretty darn good and something that we look forward to having as we travel through China.
Lastly, we were served a large bowl of Mutton Soup. This is a hearty tradition in Beijing and it is accompanied by bread that you tear up into small pieces and then place into the soup when it arrives.
The bread turns into a dumpling-like texture once added to the soup. This gave it a great texture added to the vegetables and meat.
Steamed Dumplings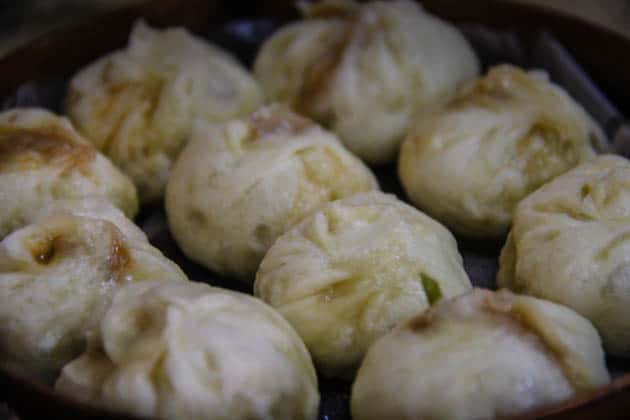 Our next stop found us at a small, hole in the wall type dumpling shop that was packed to the brim with locals. This is usually a good sign that you are in for a treat.
Here we were served basic steamed dumplings that were filled with pork, onions and served with a malty vinegar.
They were the best dumplings I have ever eaten in my life. The ingredients were fresh and steamed to perfection. It was odd to eat them with vinegar, which is a common practice in China.
We are so used to eating everything with soy sauce that we often don't think of vinegar. The malty vinegar was actually the perfect complement to the traditional dish.
Traditional Meal in a Hutong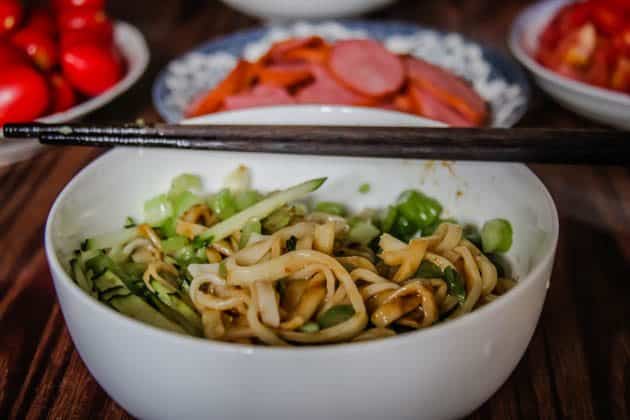 The bread and butter of the tour is your last stop. After sampling some of Beijing's finest foods on the streets, you get a chance to step into a Hutong for a traditional meal prepared by the tour operators' family.
This was such a special experience. We arrived as her mother was preparing the vegetables and noodles for our meal.
She carefully hand sliced each vegetable and loaded them into their own bowls. She then took the noodle dough that she had prepared earlier that day. She kneaded the dough and pressed it out onto a cutting board.
After folding it a special way, she intricately cut the dough into noodles and placed them into a boiling pot to be cooked.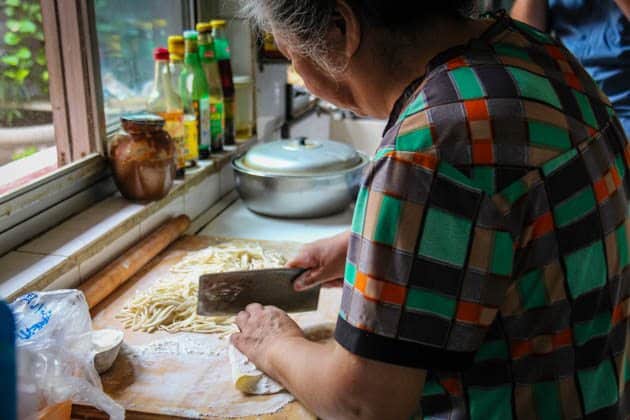 Our meal would be pork and yellow bean paste noodles. One of the noodles were finished cooking, the dishes were all presented on the table in a family setting.
Traditional Chinese meals are served with all the dishes in the middle of the table, they are then passed around and everyone eats a little of everything.
Our dishes started with noodles and we were then told to add the bean paste. The paste was surprisingly rich in flavor but also incredibly salty, a little goes a long way with the bean paste.
The next step is to add in your preference of vegetables which included green beans, cucumbers, celery, squash, tomatoes, and pork sausage. We both opted to try it all and once our dishes were complete, we mixed it all together and ate it all.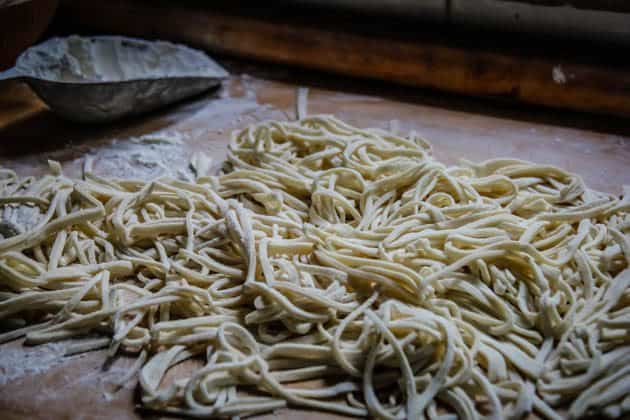 The combination of the crunchy fresh vegetables with the soft warm noodles and salty bean paste made for a perfect blend. Served on the side was quartered tomatoes with sugar on top.
Yes sugar, this was weird to me as we always eat raw tomato slices with salt on them at home.
I have to say I could have them either way now that I have tried the sugar. The meal was accompanied by great conversation and some amazing people that treated us like family while we dined in their home.
Discover Beijing Tours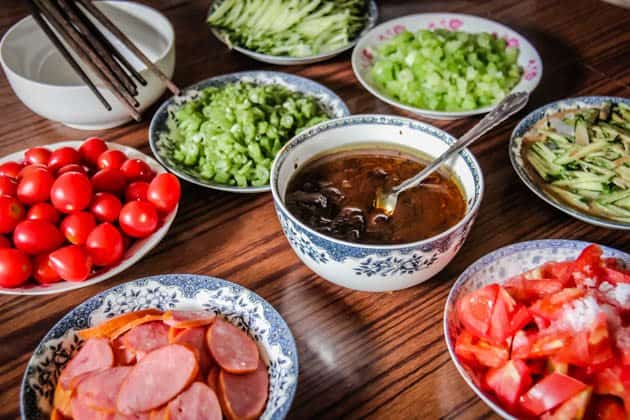 This company offers more than food tours, so if you are looking for a company that can show you the sites and the food, then this is a great place to start.
The owner Qing is personable and professional while her tour guide, Ashley, provides great insight while she shows you the culinary treasures that the great city of Beijing has to offer.
Disclosure: We were guests of Discover Beijing on this food tour. However, all opinions are 100% mine. All photos were created and are owned by Divergent Travelers.
More on China:
Did you like this story? Share it!