After spending over 200 days on the other side of the World, traveling to remote locations looking for our next adventure, we decided to make a surprise visit home to Wisconsin. This adventure home sent us across 13 time zones and took 24 long hours.
Hong Kong to Dallas to Minneapolis by plane, then to Minneapolis to South Range, WI by car. We have made this large jump of time zones before but not after spending 200 days on the other side of the earth.
One full day later, we finally arrived home. It was late at night and we could not wait to surprise everyone early the next morning. We quickly got six hours or sleep and rushed over to Lina's parent's house to surprise them.
Everyone was surprised and even blown away, but it was all we could do to fight off the afternoon nap (which was an unsuccessful endeavor) to begin the task of resetting our internal clocks to central standard time.
We ask ourselves why we got 6 hours of good sleep in a bed we have missed for 200 days. The answer is simply, we were affected by Jet Lag.
---
How to Get Over Jet Lag: A Survival Guide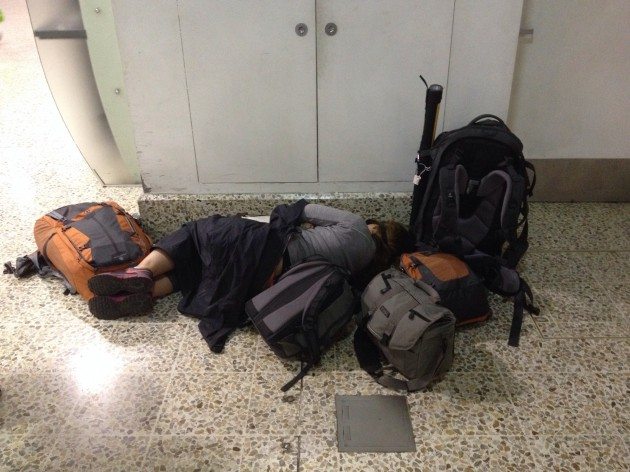 What is Jet Lag and How Can it Affect you?
Jet Lag is tiredness and other physical effects felt by a person after a long flight across several time zones. All people are affected by jet lag differently but common symptoms generally include:
Fatigue and Disorientation: Being tired and disoriented for days after arriving. Feeling a lack of motivation for any activity that requires some effort of skill like driving, reading or even working. (For us working on our blog)
Interrupted sleep: Crossing time zones can cause you to wake up during the night (for me it was at 3-4 AM) or make it difficult to fall to sleep. You then end up feeling sleepy during the day and end up taking naps. (For Lina it was 3 hour naps around 2pm) NASA estimates that you'll need one day for every one hour time zone you cross to get back to your normal rhythm. For us that means in 13 days we should be readjusted to central standard time.
Confusion and Fuzziness: Forgetting to do a basic task or maybe checking two or three times to see if you have completed that task. Also zoning out when people are trying to talk to you.
Mood: Jet lag can affect your mood causing you to have mood swings from one minute to the next. Some people experience a full spectrum from happy to mad to sad all in a short period of time. Luckily, this is short lived and easily slept off with a nap.
Dehydration: The dry air aboard the aircraft can dry out your skin, give you headaches and irritate your lungs and nostrils. This can make you more susceptible to any colds, coughs, sore throats and flu that may be blowing around the aircraft.
Jet lag has been directly linked to problems like diarrhea caused by microbes contamination in your water or food affecting about 50% of long distance travelers.
Factors like travel fatigue, jet lag, changes in your diet, different climates, and lowered immunity will aggravate the problem by lowering your resistance and making you more susceptible to infections.
How Can You Prevent Jet Lag?
A few basic steps may help prevent jet lag or reduce its effects:
Arrive early
Get plenty of rest before your trip
Gradually adjust your schedule before you leave
Regulate bright light exposure
Stay on your new schedule
Stay hydrated
Try to sleep on the plane if it's nighttime at your destination
Take pills that help prevent jet lag
Some people believe even pulling off your socks and walking barefoot on the grass or sand helps
I've always believed that my body adjusted quickly to new time zones and that I've never been affected by jet lag before. Boy was i wrong. Spending 200 days on the other side of the globe has reset my internal clock in ways that shorter trips have never done before.
We've been home for 2 weeks and I am just starting to feel adjusted to central standard time. I suppose I will be just about right when the time comes to head towards the Philippines in a month. So is the life of a traveler.
Have you been affected by jet lag before? What prevention or treatments have you taken?
More on Travel Planning:
Did you like this story? Share it!