Rolling over in bed I grabbed my cellphone and hit the snooze button. The morning came fast after spending the past 3 days touring Lhasa while trying to acclimatize to the elevation at 3600m. My phone read 5 AM, ugh.
We would be leaving Lhasa today and heading across Tibet on an adventure through the countryside towards the Himalayas and one of the most remote areas in the World. We would be heading for Mount Everest, and upon remembering that at 5 AM, I sprung quickly out of bed and woke up David.
As a child, I was that kid in school that studied maps of the World for fun. I was absolutely transfixed with the World and all the places that are in it. I didn't know then that it would turn into a lifelong love of exploring those far off places I once studied.
For many years in my life, I daydreamed about places like Mount Everest and never really thought it would be a place I could say I have seen with my own eyes.

You can imagine how years of wonder and dreaming were culminating in these very moments we were living. It seemed surreal and I was bursting with excitement that I could hardly express.
We were going to Mount Everest and not from the Nepal side, from the rarely accessible Tibet side. From what I could find while researching this side of the World's largest mountain was that although the Nepal side is visited more often, the side we would be visiting in Tibet had far superior views.
Having the opportunity to visit Everest doesn't come without a healthy dose of adventure. We would be traveling overland with our group from Lhasa to Shigatse, the second-largest city in Tibet where we spend a short night before loading back into the van and making our way to Rongbuk Monastery. Ultimately not reaching base camp until the third day of travel.
Don't leave home without: Lonely Planet Tibet (Travel Guide).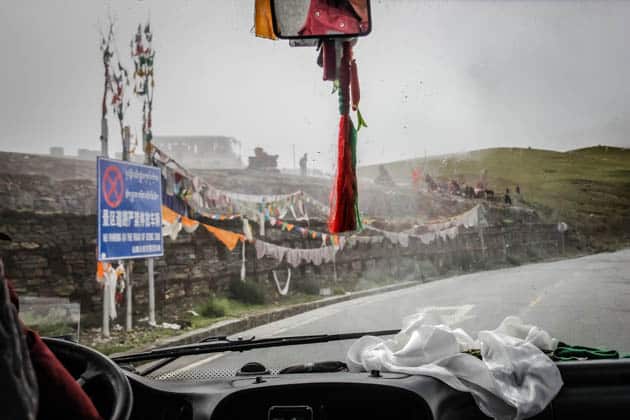 Being at elevation and surrounded by mountains makes for a temperamental weather situation. Rain comes and goes at any given time followed by intense sun and blue skies.
So it was no surprise when our day started out with low clouds and rain. The driving situation can be treacherous in Tibet because even though the roads are paved, landslides can cause pass issues and weather causes visibility issues on a regular basis.
Our 12 hour day was filled was an overwhelming array of weather and landscapes that made our first day of over landing a special experience.
Gampa La Pass
Despite the foggy, wet weather, we made our way along the winding roads and began to climb in altitude. Starting in Lhasa at 3600m was already stress for everyone.
Most of us had flown into Lhasa from various places in China, making a pretty quick ascent. After 3 days at that elevation, we were pretty adjusted, with just some shortness of breath with exercise. The day we left Lhasa, we headed straight for the Gampa La Pass.
The Gampa La Pass peaks at 4794m at which point you are afforded an unparalleled view of the sacred Yamdrok Lake. Even before arriving at the pass, we both began to feel the effects of the quick ascent.
We were rising 1000m in a matter of 30 minutes and it didn't take me long to figure out where the splitting headache and shortness of breath came from while we pulled on the parking lot.
It's really hard to put in words the way altitude can make you feel, especially at 4794m, but the closest description is compared to the feeling of your head bursting or feeling like it is about to while feeling like you have an asthma attack coming on.
I know, it sounds like torture, but you soon forget about the overwhelming feeling when you catch your first glimpses of Yamdrok Lake from the pass.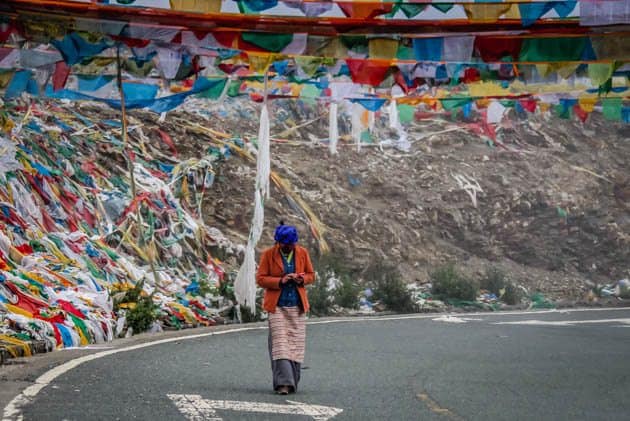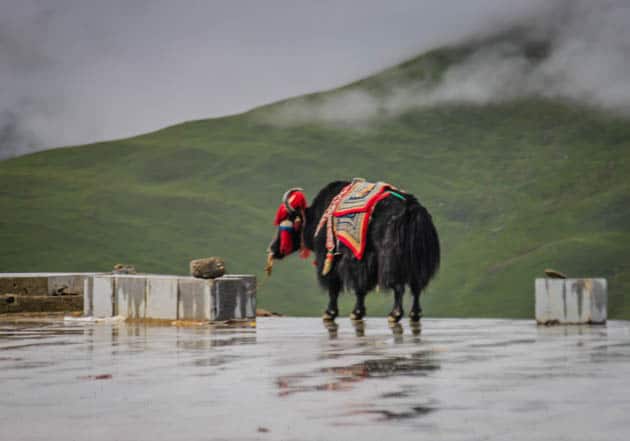 Yamdrok Lake
Yamdrok Lake is one of three sacred lakes in Tibet and is the largest inland lake on the northern range of the Himalayas. We had the advantage of viewing this lake from the Gampa La Pass and then right from the shore once we came down the mountain.
No matter the view, it is absolutely stunning with prayer flags hanging from both vantage points, waving in the breeze while we took in the scenery around us.
Like our photos? Check out: Ultimate Travel Photography Gear List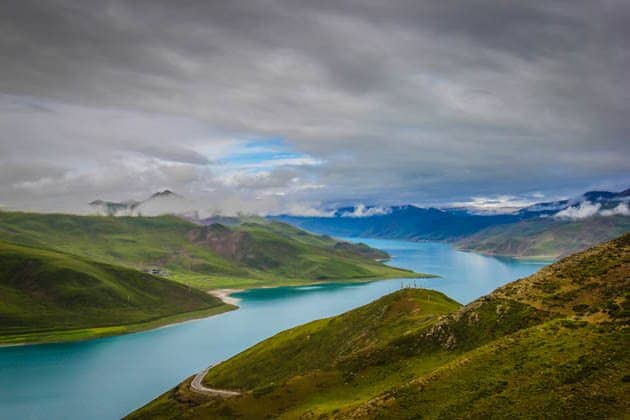 Kharola Glacier
After stopping a couple of times to check out the different vantage points of the Yamdrok Lake, we continued on towards Shigatse. We made our way up to another pass of 4500m where we had the chance to view the Kharola Glacier from a very close vantage point.
The grey contrast of the clouds against the white-capped peaks and frigid glacier made a beautiful backdrop to the colorful prayer flags that were strung at our stop.
The Kharola Glacier is located 200km west of Lhasa off the Friendship Highway and if you were to climb to the very top of it you'd be at 5560m. Standing at the base of it is a magical experience while you mingle with the local Tibetans that live there and sell trinkets to travelers.
At one point David was filming the glacier from a distance when he was bombarded by two young girls who wanted to play and watch his videos from the camera.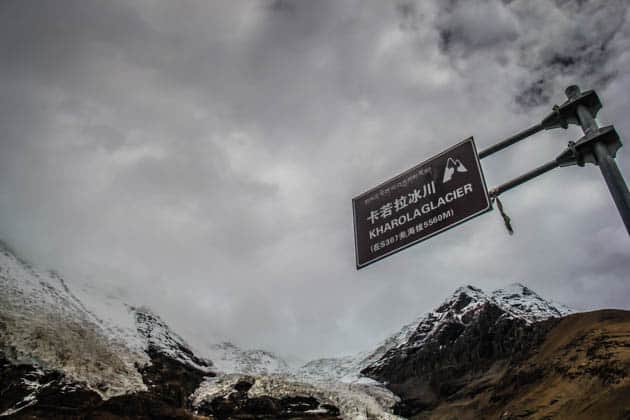 Don't leave home without: Lonely Planet Tibet (Travel Guide).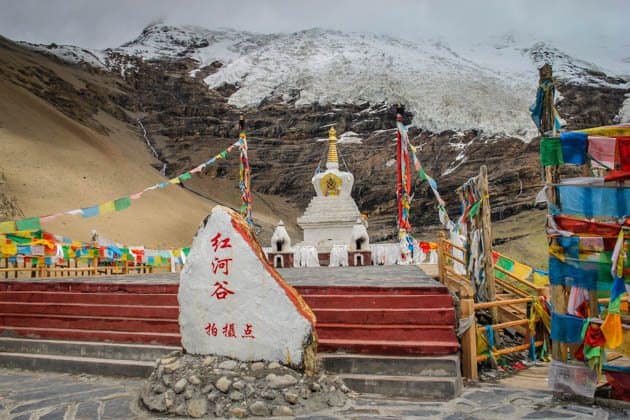 Tashilunpo Monastery
Upon arriving in Shigatse, the second-largest city in Tibet, we made our way to the Tashilunpo Monastery. This monastery was founded in 1447 by the First Dalai Lama and is the most important monastery in Shigatse. Tashilunpo is located on a hill in the center of the city and housed 4,000 monks at its peak.
Like all the monasteries in Tibet, this one has had its fair share of historical experiences, yet it has persevered and continues to stand today. After spending 12 hours traveling from Lhasa to Shigatse we were all happy to have arrived and welcomed the hour we spent walking amongst the monks at Tashilunpo Monastery.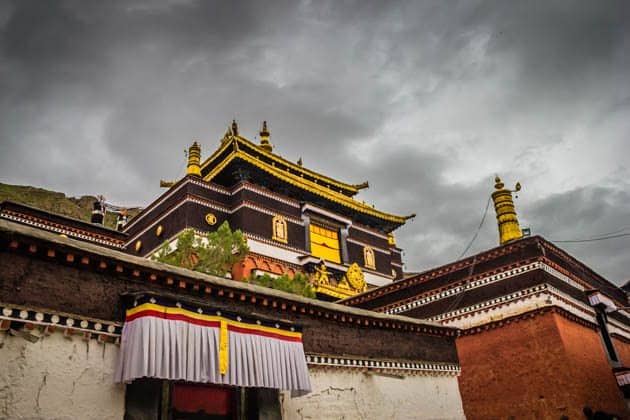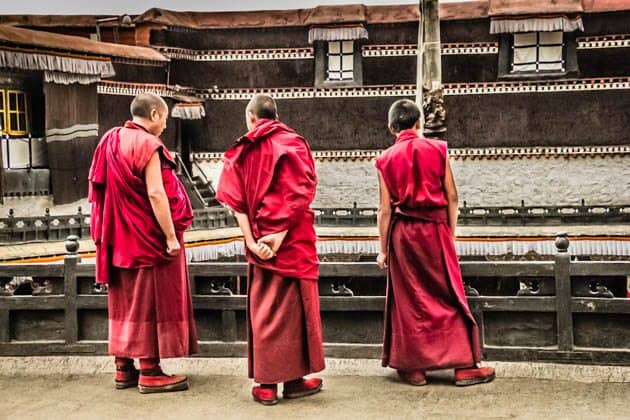 Traveling Over Land in Tibet
Our first day of over landing through Tibet was over but would not soon be forgotten. Every one of us in the group was tired, inspired and, despite our short night ahead with another long day on the road, ready to make our way towards the tallest mountain in the World. Mount Everest.
Overland travel in Tibet is only possible with a registered tour agency at this point and time. Besides the requirement of having a current and valid Chinese visa, there are other permits that must be obtained in order for you to enter Lhasa and then travel outside of the capital city.
Additional permits are also required for travel to Everest, all of which are obtained only by your chosen tour agency. Our travels in Tibet were made possible by Tibet Vista.
Top Tours we Recommend to Tibet
We have put together a list of top tours we recommend for Tibet. These are tours ran by top tour companies in the world like G Adventures, National Geographic Journeys, and TourRadar. Discover amazing tours through Tibet visiting places like Lhasa and Gyantse. Most travelers enjoy exploring our Tibet trips in April, making it the most popular time of the year.
Explore China & Tibet 15 days, Beijing to Shanghai. Get over the wall for a life-changing adventure through China's awe-inspiring interior. Explore the unforgettable city of Beijing and meet pandas at a breeding center in Sichuan. Discover daily life in Tibet and cruise the incredible Yangtze River on a riverboat. Cycle atop the city walls of Xi'an, and face its standing army of terracotta warriors before eating lunch with a local family. Get into China's very heart and it will most certainly get into yours.
Lhasa Highlights. Start and end in Lhasa! With the in-depth cultural tour Lhasa Highlights, you have a 4-day tour package taking you through Lhasa, China. Lhasa Highlights include more.
Tibet Adventure 15 days, Beijing to Kathmandu. Take part in rituals and haggle for a bargain in the markets. From modern Beijing, travel back in time across scenic countryside to Tibet on this well-packed overland adventure. Witness the splendor of the Potala Palace and the majesty of remote monasteries and then celebrate the journey to Kathmandu. Wake up to views of Everest and enjoy a window into the heart of this remote land. A local guide and CEO will show you the region's hidden gems and make sure your trip burns brightly in your memory long after you've climbed down from the roof of the world.
More on Tibet:
Did you like this story? Share it!