To many people's surprise, there is no shortage of fantastic things to do in Minnesota when you visit. This Land of Lakes has hidden depths.
Minnesota offers a whole range of different pursuits to try, particularly if you're into water activities such as boating, fishing, and kayaking.
It's well known for its various sports teams and winter sports, as well as for its amazing national forests and parks, full of winding bike and hiking trails. Minnesota is an outdoor-lover's dream.
If you're thinking of making the Midwest your next travel destination, be sure to check out these lesser-known haunts and best kept secrets of Minnesota along the way.
---
28 Amazing Things to do in Minnesota
---
1. Explore Downtown Minneapolis
Downtown Minneapolis is the thriving cultural and business hub of Minnesota (and the scene of plenty of protests, too). It's a fascinating place to explore.
You can walk the streets on foot (or better yet, join a walking tour), before taking a cruise along the river to really enjoy the iconic skyline.
There are great bars and restaurants, plenty of shopping malls, art galleries, museums, and famous buildings such as City Hall to visit when you're in downtown Minneapolis.
Can't miss tours in Minneapolis and St Paul (Twin Cities) Minnesota:
2. Explore the State Capital, St Paul
One of the best things to do in Minnesota is to explore the state capital. No, it's not Minneapolis, but the twin city, St Paul.
Unusually, both major cities are located literally side by side (hence the nickname, Twin Cities), but St Paul took the role of the state capital.
In St Paul, you can visit the capitol buildings, the well-known St Paul Cathedral, and many of Minnesota's best museums and art galleries.
Can't miss tours in Minneapolis and St Paul (Twin Cities) Minnesota:
3. Learn About State History at the Minnesota History Center
If you're interested in learning about local history, one of the best things to do in Minnesota is to visit the excellent Minnesota History Center.
The museum is located in the state capital, St Paul, and it's packed full of fascinating exhibits and displays.
Learn about the history of Minnesota, from prehistoric times through to the modern-day!
Can't miss tours in Minneapolis and St Paul (Twin Cities) Minnesota:
4. Soak up the Culture at the Minneapolis Institute of art
While you're visiting the Twin Cities, take some time to soak up the culture at the brilliant Minneapolis Institute of Art. Hosting thousands of works of arts, a visit to this art gallery is easily one of the best things to do in Minneapolis.
The focus at the Minneapolis Institute of Art isn't just local, but global artwork; the exhibits and galleries span the entire history of human creativity.
There are works of art not just from across the world, but going far back into the human past too!
Can't miss tours in Minneapolis and St Paul (Twin Cities) Minnesota:
5. Guthrie Theater
Culture lovers will want to spend an evening enjoying a performance at the famous Guthrie Theater in Minneapolis.
This center for performing arts hosts shows, concerts, and theater performances all through the year.
You'll find a range of shows, from Shakespeare through to contemporary musicals. Book your tickets in advance for the best seats.
Can't miss tours in Minneapolis and St Paul (Twin Cities) Minnesota:
6. Visit the Home of Prince at Paisley Park
The famed singer, Prince, is one of Minneapolis's most iconic residents. You can visit his mansion/recording studio at Paisley Park for a tour when you're in the city.
This is Prince's private residence, so ticket numbers are always limited (make sure to book online, in advance). The tour gives you an intimate look into the life of a famous recording artist, and the lifestyle lived by Prince.
7. Marvel at the Minneapolis Sculpture Garden
To escape the city (while never leaving the city), take a trip to the quirky, peaceful surroundings of the Minneapolis Sculpture Garden.
This lovely project is home to a wonderful array of sculptures and art installations; all spread out over several acres of outdoor, landscaped gardens. It's a beautifully designed outdoor area and an excellent place for a stroll.
The sculptures are maintained by the nearby Walker Art Center, which you can also visit while you're in the area!
Can't miss tours in Minneapolis and St Paul (Twin Cities) Minnesota:
8. Road Trip the North Shore Scenic Drive
This is a state known for its spectacular lakes and outdoor scenery, and you'll want to get out and explore away from the Twin Cities, too. One of the best things to do in Minnesota is to road trip the beautiful North Shore Scenic Drive.
If you're short on time, this is a great way to see as much of the outdoors as you can. This scenic driving route takes you along the north shore of Lake Superior, running from Duluth to the Canadian border.
It's 154 miles long and runs through small, lakeside towns and past wonderful national parks. Stay in the car, get out and hike, or jump in a canoe – it's up to you.
Can't miss tours up the North Shore of Lake Superior in Minnesota:
9. Enjoy the Views at Split Rock Lighthouse State Park
One of the most iconic stops along the North Shore Scenic Drive is Split Rock Lighthouse State Park. Enjoying the views here has to be one of the best things to do in Minnesota because it's a glorious place to visit.
Split Rock Lighthouse is the star of the show. This famed lighthouse dates back to 1910 and is now part of the historical register.
There's a small museum to visit, but the real draw are the spectacular views of the lighthouse as it stands on the cliff edge overlooking Lake Superior.
Can't miss tours up the North Shore of Lake Superior in Minnesota:
10. Visit the Lakefronts of Brainerd
Minnesota is well-known for its lakes. If you're exploring the state, you'll want to call into Brainerd, where you can find more than 400 different lakes in the area.
Enjoy hiking trails, take to the water in kayaks or canoes, or just road trip from one lake to the next, taking in the calming views and peaceful scenery.
If your looking to truly experience Minnesota we suggest renting a cabin (Here's a $45 credit towards your next booking.) or staying at a lakeside lodge in the Northwoods for a few days.
11. Hike the Chain of Lakes
If you're here to see lakes, you don't even need to stray far from the Twin Cities to get outdoors. One of the closest hiking destinations to Minneapolis is the Chain of Lakes.
This chain of waterways includes lakes such as Cedar Lake and Lake Harriet on the western edge of the city. There are hiking trails around each lake, and you can walk between all of them too. For this adventure make sure you pack the right hiking gear.
12. See History at the Stone Arch Bridge
The iconic Stone Arch Bridge is the only stone arched bridge that still spans the mighty Mississippi River. A visit here to marvel at the local history is one of the best things to do in Minnesota.
The bridge itself is a remarkable work of engineering and a fantastic photo opportunity. The bridge dates back to the 1880s, when it was constructed as part of a railway line.
Today, there are no rail lines crossing this bridge. Instead, it's been handed over to pedestrians and cyclists, making it a great location for a walk when you're in Minneapolis.
Can't miss tours in Minneapolis and St Paul (Twin Cities) Minnesota:
13. See the Mississippi Headwaters at Itasca State Park
The mighty Mississippi River begins its long journey across America in Minnesota, and you can actually see the Headwaters within Itasca State Park.
It's one of the most spectacular outdoor areas in the state, and a truly iconic place to visit while you're exploring Minnesota.
14. Explore Superior National Forest
Superior National Forest is one of Minnesota's largest protected areas, and there's much waiting here to be explored.
Beginning on the edge of Lake Superior, this vast wilderness comprises lakes, rivers, forests, and much more. Hike the trails, camp out under the trees, or canoe along the waterways! If you are looking to camp make sure you have the right camping gear.
15. Canoe at Boundary Waters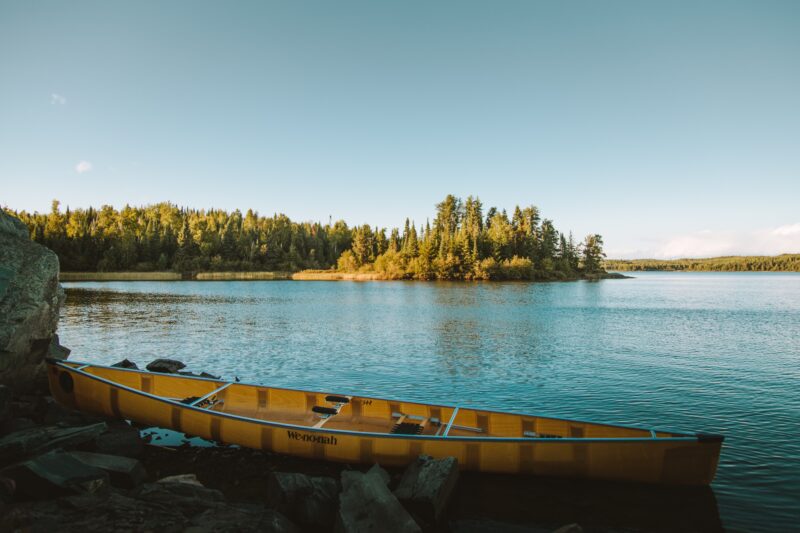 If you love canoeing, then one of the best places to visit in Minnesota is Boundary Waters.
This conservation area is located within the larger preserve of Lake Superior National Frest and is a top spot for kayakers and canoers.
16. Visit the International Wolf Center
Take a visit to the International Wolf Center, one of the best things to do in Minnesota if you're looking to learn more about the local wildlife.
This misunderstood creature inhabits the forests, and you can learn about its habitat, habits, and history at this great learning center in Ely, on the edge of Superior National Forest.
17. Visit the North American Bear Center
While you're in Ely, you can also visit the North American Bear Center. This excellent facility is dedicated to teaching visitors about the often untold and misunderstood side of North American bears, in a safe and educational environment.
18. Visit the National Eagle Center
Visit the town of Wabasha along the Mississippi River, where you can learn more about one of the USA's most iconic birds of prey, the eagle.
The National Eagle Center not only educates visitors on this magnificent animal, but it also cares for and rehabilitates several eagles that live on the site.
19. Voyageurs National Park
Right on the Canadian border, you can find the secluded climes of Voyageurs National Park, one of the best outdoor areas in Minnesota.
It's full of great sights and natural attractions, but the most famous place to see will always be the astounding Kettle Falls.
Our favorite remote lodge located in the Voyageurs National Park is The Pines Of Kabetogama Resort. It is a great place to base yourself on for amazing adventures. You can also get some amazing cabins on AirB&B (Here's a $45 credit towards your next booking.)
20. Shop at the Mall of America
Minnesota might be best known for its national parks, lakes, and rivers, but it's also famous for its shopping. Take a break from the outdoors and spend the day in Bloomington, where you can find the extravagant Mall of America.
If you love shopping, then a day trip here is one of the best things to do in Minnesota. The Mall of America is the largest shopping mall in the country (it literally is "the mall of America"), and the sheer size and scale of this shopping center will leave you reeling.
There are countless retail outlets, shops, restaurants, and bars to visit, as well as plenty more attractions to keep you entertained.
Can't miss tours that includes The Mall of America in Minnesota:
21. Vince Shute Wildlife Sanctuary
The Vince Shute wildlife sanctuary is one of the only places you can see black bears in the wild. Unless of course, you leave your picnic basket out while camping in the outdoors!
They roam freely through acres of meadow, swamp, and pine forest, all of which can be seen from the viewing deck. If you look up into the trees, you may even see cubs.
This is a really lovely place to go as a family, or if you have an interest in nature photography as it's possible to get some fantastic views. They even offer a photography workshop for those who want to get serious with it.
Definitely bring a camera, and if possible arrive early in the day for breakfast with the bears.
22. Niagara Cave
Niagara Cave is something of a spectacle, primarily because inside the cave there is an epic 60-foot giant waterfall.
Crawling with canyon-like passageways sculpted by underground streams, it feels a little like walking through an Arizona slot canyon – only darker and colder.
It really is beautiful, but definitely worth bringing a jacket.
You can pan for gemstones and fossils, and outside the cave, there is a mini-golf course, gift shop and picnic grounds. This would be a cool place to take children, though possibly slightly older children as there are lots of stairs.
23. Hamel Lions Flea Market
For collectors, hipsters and lovers of all things vintage, you've got to try Hamel Lions Flea Market, 20 minutes west of Minneapolis.
This is one of Hennepin County's largest outdoor markets, selling antiques, crafts, collectibles, plants, produce and all sorts of curios.
It's open on Sundays between 6:00 am and 12:00 pm from May through September and admission and parking are both free. Good for rummaging to your heart's content – and mini donuts.
24. Afton State Park
As mentioned, Minnesota's national parks are something else. Afton State Park is one of the best, with the scenic St. Croix river running through it. Its best features are its swimming and fishing spots, and the amazing views that overlook glacial moraine as you hike around the hills.
Just 45 minutes' drive from Minneapolis, it makes an excellent day trip if you're based in the city, but if you want to stay a little longer then camping is available all year round.
Or if you're feeling fancy, try glamping! The park has several cabins and yurts nestled in the forest, which are lovely cosy places to stay at night and get away from all the hustle and bustle.
25. Tank Driving
This one's a bit out there and a little more pricey than the other suggestions, however, this is a one-time unique experience not offered anywhere else – unless you are a tank driver that is.
Tank driving at the aptly named 'Drive A Tank' is an extreme adventure, with options to crush cars, fire machine guns and even drive through a house.
You will also leave with a greater knowledge of military history, as there are history/safety presentations given before you are allowed to drive. Not for the faint-hearted.
Come play on construction equipment in Hastings Minnesota!
26. Magical History Tour
During your time in Minnesota, it's very likely that at some point you will visit Minneapolis. If you're someone who enjoys tours, then the Magical History Tour is a fun one to try, as the whole thing is done on segway.
It's a 3-hour tour that covers approx. 5-7 miles and takes you to many of the riverfront area's historical sites, such as the Stone Arch Bridge, St. Anthony Falls and Saw Mill District, with a stop for refreshments at the Mill City Museum. Every history tour needs a little bit of magic.
Can't miss tours in Minneapolis and St Paul (Twin Cities) Minnesota:
27. Visit Canal Park in Duluth
Duluth is the third-largest city in Minnesota and the city that gives you access to the mighty Lake Superior. It is here that you can see the last aerial lift bridge in the USA too.
The historical downtown area is called Canal Park and it is here that you can play tourist in one of the most interesting cities in the Midwest.
Duluth has a lot to offer, visit the shipwreck museum, wander the streets, take a horse-drawn carriage ride, shop at artisan shops, enjoy the Lake Walk, visit the brewery or drive down to Park Point for some beach time.
28. Take a Sunset Cruise on Lake Superior
The very tip of Lake Superior and the subsequent North Shore are all bordered by Minnesota. This means that you have incredible access to the largest freshwater lake in the world, the great Lake Superior.
In Duluth, it is possible to take cruises on the big lake where you can see the various industry that thrives, the beaches and enjoy this massive inland 'sea'.
The company is called Vista Cruises and they offer both standard day time tours, sunset dinner cruises and private charters.
---
Many people route through Minneapolis and never take the time to see the cool side of Minnesota.
Hopefully, this will inspire you to stay awhile on your next visit and enjoy some of the off-track wonders that this state has to offer.
Besides, being from Northwest Wisconsin, Minnesota is the backyard of our hometown, we love it and we know you will too.
More on the USA:
Did you like this story? Share it!