Deciding to order and try the Deuter Traveller 70+10 was an impulse decision for us. We had thought we were settled on David carrying the Deuter Transit but when it came time to really look at the bag as 'the one', we found that it came up short in a couple of areas.
It so happened that in those areas that it lacked, the Deuter Traveller 70+10 delivered. We figured it couldn't hurt to try the other one since we will be living out of these bags soon. We need to make sure they are just the right fit for us.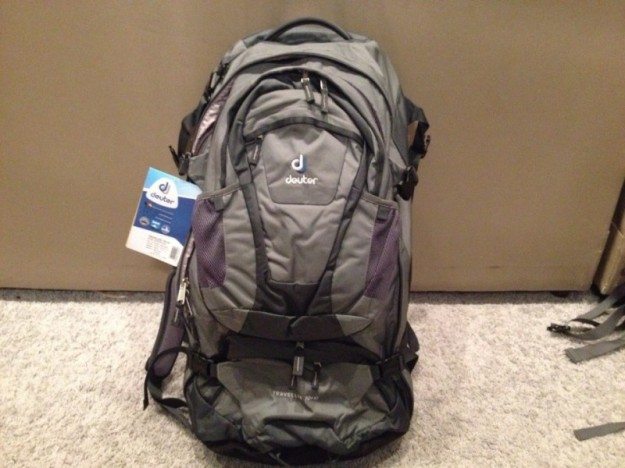 We already knew what to expect from the Deuter Traveller 70+10 since it is a mirror replica of the Deuter Traveller 55+10SL. The only difference being the liter size. I am not crazy about David carrying a 70L bag as he tends to overpack.
We heavily considered having him carry the 55L bag, but we were not able to make the harness fit him. It was a women-specific harness and just didn't have enough room for adjustment to make it fit him. So our options kept the Transit or try the Deuter Traveller 70+10.
Deuter Traveller 70+10 Review
Like the 55L bag, the Deuter Traveller 70+10 is roomy inside with several mesh pockets built into the bag for storing small, valuable things. It zips open completely around like a duffle, which makes packing and unpacking it easy.
The bottom compartment allows you to either segregate it or open it up into the main compartment.
The harness on the Deuter Traveller 70+10 zips away for airline travel and it has a detachable duffle bag strap on it for carrying it when the harness is stored away. In addition, it features a heavily padded handle on the top and side for carrying when the harness is stowed.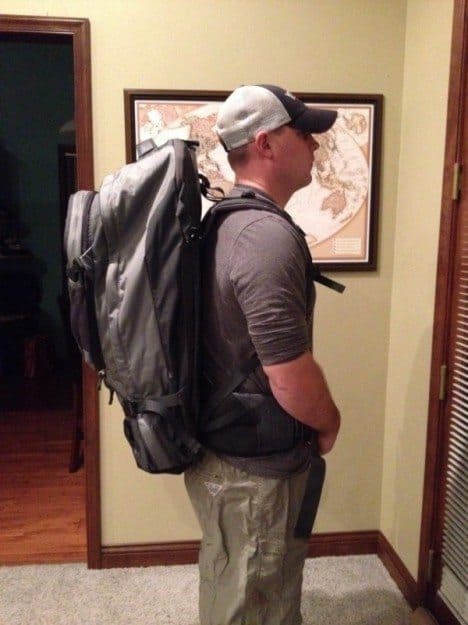 The front part of the Deuter Traveller 70+10 has a detachable day pack that is light, compact and loaded with pockets and mesh. This day bag is one of the most comfortable I have tried as it has good padding on the straps and a sternum strap.
So it stays in place and sits on the right part of your shoulders. It easily fits my MacBook Pro 13″ or David's Acer Ultrabook 13″ along with a variety of other electronics and small gear.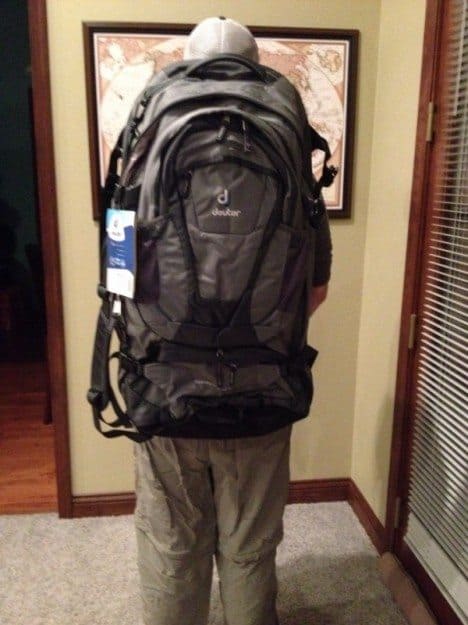 Overall, the Deuter Traveller 70+10 is just a better bag than the Deuter Transit. It has more features for organization and better overall comfort. David and I are, of course, divided on the size of it.
HE loves it, he likes his stuff and wants to have room to be flexible in acquiring or moving things around in his bag. I, don't like it so much. I am worried he will end up with too much unnecessary stuff in his bag!
However, I have purchased some packing cubes for him and we have been working together to make sure it gets packed in a way that makes us both happy.
Did you like our Deuter Traveller 70+10 review and want to buy your own travel backpack?
Check out the Deuter Traveller 70+10 Travel Pack
More on Travel Gear:
Did you like this story? Share it!