The last time I rode a bike for this long, my ass hurt for at least a week afterwards. This what all I could think of as our group made its way off the main road onto the single lane footpath surrounded by the jungle. The main goal was to keep pace and balance while avoiding the high ridges on either side of the 8 inch wide path because if you hit that with your peddle, you were going down.
Bumping along the road, the sun beaming down on me, I was in an almost meditative state. There was a lot to take in visually, with lush green hills opening to tan colored bush fields, the scenery changed rapidly as we made our way through the trails. We had already completed a significant portion of the trip and I was right on my pedal game. Coasting and moving through the land without any issue.
So when it came time to cruise down an extreme hill, with a bigger grade and many rock 'mines' to be missed into the rushing creek below, I didn't even hesitate. The hill navigation was flawless and before I could blink I was cruising into the water with the sound and feeling of the splash consuming me. In a matter of seconds I had reached the other bank, which ended up being mostly small pebbles, but very loose.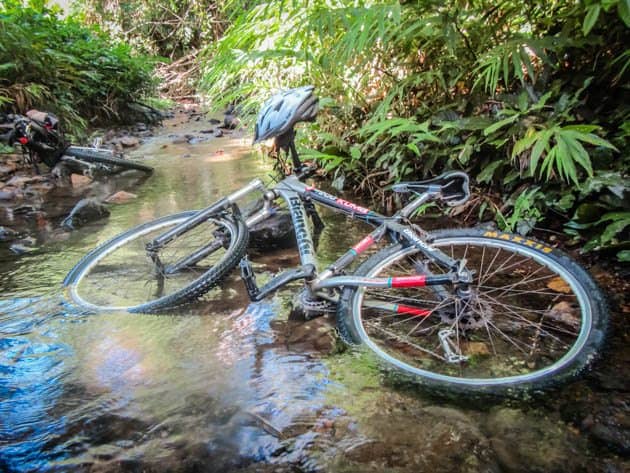 This required some skill to pass through without getting off and I stood up on the bike to get the power I needed to push through it and up the next hill back onto the track. In that moment, my bike came to a complete standstill as I stood up to push the pedal down and propel me forward. At the time, it happened really too quick to process or react, but as my bike stalled I had two options, bail or not bail.
I attempted to bail, hoping to catch myself with my feet but it was too late and I came crashing to the ground with my bike. As I looked up, it occurred to me that it wasn't my tire that had gotten hung up, it was my pedal. There was a gigantic rock sitting at the exact height of my pedal, I didn't see it when I stood up to power up the hill and it collided perfectly with the pedal, disallowing me the opportunity of continued pedaling or movement.
The crash was a good one, I broke a toenail, yes a toe nail and it was my big toe (the WORST) and was assaulted by the bike handle bars on my upper thigh. At the time I really just shook it off, got up, walked my bike up the hill and continued on. Later that night though, the toe was throbbing and the handle bar assault resulted in a bruise pretty much the size of my iphone. Sorry, no photos but it had been a good day.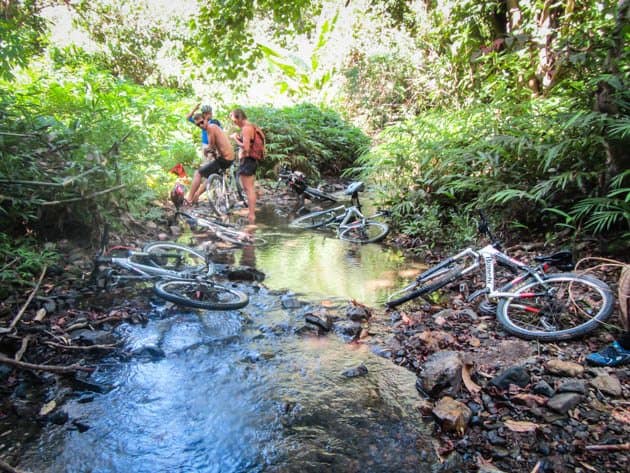 As part of our photo safari with Tribal Adventures, we spent a whole day mountain biking and hiking in an attempt to cross the entire length of the island of Busuanga in Northern Palawan. The Hike + Bike= Build A School project was put together as an adventure tour that not only gets you off the beaten track but raises awareness of the challenges the children face in this part of the world if they want an education. Every peso paid for this tour is donated to the new school being built in Cheey, Busuanga so the kids can make this weekly trek a thing of the past.
The trail that we would travel on is the actual trail the children use when they leave their homes every Sunday and make their way across the island. They stay at school until Saturday, when they return home for just one night and then begin the trek back again the very next day. The trail is no small feat as it ebs and flows with the land both uphill and downhill through some pretty intense terrain.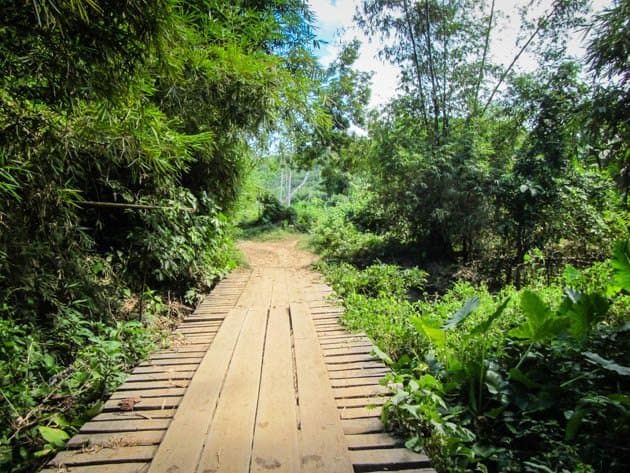 Even riding mountain bikes posed a challenge in some places with the high ridged trails, steep rocky inclines and flowing creek beds. There were many moments when we would bomb down a hill into water to continue on the path. Our 8 hour day didn't take us to the far side of the island, there was too much of the path that was too difficult for bikes, so we opted for some hiking and then to return.
This was the first time we have participated in a mountain biking trip that spent most of it's time off-roading and we loved every second of it. Of course, it didn't come without some challenges and I would be lying if I said I didn't take a couple diggers. There was even a time Dave came flying down one of the hills, hit his break and got hung up on a rock causing his bike to literally buck him off into the stream in front of him.
What really makes the trip is the exceptional guiding by the Tribal Adventures crew, especially Julius. He is adventurous and supportive, showing you how to have fun and then encouraging you when you think your legs are going to fall off.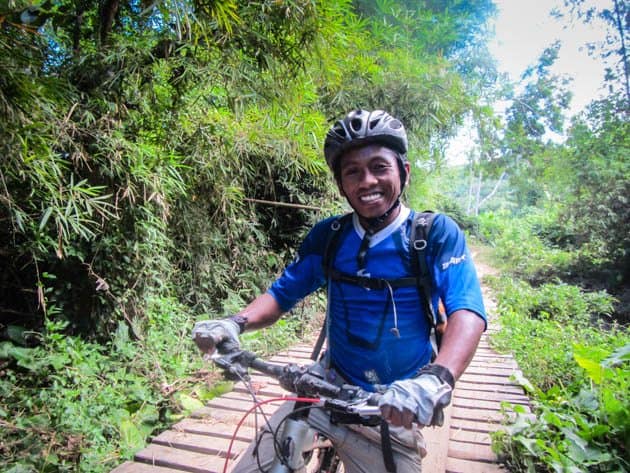 Overall, we covered a long stretch of dirt track road from Palawan Sandcastles to the off road track, several kilometers of off road track through fields, jungle, hills and creeks. When we got hot, we stopped in the creek beds for a swim, which was also convenient for washing off the bikes. Prior to our arrival the island had experienced a lot of rain, so there was much mud to plow through along the path.
It was shocking to me the amount of terrain these children cross for their chance at an education. Sure some of them have parental support, but they are not accompanied by them. They travel with their siblings, friends and peers, all alone for several kilometers from one coast of Busuanga to the other.
This is extremely admirable as there are many places in the World where this type of trek would be scoffed at and as a result, school would not be a priority. It brought to the surface a desire by the locals to better themselves and to educate their children. We are happy to have been part of this awareness building project, not only did we have one heck of a back country adventure, but we are given a chance to share what an incredible feat these children endure with the World.
More on the Philippines:
Did you like this story? Share it!