As 2020 finally comes to a close, it's time to look back on one of the craziest years I think we will ever know in our lifetimes. It was a year of surprises, shock, adjustment, strength, perseverance and the lessons that have come from all of that will stick around.
In the blink of an eye we went from running a successful business creating content in the travel industry to making cutbacks and hanging on for dear life as world travel came to a crashing halt.
There isn't anything you can do to prepare for something like that. Sure, you can have a padded savings and for what we do, diverse income sources, but who on earth could even fathom a total wipe out of an industry overnight?
Needless to say, it's been a stressful year. But we're here. We're surviving and we're making lemonade out of an entire bushel of sour lemons.
---
2020 Travel Review: The Year of a Global Pandemic
---
January
Well, January started out normal with us spending New Years at home in Wisconsin. I'll admit, though, I had already sniffed out the 10th page news stories on the new virus that had been detected in China. So despite it not really being a thing, we were watching. Yes, all the way back in January.
At the end of the month we headed to New York City, our annual visit, to attend the New York Times Travel Show and International Media Marketplace. We've been attending these events since 2016 and is a trip we look forward to every year.
It's a chance for us to meet up with fellow bloggers, many of whom we are close friends. We also meet with various brands, destinations and PR companies to pitch campaigns and book work for the years to come.
As with the past 4 years, I also had the opportunity to speak on the industry day about brand partnerships and working with travel bloggers. My presentation on the panel this year was dedicated to educating brands on how to leverage bloggers to promote sustainability and ethical behaviors in their destinations.
February
Coming home from New York, we enjoyed 4 days of February in Wisconsin before hopping on another plane that was headed southbound for Mexico. It would be our first visit to Baja California Sur and we planned three weeks to explore.
Our trip started with 3 days in the cool Mexican town of La Paz. Our first trip to Mexico was way back in 2001 when Playa del Carmen was a small town, before it became very commercial, and La Paz felt a lot like that to us. The old Mexico that we fell in love with all those years ago.
Next up came 5 days spent kayaking and camping along the coast of Isla Espiritu Santo, an UNESCO Biosphere Reserve, that you can access from La Paz. Much to our surprise, it was pretty cold and we had high seas.
We battled strong winds, blowing sand (think sand blaster) and giant waves but it was one hell of an adventure. When on land we explored by foot, hiking to overlooks and learning about the indigenous people that used to call the area home. It was a fascinating trip.
Cruising the Sea of Cortez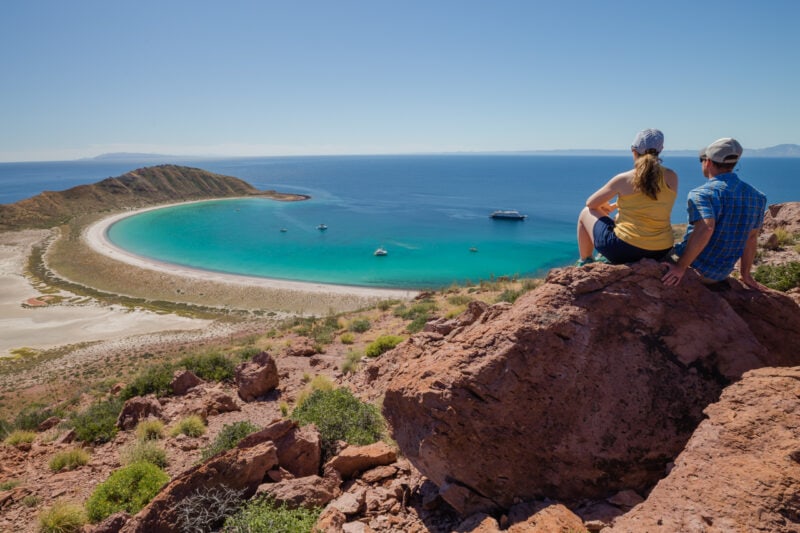 Returning to La Paz we boarded the Safari Endeavor for an 8-day expedition cruise in the Sea of Cortez with UnCruise Adventures. Our route would take us from La Paz to Loreto and back again, hitting up plenty of islands along the way.
This is one of the most off-the-beaten-path adventures you can have in Mexico. So few companies explore this area and it's absolutely insane how beautiful it is. It's no exaggeration when I say we saw hundreds of whales on this trip.
Adding to the highlights was a day trip to the Pacific Coast of Baja California Sur, where we spent an afternoon watching grey whales off the coast. The area of Magdalena Bay is the chosen calving location for these whales, so you're pretty much experiencing whales with a side of ocean. It's spectacular.
Back on solid ground, we headed to Cabo for some relaxation before flying back to the frigid north to prepare for our next trip.
While we were in Mexico, the murmurs of a pandemic were just starting to reach the papers. We talked about it with fellow travelers and checked in on the news when we could , not often as we were in pretty remote areas, but we could feel it was starting to close in.
Off to Laughlin, Nevada
Just 7 days after our Mexico touchdown we hopped on a plane to Las Vegas, where we would be road tripping to and exploring the areas around Laughlin, Nevada. We didn't know it at the time, but this would be our last trip for a while.
But we could feel that, as random people on the plane wore masks and everyone stared at each other with uneasiness in their eyes. It was weird but can be looked at as our first glimpses of what was to come.
Despite this, our 5 day trip to Laughlin was perfect. The end of February is a fabulous time to visit the American Southwest. The days are warm, sunny and things are blooming. Not to mention that this city sits right on the Colorado River, which makes it a gorgeous destination to visit.
We actually really liked Laughlin and have been recommending it as a slower-paced Vegas alternative that we'd happily return to ourselves. Not only is the city great but you are also in close proximity to Lake Havasu and Oatman, two places worth a visit if you find yourself in this area.
March
Well, well, well, March, you beast you. This one can officially be known to history as the month our entire year fell apart. Things progressed so fast from the start of the month to the end that it left us kind of reeling and in shock. Although I think that happened to most people!
It was a month that saw years and years of hard work completely upended. In short, we saw affiliate partnerships cancelled, campaigns put on hold, assignments canceled, trips put on hold and the traffic on our site plummet almost out of site.
Ouch.
In an effort to stay safe, we stopped going to the gym, hanging out with friends and eating out. So little was known about the virus and transmission that the unknown became a paralyzer. We weren't willing to take any chances until we had more information.
This led to some serious mental introspection. This included some serious self-talk about focusing on the things I could control (my health) and not the things I could not (the fucking global pandemic). We ordered some workout equipment and threw ourselves into fitness.
What the hell else were we going to do?
We spent the month of March and the worldwide lockdown holed up in Northern Wisconsin, which was a blessing in disguise.
April
By the time we reached April, we had both found some mental relief from the chaos that surrounded us. We were adjusting to the new normal. And because we live in a rural area, had plenty of space to be outside.
There was hiking and running. We worked out 6 days a week. We made some kick-ass gains on our website! It's amazing what you can get done (and cleared from your back burner list) when you have nowhere to go.
Horses. I started spending time at the barn, riding several days a week. It's been years since I had the time to do this regularly. To be honest, this was soul cleansing for me in a time when nothing else really made sense.
Then the end of the month came along and ruined the bliss. On the very last day of April I woke up in the early morning hours with very intense abdomen pain. By 6am I was begging David to take me to the Emergency Room.
While I had been convinced it was appendicitis, it turned out to be an ovarian torsion. And a bad one at that. After 5 hours in the Emergency Room I was told I needed emergency surgery.
I had emergency surgery in the middle of a pandemic. FML.
May
The month of recovery. All that working out I did in March and April? Virtually wiped clean by that emergency surgery and recovery that followed. Not to mention that one of my incisions became infected leading to me taking antibiotics which I subsequently had an allergic reaction to. Hmph.
So what does one do when faced with such nonsense, left unable to workout and ride horses? Well, I binged just about anything I could stay awake for; Tiger King, Handmaids Tale, Outlander? Check, check and check.
Most of May was spent this way. The recovery was slow and even walking up and down the driveway was exhausting but I made it. I also celebrated my 37th birthday for which both David and I got new mountain bikes.
June & July
With lockdown restrictions starting to ease around the USA, we decided to plan a camping trip to the Apostle Islands in Northern Wisconsin. This area is only 1.5 hours from where we live and a place we have been wanting to revisit for years!
We planned for 4 days of camping at Big Bay State Park on Madeline Island and it was probably the most fulfilling trip of 2020 for us.
After months of shock, struggle and heartache, this trip was like an injection of energy into our lives. See, we thrive in our lives of travel and adventure. We literally live to explore and create content. We absolutely love our jobs.
So when we arrived in Bayfield and drove our car onto the ferry, I literally felt like I was going to burst from excitement! This trip breathed new life into us and also eased us into a new normal with restrictions, masks, social distancing, closed businesses and all that comes with it.
Our renewed energy from the camping trip led to more productivity on our back burner list and we settled into summer. This was also the time that we started working on the possibility of taking a road trip further afield in the fall.
August
Continuing to stay in our home state, we planned another camping trip. This time to the Northeastern side of the state that is known for its waterfalls. We camped for 4 days in Copper Falls State Park and left no stone unturned in the area.
We also turned our attention to planning a road trip out west. With all of the international travel that we have done over the past few years, we've spent little time exploring more within our borders. Despite the pandemic, we seized this as an opportunity to see more of the states.
We decided that we wanted to road trip and camp our way around North Dakota, Montana, Wyoming and Utah. We ordered a rooftop tent for our SUV and began planning configurations for the trunk area. Our trip would basically involve living out of our car.
Getting this all together was a bit of a challenge with short supplies and lots of things being out of stock. But we managed and by the end of the month we were all set to head out after Labor Day on our adventure.
We planned the trip to be as socially distanced and safe as possible, focusing on USA National Parks and outdoor spaces, rather than cities.
September & October
Much like the Apostle Islands trip in June, leaving home on September 6th and heading West was invigorating. Partially because we were met with a massive cold front (hello, 20 degrees Fahrenheit camping) but mainly because we were on the road again.
All said and done we traversed 9 states on our journey to and from Wisconsin visiting 9 National Parks, many State Parks, National Monuments and National Forests along the way.
North Dakota
Easing into our trip was easy in North Dakota. What better place to social distance than Theodore Roosevelt National Park? We set up at a campground in nearby Medora and spent our days driving the park roads, hiking the trails and photographing the wild horses in the park.
Considering we did two camping trips in Wisconsin over the summer, this didn't feel much different from that. It was easy to stay away from people and the few times we encountered people, we always wore our masks.
The worst part was the absolutely frigid nights of camping. We had 4 straight nights of sub-30F weather. It's no joke that we woke up with ice on the inside of our tent from the condensation.
Montana
Leaving North Dakota, we drove straight across the state of Montana to Whitefish, where we would base ourselves to explore Glacier National Park. When we arrived the weather was stunning and warm, certainly unexpected in the mountains.
We enjoyed 3 beautiful days in the park hiking. Then the freaking smoke rolled in. The forest fires from the west coast came to call. As a result, the entire area was completely covered in a thick cloud of smoke. If ever there was a moment that screamed 2020, it was this.
For 4 days we waited out the smoke and it just wouldn't lift. It was unrelenting and with us unable to see anything, we decided to head south. This was a sad moment on our road trip.
We've waited years to visit this park and to be met with smoke like that was heartbreaking. We didn't do nearly as much as we had planned but hopefully we'll be back in 2021.
Wyoming
In finding those silver linings, though, this gave us extra time to add on to Yellowstone National Park. We spent a total of 8 days in the park and we needed every single minute of that.
We drove all 400 miles of park roads, hiked many trails, spent early mornings animal scouting and even witnessed a massive grizzly sitting on an elk kill. The geysers. Wow. They are otherworldly and need to be seen up close to be appreciated.
After our adventures in Yellowstone, we headed south into Grand Tetons National Park. It was here that we spent more time detoxing in the mountains. We camped, hiked and explored for 3 days before the rain rolled in.
There were more days on our itinerary for this park but with cold rain on the forecast for the foreseeable future, we chose to move on early once again.
Utah
Being ahead of schedule meant we'd have a full month to dedicate to Utah. Twist our arms! The weather was starting to turn in the mountains, so when we crossed down into Utah the difference was stark. Dry heat meant more comfortable camping!
We spent the month traversing the state, hitting up the Mighty 5 National Parks and playing in state parks. Our days averaged 5 miles of trail, at a minimum.
In Zion National Park we climbed to the top of Angels Landing, hiked the Emerald Pools and through the famed Narrows. We also spent a day at Kolob Canyons.
In Bryce National Park we hiked to the Queen's Garden, the Navajo Loop and the Rim Trail. In Captiol Reef National Park we hiked the Grand Wash, Cassidy Arch and Hickman Bridge. In Canyonlands National Park we explored the Island in the Sky District and the Needles.
In Arches National Park we hiked the garden trail, to Double Arch, to Landscape Arch, the Three Windows, Park Avenue and to Delicate Arch.
Arizona
While we were in the south part of Utah, we found ourselves with an opportunity to visit the North Rim of the Grand Canyon. So we took it.
Driving from Kanab, we spent a whole day in this section of the national park and absolutely loved it. It is a lesser-visited gem due to it's hard to access location. Most people head to the south rim and miss the north rim completely.
There are some great hikes and an incredible scenic drive with loads of overlooks and stop offs. If you find yourself in southern Utah and have a day you don't know what to do with, give this part of the Grand Canyon National Park some consideration. It's worth the drive.
Getting Tested for COVID-19
When all the playing was done, it was time to start making our way towards Wisconsin. Since this means coming back into close contact with family, we scheduled a COVID test appointment at a drive-thru testing site in Boulder Junction, Colorado for the day we left Utah.
This would be our first test, and even though we weren't exhibiting any symptoms nor had we knowingly been in close contact with anyone that was showing symptoms, we figured better safe than sorry.
The test process was easy but getting that nasal swab was just as uncomfortable as it looks. The area that gets swabbed is like virgin, untouched skin. It's hypersensitive and as a person with allergies, it took almost 3 days for my nasal passages to feel normal again.
That night we grabbed a hotel on the outskirts of Denver. That night, some asshole cut my $1000 mountain bike off our SUV. Oddly, they left David's but nonetheless, I was out a bike. Ugh, 2020, you suck.
Knowing it would take up to 3 days to get the results, we slowly made our way towards Wisconsin. Continuing to wear our masks and stay away from others.
November
The beginning of the month was spent recovering from the end of our road trip and cataloging the many terabytes of the content we created! We were also consumed, as were most people, with the US Election.
Doing our civic duty, we donned our masks and voted in person at our local poll station. When there was no clear winner on the morning after November 3rd, we split our days with news watching and work.
Around the same time, we received a campaign offer for later in the month. We had a decision to make.
Were we ready to get on an airplane?
The last two months had been spent road-tripping and in doing that, we developed a solid routine to keep ourselves safe. We have no problem wearing masks, social distancing is part of our nature and we use copious amounts of hand sanitizer. This isn't foolproof, but it works.
North Shore of Lake Superior
While we struggled with the decision of whether to fly or not, we took one last road trip for 2020 and headed up the North Shore of Lake Superior to celebrate our 10 year anniversary.
10 years is a big milestone! We've been planning our celebration for this year since late 2018 and we were supposed to be cruising in Tahiti and renewing our vows in a traditional Polynesian ceremony. Hmph, 2020 takes another bite.
Instead, we made some more lemonade and explored more of our back yard. We've been up the North Shore before as the start of the route is only 45 minutes from where we live. This time though, we took 3 days, rented a secluded cabin overlooking the lake and enjoyed the solitude.
We already had snow up here, so we enjoyed some winter hiking in the many state parks along the route, stopped off at the NPS site, drove all the way to the Canadian border, looked for moose and enjoyed a couple sunsets over the crashing waves of the mighty lake.
It wasn't Tahiti, but it was still perfect.
Crystal Coast North Carolina
After much deliberation and discussion on risk mitigation, we made the decision to take the job. We were taking our first flight since March 1.
To prepare for flying we upgraded to N-95 masks and purchased face shields. We also made the decision that we wouldn't eat nor drink while on the plane. In the airports, we wore our masks and stayed far away from people (which was actually easy as the airports were pretty empty).
We flew Duluth, MN to Minneapolis, MN to Atlanta, GA to Jacksonville, NC on Delta Airlines. It went smooth and they kept middle seats open. It was actually a lot less uncomfortable that we had anticipated.
Our 5 days on the Crystal Coast of North Carolina were amazing. We spent our time outdoors, viewing wild horses, exploring the Cape Lookout National Seashore, kayaking, walking the beach, exploring the small coastal villages, horseback riding and gorging on fresh seafood on outside patios.
Getting Another COVID-19 Test
Upon returning, we scheduled appointments to get tested for COVID 7 days after our flight. In this time we quarantined from family and paid attention to our health. We never exhibited any symptoms and after getting tested, returned a negative result.
I can't say enough about how important it is to wear a mask when you're in public and to make an effort to physically distance. It works. Nobody should be questioning this advice at this stage in the pandemic.
December
The month of catch up. With exploration comes hours and hours of cataloging, processing, creating and publishing for us. It's the curse/blessing of the content creator.
December was more productivity but also a time to reflect on the year and start looking to the future. 2020 was a rough year but we made it through with our health and business still intact.
Onwards to 2021
Well, we made it. You made it (both through this story and 2020).
With the promise of a vaccine on the horizon, travel further afield is starting to look like more of a possibility in 2021. We're working on some domestic travel plans and you'll see us road tripping a bit more too.
Will we get the vaccine when it becomes available to us? Absolutely.
Despite everything that happened in 2020, we've been able to find the silver linings in it all. We've survived, not only a pandemic, but a massive slump in our business. We've reconnected with things we are passionate about. We've focused on ourselves.
Now, more than ever, we are so grateful of the life that we have created for ourselves. It might be hard work to run this business but if we've learned anything, it's that you can't keep us down. Things may waver but we're ready to come back stronger than ever.
We needed that perspective shift and we hope you've found some silver linings in the chaos of 2020 too. Onwards to 2021.
Lina & David
More Year End Recaps: