As I sit here writing this recap, we are in Sri Lanka, a far off place that most people we will encounter in life have no clue of where it's located. In 5 days we will make landfall in India, one of the World's most chaotic and mysterious destinations. This past year has been filled with so many highs, so many lows and there is so much more to come.
I am incredibly reflective. I cannot believe we have been traveling non-stop for a solid year already. Time really does fly when you are having fun.
We have had so many adventures and experienced so many new and exciting things over the past 12 months of travel and the best part is there is still so much more to come.
We have close to another year of travel planned and after that, well, who knows. Traveling like this has taught us so much about ourselves and has instilled in us how much we really do love travel.
However, after a year of continuous travel, we miss the comforts of home and the downtime that comes with that.
Traveling nonstop is hard work as there is so much planning and moving that goes into it. So we are currently working on a plan to make a travel life that involves a home base, to make future travels more sustainable for us.
That said, it's been a crazy year and we are looking forward to the next year we have in store. Don't worry, the adventures are just getting started, stay tuned for information on our 2015 travels that include spending 6 months in Africa.
A continent we have dreamed about for so many years, we are jumping in headfirst and the anticipation is building.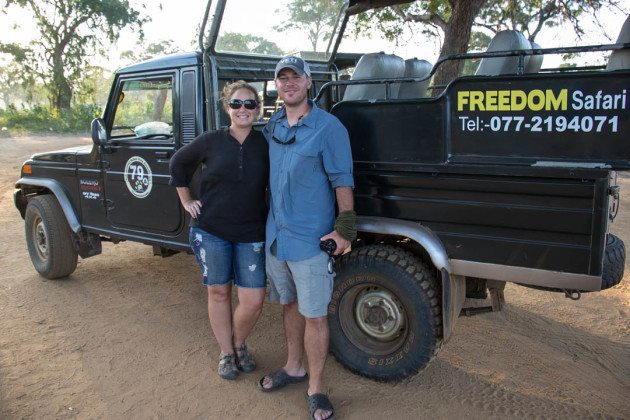 ~ Day 365! On safari in Yala National Park, Sri Lanka ~
We've spent almost a full year traversing Asia and all of her wonders, yet, we feel as if we have only scratched the surface of this part of the planet.
I know that sounds ludicrous, as many people typically spend only 2-3 weeks at a time in this part of the World, but it has so much to offer. Every time we left a country, I couldn't help but think about how much we didn't explore there.
Maybe that is just the explorer in me, the adventurer, the traveler, the person that thirsts for new places and new people. We are both starting to accept the fact that this desire to explore will never disappear and we will always be dreaming of the places we haven't been.
So on that note, let's take a look at our stats and moments from the past year.
I left in some of the information from our first 6 months for comparison and then added some new stuff from the second 6 months of our travels. This entire post is a culmination of 1 full year of travel. Enjoy!
What We Loved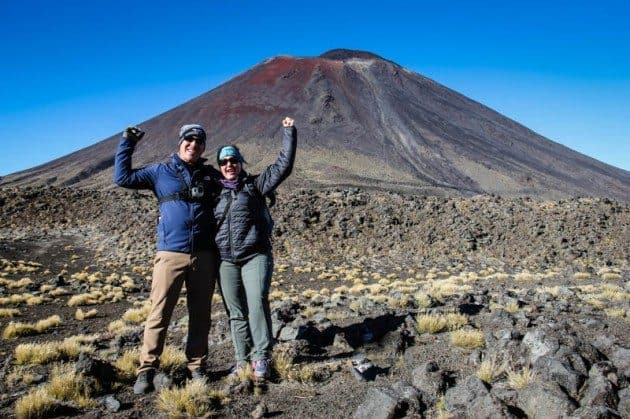 ~ Completing the Tongariro Crossing in New Zealand ~
Jumping into SE Asia
We returned to SE Asia after visiting America in September and have been there for 6 months exploring all the places we have dreamt about for years.
This part of the World is so beautiful with amazing culture, beaches, rainforests, animals, and adventure. 5 months here has gone by so fast and I can't believe how much we still have to explore.
Renting a Condo in Bangkok
It was so nice to slow down for a bit (albeit a short bit) and just have a home. While moving around and seeing the World sounds glamorous, it is exhausting and we really needed a place with a couch to recharge or batteries. It worked and we're now heading towards India.
Being able to push past the burnout slumps
Normally, we wouldn't have had enough time to push through travel burnout slumps and see destinations with a new perspective. Long-term travel has given us the chance to get over first impressions and find the real wonders of each country we have been in.
Culture shock is normal but being able to get over that, push past the burnout and see the real side of a place is a wonder that we have loved.
These still apply, even after 6 more months of nonstop travel
Having absolute freedom is so liberating. We have complete control over our lives right now and it is so strange and wonderful.
With freedom comes flexibility, which is also something that we haven't had loads of in the past. We can just change things anytime we want and we do. Photos and videos!!!
I am in absolute heaven being able to just be a shutterbug every single day. One of the greatest things about this trip is my chance to capture the World and our travels to share with our family, friends, and readers.
What We Didn't Love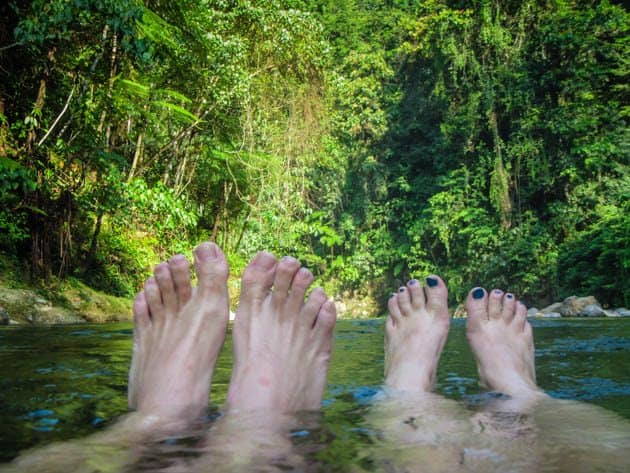 ~ Toes up in the middle of the Sumatran Jungle in Indonesia ~
Budget Airlines
This is a double-edged sword, we love the prices but man, have we had some awful experiences flying on budget airlines since we left home last February.
You may get a good price, but when they screw you, they screw you big and it ends up costing you more than if you had booked the more reliable airlines.
They often don't take responsibility when they cancel flights or delay for 10 or more hours causing missed flights, hotel cancellation fees, etc.
We've spent hundreds of unexpected dollars on this kind of stuff. The kicker, those 7-hour flights and they don't even offer complimentary water!
We STILL really miss our dog while we have been traveling
It was so amazing returning home in September and being able to spend time with our dog. He was so excited to see us he peed all over the place and just stared at us in shock.
Wouldn't leave our sides while we were home and I would be lying if I said I didn't feel like a complete asshole for leaving him behind, again.
This has been a hard thing for us, we love our dog and he is really devoted to us, one of the reasons we are missing home so much I think. Still trying to figure out if we can travel with him…. Maybe something you see in the future.
The internet still frustrates us
Having an online business makes you incredibly reliant on the internet and when you are in parts of the world where the connection is not great, well it gets tough.
Most of all productivity drops which creates stress for us. Trying to meet deadlines and keep things up to date can be a struggle, but it's all part of the job I guess.
How Much Did We Spend?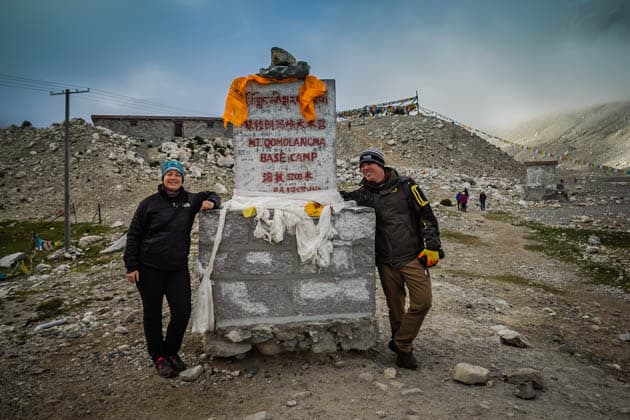 ~ Reaching Everest Base Camp in Tibet ~
For the first 180 days of travel, we had a running average of $128 per day. For the year total, 365 days of travel, we had a running average of $116 per day. This is the total number for the 2 of us and includes absolutely everything. All transport, including air, activities, accommodation, and meals.
Our target pre-trip guesstimate was $100 per day and honestly, I cannot believe we are so close to that! We only overspent our target budget by $5,800 over 12 months and considering all the things we have done and the unexpected expenses we have had we are beyond thrilled with this.
Pat on the back to us! I like to think it is my finance degree and banking experience hard at work.
In addition to that, we have had some incredible partnerships over the year and opportunities to work with some of the best companies in the industry.
This has enabled us to visit places we may not have considered. We have some exciting partnerships to announce soon as well.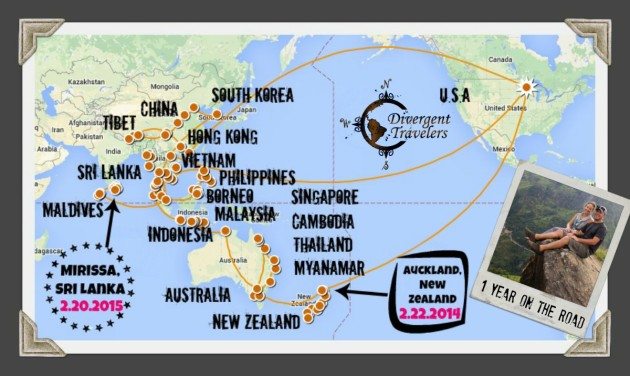 Random Stats from 1 Year RTW Travel
Number of countries visited: 18
New Zealand, Australia, Indonesia, Malaysia, South Korea, China, Tibet (Technically part of China, but to us it's separate), Hong Kong, USA, Vietnam, Philippines, Malaysian Borneo, Cambodia, Thailand, Myanmar, Singapore, Maldives, and Sri Lanka.
Total Miles Traveled: 66,938 total miles (107,726 kilometers)

(First 6 months) 31,790 total miles (51,161 kilometers)
Methods of transport used: Taxis – 31, Buses – 28, Tuk-tuks – 12, Planes – 40, Boats – 12, Trains – 18, Ferries – 5, Cyclos – 3, Rental Cars – 2, Underground trains – 19, Jeeps – 6, Cable cars – 1, Minivans – 21, Speedboats – 3, Riverboats – 2, Campervans – 1, Cruises- 2, Scooter- 8……and many, many times on foot.
Number of hours on a: train – 74, Bus – 319, Plane – 137
Methods of crossing a border: By plane, By foot, by bus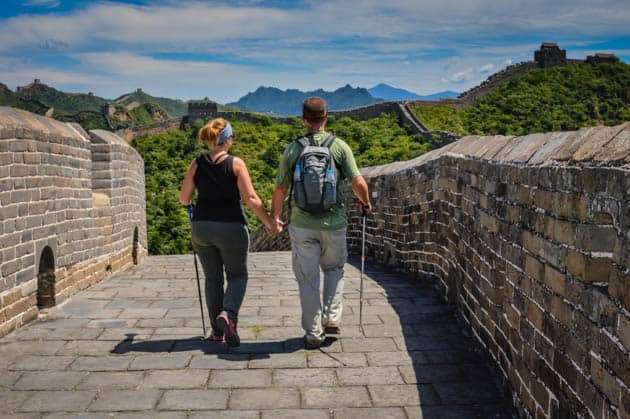 ~ Spent 3 days hiking on the Great Wall of China ~
Number of hotels/hostels/guesthouses/homestays we've stayed: 108
Other places we have slept: Airports – 4, Trains – 4, Tents – 8, Campsites – 17, Boats- 3, Buses- 3
Nicest accommodation: Island Bungalows on Mabul, Sabah, Borneo
(First 6 months) Thomas Retreat, Bukit Lawang, Sumatra, Indonesia
Worst accommodation: Village homestay in the Shan state of North Myanmar between Kalaw and Inle Lake. We lay awake all night as huge rats came from the ceiling and cracks and ran around the room and over us all night.
(First 6 months) Some homestay in Cemoro Lawang, Java, Indonesia
Things Lost: 1 – David lost his wedding band. Again. 1 padlock.
(First 6 months) 2 -David's wedding band, polarized sunglasses- both in the same river!
Things Found: Unfortunately, none. The ring is gone for good this time.
(First 6 months) 1 -David's wedding band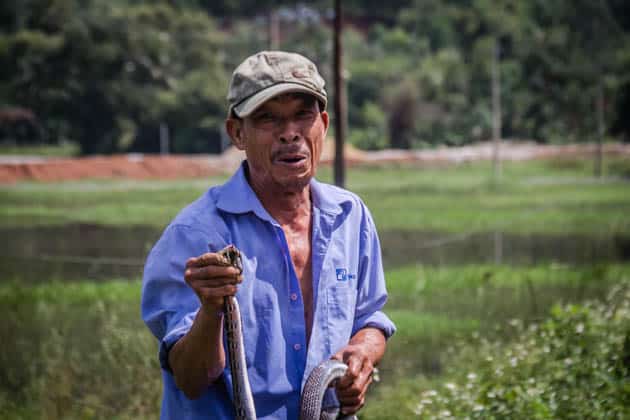 ~ Our encounter with the Vietnam Snake Man! ~
Things Broken/Damaged: 1 –I broke a UV filter when I dropped my DSLR while hiking over some large boulders in Vietnam, underwater point & shoot camera (oops!)
(First 6 months) 3 -video camera, point & shoot camera, GoPro case
Things Sent Home: Well, we put together a new set of stuff when we were home in September but still managed to leave with too many unnecessary things. So we sent another 10 kilos of stuff home with my sister in January.
(First 6 months) Loads, we sent home around 10kilos of stuff with my friend in June.
Things Purchased/Replaced: 10+. We both revamped our clothing in September, adding new and different items, 1 jacket, 1 pair of sneakers, 1 pair of sandals, 1 wide-angle video lens, 1 new DSLR lens, 2 new batteries, 1 new external hard drive
(First 6 months) 6 -GoPro case, GoPro stick, 2 dresses, 1 pair shorts, video camera
Cases of Travel Burnout: 4, surprisingly we have had 3 cases of travel burnout in the second 6 months. Being on the road constantly is starting to wear on us I think.
(First 6 Months) 1. Luckily we were able to head to the beach for 2 weeks and it passed quickly.
Cleanest public toilet:
Singapore has the best toilets and they always have paper!
(First 6 Months) Surprisingly, Seoul, South Korea. They are cleaned regularly and always have paper!
Dirtiest public toilet: This one will remain the same, there have been some bad ones, but even the outhouses in Myanmar cannot top China and Tibet.
(First 6 Months) Pretty much every single one in China and Tibet. You know it's bad when you need a face mask to avoid passing out while contemplating if someone was murdered in there or someone just forgot to wrap up their sanitary napkins… true story!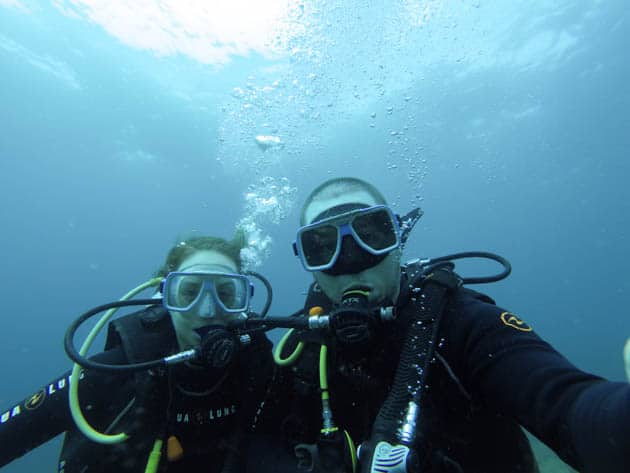 ~ Getting PADI Advanced Open Water Certified in the Philippines~
Most delicious local food: Banh Mi from street stalls in Vietnam and the Avocado salads in Myanmar.
(First 6 Months)Korean BBQ in a little back street in Seoul, South Korea, Hot Pot in China and Wanton Mee on the streets of Georgetown, Penang, Malaysia. Absolutely amazing!
Most awful local food: Filipino food left a lot to be desired.
(First 6 months) Kimchi in South Korea, we just are not fans. A lot of the street food in Kuala Lumpur was just tired, old and gross.
Friendliest people: The Cambodians and the Burmese people win this prize. Both countries are welcoming and full of smiles.
(First 6 months) The New Zealand Kiwis are some of the nicest people we have ever encountered.
Unfriendliest people: Thai touts. Some of the people involved in Thailand's tourism industry are just nasty but don't get us wrong, we still met several kinds, happy people.
(First 6 months) Hands down, the Chinese. With their lack of patience and inability to queue they push, shove, shout and just walk all over people when they don't want to wait.
Scariest Situation: Lina: Having my right arm go completely numb after diving for 4 days at Sipadan in Borneo and thinking I had the bends. Turns out I had pinched a nerve in my shoulder quite badly causing the numbness- which still happens now and again when I carry my backpack!
(First 6 months) We've had more awkward ones than we can count, but nothing where we have gone 'wow, that was scary. You may find this hard to believe, but we have not had any truly scary situations.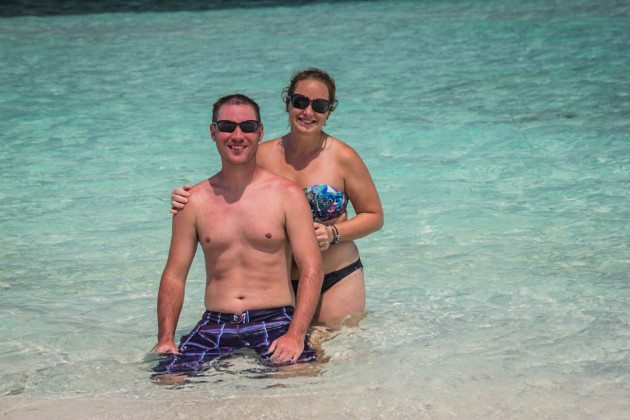 ~ Discovering paradise in the Maldives ~
Times Ripped Off: 5- It is hard to travel in SE Asia and not get ripped off. Even with our diligence, it happened to us. The most shocking was getting shortchanged at McDonald's both in the Philippines and Thailand.
(First 6 months) 2- Several attempts have been made to rip us off, but we are pretty good about catching it. Only twice have we been actually ripped off.
Most amazing sights: Hong Kong Skyline at night, jungles in North Vietnam, primary rainforests in Borneo, underwater at Sipadan, Busuanga Island, and Palawan in the Philippines, Angkor Wat in Cambodia, Bagan in Myanmar, diving and sandbars in the Maldives and the nature of Sri Lanka.
(First 6 months) Landscapes in New Zealand; Great Barrier Reef in Australia; Border of North & South Korea; Great Wall of China; Mount Everest in Tibet.
Nicest beach: Pretty much every place we visited in the Maldives.
(First 6 months) Red Beach, Indonesia
Best diving: Sipadan in Borneo and the Maldives
(First 6 months) Gili Meno & Gili Trawangan. If you count snorkeling, then Red Beach takes the cake. All these locations are in Indonesia.
Most incredible animal encounters: Orang-utans, Proboscis Monkeys, and Hornbills in Borneo, Giant viper snake in Vietnam, Tarsiers on Bohol in the Philippines, Manta Rays in the Maldives and Elephants in Sri Lanka.
(First 6 months) yellow-eyed penguins in New Zealand; koalas and kangaroos in Australia; orang-utans in Sumatra; Komodo dragons in Indonesia; Giant Pandas in China.
1 Year of Pure Adventure
Our year has been jam-packed with some of the most incredible adventures on this planet and we haven't even scratched the surface.
If you're interested in reading more about our adventures from the past year, have a look at the adventure option on the menu at the top of this page.  For our top 10 adventures from our first year of long term travel, look no further:
3 Day Hike from Kalaw to Inle Lake in Myanmar
And this is just a small, small, very small sampling of what we've been up to this past year. Don't stop there, have a look around and join the adventure.
Note to readers: We departed on our around the world (RTW) trip on February 21, 2014. We traveled full-time, backpacking across 6 continents for the next 2 years. Since 2016, we travel 7-10 months out of every year creating content and telling stories for this website. It's been a wild ride!
More on Long Term Travel:
Did you like this story? Share it!