Putting together the perfect long term travel packing list for a trip like this can be difficult. When we were in the final days before we set off to backpack around the world for 2 years, I was changing the contents of my pack daily. However, the core of my list seems to remain the same and I am going to share that with you in this post.
It hasn't been easy to choose the small amount of clothing that I will carry with me for the next 2 years. I have to keep reminding myself that I can buy things as I travel, if I need and want to. I didn't want to go cheap on the clothing for fear that it would wear out quickly and be a pain to wash while we are moving about the globe.
So we both invested in high quality, quick-dry fabrics that are ideal for the type of traveling we will be doing. Stuff we can wash in the sink that will dry within an hour or two for repacking. We looked to brands that had a solid reputation n outdoor and travel wear.
This includes Icebreaker, Smartwool, Under Armor, ExOfficio, and Columbia. We snuck some other brands in there too and we're curious to see how the brands hold up against each other during our travels.
So for all of you that have been asking us what I will carry for clothes in my pack for the next 2 years, the contents are revealed below.
---
Long Term Travel Packing List: For Her
---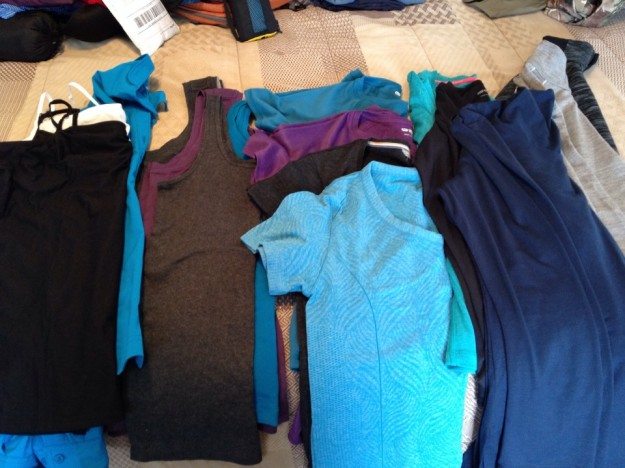 Tops
2 Long Sleeve Shirts
1 Merino Wool tee
3 Quick Dry tees
2 Cotton Tanks
1 Racerback Quick Dry Tank
1 Columbia Button Up
1 Icebreaker Merino Wool 320 Half Zip
1 Columbia Outdoor Fleece Half Zip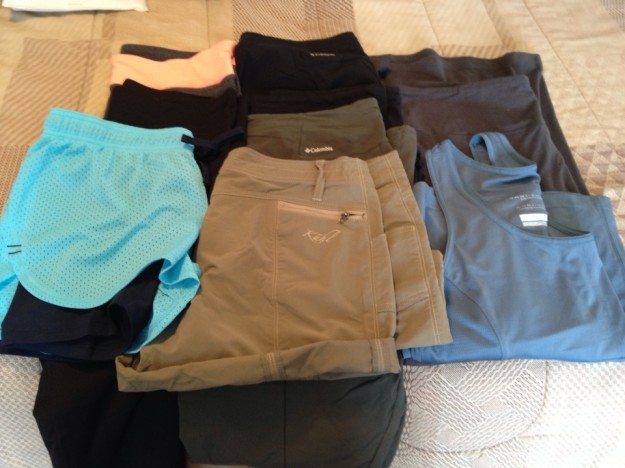 Bottoms
2 Columbia Just Right Straight Leg Pants
1 Grey Stretch Capris
1 Black Stretch Bermuda Capris
1 Long Grey Maxi Skirt
1 Kuhl Khaki shorts
1 Columbia Racerback dress
1 Gym shorts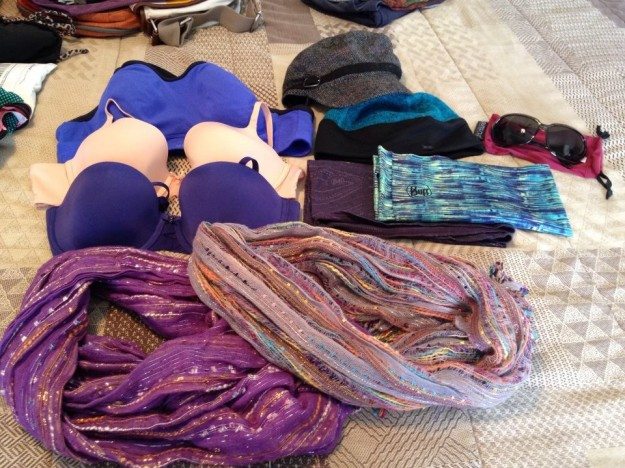 Other Stuff
1 VS Flawless Demi
1 VS Flawless Multi-way
1 VSX Sports Bra
7 Quick-dry Underwear
2 Merino Wool sock pairs
4 Quick-dry cushioned ankle sock pairs
2 Linen Scarves
1 Fleece Hat
1 Hat
2 Buffs (1 Merino Wool, 1 UV)
1 Pair of polarized Sun Cloud Sunglasses
1 watch
1 belt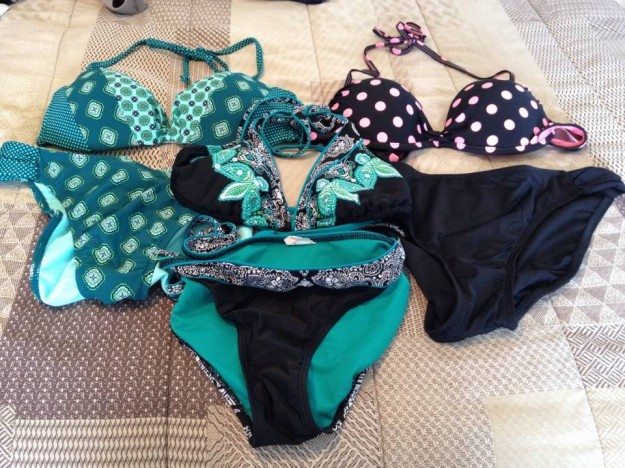 Swimwear
3 Bikinis
1 Cover up- this can also be worn with a tank and pants as street wear
I like to spend time in the water and on the beach, so I feel the need to have a variety of swimwear. The solid black bottom will also allow me to interchange the black tops.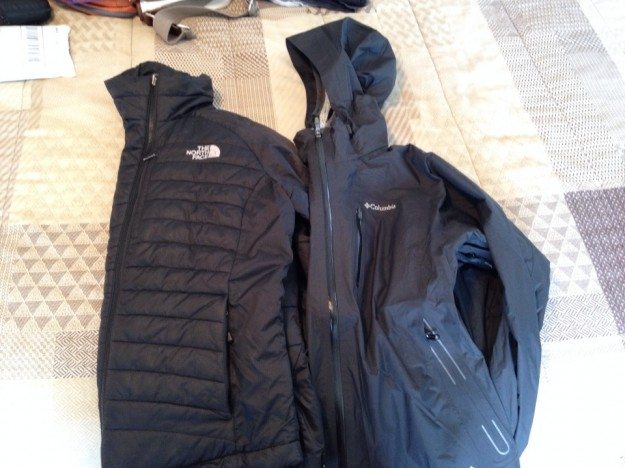 Outerwear
1 North Face Packable Down Jacket
1 Columbia Omni-Dry breathable rain jacket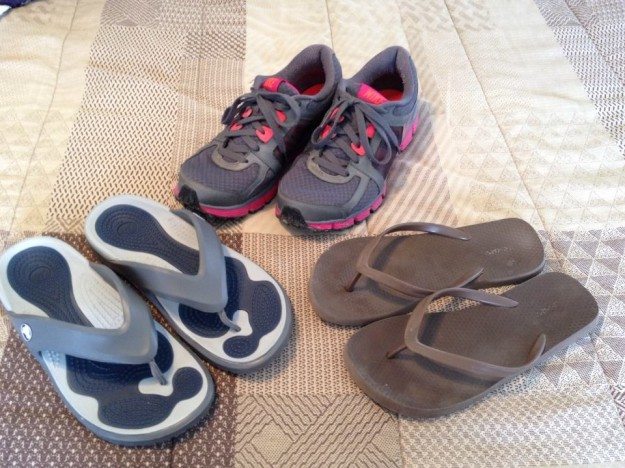 Shoes
---
Long Term Travel Packing List: For Him
---
So we've already taken a look at Her List and now we are going to take a look at His list. For the most part, we will be carrying the same kind of stuff. Tops, bottoms, etc. However, you can see from our lists where our priorities as individuals lie.
He has more layers, where I have tank tops and he doesn't. We prefer different things and it has been really important for us that we make sure we have the stuff in our packs that we want.
Not what the other one of us thinks we should have.  This hasn't been an easy process.
We find each other coming up with ideas for the other on packing and in the end, it just isn't what is right. So we made sure to prepare our own stuff. However, that said, I did have to step in and have a talk with him about not needing 10 pairs of bottoms.
Other than that, I think he did pretty good picking things that he will enjoy having with him. It's tough when you are carrying only a backpack and need to be picky.
Of course, we'll probably both end up throwing in some odds and ends and you know, items we can't live without when we leave.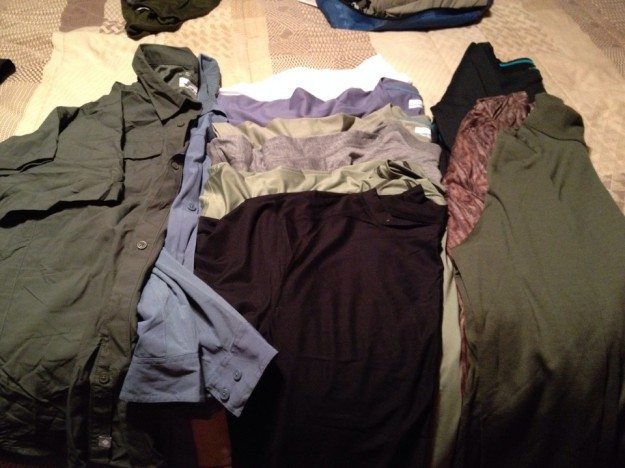 Tops
6 Tees (all dry fit, quick-dry, non-cotton)
1 LS Columbia Button Shirt
1 SS Columbia Button Shirt
1 Icebreaker Merino Wool 320 Half zip
1 Under Armor Lightweight LS shirt
1 Under Armor Insulated LS Shirt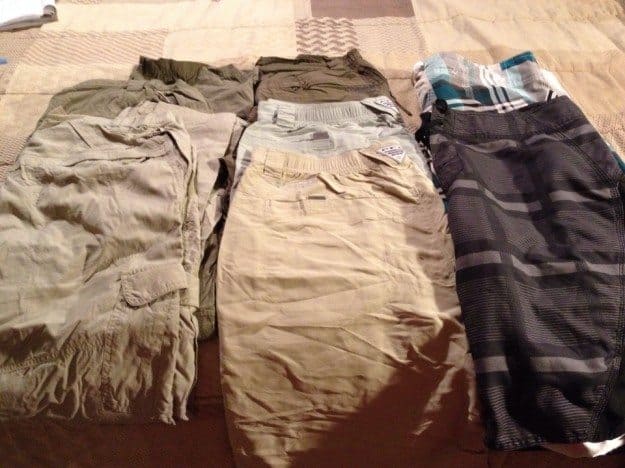 Bottoms
3 Columbia Quick Dry shorts
1 Oneill Swim trunks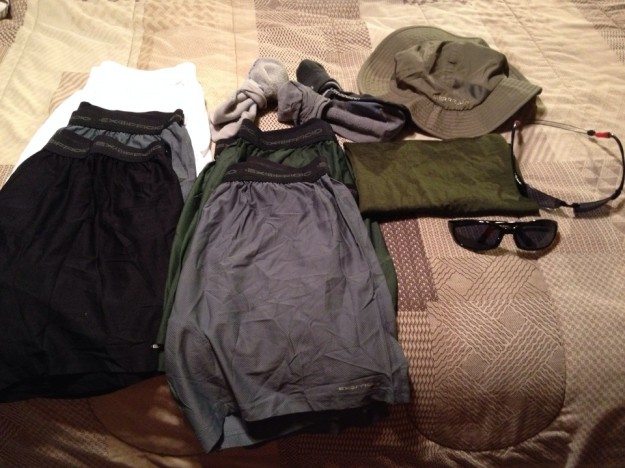 Other Stuff
5 Pairs of ExOfficio Give-N-Go boxers
2 Buffs (1 Merino wool, 1 insect guard)
3 Pairs Merino Wool Socks
3 Pairs Quick Dry Socks (not pictured)
2 Costa Sunglasses
1 Merrel Quick Dry Hat
1 Baseball Cap (not pictured)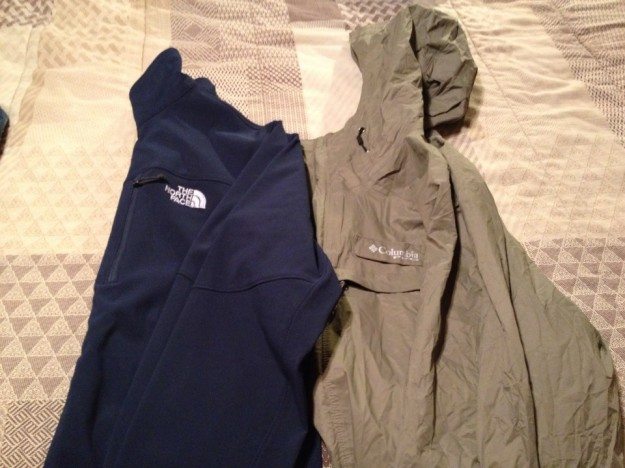 Outerwear
1 North Face Light Weight Jacket
1 Columbia Omni-Dry Packable Rain Jacket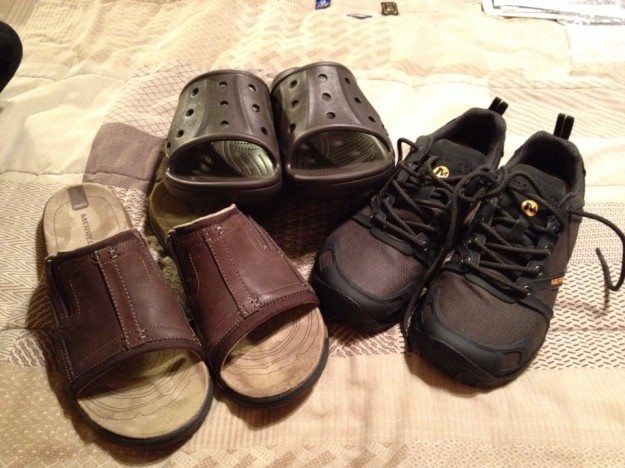 Shoes
---
RTW Travel Packing List: Backpacks
---
After months of trying just about every backpack on the market designed for travelers we settled on the packs we will carry on our upcoming trip around the World.
In hopes of making someone else's job a little easier, we were sure to post an RTW backpack review of each bag that we tried during the process.
These reviews talk about the features and setup of each bag and how it relates to travel. They also talk about what we liked and didn't like about each bag.
In the end, we found the right bags for our needs and are happy to put them together as we take a look at what we are bringing with us on our upcoming RTW travels.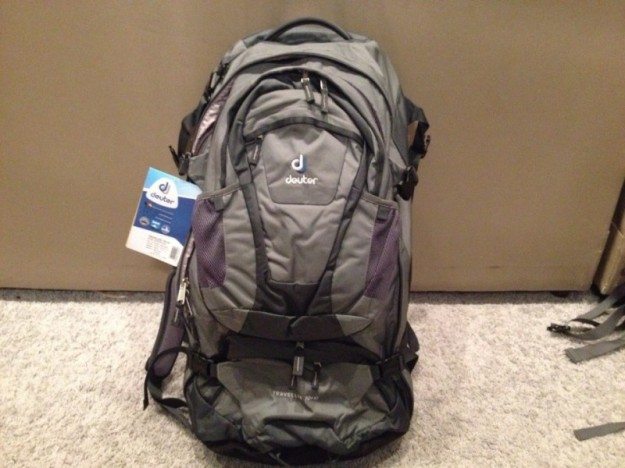 Backpack for Him
David chose the Deuter Traveller 70L backpack with an attached day bag. This bag has a lot of space in it with options for altering the interior layout. It has a bottom access point from outside that you can either section off, creating two compartments in the bag, or you can zip it open in the inside creating one main compartment space.
This leaves flexibility for packing during our travels. It has many mesh pockets along the sides on the inside of the bag for storing small things and valuable for easy access.
The detachable day pack is an interesting concept for us. We are not sure if this will be useful or cumbersome. I believe he is planning to bring his with, as it attaches easily and provides a space to put stuff he will need quick access to. In the end, we may just decide to leave it behind.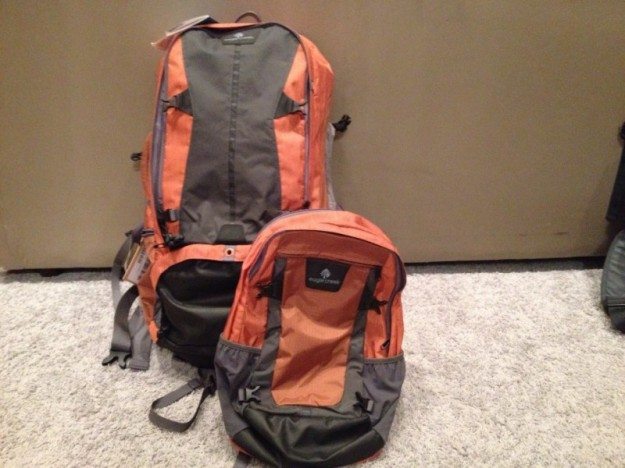 Backpack for Her
I chose the Eagle Creek Rincon Vita 75L. The main compartment of the bag is 55L with an attached day bag that offers 20L. After trying a couple of 45L bags and not being able to find the perfect bag for me, I settled on a 55L bag. Quite frankly, I think this will be perfect.
On past travels, I have carried a 65L no travel designed bag comfortably. I am looking forward to the ease of access with the front access and the ability to store my harness away with the zip over flap for air transport.
As far as the day bag, I don't like the day bag that came with it. It is not very comfortable and it lacks a sternum strap, which is a pet peeve of mine. I have sloped shoulders and wearing a backpack without one gets old for me. Otherwise, I love this bag. The harness is comfortable and I am able to customize it to fit me just right.
---
Long Term Travel Packing List Essentials: For Anyone
---

Packing Cubes
How will we pack all this? Into an amazing thing called packing cubes. We have the eBags brand cubes and they work great. I am able to fit everything in this post into the 3 packing cubes above, with the exception of my 2 jackets. Those are packed in their own. The cubes make packing so easy and keep everything in my bag organized. Something that is priceless to me.
So there you have it, the clothing contents of my pack for the next 2 years. I am sure it will change, a little, in the next 9 days and I'll do my best to update the post if that happens.
---
RTW Packing List: Electronics
---
We tend to be the techie types when it comes to travel. There are so many gadgets going in our bags that they deserved their own post. So what kind of electronics do a couple of travelers take with them for an RTW trip?
Here is our breakdown from computers to cameras, to gadgets and what we will use to carry it all.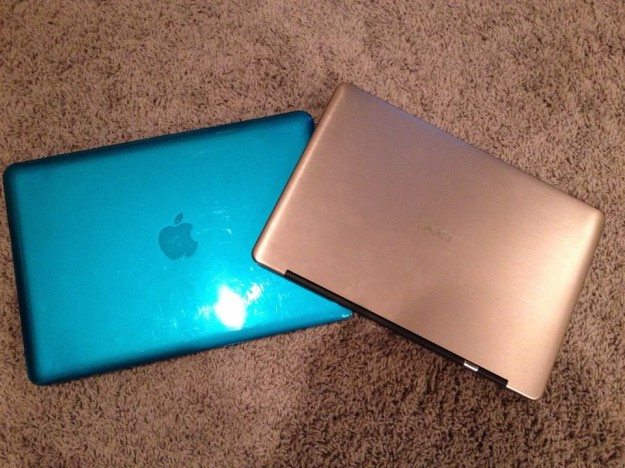 Computers & Cameras
MacBook Pro 13″: This is my computer. I have a 1TB hard drive so I don't compromise speed while working on photo projects and running my editing programs.
Acer Ultrabook 13″: We decided that having 2 computers would be easier for us to process our photos/videos and keep up with our blog while traveling. This computer is really thin, not even a 1/2 inch and super light.
DSLR Camera: I will be carrying my Canon 6D for our travels to bring you amazing visuals of all that we experience.
DSLR Lenses: I am only taking 2 lenses, Canon 18-200mm and Canon 100-400mm L lens. If I find the need for more reach than 400mm, I plan to rent it.
Video Camera: David will be carrying a Sony AX53 for everyday videos.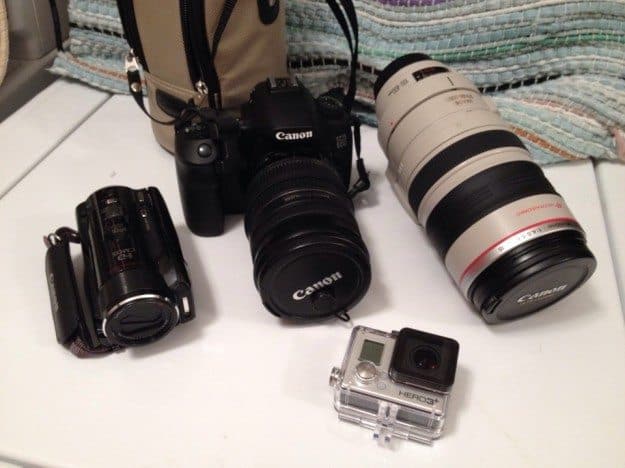 GoPro: After being on the fence about whether we should purchase one of these, we decided to just go for it. We bought the GoPro Hero Black 7 and it doesn't take up much space and hardly weighs anything. It will be nice to have a camera to take underwater and into situations where we would worry about the other one.
Fit Bit: This is a fitness tracking pedometer that will measure our distance traveled, steps taken and calories burned while we circle the Globe.
Smartphone: We will be taking an unlocked iPhone 4s 16GB with us for ease of keeping in touch with people and staying up to date on our social media accounts. It will also double as a camera and will be my personal mp3.
Tablet: We have always traveled with an iPad 2. There have been numerous rounds of Angry Birds and Fruit ninja played on this device. Originally, we had planned to leave it behind but after some thought, decided it should come with. We probably don't need it, but it will come in handy during long bus rides and airport layovers. It will also work as David's personal mp3.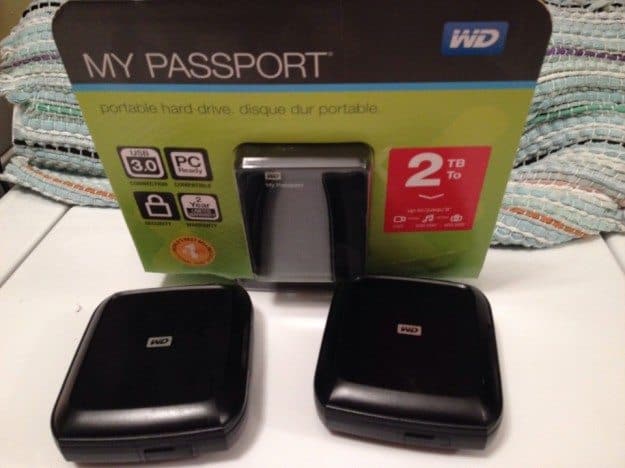 External Hard Drive: We'll actually have 2 of these. Both are Western Digital Passport 2TB & Passport 5TB
Because we have two different OS on our laptops we have one formatted to PC and the other to Mac. We chose this method for backup due to inconsistent internet connections while traveling and the time it can take to upload to internet clouds. Each drive will also be stored in a WD Rugged Nomad case to avoid unnecessary damage.
Misc: In addition to the above, count in a plethora of power cords, battery chargers, spare batteries, memory cards, filters, and cases.
This all seems like a lot of stuff but we simply cannot run this blog and live the lifestyle of digital nomads without it.
Chargers & Adapters
We wanted to carry as little stuff as we could for charging since we already have a lot of electronics to carry. This is the solution we came up with to not only be efficient in the pack but in charging our stuff too.
Belkin SurgePlus 6 Outlet Plug with 2 USB Ports– This should meet all of our charging needs at one time. We will be able to charge 3 standard things on one side while plugging in 2 battery docks for our camera on the other side. We can also use the USB to charge the GoPro, tablet, and phone.
Skross World Travel Adaptor 3 – We will plug the Belkin Surge Protector into this handy unit. It provides adaption to outlets in over 150 countries. I sent with this adapter for a number of reasons, but the main one being its ability to accept a grounded plug on the receiving end. There will still likely be a couple of places that we will have to buy adapters on the road, but it should be pretty minimal having this gadget with us.
As a secondary adapter set and backup, we will also be carrying just a basic adapter set. Like this one. It is small and packs easily and is worth the peace of mind.
NOTE: These are all ADAPTERS and not CONVERTERS. If you have something that needs to convert voltage (like some hair dryers and razors) you will need to add a voltage converter to your kit. All of our electronics are dual voltage, so a converter is not needed by us.
Camera/Day Bag
We will each have a carry-on bag for our camera equipment. I think it is a touch excessive, but David insists on having one for each of us and I guess, who am I to argue?
We both agree that we need to be able to keep our electronics close to us during transport and at times that we will be separated from our main packs. This arrangement will likely be just fine for us.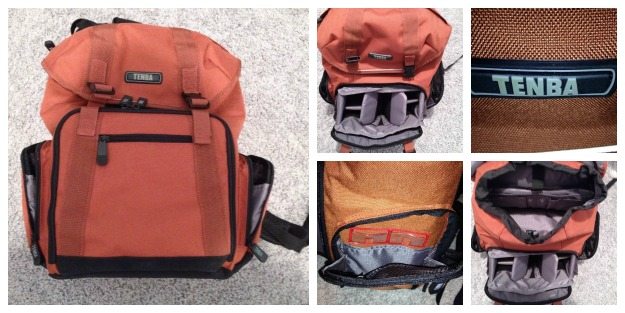 Tenba Messenger Day Pack: I looked at a lot of camera/laptop bags. I absolutely needed one that would carry my camera, both lenses and my laptop at an absolute minimum. There are loads of options out there, but I ran into issues finding the right bag when I decided I wanted something that didn't look like a camera bag. I want to avoid being targeted at all costs, so an inconspicuous bag was important to me.
Tenba Messenger Mini: David wanted a sling bag and something small he could carry around during the day if he wanted to. This bag is perfect with a built-in camera area and a place for a laptop and tablet. It also has a little extra space for other goodies.
Note to readers: We departed on our around the world (RTW) trip on February 21, 2014. We traveled full-time, backpacking across 6 continents for the next 2 years. Since 2016, we travel 7-10 months out of every year creating content and telling stories for this website. It's been a wild ride!
More on Long Term Travel:
Did you like this story? Share it!