So once we decided that we were going to 'go for it', we were faced with the task of informing our families. Now, I have been going on and on and on about an RTW for the past 3 years. They have all smiled and joined in the conversation over the years- 'oh, that would be so cool!', 'oh, I would totally meet you here/there!' Then at the end of each conversation, it would never be brought up again.
You start to feel like everyone supports you but deep down they just think it's a phase and you are just dreaming big 'today'. WELL! When the decision was finally made I had no doubt in my mind that they might find us obnoxious and my husband was ready for quite the backlash. So we sat down together and composed the following letter…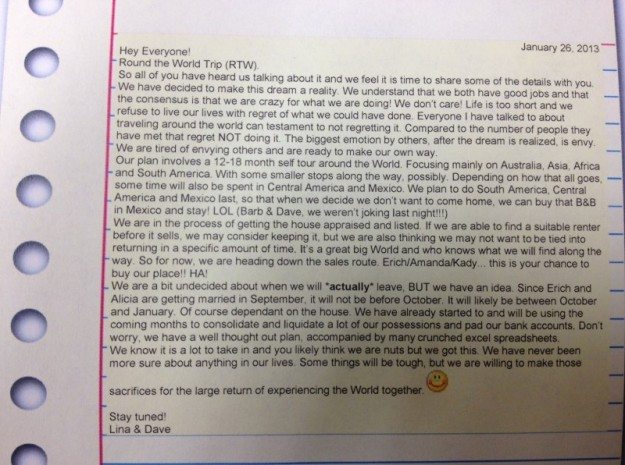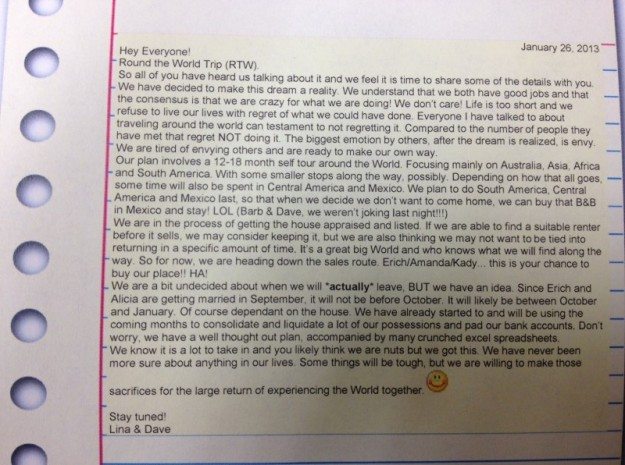 Our families weren't the least bit surprised that they were receiving that letter. They were, however, surprised that we were ACTUALLY going to do it! After 3 years of across the table conversations and crazy ideas… we were finally doing it. We have been very lucky to have a supportive family and friends!
For those of you that are still in that phase of deciding whether to go or have already made the decision to go but don't know how to tell your family and friends- my biggest piece of advice is to just be honest and level with them. You can't expect everyone to agree with you, but you CAN share your dreams and goals and hopefully, in return, you will be met by support from those you care about.