The moment you have been waiting for, working for and taking stinging nettles for has finally arrived. After an early morning departure and a long hike, you have finally reached the gorilla family you have drawn a permit to visit. You have exactly one hour with them, now what?
Firstly, take a few minutes to just revel in the moment, don't touch your camera, just watch in awe. There is nothing in the World, no animal experience that can compare, to the moment you see your first Mountain Gorilla in Africa.
You'll notice most of the people in the group are not doing this, they are wildly pushing each other and showing to the front, desperate for photos. Just take a step back and wait a moment.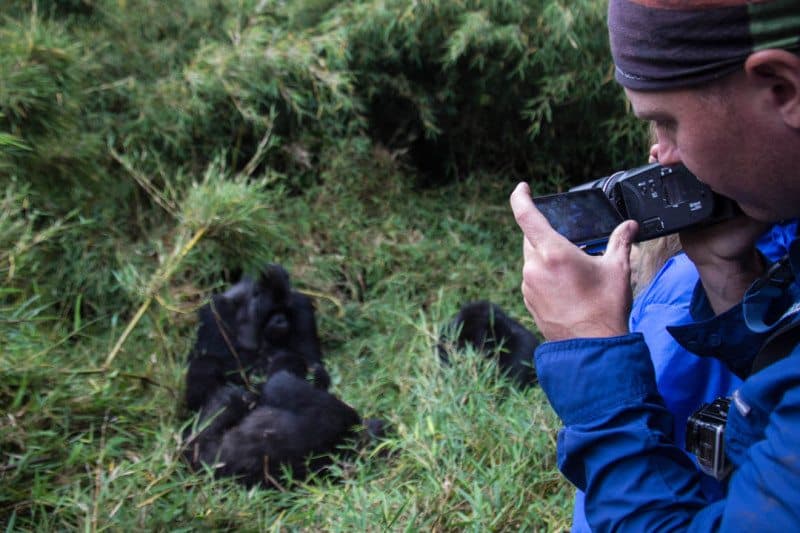 Positioning Importance
Now that you've had a moment to asses the situation and revel a bit, make your way to one side or the other of your hiking group. Most people will be pushing to the middle and bumping everyone else in the process, you don't want to be part of this if you want good photos. Go to the edge of the group where you have some flexibility and space.
Use a Telephoto Lens
No matter how close you are to them, make sure you have your telephoto lens on for your first shots. This will get you up close to the gorillas through your camera and you will be able to capture facial expressions and details this way. You will not be allowed to use a tripod, so make sure that you have practiced handling your telephoto lens before you arrive at the gorilla trek in Africa.
I used my Canon 100-400mm telephoto lens to take most of my shots of the gorillas in Rwanda.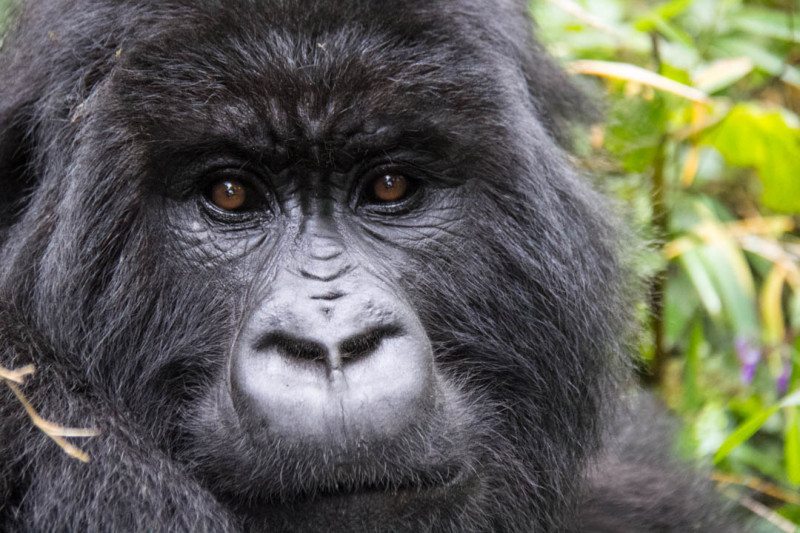 Camera Settings
Be sure you have your camera set in TV Mode (Shutter priority) and adjusted to appropriate shutter speed for the lighting conditions you are shooting in. You could start at 1/640 and adjust from there if it is an overcast day.
Increase this setting if you have more light (1/1250), decrease it is you have less (1/400). This way, you will be able to capture any motion that is happening without blur. For those of you shooting on a non-manual camera or a point and shoot, set your camera to the Sport setting.
Slow Down
An hour can go by quickly and with the group moving about and being excited it is easy to get wrapped up in that and move quickly. Don't do it, take your time, linger when the group moves on. The rangers will stay with you so that you can have a few extra moments to shoot photos without the group around.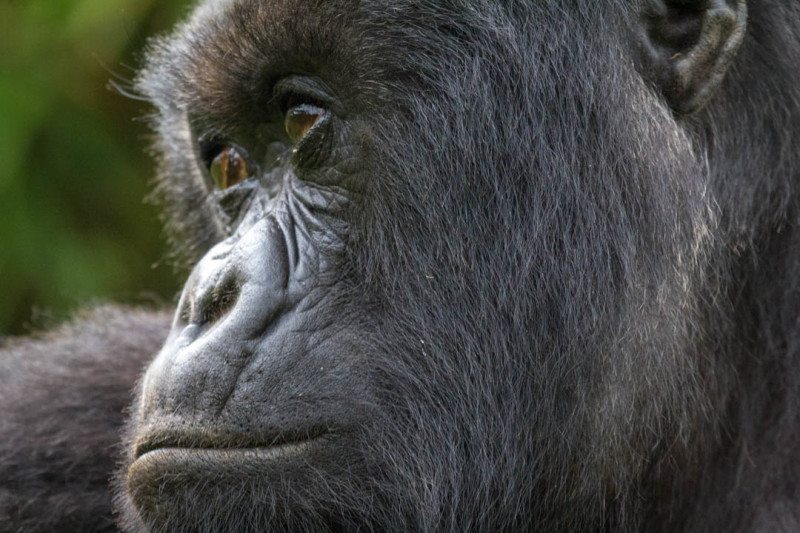 Think About Composition
People can get so wrapped up at the moment that they forget to slow down, as I mentioned above, and think about what kind of shots they are taking. Look for the different shots, think about how you are positioned to the gorilla and what the composition of your shot will be. Use the rule of thirds as a base and work from there to give the shots your own personal flair. I can't stress enough the importance of this in your photos.
Look Around You
The gorillas in Rwanda have fairly large groups, especially the Susa group, so it is likely that while everyone's eyes are fixed on the gorillas in plain sight or in front of you, there are many others around you. Take a look around, you may find an opportunity to step back and have a one-on-one with one of the gorillas.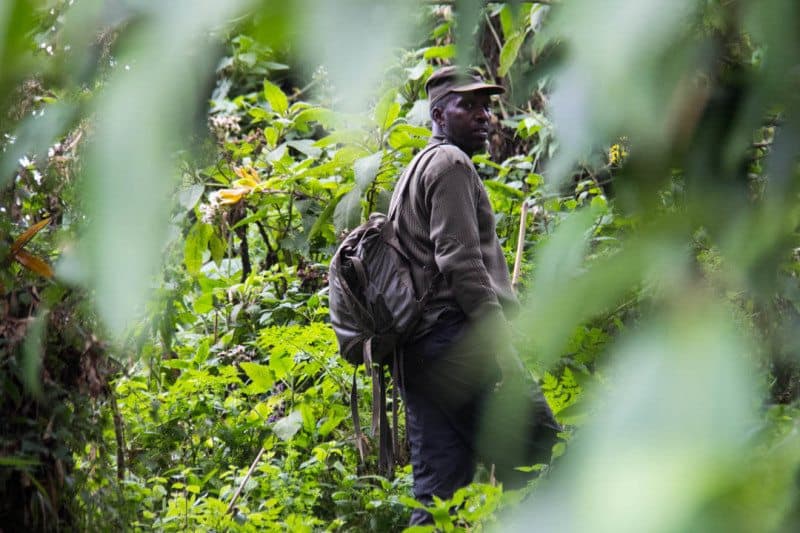 Have Patience
You are looking for those tender, quintessential moments from the gorillas. These types of shots take attentive patience. Be ready but not eager and just wait. Keep your eye to the camera and your finger on the shutter.
Watch them through the lens and wait for those moments like when they gaze at their baby or look directly at you. If you are patient and attentive, capturing these moments will come easy.
Switch Lenses
Once you have a taste for how the group behaves and how gorillas move around, swap over to a wider lens like my Canon 18-200mm lens and just capture the whole scene.
The jungle, the gorillas, the rangers, the people, the foliage; just capture everything. It may not seem exciting in the moment but later when you are telling your stories or showing photos, you will be able to show people what those damn stinging nettles look like!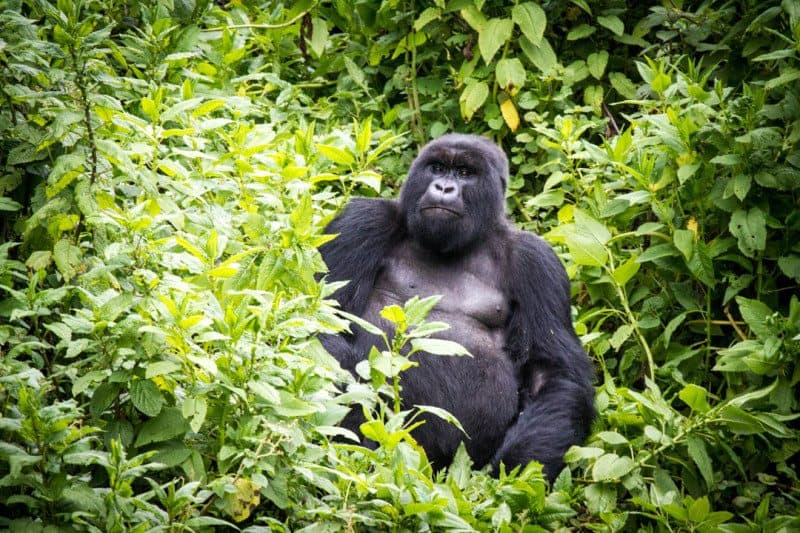 Protective Gear
Make sure you bring protective covers for your camera equipment, just in case it starts raining when you are with the gorillas. I typically carry an Altura Professional rain cover and a couple of basic rain covers to combat moisture.
In addition to these covers that protect the body and lens, I carry a couple of plastic shower caps
to put over the end of the lens glass when I am in between shots. This keeps the lens glass clean and keeps water droplets off the glass.
---
Of course, these tips can be applied to photographing any animals but your experience of trekking to and spending time with the small population of Mountain Gorillas on this planet is one you want to get right. I hope you found my tips helpful and we'd love to see some of your wildlife photos in the comments below.
More on Africa:
Did you like this story? Share it!