Sarento's on the Beach was one of the most romantic dinners my wife and I have ever shared. Our reservations were made for 6pm, which was early but the front row seats fill up fast here, and it is well worth the early time to guarantee you are just a few feet off the water. So close you can hear the waves break across the beach. This is one of the best restaurants in Maui!
Aloha! Be welcomed on Maui with traditional lei greetings at Kahului Airport.
If you aren't able to secure a front row table, no worries, they have lots of tables and even if you do not have a front seat you will not miss out on a magical night. We arrived early taking some time to have a drink at the full bar, one of the perks of an early reservation is enjoying happy hour at the bar! Of course, Mai Tai's are always on special. The host will inform you once your table is ready and they will seat you.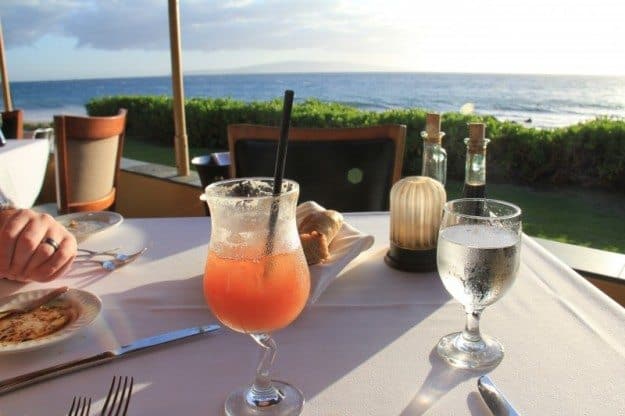 One big tip for sunset diners- don't forget your sunglasses! You will literally have an unobstructed front row seat to the night's sunset. It is quite bright and without sunglasses you won't be able to see the whales jumping out of the water while you place your food order. Another tip- Don't forget to bring your camera.
While you wait for your appetizer and meal you are afforded an opportunity to photograph the sunset, which is a typical gorgeous Maui sunset. Keep your eyes you if you are dining during the winter months, as you can easily spot whales jumping out of the water from the comfort of your dining table. If you miss one, there will be more behind it so keep your eyes open. To the delight of all seated with us that night, the whales put on a show under a beautiful sunset.
Start your dinner off with an appetizer, there are many to choose from and we settled on the Calamari Fritti and Seared Hawaiian Ahi . They were both fresh tasting and hit the spot after a long day in the sun. You will also receive your dinner bread which is fresh baked and served with Sarento's special butter.
The menu is limited but filled with spectacular choices and kids menu's are available. If you are up for a bottle of wine be sure to request their full wine menu. Do not forget to order your salad. I had the Sarento's Caesar salad and it hit the spot from the long day in the sun. As far as dinner goes, good luck picking something for dinner as everything looks and sounds so good on this menu.
I ended up settling on the Spaghetti & Snake River Ranch Kobe Meatballs. Yes, Kobe meatballs, these meatballs were made with care and served over delicately cooked spaghetti noodles. Lina opted for the Wild Tiger Shrimp which were cooked to perfection and served with baked potato ravioli.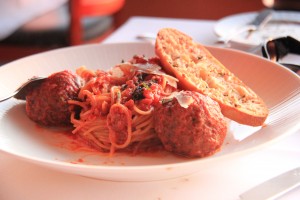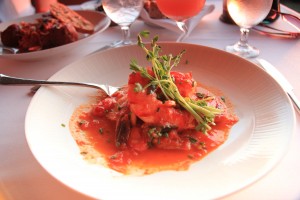 After filling your stomach with to die for food, sit back and enjoy another Mai Tai while the wait staff begin lighting the torches as the sun leaves the sky. The restaurant can be exited directly only Keawakapu beach for a romantic after dark stroll.
Who doesn't like a romantic dinner on the beach?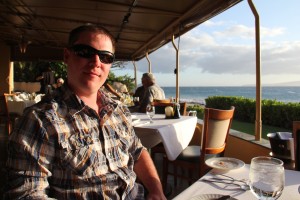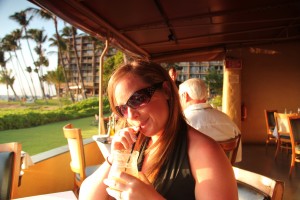 Take a look at Sarento's Beach cam and see what's happening on the beach right now! In addition to a romantic dinner, Sarento's on the Beach also offers a full breakfast. It may not be as magical as the sunset dinner but I would say it is a good option to start off your Maui day!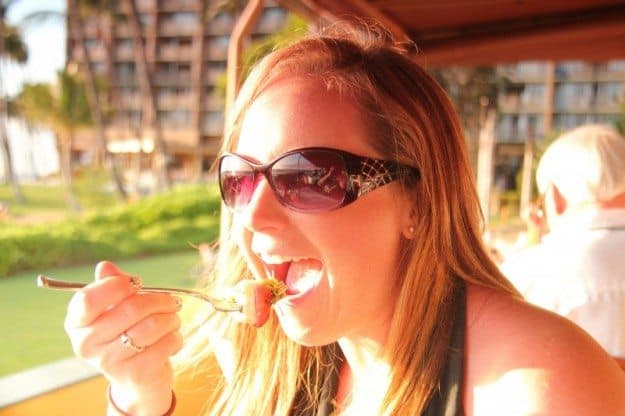 For more information on fine dining on Maui, check out Maui Restaurant Guide.
All photos taken by Divergent Travelers.