Hawaii is like nowhere else in the USA. These Polynesian islands in the middle of the Pacific Ocean have a unique history, culture, and landscapes. As such, choosing the best Hawaiian Islands to visit can be a complicated task for a first time visitor.
In total, there are six Hawaiian islands that you can visit easily as a tourist, and each one has its own dramatic scenery and its own great set of activities and things to do.
In Oahu, you can explore Honolulu, visit urban beaches and learn about the history behind Pearl Harbour.
In Maui, you can chase waterfalls in the jungles, snorkel coral reefs and sunken volcanoes, and a road trip along epic coastal highways.
On the Big Island, there are volcanoes to discover, while Lanai and Molokai are both relatively unexplored, and begging for adventurous tourists to visit.
To inspire your next adventure, here are the best Hawaiian islands to visit!
---
Best Hawaiian Islands to Visit: Overview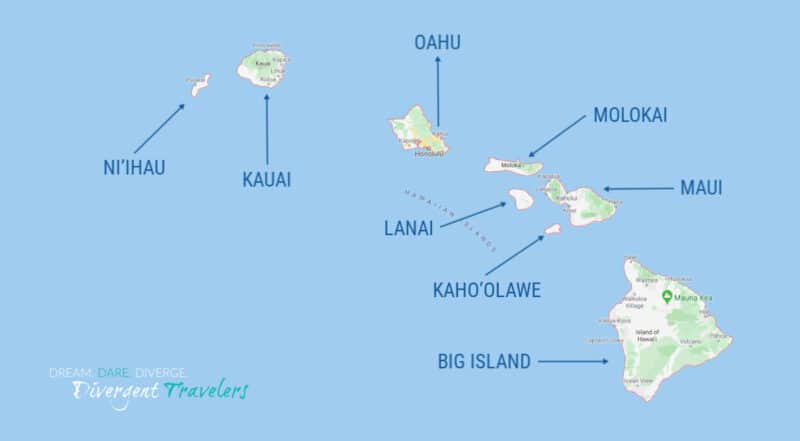 The Hawaiian Islands consist of 8 different islands. That said, there are only four islands that see the majority of travelers.
These are the islands of Oahu, Maui, Kauai, and the Big Island. Of the other four, travelers will occasionally visit Lanai and Molokai.
The islands of Ni'ihau and Kaho'olawe are off-limit to tourists, and thus are not options to consider visiting when in Hawaii.
Setting A Hawaiian Islands Itinerary
Once you have decided which Hawaiian Island you want to visit, you will need to think over an itinerary.
Something I wanted to point out, is that it is very easy to get between islands. Hawaiian Airlines offers routes between the most popular islands daily, and with some islands, many times per day.
While you are not limited to just one, and many people choose to split their time between 2 islands, it's not uncommon to spend all your time on just one either.
It is recommended to spend at least a week in the Hawaiian Islands if you want to visit two islands. With two weeks, you could easily have a nice time on three islands.
---
Hawaiian Islands Breakdown by Island
Oahu
Oahu is the most famous island in Hawaii because this is the most densely populated island and the most accessible island for tourists.
Oahu is where you can find the most touristy resorts, and it's perfect if you're looking for a classic Hawaiian getaway, with both the beach life and the comforts of the city.
Honolulu, the capital of Hawaii, is located on Oahu, thus making this island the commerce hub of the Hawaiian Islands.
Even if you don't plan to spend time here, the chances are high that your arrival flight into Hawaii will be to Honolulu.
If you have a layover, use this as an opportunity to go to Pearl Harbor or Diamond Head Crater.
---
Top 5 Things to do in Oahu
---
1. Explore Honolulu
Honolulu is the largest city on Oahu, and it's the gateway to the rest of Hawaii too.
But unlike your average American city, Hawaii still has that small-town feel.
That's because the wide boulevards and boardwalks edge right onto the oceanfront.
While one minute you are in the metropolis, the next you can be sunning yourself on the sand.
2. Soak Up the Sun at Waikiki Beach
Perhaps the most famous beach in Hawaii, Waikiki Beach starts as the city ends, and it's here that you can find many of Honolulu's best hotels.
The sands seem to stretch endlessly, and there's plenty of restaurants and bars on the boardwalks to indulge in.
Nothing is more iconic to Hawaii than surfing at Waikiki Beach. This is arguably the place where surfing was born.
The reason why this south-facing coast is so perfect for learning to surf is the fact that the bottom is soft, sandy, and the water is relatively shallow.
3. Snorkel at Hanauma Bay
Hanauma Bay is one of Oahu's most popular beaches, and it's perfectly sheltered and great for swimming and snorkeling.
The water is turquoise blue and it's a great spot to enjoy the great scenery that Oahu's coastline is famed for.
Take a tour of the North Shore of Oahu to see the amazing sights of the North Shore of Oahu, including Hanauma Bay.
Snorkel and swim in the famously aqua waters. Opt to include stand-up paddleboarding or kayaking, and a delicious lunch.
4. Climb Diamond Head
Towering over Honolulu is the Diamond Head Crater, an iconic natural landmark that rises abruptly for several hundred meters above sea level.
You can hike to the summit, using the well-worn trail and the steps and staircase that leads to the top, where you'll find incredible views over Oahu.
Not up for hiking alone? Take a guided tour to not only summit the famed crater, but you'll also learn about its volcanic creation and Hawaiian history as you walk.
5. Visit Pearl Harbour
A more somber and sobering element to Oahu, are the World War II memorials that can be found by Pearl Harbour.
This was where the Japanese attacked in 1941, and it's a moving place to visit to learn more and to remember those who lost their lives on both sides.
Explore the Pearl Harbor visitor center and see all of the historic sites, monuments, and museums at a discounted price with a Passport to Pearl Harbor package.
---
Maui
Maui is one of the best Hawaiian islands to visit because while parts are still wild and undeveloped, other areas are home to great hotels.
There's something for everyone here, and in the northwest, you can lounge on white-sand beaches and enjoy a resort vacation.
On the west coast, you can find secluded volcanic beaches and otherworldly landscapes.
I won't lie, we left our hearts in Maui and absolutely adore this island.
There is so much diversity on this island that you could stay for months and still be entertained.
If you're thinking about Maui, be sure to read:
---
Top 5 Activities in Maui
---
1. Try Surfing
Maui is one of the top surfing destinations in Hawaii, and indeed, the origins of the sport can be traced back to Polynesian traditions that were held here for centuries.
The best surfing spots are generally found in the north of the island, where you have great surf and lots of wind throughout much of the year.
Test your skills out in the waves on this surfing lesson in Maui. Led by an expert instructor, learn surf techniques and timing as you hit the warm waters of Lahaina Harbor.
Receive personal attention from your instructor and top-of-the-line equipment to practice on.
2. Drive the Hana Highway
The untouched and relatively unvisited west coast is one of the major reasons why Maui is one of the best Hawaiian islands to visit.
The Hana Highway is an adventurous place to road trip, allowing you to explore the best of this volcanic side of Maui.
Discover the incredible landscape and hidden sightseeing gems along the road to Hana during this small-group sightseeing excursion by deluxe limo-van.
This iconic Maui roadway offers plenty of twists and turns, plus an amazing wealth of attractions and activities.
Want to go on your own? Read our ultimate DIY guide to the best stops on the Road to Hana drive.
3. Go to Turtle Town
Turtle Town is one of the best snorkeling spots in Maui, and it's easily accessible by snorkellers of all ages and abilities.
In Turtle Town, you'll find a whole load of turtles, as well as much more marine life and colorful coral too.
Maximize your chances of seeing Hawaiian green sea turtles on this small-group kayak and snorkel tour.
Paddle from Makena toward Turtle Town, a snorkeling location along the island's southern coast, and explore the calm, clear water to spot these beloved marine animals.
4. Snorkel at Molokini Crater
The Molokini Crater is a more advanced snorkeling and diving spot, but it's one of the best in Hawaii.
This is a sunken, volcanic crater and you literally snorkel in the flooded caldera, where you'll find an immense level of marine biodiversity.
Snorkeling in Molokini Crater is undeniably one of the best parts about visiting Maui.
Here in this crescent, submerged volcano off Maui's southern coastline, over 250 species of fish inhabit a world-class reef.
5. Catch the Sunrise from Haleakala Volcano
If you're looking for a real challenge then the hike to the Haleakala Volcano can't be beaten in Maui.
It's a tough slog but the views are outstanding, and the scenery otherworldly.
On this guided Haleakala Crater hike, experience the silent, almost lunar beauty of this 10,000 ft (3,048m), a dormant volcano.
During your 4-mile (6.4km) Haleakala Crater hike, your informative guide will discuss the history of Maui's tallest peak—from its sacred place in Hawaiian mythology to its geological wonders.
Kauai
Kauai is just about as dramatic as it gets in Hawaii, and this large island is known for its huge canyons and great scenery.
If you are looking for a place that is a little more rustic and focused on an outdoor adventure, then Kauai is the Hawaiian Island for you.
The topography of this island is beyond dramatic and it's possible to set off on any number of multi-day hiking trips.
The island is also home to the massive Waimea Canyon, a site that people book day trips to from Oahu and Maui as well.
---
Top 5 Things to do in Kauai
---
1. Marvel at Waimea Canyon
Known as the Grand Canyon of Hawaii, this is one spot that can't be missed.
The Waimea Canyon is an incredible sight and is reason enough to make Kauai one of the best Hawaiian islands to visit.
Experience the best of Kauai on a full-day private tour through the island's scenic landscape, highlights, and historic landmarks.
Sample locally-grown beans at the Kauai Coffee Company, and visit old-fashioned Hanapepe.
You can also see the last Russian outpost on Hawaii, follow the footsteps of Captain Cook and take in stunning views of Waimea Canyon.
2. Observe the Na Pali Coast
The Na Pali Coast is a protected area that's best seen from afar.
This rugged coastal region is absolutely stunning, and you'll want a boat or better yet a helicopter to really appreciate it.
Experience the breathtaking beauty of Kauai's Napali Coast during the most romantic time of day on this sunset dinner cruise.
Feel the fresh island breeze while cruising alongside towering cathedral spires, emerald valleys, waterfalls, and sea caves aboard a deluxe sailing catamaran.
3. Hike the Kalalau Trail
Avid hikers won't want to miss the epic Kalalau Trail, which has frequently been called one of the most beautiful hikes in the world.
The trail is 22 miles in length (there and back) and takes you along some of the most rugged and inaccessible coastlines in Kauai.
4. Visit Wailua Falls
The crashing, tumbling Wailua Falls are a sight that can't be missed when you're on Kauai.
The falls are 26 meters tall and are surrounded by lush, verdant jungle.
5. Relax at Poipu Beach Park
The Poipu Beach Park is a postcard-perfect stretch of beach that's found In Kauai.
The beach is known not just for its white sands and swaying palm trees though, but for the marine life that lives off the shore – and in particular, the large number of turtles.
---
Hawaii Big Island
Hawaii is known as the Big Island, and it's this large landmass that gives the archipelago its name.
Despite this, the island of Hawaii isn't actually as well visited as the likes of Oahu or Maui, although there's so much to do here.
---
Top 5 Things to do in Hawaii
---
1. Go to Volcanoes National Park
The best thing about the Big Island is Volcanoes National Park.
This is an island of extreme geothermal activity and amongst the lava tubes, hot magma, and all too frequent eruptions.
It will not take long for you to begin to appreciate the natural forces that have shaped Hawaii.
Hawaii Volcanoes National Park is unlike anywhere else on the planet.
It is here that one of the world's most active volcanoes sends lava dripping towards the sea, and a towering mountain lies dormant and ready to pop.
On this tour of the National Park, hear the legends of Madame Pele, the mythical Hawaiian fire goddess, a tour from Hilo to the eastern coastline and climb to the rim of Kilauea volcano.
2. Stargaze at Mauna Kea
Mauna Kea is the highest mountain in Hawaii, being over 4000 meters tall.
With dark skies here, the summit is home to an observatory and it's a popular place for stargazing tours, especially given there's a four-wheel-drive track up the slopes.
Experience big skies and incredible nighttime views on this Mauna Kea stargazing trip with a small group.
After admiring a sunset view, continue down to 9,000 feet (2,743 meters) for a stargazing session, complete with a telescope, hot chocolate, and dessert.
3. Go Whale Watching
Between the months of December and May, Hawaii Island becomes a haven for whales, as they migrate to feeding grounds along the coast.
You'll easily spot many different species either from the coast or on dedicated whale watching trips.
Hawaii's Big Island is home to migrating pods of humpback whales, which often breach as they build up energy for their northward migration.
This narrated tour brings you to some of the best viewing grounds via 24-person catamaran.
You're able to hear the whales singing through the provided hydrophones.
4. Explore the Waipio Valley
The lush climes of the Waipio Valley offer a taste of the verdant jungle-like scenery that's found away from the coast.
There's beautiful hiking, crashing waterfalls and scenic viewpoints to discover.
See three of the Big Island's most famous waterfalls in a single day on this guided tour.
Travel along the Hamakua Coast to Akaka Falls, Hi'ilawe Falls, and Rainbow Falls.
5. Hang Out at Punaluu Beach
Punaluu Beach isn't your average tropical beach, because this is a black sand beach.
It's spectacular, and yet another reminder of the volcanic forces at play in Hawaii.
---
Molokai
Molokai is one of the least populated islands in Hawaii, but it's also one of the most intriguing.
This has long been the home of ranches and plantations, but also of leper colonies, and a darker side of Hawaiin history.
---
Top 5 Things to do in Molokai
---
1. Visit Kalaupapa National Historical Park
You can learn about the island's bleaker history at the Kalaupapa National Historical Park.
The park, while beautiful and isolated, protects an area that used to be a leper colony.
2. Watch Sunset at Papohaku Beach Park
One of the best beaches in all of Hawaii is found on Molokai.
Head to Papohaku Beach Park for a long, sandy stretch of coastline and few other tourists around.
3. Hike the Halawa Valley
For excellent hiking, while you're on Molokai, then take a trip to Halawa Valley.
You'll find pristine scenery as you tackle the trails that lead to crashing waterfalls.
4. Visit the Kapuaiwa Coconut Grove
For more of Molokai's history, then visit the famed Kapuaiwa Coconut Grove.
This coconut grove was planted by a Hawaiin king in centuries past and is still tended to today.
5. Take a Helicopter Tour
Molokai is well known for having some of the most pristine scenery in Hawaii and one of the best ways to see the island is by taking a helicopter tour.
The Molokai cliffs are some of the most dramatic in the state and a doors-off flight will give you the best view!
Lanai
The smallest island in the archipelago that can be easily accessed by tourists is Lanai.
Home to just a few thousand residents, this is a place that's far removed from the vacation resorts and busy beaches of Maui or Oahu.
This makes Lanai one of the best Hawaiian islands to visit.
---
Top 5 Things to do in Lanai
---
1. Visit Lanai City
It might be called a city, but it's hardly comparable to the cities found even on the other islands.
Lanai City is the center of life on the island though and it's a refreshingly small and relaxed place to visit.
2. Explore the Garden of the Gods
One of the best natural sights on Lanai is the mysteriously named Garden of the Gods.
This is a sacred area, where you can find an otherworldly landscape that's comprised of unusual rock formations and boulders.
3. Take in the Views at Hulopoe Bay
Hulopoe Bay is a great place to spend the day if you're looking for sand and sea while you're on Lanai.
The beach is great and the views along the coast are spectacular.
4. Hike the Munro Trail
Lanai is home to the Munro Trail, a 7-mile long trek that takes you into the interior of the island.
The trail will lead you to the top of the island's tallest mountain, where you'll have excellent panoramas across Lanai.
6. Do Some Four-Wheel Driving
Lanai is a small island and many of the roads are little more than tracks and four-wheel drive trails.
That means that you're best hiring a vehicle or joining a four-wheel drive tour to make the most of the island, especially if you're limited on time.
---
More on Hawaii:
Did you like this story? Share it!