If you're looking for great deals and the chance to escape the crowds, then exploring the best places to visit in January may be right for you and your travel style.
After the fierce holiday rush that many destinations experience in December, when January rolls around, many of those holidaymakers are already back at work.
While January is definitely still high season in many places – particularly in the southern hemisphere and in winter sun destinations – there are many more offbeat locations to visit, and many places that can offer great deals too.
After the first week of January, flight prices tend to drop drastically, as do accommodation costs, while in many places the weather is still excellent.
In South Africa, you can join safaris or enjoy the beaches, while in Central America, it's the start of the dry season, and it's a great time to visit. Thailand has great holiday deals in January, while Sri Lanka has excellent weather.
It's a beautiful time to travel the world, and to inspire your trip, here are the best places to visit in January!
---
10 Best Places to Visit in January
---
1. South Africa
In South Africa, it's very much peak season, but after the mad Christmas rush of December is finally over, things quieten down, and it can be one of the best places to visit in January.
This is the middle of summer in South Africa, and across the country, you can expect hot temperatures and lots of sunshine.
In the northern areas, it's technically the rainy season, and it can be more humid than along the coast. As long as you don't mind a few rainstorms though, it's still a great time to go on safari in places like Kruger National Park.
While this isn't the best time for wildlife spotting, you'll see the parks in a different light, and with such an abundance of animals, you're more than likely to spot the Big Five still.
One of the best places to visit in January in South Africa is Cape Town, because this is when the city enjoys its beautiful, dry summer, and you can lounge around on the beaches and enjoy the great coastal scenery.
Drive along the Garden Route and visit the wineries, and enjoy South Africa in the summer sunshine.
Our Top Recommended South Africa Tours:
2. Namibia
If you're looking to explore the southern African region, but are after a destination that's perhaps more off the beaten track than South Africa, then one of the best places to visit in January is Namibia.
Again, this is the middle of summer, and given Namibia's semi-arid, desert-like climate, it will definitely be hot in January.
Along the coast though, the heat is countered by the cooling breezes of the Atlantic, and the Skeleton Coast is a beautiful place to visit this time of the year.
Head to Windhoek or Swakopmund, both on the coast, to see the country's unusual, German colonial heritage, and to see the country's modern, vibrant culture firsthand.
Inland, it can rain heavily at times, but that means that in places like Etosha National Park, you can see landscapes that are unusually green for Namibia.
While wildlife is more difficult to spot, it's a much more adventurous experience than visiting in the dry, winter months.
Our Top Recommended Namibia Tours:
3. Sri Lanka
In South Asia, one of the best places to visit in January in Sri Lanka, because most of the country is just entering into its beautiful dry season. Sri Lankan is hit by two seasonal monsoons, which affect different parts of the island at different times of the year.
In January, the south-west coast is completely dry, and it's the best time of the year to explore this region of Sri Lanka.
This is one of the best areas to visit in Sri Lanka, especially if it's your first time in the country. From the capital, Colombo, you can easily reach many of the best tourist sights.
Travel along the coast to experience beautiful, sunny weather, and excellent beaches. If you are looking to spot wildlife, then a Sri Lankan safari is great during the dry season, as wildlife is much easier to spot.
In the south-west, you can visit the iconic Yala National Park, where you can see everything from elephants to leopards.
In Mirissa, you can join boat tours searching for dolphins, while in the central highlands, you can always escape the heat of the coast, if it gets too much.
Our Top Recommended Sri Lanka Tours:
4. Thailand
In southeast Asia, one of the best places to visit in January is Thailand. While this is easily the most popular S.E Asian nation to visit over the Christmas and New Year period – and let's be honest, for most of the year too – in January much of the country sees a short lull in tourist numbers after the chaos of December.
Of course, it's still going to be busy, this is Thailand after all, but in island getaway destinations like Phuket you can actually find some great deals on January, while after the first week of January, flight prices to Thailand drop immensely in comparison to the high season.
January is also one of the best times to visit, because the weather is, quite simply, superb. This is winter, but the Thai climate is hot, and in January the temperatures are perfect.
You can lounge around on the beaches all day or if you're feeling intrepid, you can hike off into the jungles or mountains. There's a lot to see and a lot to do in Thailand, and it's one of the best places to visit in January.
Our Top Recommended Thailand Tours:
5. Finland
In Europe, it's also winter of course, but the weather is much, much colder than in South East Asia.
That shouldn't put you off though, because some of the best places to visit in January are waiting for you in Europe.
A great destination to experience in winter is Finland, a country where the culture is based around long winters and short summers.
They know how to deal with the cold, and you can learn all about the famous Finnish sauna protocol, after taking a dip into an icy plunge pool.
It's definitely a destination for the adventurous, but in Finland, you can visit Lapland, and you can even call into Santa Clause' hometown for an extended dose of Christmas fever.
You can see the Northern Lights, see herds of reindeer in the wilderness and ride snowmobiles across the tundra.
Our Top Recommended Finland Tours:
6. France
If you're interested in visiting Europe, but are looking for somewhere less cold and perhaps a bit more mainstream than Finland, then one of the best places to visit in January is France.
After the New Year, you'll find that it's much quieter in Paris than at other times of the year – the weather isn't great after all – and while the city always seems busy, it's an opportunity to see the French capital's best sights and attractions, with at least slightly shorter queues.
If you're into winter sports, then in the mountains you can find some of Europe's best skiing and snowboarding, while along the southern coast, you might just find that there are even a few days of sunshine given the Mediterranean climate.
Our Top Recommended France Tours:
7. Panama
Central America is one of the best places to visit in January, given the region's hot climate, yet dry weather this time of the year.
The whole region is never particularly touristy, but some areas do have a reputation for crime.
One of the safest countries to visit though is Panama, and as a destination that's becoming ever more popular, the opportunities for tourism are ever-expanding.
The classic way to see Panama is to journey along the famous Panama Canal, but there's much more than this.
Panama City is full of history and heritage, but it's also a vibrant and modern city to stay in.
The country has both a Pacific Ocean coastline, and a coastline along the Caribbean Sea, and January is the perfect weather for hitting the beaches.
You can stay for days on the San Blas Islands, snorkel or dive in the ocean, or even head inland to climb volcanoes and hike through dense jungle. It's a beautiful country to discover and it's easily one of the best places to visit in January.
Our Top Recommended Panama Tours:
8. Chile
In South America, it's very much still peak season, especially in countries like Argentina and Brazil where summer is in full swing.
One of the best places to visit in January in South America is Chile, where you can find beautiful scenery, a fascinating culture, and far fewer tourists than in neighboring countries.
This is the middle of summer and the weather is beautiful in Chile. After exploring the coastal vibes of the capital, Santiago, you'll want to head down south to see Chilean Patagonia.
Torres del Paine National Park is one of the country's most beautiful natural areas, where you can hike mountains, stand in awe of glaciers and admire glistening lakes.
The trekking here is superb, and there are few other places in the world like it.
Chile is definitely an underrated part of South America to visit, but it's definitely one of the best places to visit in January.
Our Top Recommended Chile Tours:
9. Italy
One of the best places to visit in January is Italy. Italy is normally filled with thousands of tourists in the normal months but in January all of those visitors are gone and only locals are left to enjoy the beauties of this country.
Explore Tuscany on a road trip or discover one of the many historic cities like Rome.
Travel to Italy in January and enjoy the real Italy, in peace and quiet of the low season. Yes the weather will be a little chilly and the days will be shorter but everything else will out weight it.
Flights are normally cheaper, accommodation is cheaper and everything overall tends to be less expensive than in the other seasons.
Our Top Recommended Italy Tours:
10. Mexico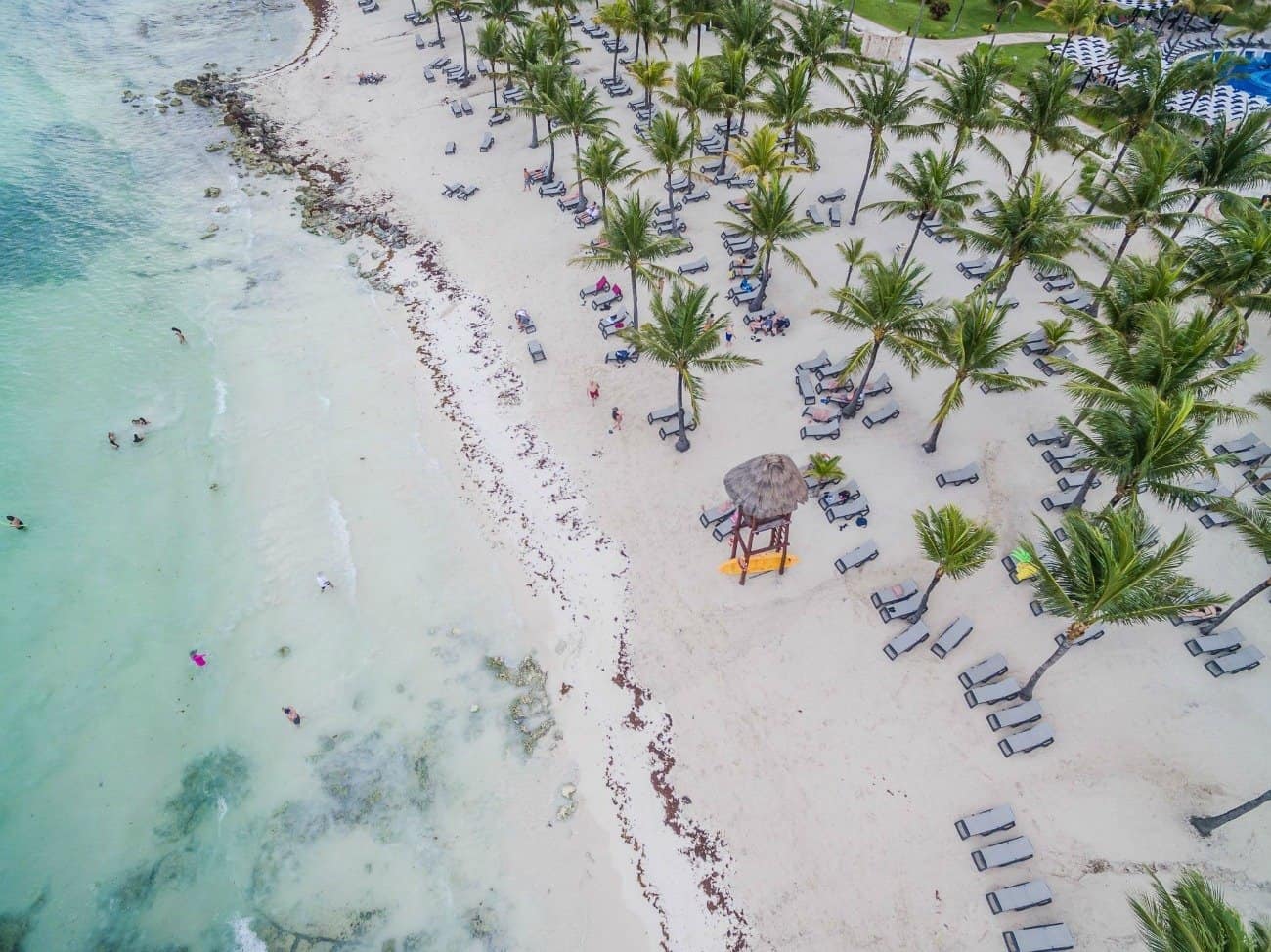 After the holidays, we can think of no better way to escape it all than to head somewhere warm. This makes Mexico one of the best places to visit in January in our opinion.
Mexico offers a wide diversity that caters to any type of traveler. If you prefer urban travel, catch a flight to Mexico City, where you can explore culture, food and history. There are even massive pyramids just outside the city at Teotihuacan.
If it is sand and sun you crave, head for the ever-popular Yucatan Peninsula. Here you can lounge on the beaches of Cancun, explore the streets of Playa del Carmen or relax in luxury on the Riviera Maya.
If you're looking for something more off the beaten path, consider a trip to the Pacific side of the country and stay in Manzanillo.
---
Need more help planning?
---
I'm going to be honest with you, planning a trip can be a pain in the but. One wrong move in all of your time spent researching could go wrong and you could be spending hundreds of dollars without needing to, why not let us help you plan your trip?
We have a step-by-step guide that will help you plan your trip from beginning to end saving you lots of time and money.
We all have that friend, sister, cousin or mother that is a trip planning genius but do they travel for a living? Have they ever booked a trip to where you are planning to go?
We have been traveling since 2001 and have visited over 100 countries across all seven continents and have an endless bag of tricks and tips to help you plan the ultimate trip.
These tips are things we have learned along that can help anyone in planning a trip.
In our step-by-step planning guide, you will find planning resources, including booking sites that we used to plan our travels and so much more.
Start planning the ultimate trip today.
Protect your January travels!
January is one of those tricky travel months that seems to no matter where you are traveling too there can be endless delays and or even cancellations while traveling.
Even the basic delay can be an extreme headache while traveling. It can cost you hundreds if not thousands of dollars and let's not forget just the sheer disappointment of your amazing vacation being derailed.
Why let that happen when you can have something as simple as travel insurance to protect your January travels.
Protect your trip with Allianz travel insurance from the moment you book it. We never leave home without it, so why should you?
This post is sponsored by our partner Allianz Travel (AGA Service Company) and we have received financial compensation as ambassadors, but all opinions expressed are our own.
More on Trip Planning:
Did you like this story? Share it!