March can be a busy month for travel in many countries, as in the southern hemisphere the long and hot summer days are beginning to end, and tourists are looking to grab the last rays of sunshine while it's still there. In the northern hemisphere, spring is beginning to blossom and things are starting to warm up again.
It's a great month for travel, and in South America, you can enjoy the last of the summer by trekking through Patagonia or partying in Brazil, while in New Zealand, you're at the tail end of the peak season – the weather is still great, but the crowds are much thinner than summer.
In Europe, Iceland offers a spectacular opportunity to enjoy the best of winter and summer at the same time, while if you're looking for warmer climes, then you can head down to the Mediterranean, where, compared to northern Europe, things are already heating up.
There are a lot of opportunities for travel this month, and to inspire your next journey, here are the best places to visit in March.
---
9 of the Best Places to Visit in March
1. New Zealand
One of the best places to visit in March is New Zealand because summer is ending and the transition to autumn is just beginning. For travelers, this is the end of the high season, and it's the perfect time to visit.
Peak season in New Zealand generally follows the summer season, because of course, this is when the weather is at its best. From November through to March, you have the most sunshine, the longest days and least chance of rain – although this is New Zealand, so the weather can take a turn for the worse anytime.
While December, January, and February see the largest number of tourists, in March, numbers begin to fall. While the far south might be best avoided, the north island still has an almost subtropical climate waiting to be enjoyed, particularly in Auckland and the surroundings.
Across the country, you'll find cheaper rates on accommodation and cheaper flights into New Zealand in the first place.
For hikers, March is perfect. It's not too hot and not too cold. Adventure lovers can head to Queenstown, where the crowds will have dissipated, but the adrenaline-inducing summer activities are still very much in full swing.
On the coast, at Kaikoura, you can find whales in the water all through the year, but in March, you won't have the huge crowds of tourists you find in summer.
Our Top Recommended New Zealand Tours:
2. Argentina
On the other side of the world to New Zealand, Argentina is also experiencing the end of its summer season, and March is the perfect time to visit the country before the weather turns for the worst, through autumn and into winter.
Found far south, Argentina has a mild climate compared to other South American nations, and in particular, the southern region of Patagonia has a short hiking window each year, when the weather is at its optimum. March is really the last month to visit the beautiful scenery of Patagonia and to really enjoy it.
Luckily, it's also the time of year when the crowds of peak season begin to dissipate too, and you'll find those iconic natural attractions such as Los Glaciares National Park while teeming with visitors in summer, are much quieter in March.
Further north, Buenos Aires is a city that is still very much reveling in the sunshine, and the Argentine capital is one of the best places to visit in March.
Our Top Recommended Argentina Tours:
3. Brazil
Staying on the South American continent, one of the best places to visit in March is Brazil, where you can find excellent weather and high temperatures, even as the summer season comes to a close.
Peak season in Brazil is December through to March, but at the end of the high season, you'll see visitor numbers dropping, despite the sunshine and hot weather.
March is the end of summer and the end of the rainy season too, so you can expect to have a much drier holiday here this month too than in previous months.
In Brazil, you can lounge on the beaches after exploring the history of Rio de Janeiro, while in Sao Paulo you can delve into the huge metropolis and its fascinating culture.
There's always a party in Brazil, and March will be no exception. If Easter falls in March though, you can expect even bigger and wilder celebrations across the country, and it can be an exciting time to visit Brazil.
Our Top Recommended Brazil Tours:
4. Mexico
Further north, in Mexico in March, it's still the high season, but things are starting to slow down as they move out of the cool winters.
Mexico's high season coincides with the cold winters that are found further north, in the USA, Canada or Europe, as this is when the country sees a huge influx of tourists looking for that winter sun.
In March, Mexico has excellent weather. It's dry, there are no hurricanes and it's pleasantly warm, although beginning to get much hotter.
In the south, in Cancun and along the Mayan Riviera, conditions are still optimal for a great holiday in the sun, and although it's high season, you still miss the worst of the winter sun tourists, and things will be much quieter than in December or January.
You can relax on the beaches, visit the Mayan ruins at Tulum or Chichen Itza without worrying about enormous crowds – although it's always somewhat crowded – and you can always enjoy the delicious food.
Alternatively, Mexico City is a cultural delight if you're looking for something other than a beach vacation. Paired with a visit to the nearby pyramids of Teotihuacan, you won't be disappointed.
Our Top Recommended Mexico Tours:
5. Iceland
Far up in the northern hemisphere, one of the best places to visit in March is Iceland. After a long, cold and dark winter, the Nordic nation is just beginning to emerge into its beautiful spring season.
Most tourists visit Iceland in summer when the days are endless and the weather is good, but this is also when things are at their busiest and costliest.
A trip to Iceland is not complete without visiting the Silfra fissure or exploring the Golden Circle.
In March, things are much quieter, but this is a great shoulder season, because not only can you save money on flights and accommodation, but you get to experience the best of both winter and summer.
In the north, at Husavik, the whale watching season is just beginning, while across the country, you can still experience the Northern Lights in all their glory at night time.
The weather can be unpredictable, and some roads in the north might still be closed in March, but the days are getting longer and it's a beautiful time to visit.
Our Top Recommended Iceland Tours:
6. Spain
In southern Europe, much of the Mediterranean is beginning to heat up again, and one of the best places to visit in March is Spain.
While you might still want to avoid the Atlantic coast and the north of Spain if you're looking for good weather, the south coast is perfect for a little off-season sun.
In Andalucia, you can enjoy rising temperatures, while many of the resorts and beaches are in low season mode and offering great deals still.
If you enjoy hiking, then it's a good time of year to explore Spain's outdoors and to visit national parks, particularly in the south, before summer begins in a few month's time.
Spain also has many excellent city break destinations, such as Madrid and Barcelona, and in March, these are perfect places to explore. The crowds are thin and you can enjoy the best sights and attractions without long queues to get in. 
If you're looking for a place to enjoy island life, consider visiting the famed Mediterranean islands of Ibiza or Mallorca.
Our Top Recommended Spain Tours:
7. India
India is one of the best places to visit in March, as you can enjoy great weather across much of the country, but still avoid the crowds at popular tourist destinations.
Peak season in India generally runs through the winter – except in the mountains – when things aren't too hot, but importantly, when the weather is dry.
March is the end of the high season, as it's really the start of the summer season when things begin to turn blisteringly hot.
You'll avoid the worst of that heat though, although it's still hot of course, and you can also find great deals across the country.
It's the last chance to visit the deserts of Rajasthan before the scorching temperatures make life unbearable, while in Goa you can find quiet beaches and good hotel deals.
Our Top Recommended Indian Tours:
8. Philippines
Similar to India, the Philippines is also experiencing the transition from a cooler winter, to a scorching hot summer, and March is again the last month to visit before the onset of the fierce summer sun in April.
This is the end of the high season in the Philippines when the weather is great and the skies are clear.
It's the perfect chance to visit popular islands such as Palawan, Coron, or Cebu, where you'll have excellent weather but will find the tourist crowds are thinning out.
If you're into snorkeling or diving, then the water will have perfect visibility, as it's been a few months since the wet season churned up the oceans.
If things start to get too hot on the beaches, you can retreat north to the mountains of Luzon, where you'll find cooler climes in places such as Sagada or Banaue.
Our Top Recommended Philippines Tours:
9. Banff, Canada
If you are searching for one of the best places to visit in March for winter fun, Banff Canada is your winter wonderland. Banff National Park reaches its peak snowfall in March.
This means it's the best time for skiing, snowshoeing, relaxing in one their many spas or just sipping a warm beverage of choice next to the fire. Banff truly has it all for outdoor lovers.
Temperatures are in the low 30's making it great for you to stay warm while you are out exploring.
Our Top Recommended Banff Canada Tours:
---
Need more help planning?
It does not matter if you are browsing the web for your next travel destination or you have a specific location in mind, it is always challenging to put it all together. Let us help you plan your dream trip to any location.
We have been traveling together since 2001 and we have visited more than 100 countries across all 7 continents.
The good news is that this website gives you our tried and true advice, right at your fingertips.
We have put together our favorite travel resources in a step-by-step planning guide that takes the hassle out of planning a trip. On top of that, we highlight a few ways for you to save money.
Always Protect Your Trip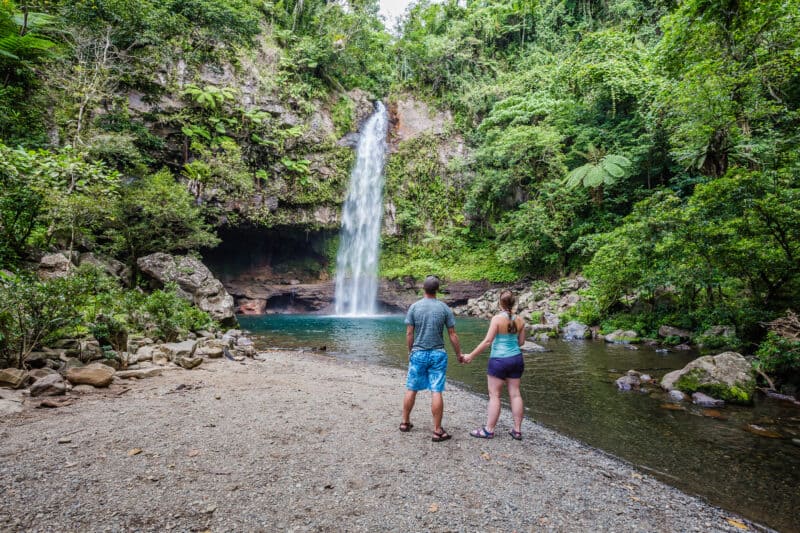 In today's travel world so many things can and will go wrong while traveling.
It does not matter if you are on a long weekend trip to NYC or a week-long vacation that you have been working for and planning for months.
Having the right travel insurance is key for having a worry-free vacation. Your baggage does not show up, or worse, maybe your flight gets delayed. No worries, this is where travel insurance comes into play.
Having travel insurance allows you to travel with a piece of mind, that if something does happen you are covered. We never leave home without it, so why should you?
This post is sponsored by our partner Allianz Travel (AGA Service Company) and we have received financial compensation as ambassadors, but all opinions expressed are our own.
More on Trip Planning:
Did you like this story? Share it!