If you crave a vacation before the holiday season gets fully underway, then we're here to help you discover the best places to visit in November.
November is generally a quiet time for travel across much of the world, which makes it a great time of the year to get out exploring if you want to avoid the crowds and to see the quieter side of places.
Peak season in many countries doesn't usually begin until December when popular tourist destinations prepare for the busy holiday period.
In particular, places with winter sun such as the Caribbean or those in the southern hemisphere which are moving into the height of summer, are extremely busy in December, which means that actually, November is the perfect time to visit, before the rush.
In New Zealand, you can catch the start of summer, while in India, you can explore while the cooler winter begins.
Trekking conditions in Nepal are perfect, while in Hawaii you can lounge around on empty beaches before Christmas, and before the holiday tourists arrive.
---
9 of the Best Places to Visit in November
---
1. New Zealand
One of the best places to visit in November is New Zealand, because the sleepy country in the southern Pacific is finally waking up from its winter and autumn slumber, and lurching into summer.
The summer season doesn't officially begin until December, and the hottest months of the year are December, January, and February, but in November you still enjoy ever-rising temperatures and just a fraction of the number of tourists that begin to arrive over the Christmas period.
New Zealand is renowned for its spectacular scenery, and it's an excellent hiking and outdoor sports destination. You can hike glaciers, go white water rafting, trek across mountain ridges and much, much more in New Zealand.
In November, the weather is perfect for outdoor activities, as it's not too hot and not too cold, just pack a raincoat in case it takes a turn for the worse.
On the North Island, in Auckland for instance, the climate verges on sub-tropical and you'll have shorts and T-shirt weather and will even be able to fit in a few days at the beach, or sometimes swimming in lakes.
It will be a bit colder in the South Island, and more so further south in cities such as Dunedin, but you'll also avoid the tour groups that arrive in a few week's time when summer is in full swing.
Our Top Recommended New Zealand Tours:
2. Nepal
If you like hiking and the great outdoors, then one of the best places to visit in November is Nepal.
The Himalayan nation is best known for its trekking circuits and for being home to the highest mountain peaks in the world – including, of course, Mount Everest.
The country has several different trekking seasons throughout the year, due to the variable weather conditions, but one of the most popular trekking seasons is autumn, from September to November.
This is after the monsoon season, so you can expect conditions to be mostly clear and dry, although up in the mountains, things can be unpredictable.
With clear skies, you can appreciate the scenery better, as you'll be able to trek beneath the mountain peaks when they aren't quite so obscured by clouds.
It's also a safer time for trekking too, as with little rainfall, there's less chance of landslides or of trails being closed.
While this can be a busy trekking season, particularly on popular routes such as the Annapurna Circuit, there are many more lesser-known trails to hike too.
As November is really the end of the trekking season, you'll also find fewer tourists visiting Nepal than in September or October.
Our Top Recommended Nepal Tours:
3. Hawaii
If you're looking for a beach holiday, then one of the best places to visit in November is Hawaii, because the sun is out and you'll miss the worst of the winter sun-seekers who arrive over December.
Hawaii becomes notoriously busy over December and January, particularly as this is the holiday season across much of North America and Europe.
Of all the islands in Hawaii, our hands-down favorite is Maui. With insane diversity, you can enjoy epic beaches, take a road trip to Hana, catch a luau, go whale watching and that is only the beginning of the incredible things to do in Maui during a visit.
Although it's winter in Hawaii, the temperatures are still hot and it's also dry, and those looking to escape the colder climates further north flock here. Since you will have great weather, check out the 10 Best Maui Hikes for Insane Views.
In November you can enjoy the great weather, but you'll also find prices for flights and resorts are much lower than they are just a few weeks later.
You can lounge around on beaches and enjoy the islands without too many other tourists around, although of course, Hawaii is always a popular choice at any time of the year.
If you're into surfing, then you'll be here at the start of the surf season in Oahu, while you can also enjoy the island's rich culture and history, and visit Honolulu's best tourist attractions, without the queues.
The islands are also home to great hikes, and in November, the weather is now cool enough to really enjoy the great outdoors.
Humidity drops and hiking the volcanic peaks and trekking through the jungles to waterfalls is much more enjoyable than in the earlier summer season that's just passed.
Our Top Recommended Hawaii Tours:
4. Anywhere in the Caribbean
Beach lovers will also want to consider traveling to the Caribbean, as this is also one of the best places to visit in November for anyone looking for some sunshine.
Gather inspiration from our Best Places to Visit in the Caribbean
Like Hawaii, the Caribbean islands also become notoriously busy from December through to January, as it's an incredibly popular winter sun destination for those escaping the cold weather in Europe or North America over the holiday period.
November is the end of the hurricane season, and while you might encounter some rainfall or even the odd storm, the lower prices for flights and resorts make it well worth the risk.
Cuba is an excellent choice in November if you are looking to enjoy culture and history, while southern islands such as Barbados or Antigua enjoy warmer weather than those to the north.
There are many more islands to choose from too, such as St Lucia, Cayman Islands, St Kitts, and Dominica. You can find a mixture of destinations offering tropical beaches, volcanic scenery and excellent outdoor activities.
Don't have a USA passport but still want a tropical getaway in November? Consider Puerto Rico or the US Virgin Islands.
Our Top Recommended Caribbean Tours:
5. Ethiopia
If you're looking to travel a bit more off the beaten path, then one of the best places to visit in November is Ethiopia. In November, it is the dry season in Ethiopia and the perfect time for hiking and trekking in the country.
This under-rated and under-visited African nation has a lot to offer, from exploring the culture and cuisine of the capital, Addis Ababa, to venturing far into the Ethiopian wilderness.
It's the perfect time to visit the Omo Valley tribes, to feed the hyenas in Harar or to hike into the Simien Mountains. There is a lot of beauty waiting to be discovered in Ethiopia, and November is the best time to visit.
Our Top Recommended Ethiopia Tours:
6. Spain
Spain is one of the best places to visit in November if you are looking to travel to Europe, because the south of the country still experiences warm weather, while the cities are still very much enjoyable.
Head to Andalusia for the best weather, although don't expect anything like the summer temperatures you see here in June and July.
It's a good time to explore though, and you can hike in the mountains or enjoy empty beaches with none of the crowds of summer.
In the cities, you can enjoy the best sights and attractions without ever having to queue. You will also find that the hotels are much more reasonably priced, even in iconic tourist destinations such as Barcelona or Madrid.
In November, the Spanish cities can make for an excellent city break opportunity, particularly if you only have a few days to spare.
Our Top Recommended Spain Tours:
7. India
One of the best places to visit in November is India because this is when the weather is at its best in most regions of the country. This is the start of winter, and in India, that means that the weather is dry, the monsoons are over and the humidity is down.
It is an all-round pleasant time to visit, and except high in the mountains, it's still wonderfully warm too.
This is the start of high season, particularly in destinations such as Rajasthan, but things are still fairly quiet compared to December and January – although by no means empty.
It is a good time to head into the desert and to explore cities such as Jaipur, Udaipur, Jodhpur, and others in the north. No trip to Agra is complete without a visit to the famous Taj Mahal.
That being said, there are plenty of other great places to explore throughout Agra in addition to the Taj Mahal.
If you love a beach holiday, then head to the coast, where you can enjoy the start of high season in Goa.
You can lounge around the beaches in the sunshine, and make the most of the great weather, while if you enjoy a good party, you'll find one here in November.
Our Top Recommended India Tours:
8. Mexico
If you haven't visited Mexico, and you're looking for a prime vacation destination in November, then look no further. This country is full of outstanding beaches, vibrant culture, massive historical cities, ancient ruins and everything in between.
Did you know that you can climb and view pyramids in Mexico? The insane site of Teotihuacan, just outside of Mexico City, is home to a set of pyramids that will leave you marveling.
If it is beaches you are looking for, head for the Yucatan. Cancun boasts miles of white sand beaches and turquoise water. Of course, this doesn't come without a bit of the party atmosphere, so buyer beware.
If you're looking for something that is just as idyllic, without the big city scene, head south to Playa del Carmen. For an even more secluded experience, consider staying on the Riviera Maya.
To avoid that coastline completely, hop on a ferry and head over to the island of Cozumel or consider the Pacific coast. We thoroughly enjoyed our stay in Manzanillo.
Our Top Recommended Mexico Tours:
9. Antarctica
One of the more unusual destinations to consider visiting in November is Antarctica. The great southern land is only open to tourism during the short summer season in the southern hemisphere and it's in November that the first ships start departing for this icy world from South America.
In November, it's still going to be cold, and the seas are going to be rough, but you're going to experience Antarctica in its most raw form. You'll see pack ice breaking up, black sand beaches, penguins, whales, seals and more wildlife beginning to bloom back to life.
The best part is, prices are always considerably cheaper in November than later in the season.
Our Top Recommended Antarctica Tours:
---
Need Help Planning?
---
Planning the ultimate getaway can be difficult and time-consuming, so why not take some advice from the pros? We have put together the ultimate, step-by-step trip planning guide to help you seamlessly plan your next travel adventure.
We've compiled almost 20 years of travel expertise into one place, sharing all of our tips and tricks for you to maximize your budget, travel smart and execute the trip of your dreams.
It doesn't matter if you're planning for a vacation to a tropical location, an African safari, or an amazing weekend in Europe, let our years of experience help you put together the ultimate travel plans.
Protect your November travels!
November is the start of the travel busy season throughout the whole world so naturally, there're endless delays and cancellations that can derail your quick getaway or even dream trip. We all put so much time and effort into planning that amazing getaway so why let something as simple as lost luggage or a flight delay derail your trip?
This is where having travel insurance comes into play. Having travel insurance gives you peace of mind that no matter what travel mishaps can and will happen your investment is protected.
Protect your trip with Allianz travel insurance. It does not matter if its a simple quick weekend getaway or if its a dream trip to one of the best places to visit in November you should protect your travels from those travel mishaps that can happen. We never travel without it, so why should you?
This post is sponsored by our partner Allianz Travel (AGA Service Company) and we have received financial compensation as ambassadors, but all opinions expressed are our own.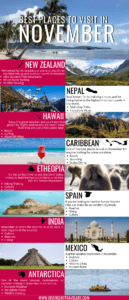 More on Trip Planning:
Did you like this story? Share it!